Print Commission 2020
To secure your prints from this year's commission,
 

buy a Print Subscription here. PCA Members can acquire one 

print

 from the set of six for just $260 (inc. GST) and two prints for $450 (inc. GST). This is an important fundraising activity for the PCA, and a great opportunity for members to build an outstanding, museum quality 

print

 collection for a fraction of the usual retail price.
In this interview, Silvi Glattauer discusses her entry, which features on the cover of the latest issue of Imprint, for Spring.
4 September, 2020
In Exhibitions,
Printmaking, Q&A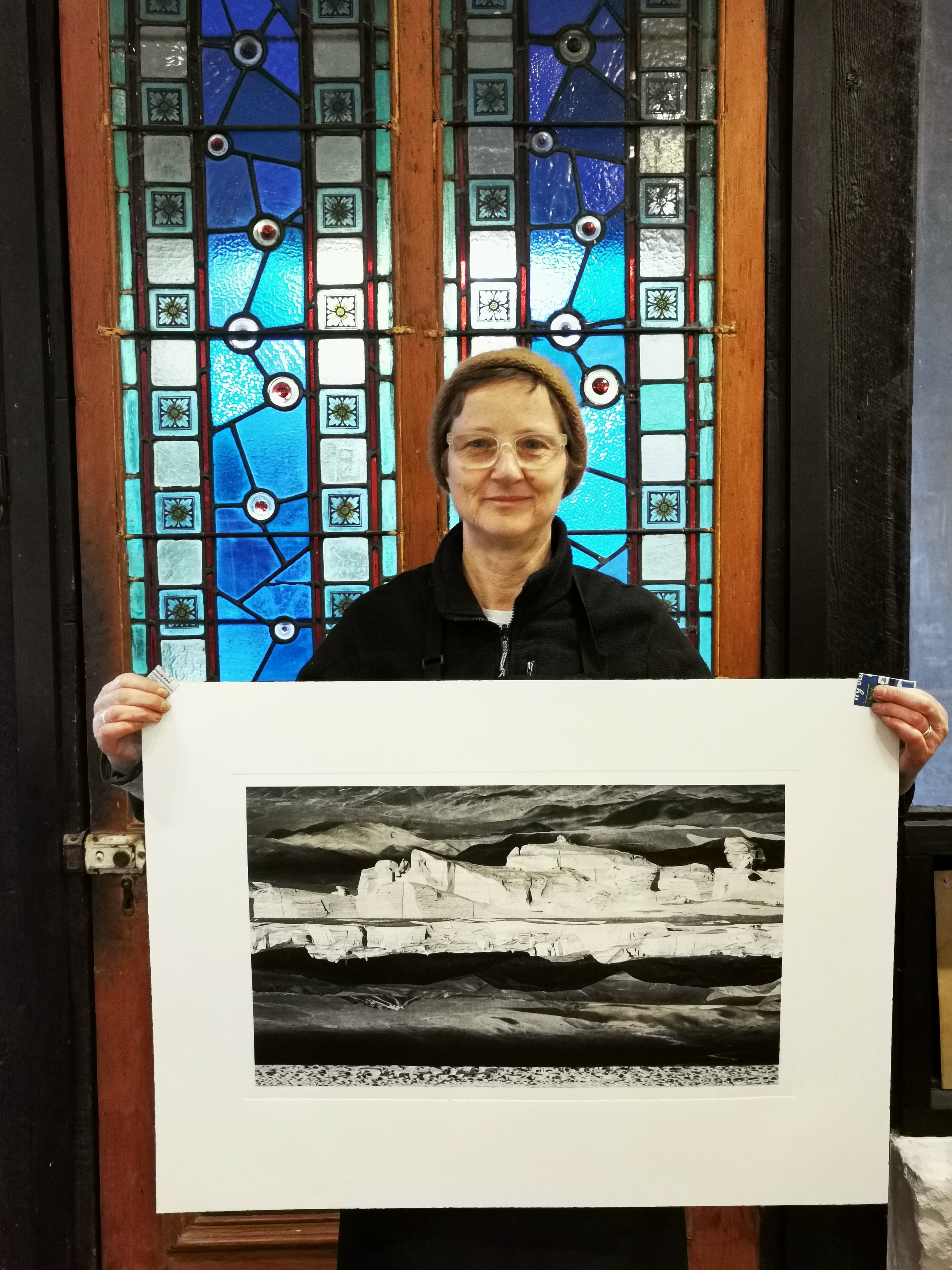 From top:
Silvi Glattauer
Born 1966, Argentina. Now lives Vic.
Renegotiating Campo Piedra Pomez
Photogravure with a la poupée colour
Edition of 30
Image size: 35 x 58 cm Paper size: 57x 76 cm
VIEW THE PRINTS
Umbrella Studio Contemporary Arts
2 October – 15 November, 2020
408 Flinders Street,
TOWNSVILLE QLD 4810
Open Tues-Fri 9am-5pm | Sat-Sun 9am-1pm
umbrella.org.au
Sydney Contemporary Presents 2020
1 – 31 October, 2020
sydneycontemporarypresents.com.au
A free, experiential online platform where visitors can peruse artworks from over 80 Australian and New Zealand galleries.
*Sydney Contemporary art fair, and PAPER CONTEMPORARY the popular section of the fair devoted to works on paper hopes to return in 2021.


The PCA's Print Commission 2020 includes six works by artists from around Australia. The judges, Jazmina Cininas and Rona Green, say there was lively discussion during the difficult task of choosing the final works from an impressive selection: 'In the end, it was the synthesis of concept, ambition, technique and finesse that set the selected work apart for this year's 
commission.'
Q: What were some of the foundation ideas for the work you submitted for the 2020 Print Commission?
SG: This print is from the series Renegotiating the Landscape which deals with the issue of human intervention in the landscape across remote regions of the world. There are very few natural places left on Earth that have not been imposed on by humankind. You are invited to detach from the beauty of the grand vista and feel the disorientation these landscapes represent. Our interference in the course of nature's flow is questioned.
Q: What were some of the technical challenges or inspirations involved?
SG: This work is made using the photopolymer photogravure technique, which is a unique way to combine photography and etching. My artwork medium has always been photo-based and central to my creative output is the 'fine print', evoking a sense of preciousness and materiality. The photogravure intaglio print offers me the opportunity to play with the handmade and extends conventional ideas of photography as a purely mechanical reproduction process.
Q: How does this work relate to your work more generally?
SG: Nature and narratives have always been central to all my artwork. Like many artists I respond to my surroundings, my connection to place, and more specifically, the landscape, which I feel speaks of my culture and my identity—the landscape as a backdrop to self.
I was born in Argentina. My family migrated to Australia when I was seven years old. I feel Australia to be deeply in my sense of belonging and have always connected with the Australian environment, culture and land. At the same time, the Argentinian culture is profoundly embedded in my DNA. Since my early 20s I have regularly travelled back to Argentina and explored many parts of the country. A lot of my art works seem to pendulate between these two identities.
Along with this underlaying narrative of self-identity there is the ever-growing concern with the unfolding destruction of our planet's natural habitats—and recognising that my own passages and journeys have also made me complicit in this degradation.
The print Campo Piedra Pomez is from the series Renegoriating the landscape, a collection of digitally constructed landscapes scenes, made up of multiple photographs. My idea is to dislodge the viewer's expectations of what they may associate with traditional landscape photography. I'm also playing with the tradition of the grand vista from early postcard travel photos. You may find a couple of small figures in this image, a hint to the grandeur of this majestic place. The scene is from an area called La Puna de Atacama. Volcanos, salt lakes and mineral-rich mountains form the backdrop to this incredible high-altitude desert area in the north-west of Argentina. Piedra Pomez translates as pumice stone. The massive white pumice stone labyrinth is formed by eruptions of nearby volcanos. Some of these pumice rock formations are hundreds of metres high and are formed by the white and black volcanic runoffs.
My interpretive print is quite confusing in a way: it appears that there is no right side up. There is a lot going on and the more you look the more the story unfolds, the more you could discover.
There seems to be no natural places left that do not reveal the overlay of human presence and interference. Is there such a thing as 'wilderness'? A landscape devoid of human interference? Untouched land areas? All through this area of north-west Argentina, the mining industry is ever-present. I wanted the image to convey this interference by way of its construction; a collapse of natural order.
Q: What future projects or directions are you considering?
SG: I was planning an inland trip in Australia for April and May this year (2020) and was preparing on extending my explorations and surveys of outback landscapes to continue the personal chronicles of place and belonging. This grand plan was put on hold with the COVID-19 situation. I was devastated, as 2020 was my 'year of Australia'—I had been planning this trip for a couple of years.
Luckily, I have a huge archive of photographic material to work from and staying home has forced me to re-visit some images that I had put on hold or simply overlooked. I'm currently working on a series of large-scale photogravure prints using multiple plates, but rather than the grand landscape vistas, I am concentrating on the grandeur of the humble cactus – my favourite plant! It evokes many childhood memories and connection to place. I'm enjoying the technical challenges of working large-scale on the iconic Baldessin Etching Press, which allows for a near two-metre long print!
—
Join the PCA and become a member. You'll get the fine-art quarterly print magazine Imprint, free promotion of your exhibitions, discounts on art materials and a range of other exclusive benefits.