Imprint is Australia's only quarterly art journal dedicated to contemporary printmaking, artist books and works on paper, and one of the few publications worldwide dedicated exclusively to the graphic arts.
With the Australian experience as our focus, Imprint seeks to engage in meaningful and diverse analysis surrounding contemporary printmaking today within a broader fine art context. Imprint aims to nurture the development of new voices in printmaking and arts writing alongside those more established in the field.
Imprint makes excellent reading providing information for the well-informed arts professional, as well as those developing an interest in works on paper.
Become a member of the PCA to receive a subscription to Imprint and you'll also receive entry forms to some of the current awards and competitions available to artists, and keep abreast of news and opportunities.
Issues of Imprint from previous years are available at $15 each plus postage, if in stock. Click here to view and order available back issues.
Reach a dedicated audience of artists, printmakers, students, teachers and collectors. Our rates are competitive with a variety of advertisement sizes and rates to suit your budget. Contact our Advertising and Membership Manager to book an advertisement in the next issue of Imprint or in the upcoming monthly e-newsletter at imprintadvertising@printcouncil.org.au
Editorial
Imprint is always keen to hear from our growing readership. Contact the Editor with your proposal for an article, essay or news item at imprinteditor@printcouncil.org.au
In this issue: Winter 2021, Vol. 56.2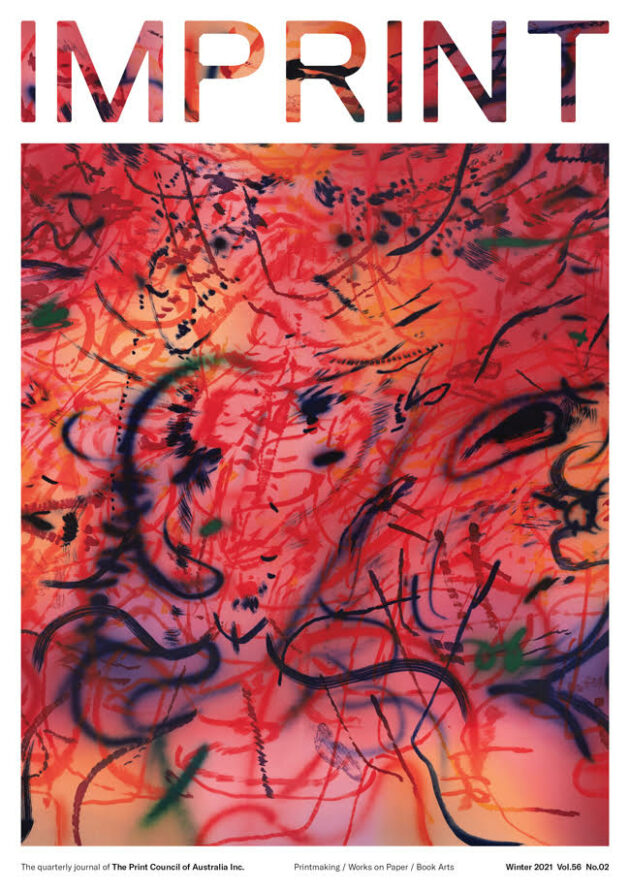 NEWS
'Notebook' by Marguerite Brown
From the Archive
World in Print
Australia in Print
COLLECTION
Travelling through images by David Greenhalgh
TECH TALK
Beneath the surface by Rebecca Westlund
INTERNATIONAL
Printing Danishly by Kirrily Hammond
EMERGING ARTIST
by Elyse Taylor
BOOK ARTS
Stones of Florence by Des Cowley
Beneath the leaves by Viva Hall
HISTORIES
To the edges by Katherine Roberts
FIRST NATIONS
Safe Keeping by Katie Breckon
Cover Image: Julie Mehrutu, Fourth Seal (R 6:7), detail, 2020, from the portfolio Slouching Towards Bethlehem, photogravure, aquatint, open bite, sugar lift aquatint, 170 x 208 cm, (paper) edition of 18, printed by Julie Dam, Thomas Jennions & Mette Ulstrup. Courtesy BORCH Editions and the artist.