Imprint is a quarterly magazine dedicated to contemporary fine art printmaking – including works on paper, artists books, zines, digital and experimental print-related art – published by the Print Council of Australia.
With the Australian experience as our focus, Imprint seeks to engage in meaningful and diverse analysis surrounding contemporary printmaking today within a broader fine art context. Imprint aims to nurture the development of new voices in printmaking and arts writing alongside those more established in the field.
Imprint makes excellent reading providing information for the well-informed arts professional, as well as those developing an interest in works on paper.
Become a member of the PCA to receive a subscription to Imprint and you'll also receive entry forms to some of the current awards and competitions available to artists, and keep abreast of news and opportunities.
Issues of Imprint from previous years are available at $15 each plus postage, if in stock. If you would like a previous issue, please contact the Print Council of Australia.
Advertising
Reach a dedicated audience of artists, printmakers, students, teachers and collectors. Our rates are competitive with a variety of advertisement sizes and rates to suit your budget. Contact our Advertising and Membership Manager to book an advertisement in the next issue of Imprint or in the upcoming monthly e-newsletter at imprintadvertising@printcouncil.org.au
Editorial
Imprint is always keen to hear from our growing readership. Contact the Editor with your proposal for an article, essay or news item at imprinteditor@printcouncil.org.au
In this issue: Winter 2019, vol. 54.2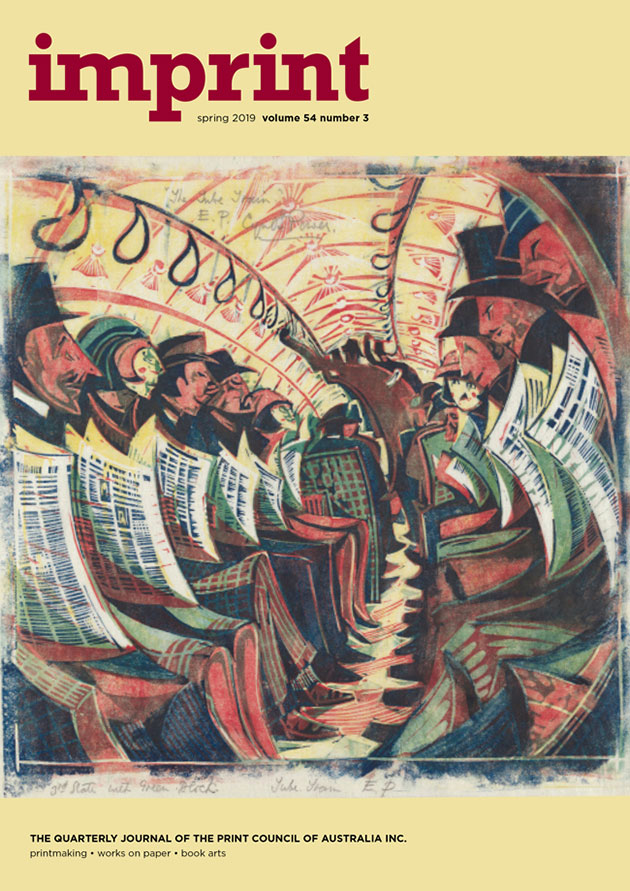 Contents
Notebook by Marguerite Brown
Muse Morocco by Dianne Fogwell
Going the distance by Kate Gorringe-Smith
Making tracks by Tessa Beale
Under the olive tree by Monika Lukowska
Wild things by Sue Forster
Hertha Kluge-Pott by Donata Carrazza
David Bosun by Nicolas Rivet
Milan Milojevic by Lucy Hawthorne
Emergent: Millie Mitchell
Australia In Print