Imprint is Australia's only quarterly art journal dedicated to contemporary printmaking, artist books and works on paper, and one of the few publications worldwide dedicated exclusively to the graphic arts.
With the Australian experience as our focus, Imprint seeks to engage in meaningful and diverse analysis surrounding contemporary printmaking today within a broader fine art context. Imprint aims to nurture the development of new voices in printmaking and arts writing alongside those more established in the field.
Imprint makes excellent reading providing information for the well-informed arts professional, as well as those developing an interest in works on paper.
Become a member of the PCA to receive a subscription to Imprint and you'll also receive entry forms to some of the current awards and competitions available to artists, and keep abreast of news and opportunities.
Issues of Imprint from previous years are available at $15 each plus postage, if in stock. Click here to view and order available back issues.
Reach a dedicated audience of artists, printmakers, students, teachers and collectors. Our rates are competitive with a variety of advertisement sizes and rates to suit your budget. Contact our Advertising and Membership Manager to book an advertisement in the next issue of Imprint or in the upcoming monthly e-newsletter at imprintadvertising@printcouncil.org.au
Editorial
Imprint is always keen to hear from our growing readership. Contact the Editor with your proposal for an article, essay or news item at imprinteditor@printcouncil.org.au
In this issue: Spring 2020, vol. 55.3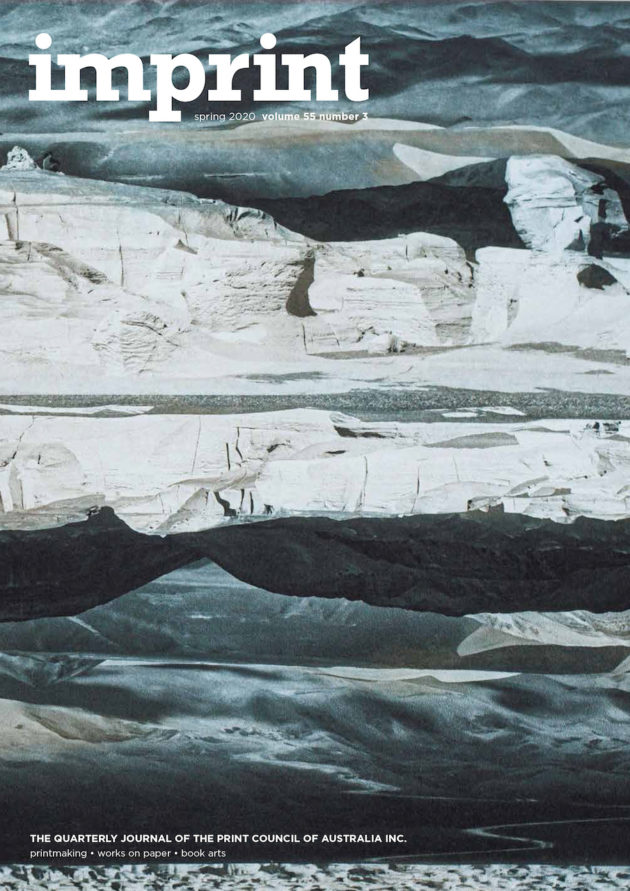 NOTEBOOK by Marguerite Brown
TECH TALK by Margaret Manchee
HISTORIES
'French Impressions' by Colin Martin
SUPERPOWERS
'Three Hundred and Sixty-Five Days Under the Sun' by Eugenia Flynn with artwork by Yasbelle Kerkow. This project is supported by Creative Victoria.
ECOLOGY
'Aqua Poetica' by Nick Chilvers
EXPERIMENTAL
'From the Earth' by Bärbel Ullrich
REGIONAL
'Serendipity, curiosity, serigraphy' by Carolyn Canty
EDUCATION
'Art with heart' by Linda Judge
BOOK ARTS
'Appropriation, bookplates and the Lindsays' by Mark Ferson
EMERGING ARTIST
Fiona Davey