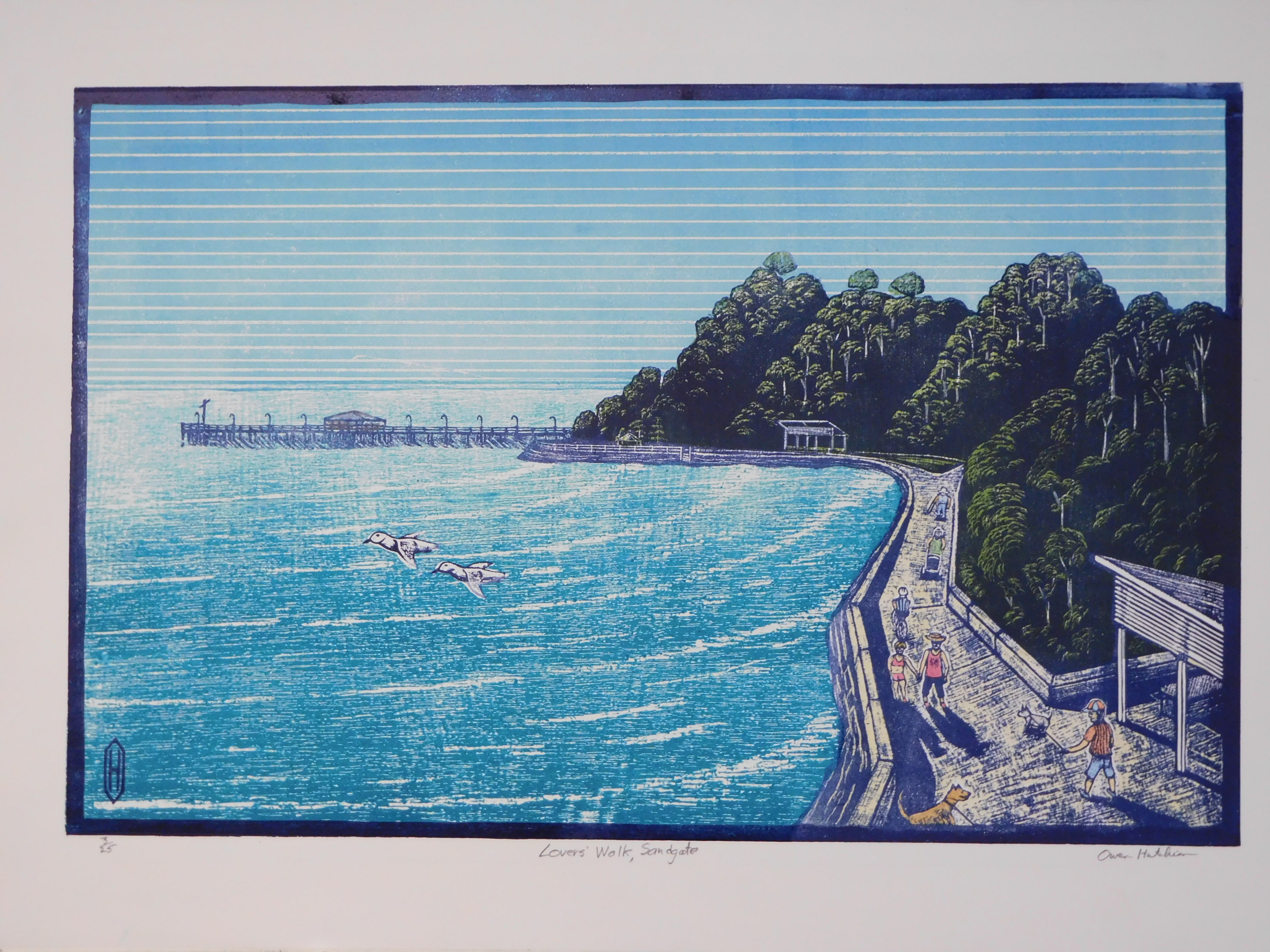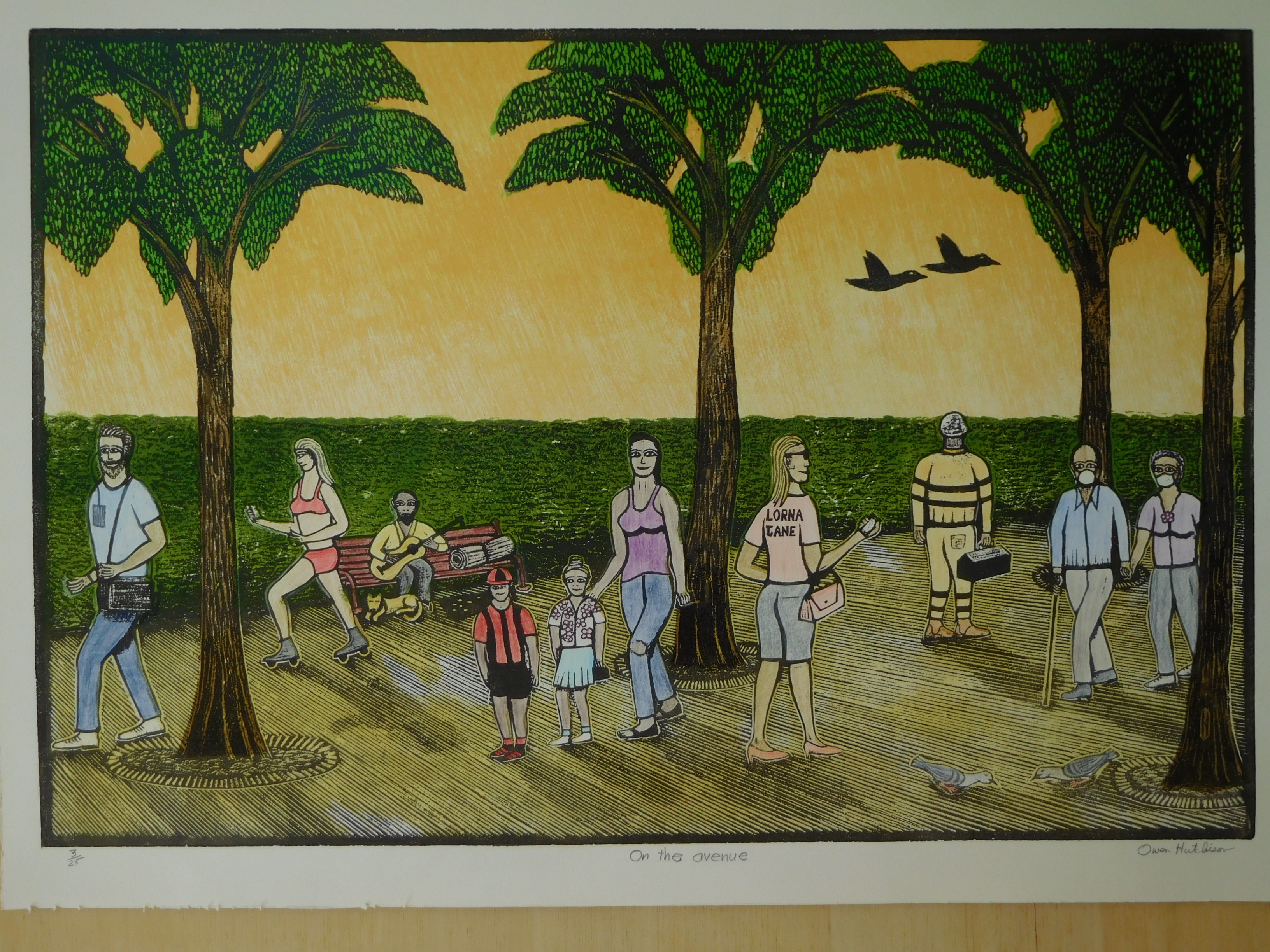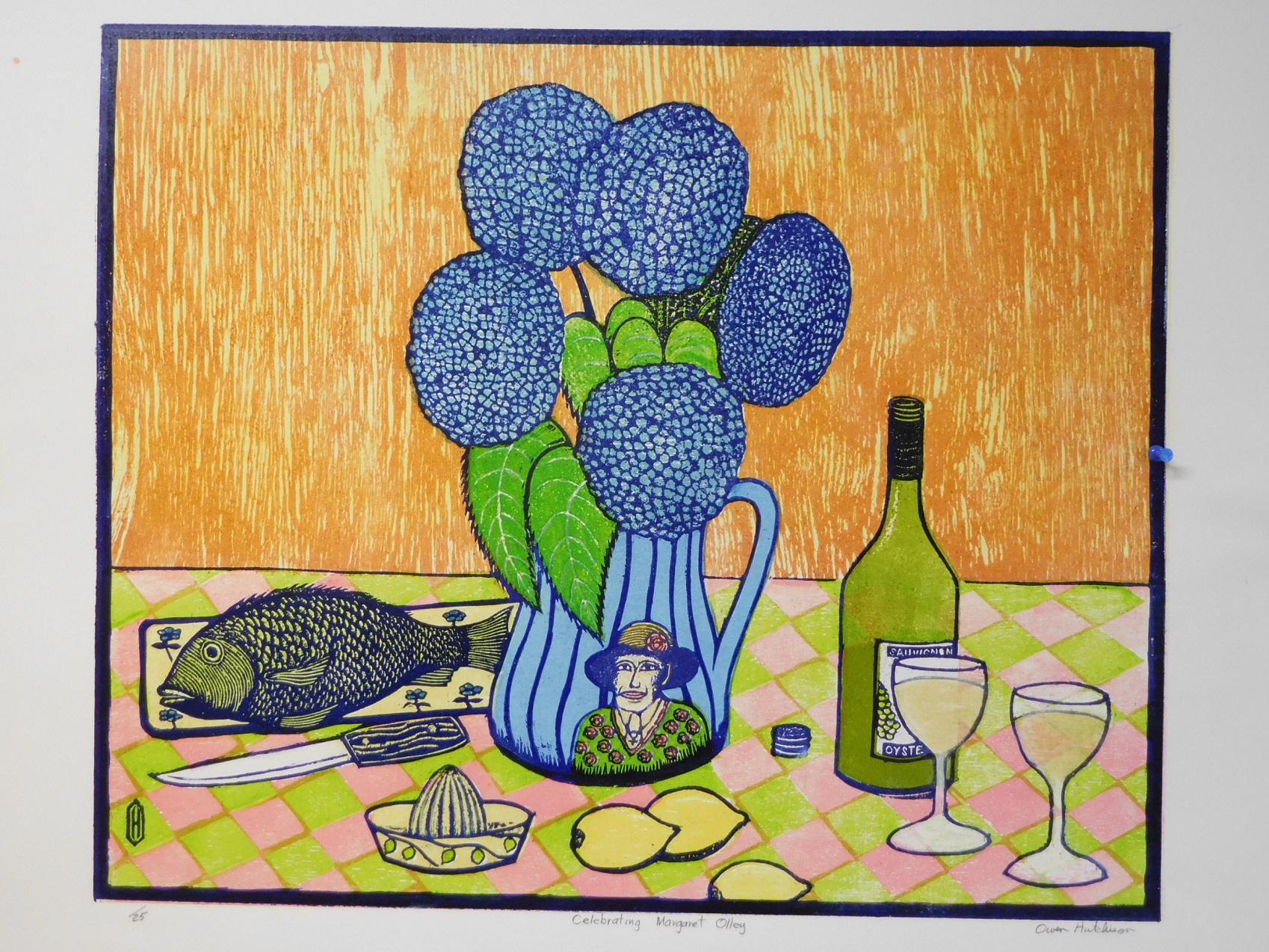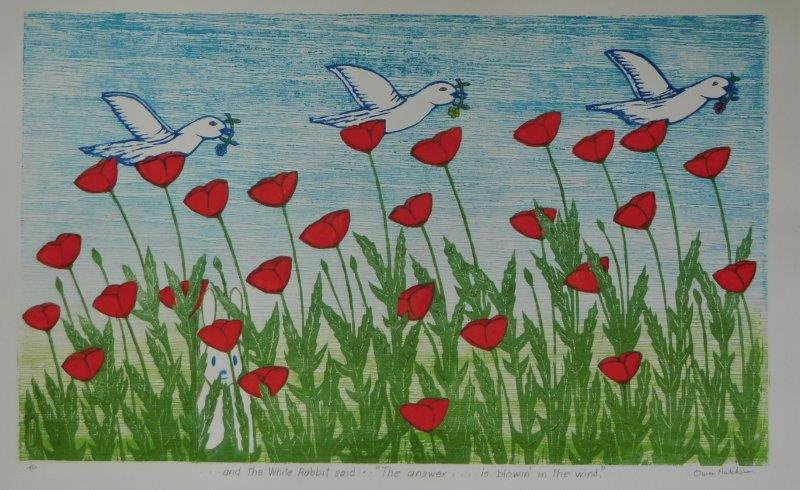 From top:
Owen Hutchison:
Turbulent Times Pablo…, woodcut (rough plywood), 42 x 70 cm 
I actually finished this print in Nov 2019. I would like to see a more
peaceful world and was interested to read of Picasso who went
through the Spanish Civil War and then WW2. In 1947 he was
commissioned to produce some images that would help promote
peace and so he created his peace doves which are lovely and
inspiring….but haven't brought peace but I empathise with him and
the peace movement.
Lovers' Walk…..low tide…, woodcut, 47 x 42 cm
Completed in Jan 2020 this is a local Sandgate scene focussing on a
very popular walk.
On the avenue, woodcut, 46.5 x 70 cm
I completed this print in June 2020 . It is my observation and
interpretation of peoples' reactions and behaviour in to Covid 19.
Many people here seemed to not change their lives very much at
all….unless you were in the at risk cohort!
Remembering Margaret Olley, woodcut ,46 x 57 cm
My wife and I visited GOMA to view the Margaret Olley and
Ben Quilty Exhibition. I was astounded by the number, size,
colour and "noisiness" of her works, large still life paintings full
of objects. Here was a dedicated person who worked at her
vocation all of her adult life and made a living from it.
….and the White Rabbit said, "the answer…is blowin' in the
wind." , woodcut, 42 x 70 cm
Completed Jan 2021, more peace doves, more poppies…and the White
Rabbit from Alice in Wonderland who made somewhat inane
comments all mixed in with the words of Bob Dylan. A whimical
attempt about getting serious about trying to solve issues
My normal art practice is to work at my studio/gallery producing about 10 to12 woodcut prints each year and exhibiting them at 20 art shows as the year progresses. The COVID 19 pandemic upset all of this . There was only one art show and it was virtual. So this year I've decided to have an exhibition featuring 2020's prints.
Consequently there is no central theme and the selection was no problem, the 10 prints I created I 2020 fit in beside the older ones. I can display about 60 framed prints and also have folders of unframed ones for perusal. I open my gallery mostly 6 days a week for 6 hours each day. I work there drawing, carving, printing and framing prints. Visitors can walk in off the street and see my art process and learn something about the woodcut process. I offer them the choice of a short guided tour, explaining the processes and my motivation for their production and explaining and relating some of the narratives that are not 100% explicit
My prints consist of a quite large and eclectic range of subject matter which are really a result of my life's likes and experiences. I have now produced about 200 prints over 25 years. They can be roughly catergorised into landscapes…mostly; observations from nature, viz native animals; images derived from literary sources, viz plays, poems, film etc; historical and mythological sources; tribute prints to famous artists; prints with a social, environmental or science narrative.
Owen Hutchison's woodcuts are at Bayside Gallery, 21 Second Ave,Sandgate, Brisbane from March through to May.
baysidegallery.com.au
—
Join the PCA and become a member. You'll get the fine-art quarterly print magazine Imprint, free promotion of your exhibitions, discounts on art materials and a range of other exclusive benefits.