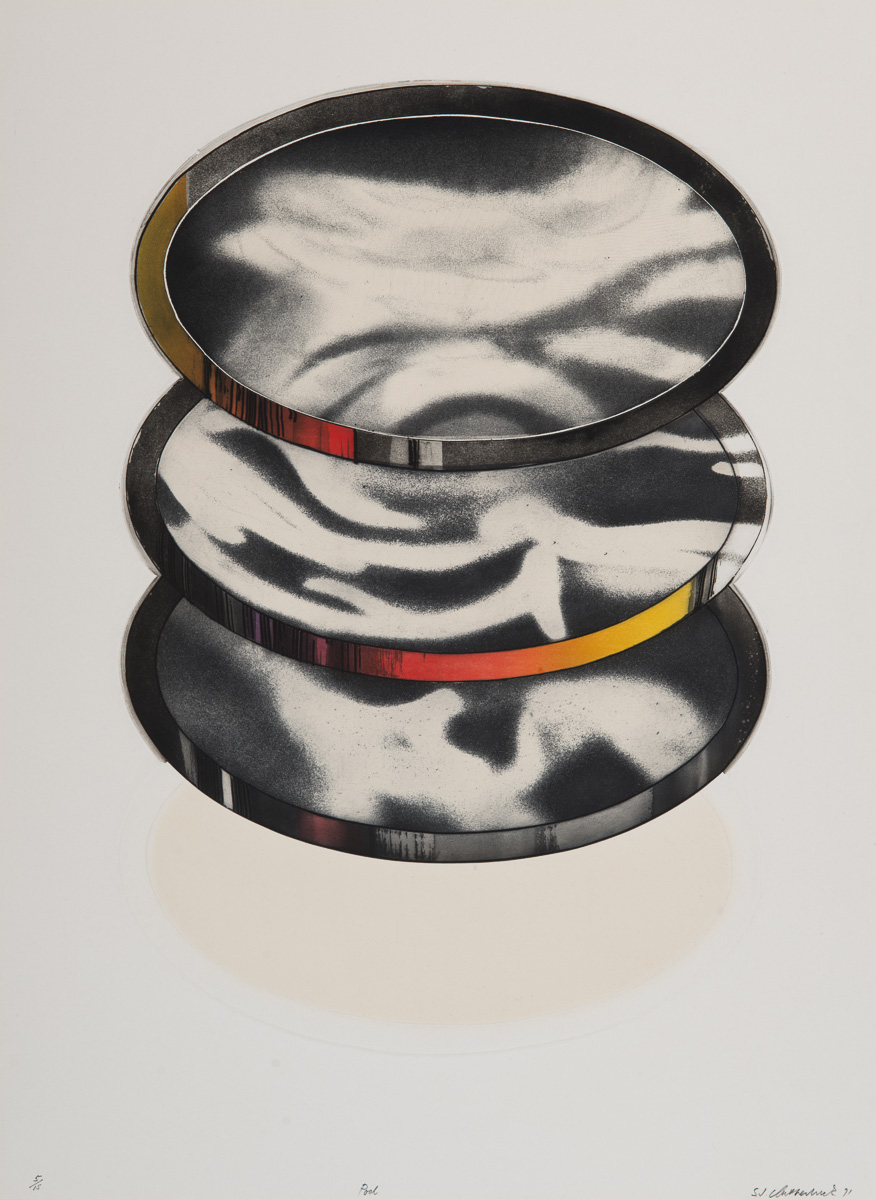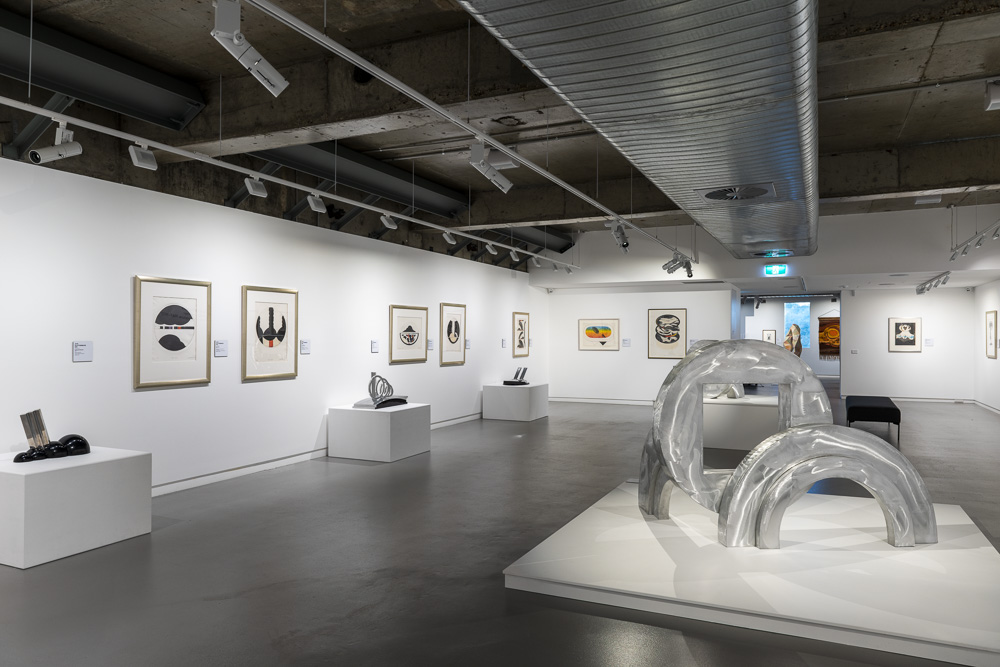 From top:
Jock Clutterbuck:
Sunrise, 1968, etching, aquatint & colour stencil on Torinoko paper, 18 x 27 cm (edition 10 + 2 AP)
Landscape, 1968, etching aquatint & colour stencil on Torinoko paper, 29 x 25 cm (edition 10 + 2 AP)
Pool, 1971, etching, aquatint & colour stencil on Torinoko paper (edition 5/15)
74.8 x 49.5cm. Collection Gippsland Art Gallery. Purchased, 1972.
Gallery view of the exhibition Wisdom Journey.
Q: What were some of the foundation ideas for this exhibition project?
A: I met Jock Clutterbuck about 15 years ago through his wife, Iris Fischer, one of the artists whom I wrote about for my first book New Romantics. I became familiar with Jock's recent work by attending exhibitions at Australian Galleries but I had no understanding of his early work until Sasha Grishin's monograph was published in 2013. I became terribly excited by the discovery of Jock's early work of the 1960s and 70s, by its cohesion and accomplishment, and felt that it was significant within the wider context of Australian printmaking of this time.
But the real impetus for the exhibition came in 2017 when Jock was awarded the Gippsland Print Award at Gippsland Art Gallery, as judged by Cathy Leahy from the NGV. Over the post-opening dinner (where all the best ideas for exhibitions are hatched) Jock mentioned that 2017 marked 50 years exactly since he had lived in Gippsland, working as the art teacher at Warragul High School. In that year (1967) Jock created the plates for his second solo exhibition at Tate Adams' Crossley Gallery during the week, and printed them on weekends back in Melbourne with the assistance of George Baldessin, with whom he shared a studio. I also learned from Jock that he still had good impressions of those early works. I more or less decided to do the exhibition then, and I already had the title – 'Wisdom Journey' being a phrase Sasha Grishin had used about Jock's formative work of this time.
Q: How did the artwork selection take place?
A: I visited Jock at his studio in Castlemaine and went through the early prints with him. It was a bit of a revelation really. I was fairly familiar with recent Australian printmaking but never had I seen a collection of works by any artist that had so many ideas, both technical and conceptual, and had so much energy. But there was a zen calmness about these works as well. They seemed to be grounded in reality but were intensely imaginative and spiritual at the same time. Over lunch at Jock's place I proposed an exhibition spanning five years of prints, from 1967 to 1972, beginning with his year in Gippsland. I thought it was important to put clear boundaries around the timeframe – we didn't have the space for a complete retrospective – and I wanted to explore this period in depth. Jock and I developed a list of works which also included sculptures done at this time.
Q: How does the exhibition manifest – what do visitors experience?
A: There are seventeen prints and five sculptures. Being from the same period (1967 to 1972) there is a clear coherence, but what is surprising is how contemporary each of the artworks look. They represent a certain moment in time but they haven't dated. There is a freshness and vitality to the prints and sculptures that belies their age. The sculptures use basic shapes – arcs, ovals and squares predominantly – and are loosely abstract in design, though like the prints they reference the physical world through their titles – Niagara, Pool Table, Lock, etc. They are all forged from polished aluminium, so they are connected to the prints if we think of the unseen steel etching plates. There is a sense that the metal sculptures have somehow played a role in the creation of the prints, which draw on the same vocabulary of forms.
It's a fairly sparse exhibition, but I wanted to give each artwork breathing space, and to complement each positive, occupied space with a negative, empty space to encourage contemplation. And as nearly all of the prints came from Jock (there are a few loans) one of the really nice aspects is that all of the frames are consistent! You don't often see that with historical retrospectives.
Q: What are some of the key works and what subject matter do they deal with?
A: The NGV's sculpture Niagara is probably the major work here, and has very rarely been seen since it was acquired new in 1970, but of the prints there is a really lovely sequence of motifs from 1968 that present an elegant, stylized twist on the natural environment. Landscape, Sunrise, and Thunderbolt are all fairly minimal in terms of their composition – at least on first impression. The construction and execution of the images is actually quite complex and the careful use of colour in each shows a restraint that betrays the ability of a master image maker. Sasha Grishin also identified these three works as possessing a 'wit and irony' and noted 'there is a deliberate aspect of visual pun'. I think this is true too, I think Jock Clutterbuck is a very serious artist but he doesn't allow that seriousness to mute the playfulness in his artwork.
Q: What is it about the printmaking experience that you most appreciate?
A: Discipline. To be a successful printmaker an artist needs to be not only imaginative and inventive, but needs to understand process and technique. It takes years to master the practical side to printmaking, and then longer again to learn how to realise one's vision within that process. I have a lot of respect for printmakers because a certain amount of dedication and commitment is needed. It's not for the faint hearted.
—
Jock Clutterbuck: Wisdom Journey – Prints and Sculpture 1967-1972 is at Gippsland Art Gallery until 1 August www.gippslandartgallery.com
—
 Join the PCA and become a member. You'll get the fine-art quarterly print magazine Imprint, free promotion of your exhibitions, discounts on art materials and a range of other exclusive benefits.