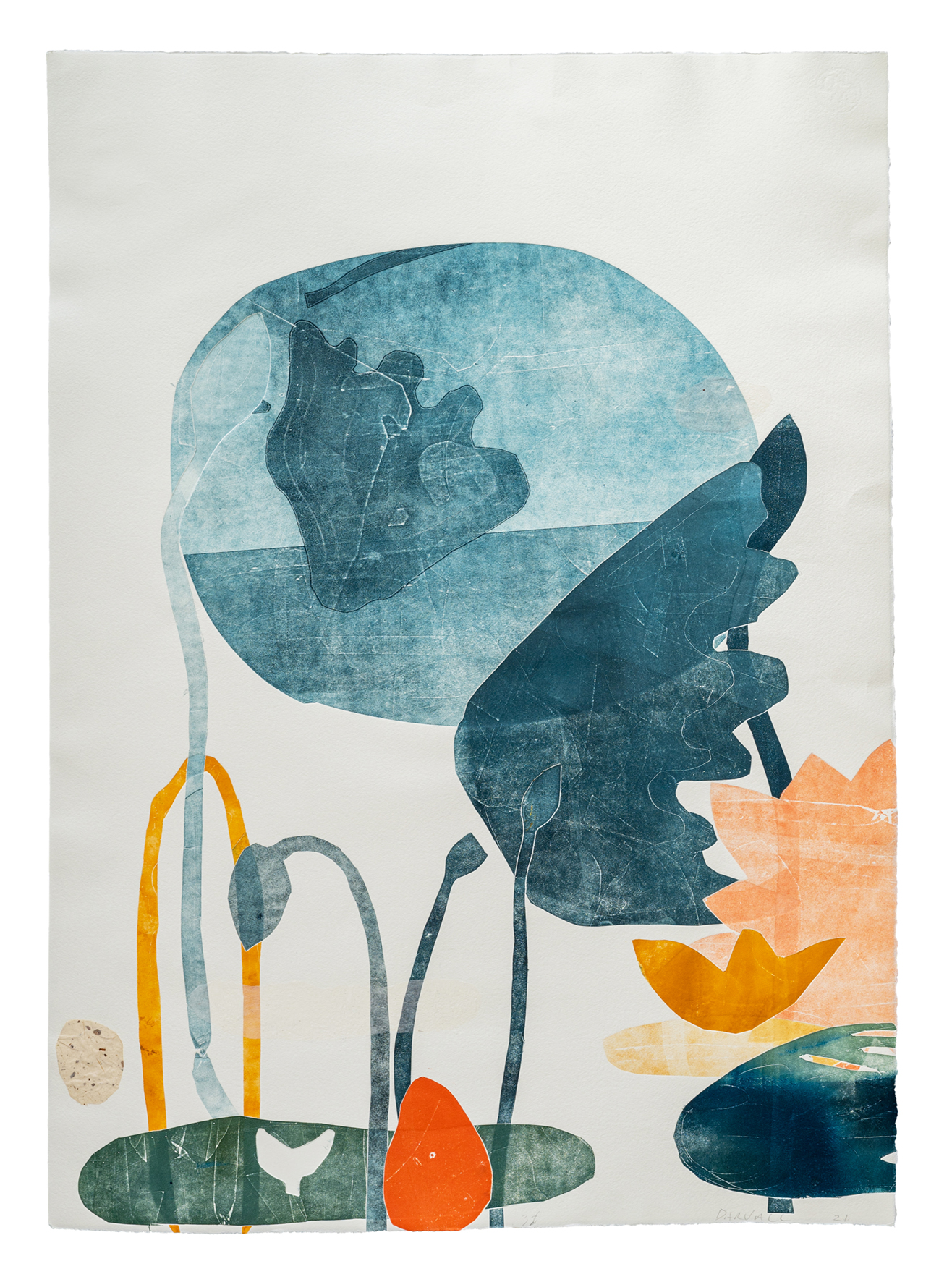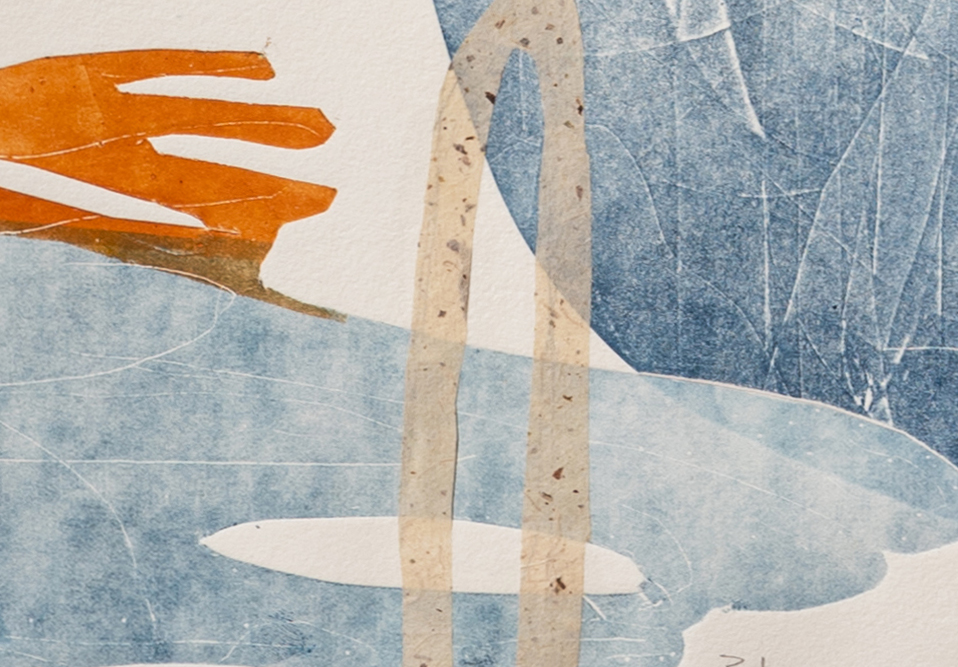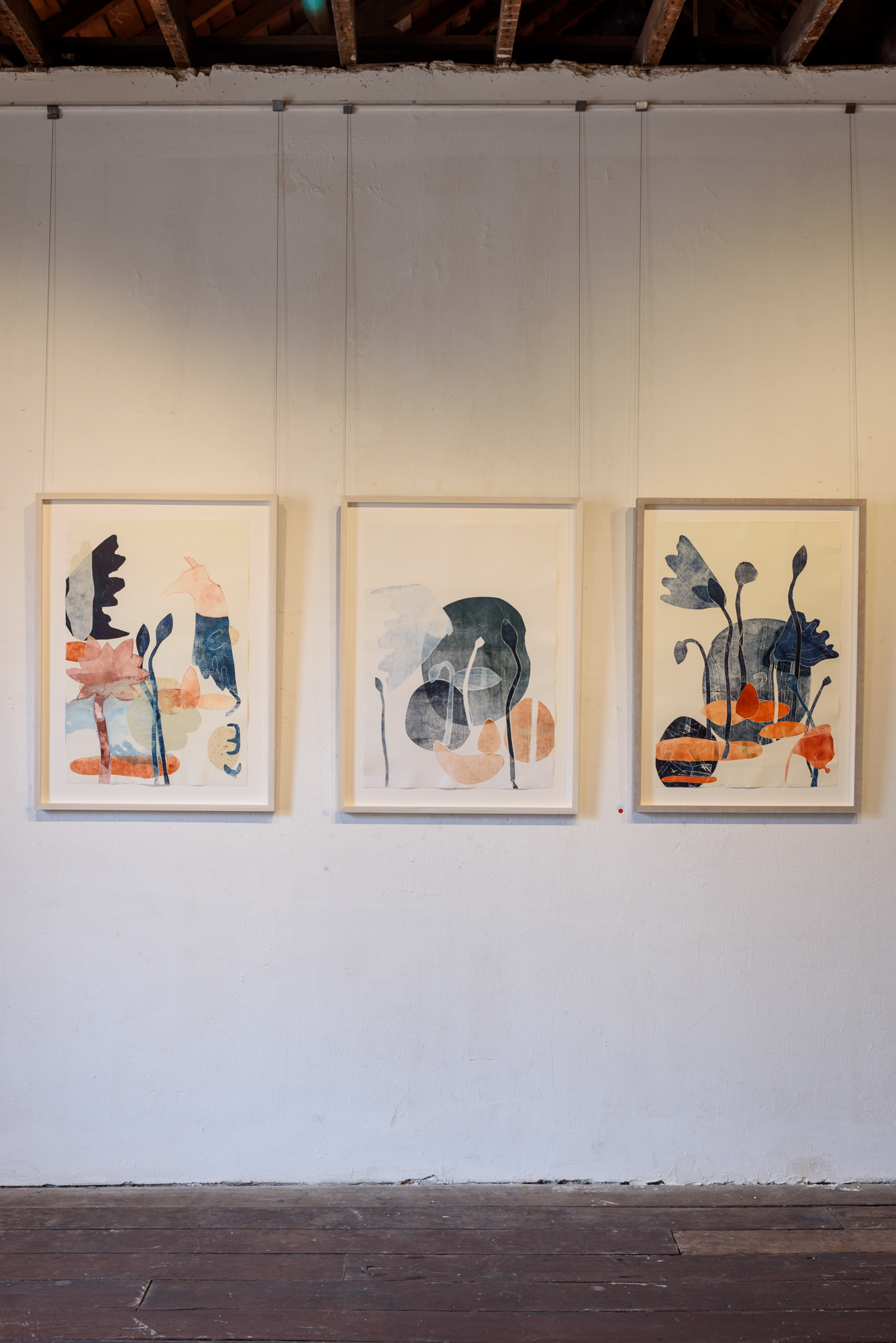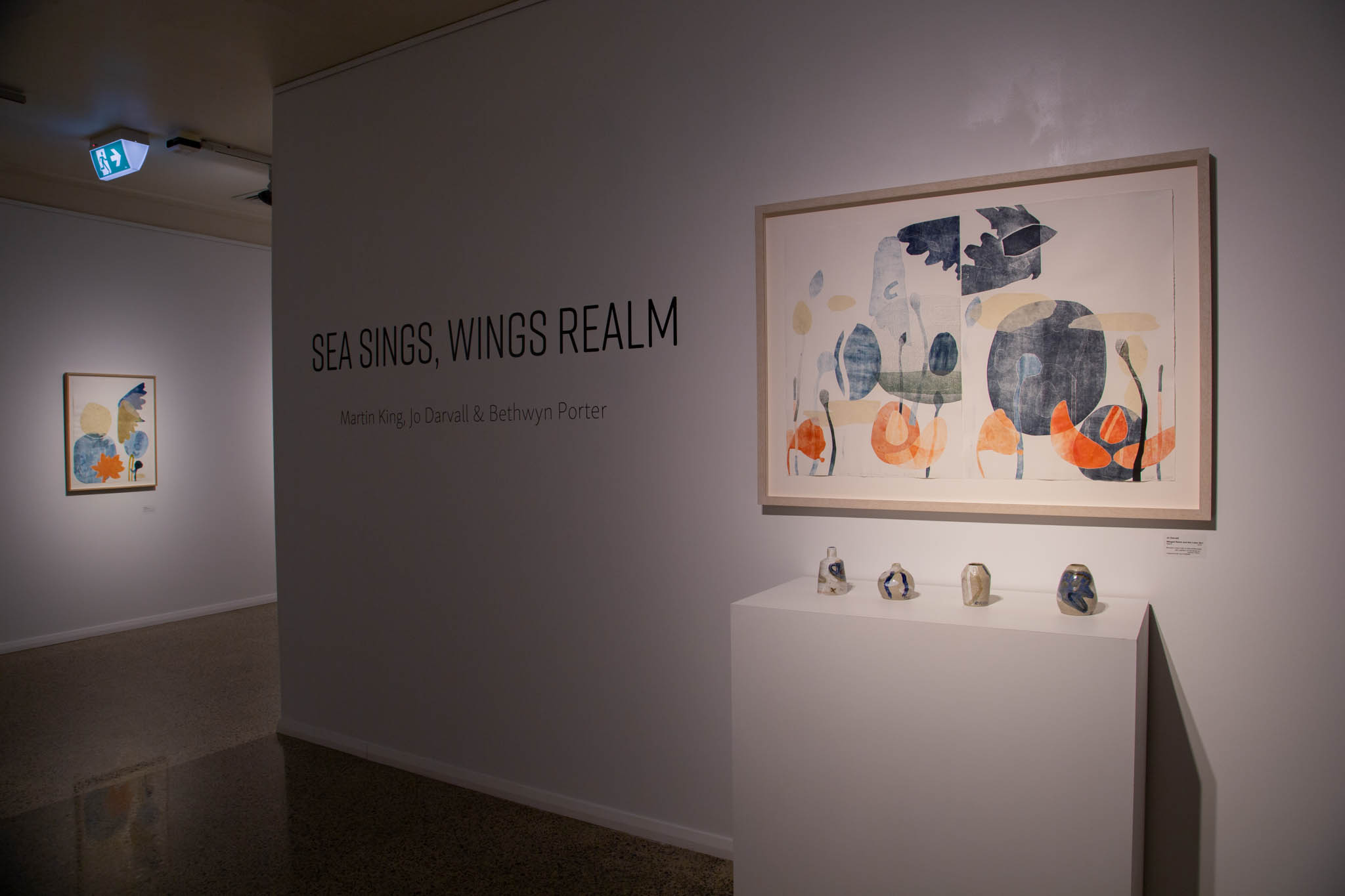 From top:
Jo Darvall, Winged Realm No 29 [detail], 78 x 53.5 cm, monotype and chine colle on Hahnemuhle paper
Jo Darvall, Winged Realm No 38, 2021, 78 x 53.5 cm, monotype and chine colle on Hahnemuhle paper
Jo Darvall, Winged Realm No 31 [detail], 2021, 78 x 53.5 cm, monotype and chine colle on Hahnemuhle paper
Jo Darvall, Winged Realm installation at Moores Building Contempoary Art Gallery Fremantle 2020, monotype and chine colle on Hahnemuhle paper. Photography: Miles Noel
Jo Darvall, Winged Realm installation at Geraldton Regional Art Gallery Western Australia Photography: Will Upchurch
Q: What were some of the foundation ideas for this exhibition project?
A: I have been developing the Winged Realm Series over the past three years, allowing time for the idea to be developed into a large body of work while simultaneously exhibited and viewed; recently in Western Australia at Geraldton Regional Art Gallery in a group exhibition alongside Martin King and Bethwyn Porter, in Singapore with Art Forum, in Sydney at Rochford Gallery and in Tasmania at the Burnie Print Prize. Finally, it is time to bring them to my hometown and exhibit the art works to a Melbourne audience.
In the 1980s I studied at the VCA before practicing in a studio at the Australian Print Workshop (APW) when it had an artist access workshop and artist studios on Gore Street in Fitzroy. Dean Bowen had a studio opposite me and on occasions I worked with Kim Westcott who was my friend and a Master Printer at APW at the time.
Q: How did the artwork selection take place?
A: There are 39 unique artworks in The Winged Realm Series, most of which have been acquired by major collections such as the City of Melville and Geraldton Regional Art Gallery and collectors in Australia and Singapore, so most of the works are recent. I feel the new monotypes are more resolved and confident than the earlier mono prints.
Q: How does the exhibition manifest – what do visitors experience?
A: The title pays homage to the avant-garde experimental poet Christopher Barnett. I met Barnett when I was a young artist living and working on Brunswick St, Fitzroy where Barnett would perform
 Haw's Flight
Sea sings, wings realm
Latitudes long lost
These words create an imaginary playground where characters I have created act out continuously. The simple shapes and colours unearth a sense of joyful freedom in a timeless place.
The lotus symbol is a nod to my Singaporean friends. You will often see this motif in reference to the Singaporean / Chinese artist Georgette Chen and Singaporean artist Chua ek Kay. Over the past eight years I have been exhibiting and travelling to Singapore, Hong Kong and China. In 2017, as the finalist in an exhibition at Sculpture Square, I was exposed to the works of Chen and Chua Ek Kay. My artworks regularly feature in exhibition programs at the contemporary gallery Art Forum, though unfortunately I could not accompany my artwork in its travel to Singapore.
Q: What are some of the key works and what subject matter do they deal with?
A: In this series the monotypes often work together. I have found, hanging the work in the gallery or in the studio, that the works will communicate with each other and you will find a number of diptychs in this series. Each work shares similar symbols but each work has a different composition. (Winged Realm Install, 2021).
Q: What is it about the printmaking experience that you most appreciate?
A: I find it easy to experiment. The printmaking process tends to create boundaries that will provide structure to my creative outbursts, otherwise everything is a complete mess… which could happen anyway.
I also have found, exhibiting the Winged Realm Series to audiences in Asia, that the materiality of the work such as the washi, lwaki and khadi papers collaged into the main German support paper provides a cultural connection to the audience, which creates a wonderful conversation. (See detail Detail Winged Realm No 31, 2021).
—
Winged Realm is at PG Gallery Thursday 15 July-5 August. Opening night 15 July 6pm, artist talke 16 July 4pm https://pggallery.com.au/
—
 Join the PCA and become a member. You'll get the fine-art quarterly print magazine Imprint, free promotion of your exhibitions, discounts on art materials and a range of other exclusive benefits.