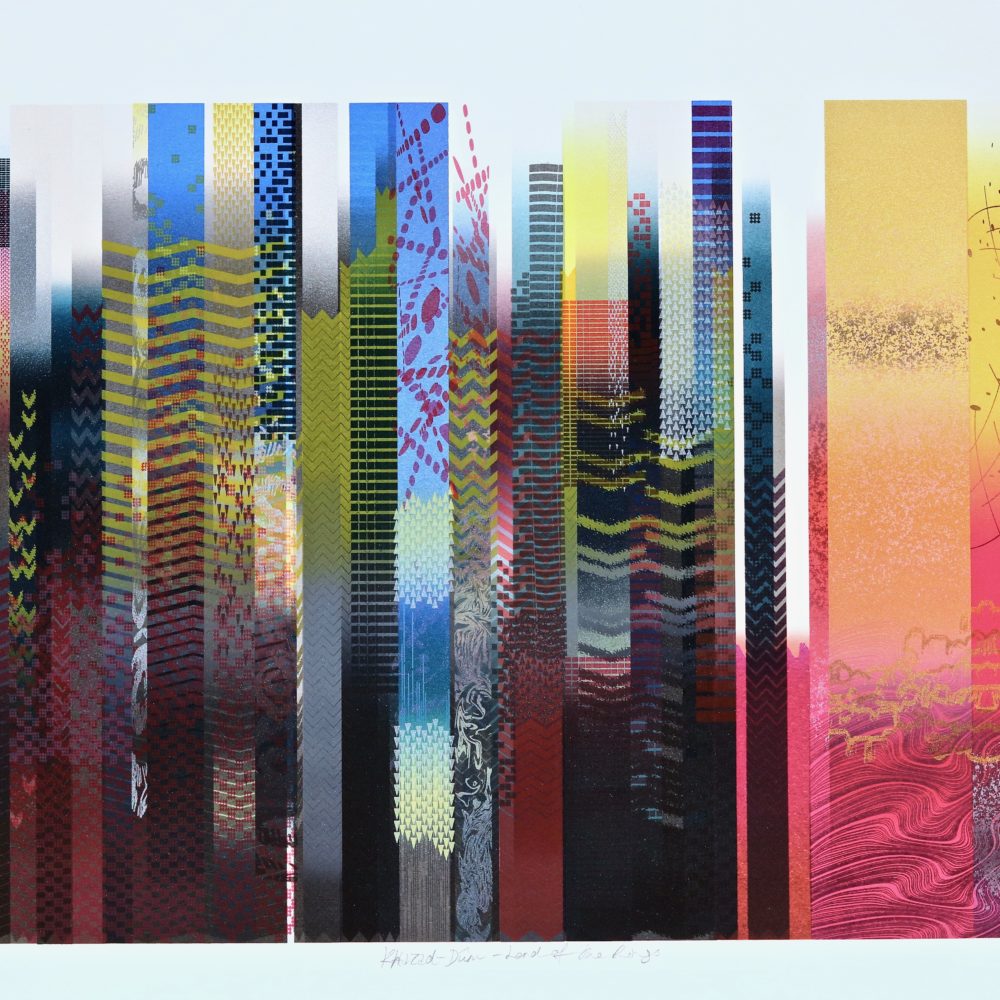 Curator Rachael Kiang discusses the Vision in Ink: Experimental Printmaking exhibition at Gallery Lane Cove.
7 August, 2019
In Exhibitions,
Printmaking, Q&A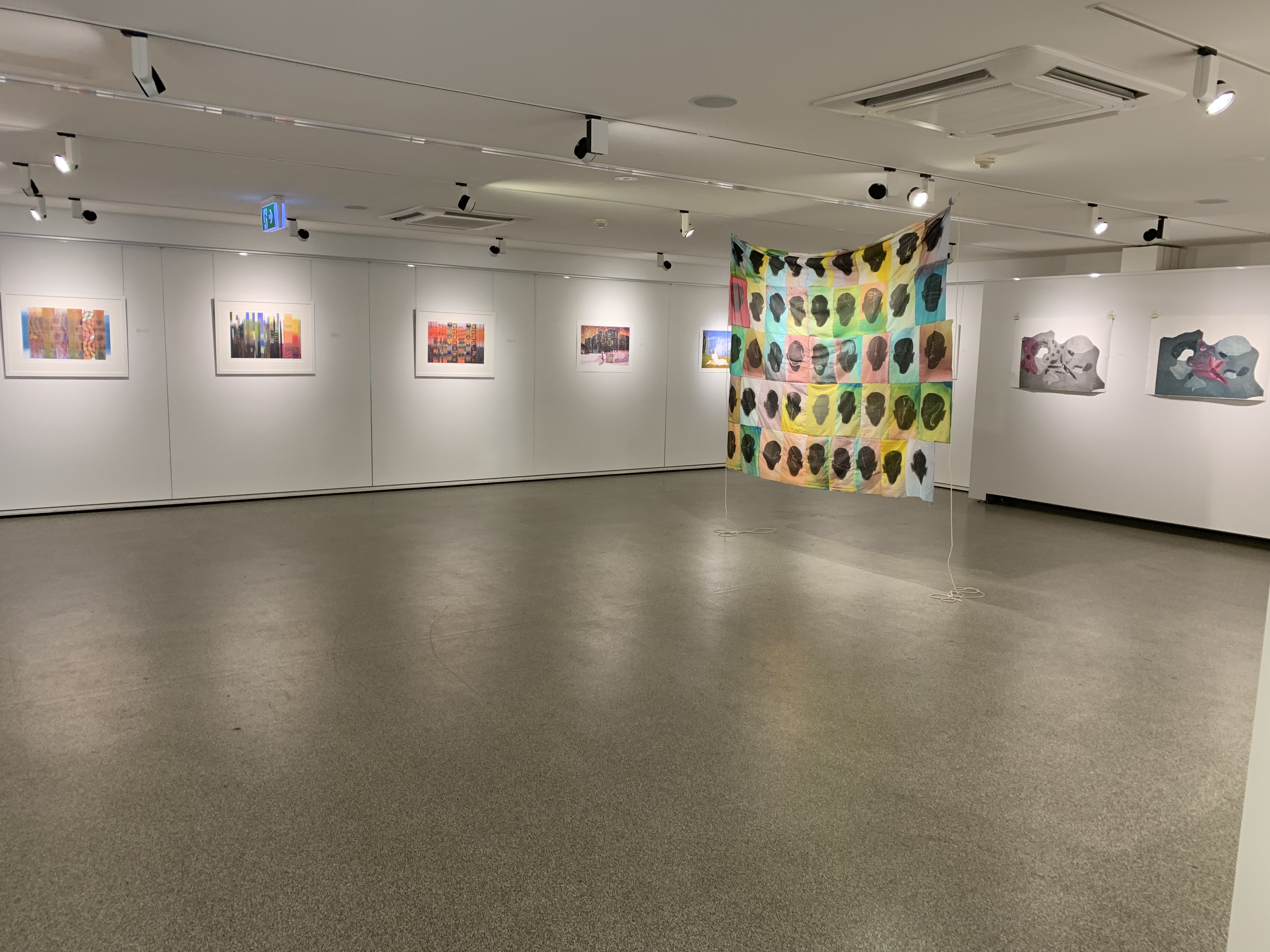 From top:
Judith Harvey, Khazad Dum-The Lord of the Rings, 2019, visual transposition, silkscreen print from 109 stencils on BFK Rives, edition 4 of 8. 56.5 x 76.2 cm. Image courtesy of the artist.
Installation view of Vision in Ink: Experimental Printmaking at Gallery Lane Cove. Image courtesy of Gallery Lane Cove.
Q: What were some of the foundation ideas you began with when embarking on this exhibition project?
RK: We are interested in uncovering how artists working with print media are pushing the boundaries. This exhibition is conceived as a platform to showcase experimentation in printmaking – both in terms of processes and aesthetics and to promote use of the printmaking medium in contemporary art practice.
Conceptually, the project is designed to be in dialogue with Helen Best's retrospective exhibition in the adjacent space, with the view to examining the breadth of printmaking and the differences between current experimental practices of emerging artists and that of a respected traditional printmaker.
As an organisation, we are committed to promoting printmaking. Part of the reason is to continue the legacy of Lloyd Rees, who was one of the early founders of Centrehouse Inc., the local not-for-profit arts organisation that manages Gallery Lane Cove and Creative Studios. The other is to encourage the development of the medium in Sydney, in particular safer printmaking practices in the context of contemporary art-making.
Gallery Lane Cove and Creative Studios has a modest printmaking studio with three presses and screenprinting facilities including a one-armed bandit with the facilities available for hire to printmakers and students.
The exhibiting artists will have the opportunity to run demonstrations at our print studio as part of the exhibition's public engagement.
Q: Who are the artists and how did the selection take place?
RK: Elizabeth Creixell, Melissa Hamlyn, Judith Harvey, Jill Kelly, Evan Pank, Daniel Press, Karan Singh Shekhawat, Laura Stark, Kye Thompson and Deborah Wilkinson. Originally, the focus was on emerging artists but we included a number of more experienced artists to present a broader view of experimental printmaking. The selection was done in-house by the Gallery Manager and Curator, with input from two other staff who graduated with printmaking majors.
Q: How does the exhibition manifest – what do visitors experience?
RK: The hang is quite contemporary and sparse. Visitors encounter scent (from a lithography work printed on fabric) shown as an installation piece; sound, from a video work captured of prints; colour and texture. Also visible is the scale of works, from minute to large. The experience we would like visitors to walk away with is a better understanding and appreciation of the breadth and depth of printmaking – its various techniques, forms and aesthetics.
Q: What are some of the key works and what subject matter do they deal with?
The visual transposition series by Judith Harvey (JAH), is exemplary of a highly contemporary approach to printmaking. Her work is post-medium and conceptually driven and focuses on the interplay of music, art and sound. The series of three prints theorise a relationship between music and fine art, through composition analysis. Screenprinting is applied for its similarities to music composition.
Evan Pank 's large-scale screenprints are focused on the emotion and passion of football supporter culture. His own experiences are central to the developing of these works which connect football and political activism.
Deborah Wilkinson's expanded print practice involves the use of the video format, incorporating text and music to bring to life, stories of her series of prints. They reference everyday life, much like a diary or storyboard. The hand-stamped texts were made using metal letterpress types from the Museum of Print, New England Art Museum, Armidale, during an artist residency in 2017.
With a total of eight artists, the subject matter dealt with ranges from the personal, geographical, conceptual and political. In its totality, Vision in Ink: Experimental Printmaking is about the importance of experimentation. It highlights the wealth of creative possibilities and outcomes.
_
Vision in Ink: Experimental Printmaking is at Gallery  Lane Cove until 17 August