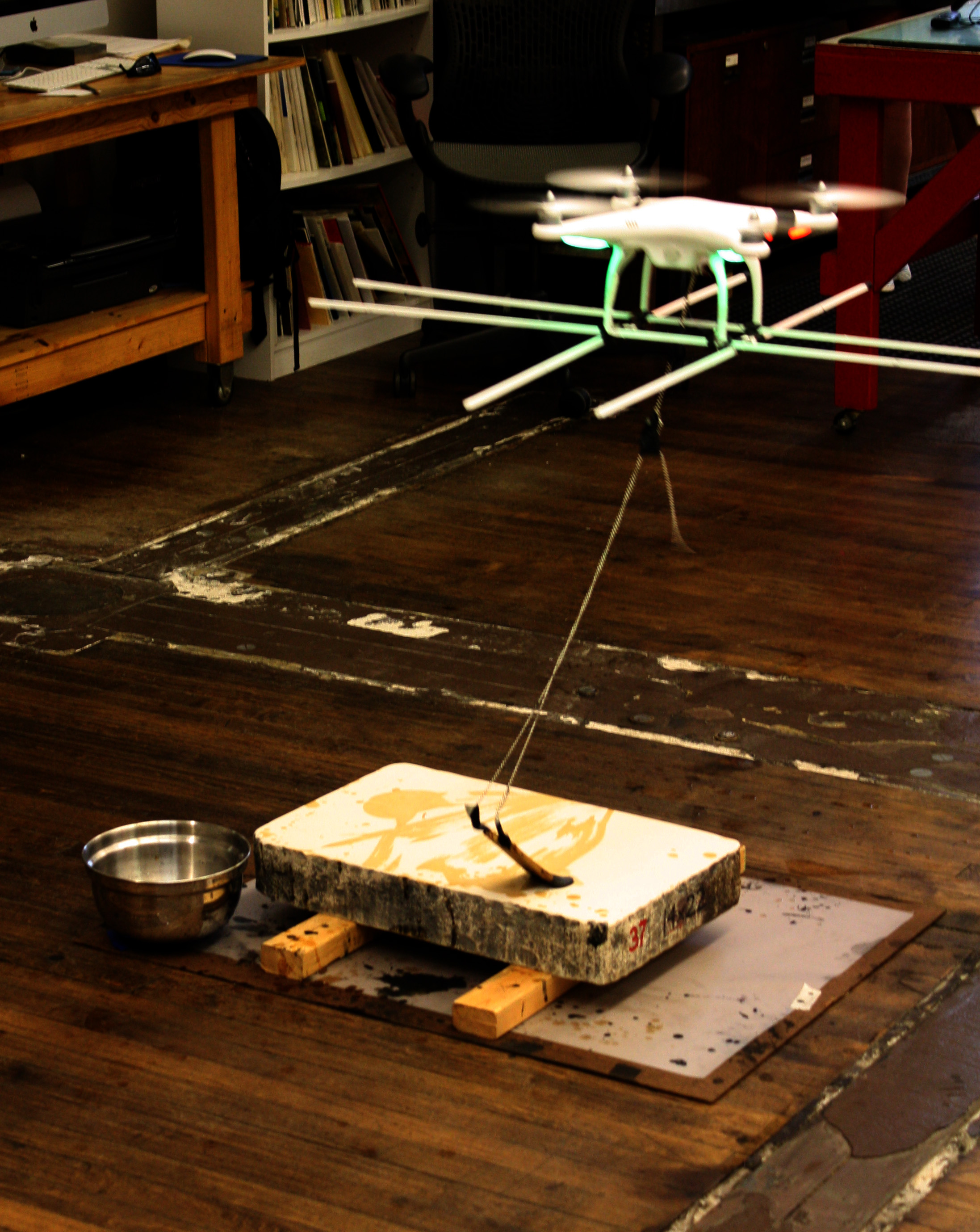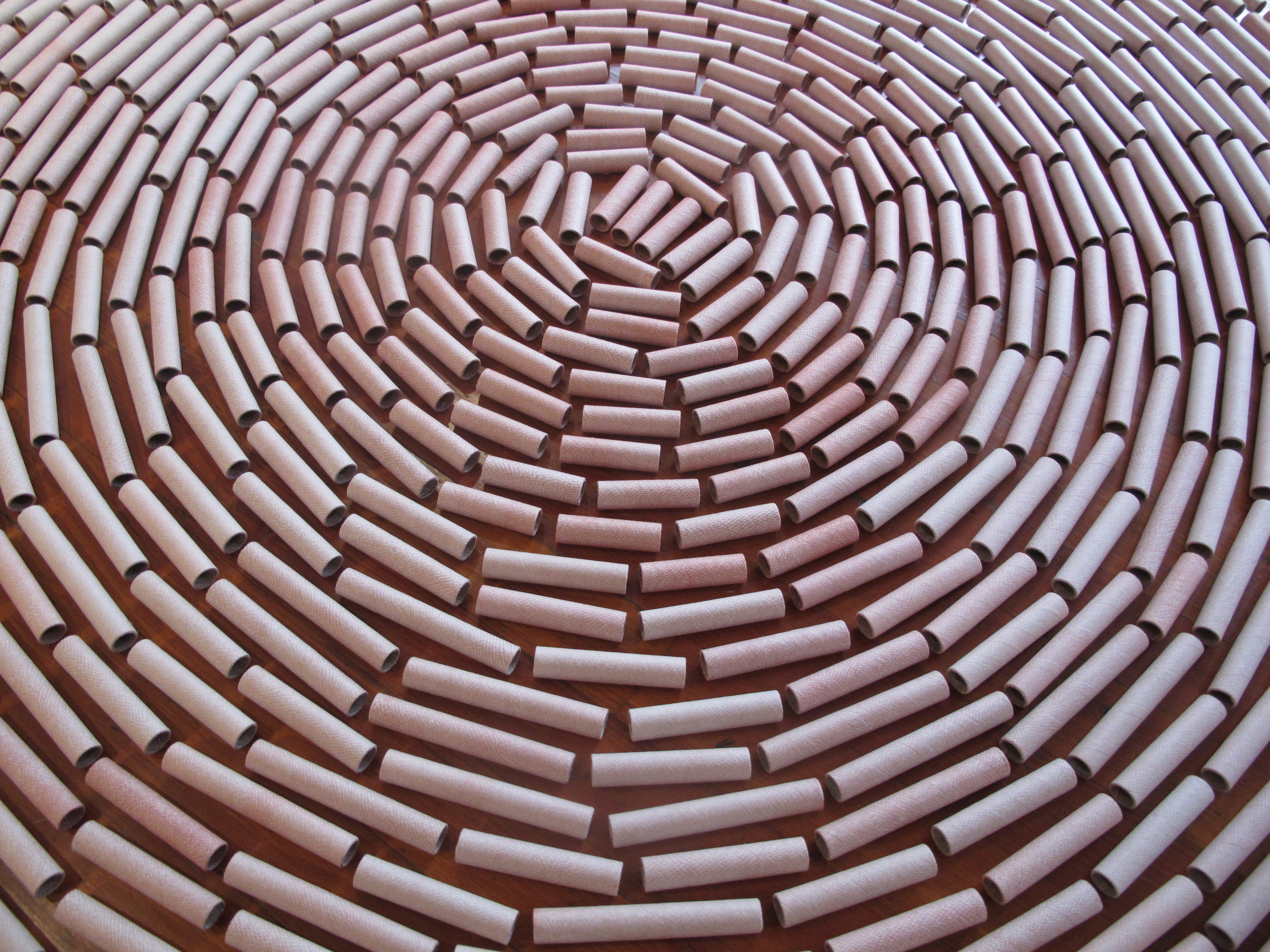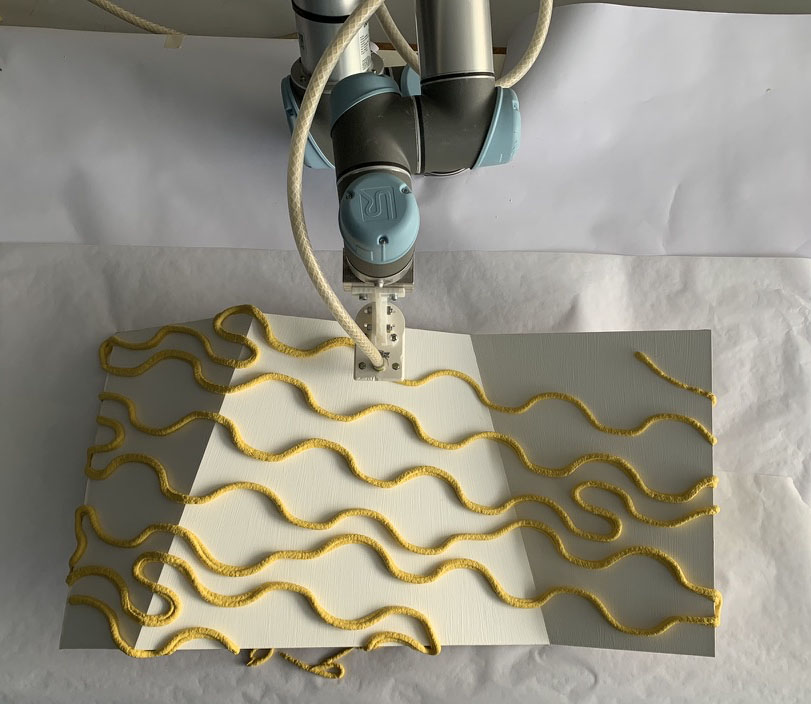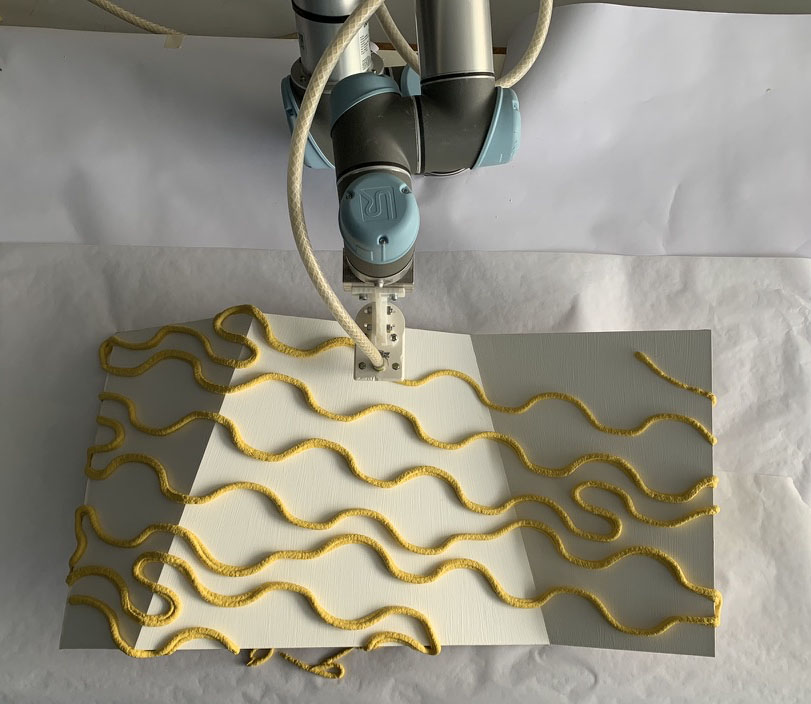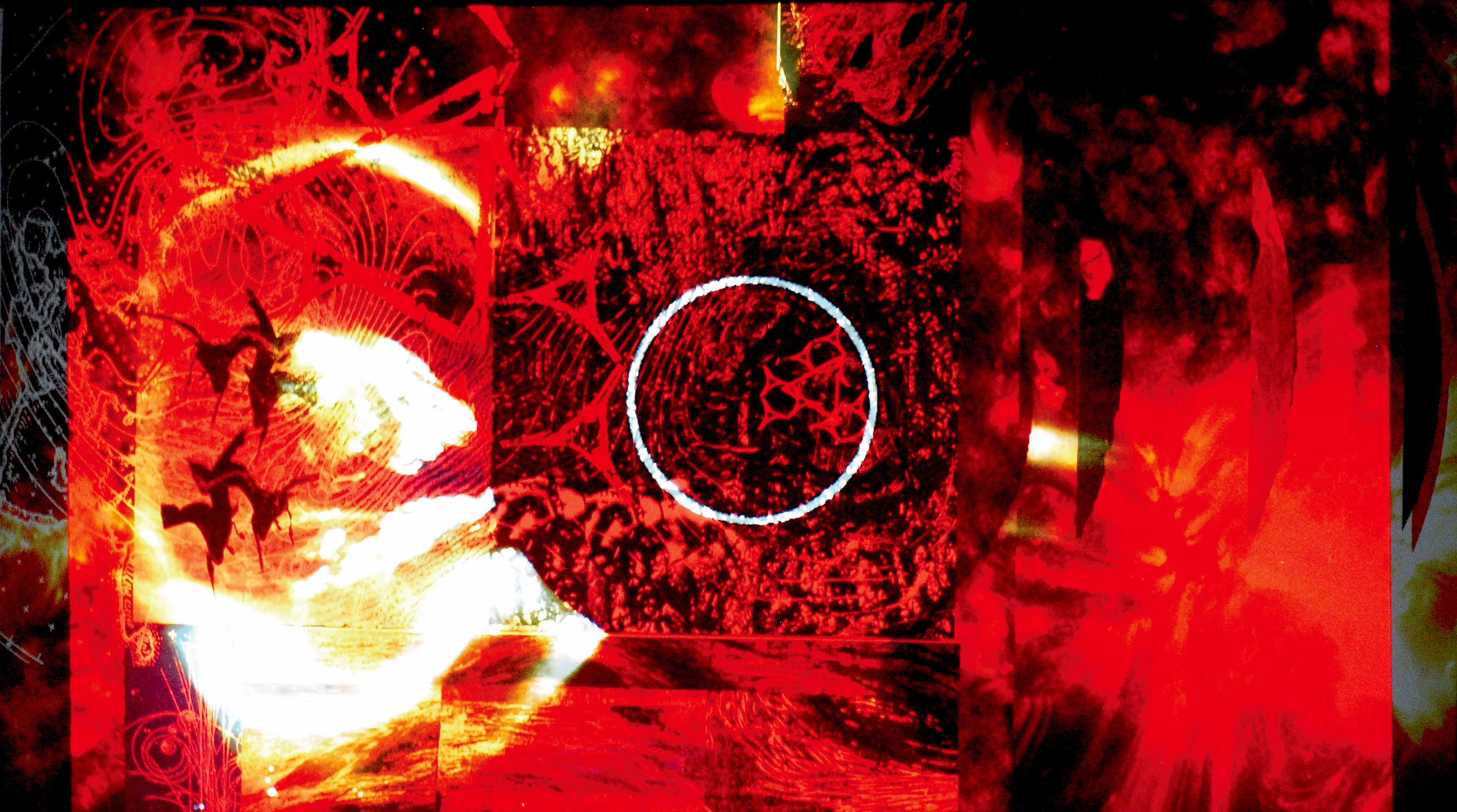 From top:
Marta Pogorzelec, Refugium (V), 2017, lenticular print, 58.5 x 120 cm. Photographer Piotr Pajak. Image courtesy of the artist.
Paul Catanese, Stones & Drones, 2014, studio experiments. Image courtesy of the artist.
Santiago Pérez, 3D RoboPrint Fold Series 01, 2021, robotically extruded pulp and acrylic on MDF Board, 37.0 x 49 cm. Image courtesy of the artist.
Ingrid Ledent, Mindframe, 2020, (installation detail), lithography on Whenzhou paper, glued on cardboard tubes, size: diameter approximately 2.5 m. Photographer: Ivan Willemyns. Image courtesy of the artist.
Deborah Cornell, Eclipse Phase, 2018, (installation detail), digital mural on Angelica, 259 x 396 cm with single channel video (8" 11") and sound. Collaboration with composer Richard Cornell. Image courtesy of the artist.
Q: What were some of the foundation ideas you began with when embarking on this exhibition project?
TRANSMEDIAL: Expanding Technologies in Contemporary Printmaking originates from our shared interest in contemporary printmaking; years of studio practice that began by specialising in traditional forms of etching and lithography followed by a growing curiosity about the rapid changes in print media caused by inclusion of new technologies. The idea for the exhibition was coined in 2018 while we worked on a joint article 'Bringing the World to its Senses' for IMPRINT magazine questioning the abundance of printmaking techniques driven by technology and its impact on conceptual aspects of print. At the same time drawing upon our discussion with artists while attending international printmaking conferences; Impact10, Spain 2018, and A Green Dream, Japan, 2019  highlighted a need for investigating the impact of digital technologies upon traditional printmaking techniques.
Q: How did the artwork selection take place?
We wanted to select artwork from established and mid-career artists who investigate work that shares an affinity of expanding technologies in contemporary printmaking. This led to the broad selection of innovative interdisciplinary artworks from WA, UK, Belgium, USA, and Poland that have never been seen in Perth before and will significantly contribute to the dynamic, sometimes overlooked WA printmaking scene.
Q: How does the exhibition manifest – what do visitors experience?
PS was chosen for TRANSMEDIAL because of the buildings unique character and recent development as an innovate and experiential project space that also supports artists' studios. PS is a Heritage listed site as a Federation Style warehouse on Packenham Street, near Fremantle Port.
The work exhibited in TRANSMEDIAL offers immersive, multi-sensory experiences, encouraging the viewers to touch, listen, and interact. This exhibition promotes the use of innovative printmaking techniques and their relation to form, process and ideas, highlighting the multidimensionality of printmaking, its vitality and strong position within contemporary art.
We hope to present printmaking students portfolios from the Royal College of Art and Art Academy in Katowice to benefit WA fine art students to see what their peers are creating in different countries and how their own practice relates to a broader international context.
The artists are exploring older and newer forms of print technologies; digital, laser scanning, thermochromic colour changing inks, lenticular and Woodburytype prints, soundscapes in print, robotic drawing machines and use of drone technology in printmaking. We believe that the strength of the work lies in the fine balance between the material and digital, visible and invisible, static and moving, from which the materiality of contemporary prints emerge.
Q: What are some of the key works and what subject matter do they deal with?
As curators our intention lay in audiences being able to cross-reference TRANSMEDAIL works among the PS gallery space to encourage new dialogues that ask what technologies future impact on printmaking might be.
Snippets of insights into significant TRANSMEDIAL work that conceptualises art practice alongside the use of digital technology:
1: Marta Pogorzelec's prints are driven by psychological motivations. Her lenticular prints challenge the two dimensional surfaces of print, and deal with the ways that "we conceal rather than face outside judgement from the world around us". Refugium V, (2017), offers the recipient a possibility to interact with  an image that "magnetizes, absorbs, and provokes, to ignite experiences, thoughts and knowledge which are deeply hidden" TRANSMEDIAL pers. comm.,15 January 2020.
2: Paul Catanese, a hybrid media artist from the US says; "image making plays the role of keeping me in motion, helping me to understand and shape my ideas". His performative use of drone technologies in conjunction with traditional printmaking techniques is explored through studio experimentation in Stones & Drones (2014).
3: Santiago Pérez's emerging body of work for TRANSMEDIAL uses a robotic arm for painting and printmaking to explore the "Space Between". This image shows Paper-Pulp Robotic printing on three-dimensional folded substrates, that has been carefully scripted and programmed. Pérez's algorithmic codes drive a robotic arm for controlling physical matter; cement and paper-pulp are extruded into 3D patterns where themes of uncontrol and unpredictability lie between a digital process that translates paint as a print. This is a crucial part of  Pérez's interdisciplinary design practice, that rethinks fabrication technologies.
4: Ingrid Ledent's installation Mindframe (2018) questions the notion of reproducibility and repetition creating a multi-layered work that involves video, lithographs, sound and digital prints.
5: Eclipse Phase (2018) work by Deborah Cornell, is a digital mural comprising of digital prints, video projection and sound. Layering occurs on many levels, there are multiple layers compressed within digital prints, overlapping projection and the sound waves, and significantly the viewer's experience of being within the work. We are transported into images drawn from the Allen radiation belt that surrounds the earth, solar wind, voices, and images of bird wings in migratory motion. The environment created by the work activates the senses when moving through its space triggering multi-sensory experiences.
—
TRANSMEDIAL: Expanding Technologies in Contemporary Printmaking is at PS gallery, 22-26 Pakenham St, Fremantle, Western Australia, until 19 June. 
—
 Join the PCA and become a member. You'll get the fine-art quarterly print magazine Imprint, free promotion of your exhibitions, discounts on art materials and a range of other exclusive benefits.