Towards Strangeness, an exhibition of recent artworks by New Zealand printmakers, explores varying degrees of the inexplicable, the unfamiliar, and the mysterious. By Kyla Cresswell, Catherine Macdonald, Prue MacDougall, Kathryn Madill and Nan Mulder.
28 March 2022
In Exhibitions,
Printmaking, Q&A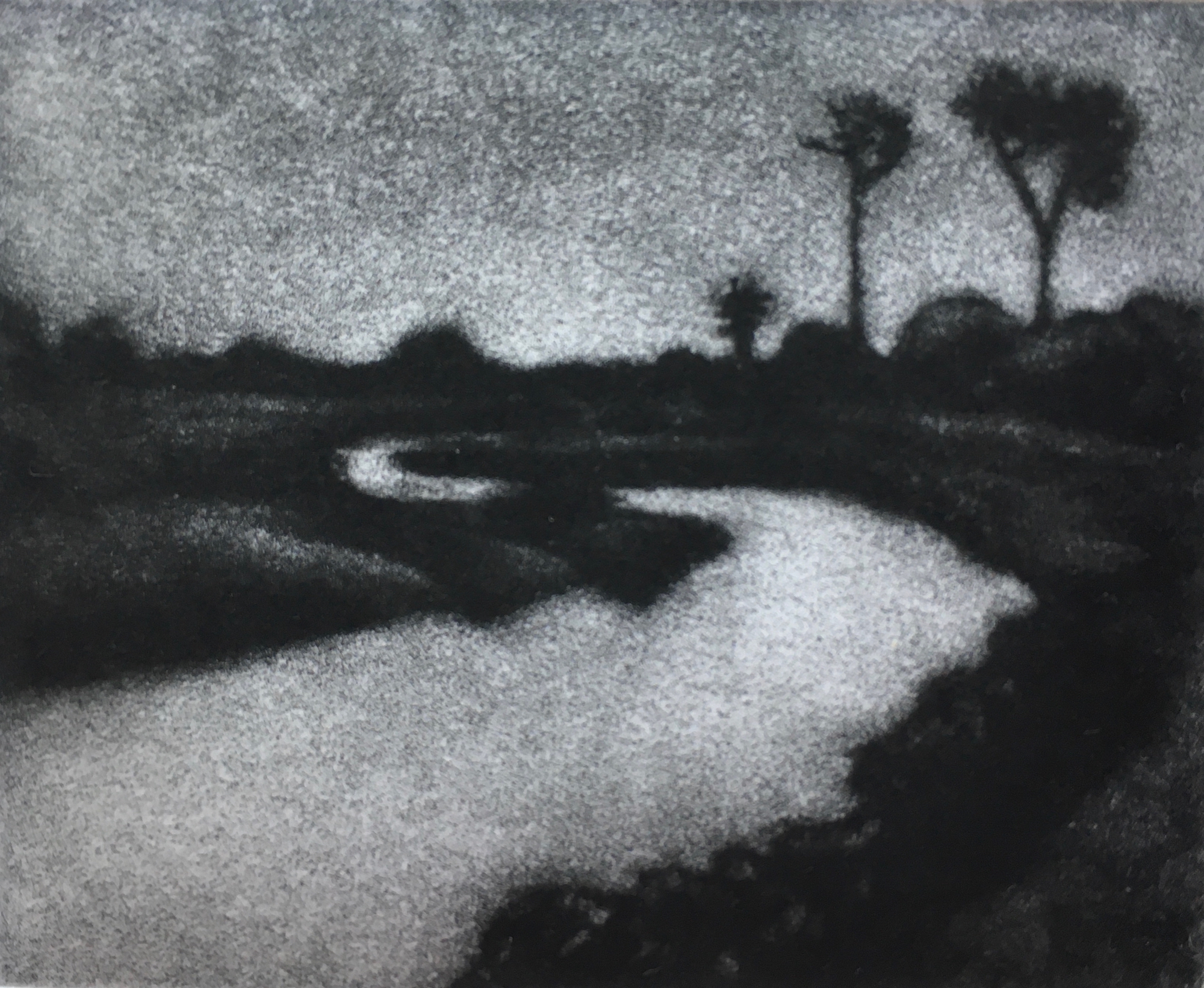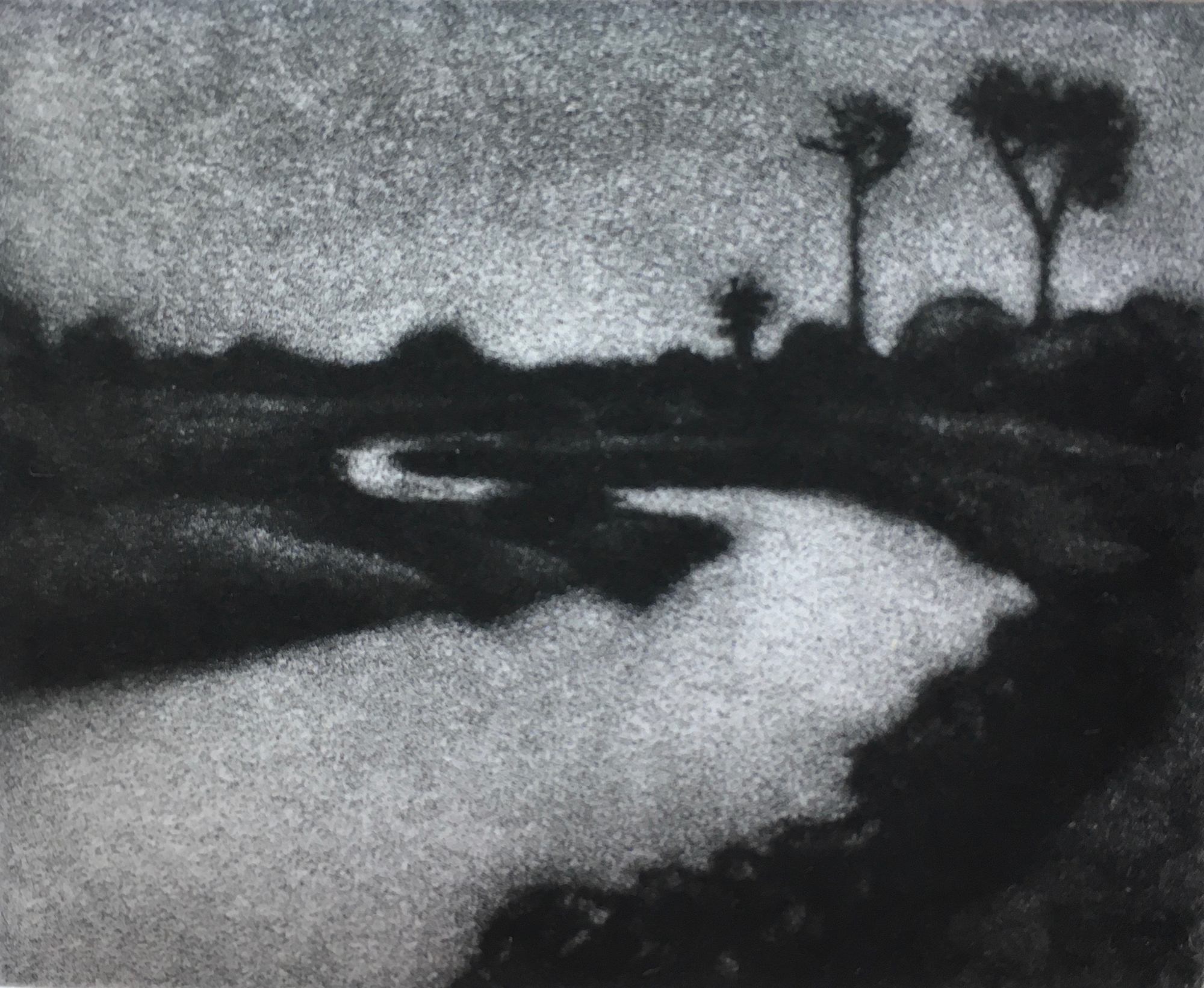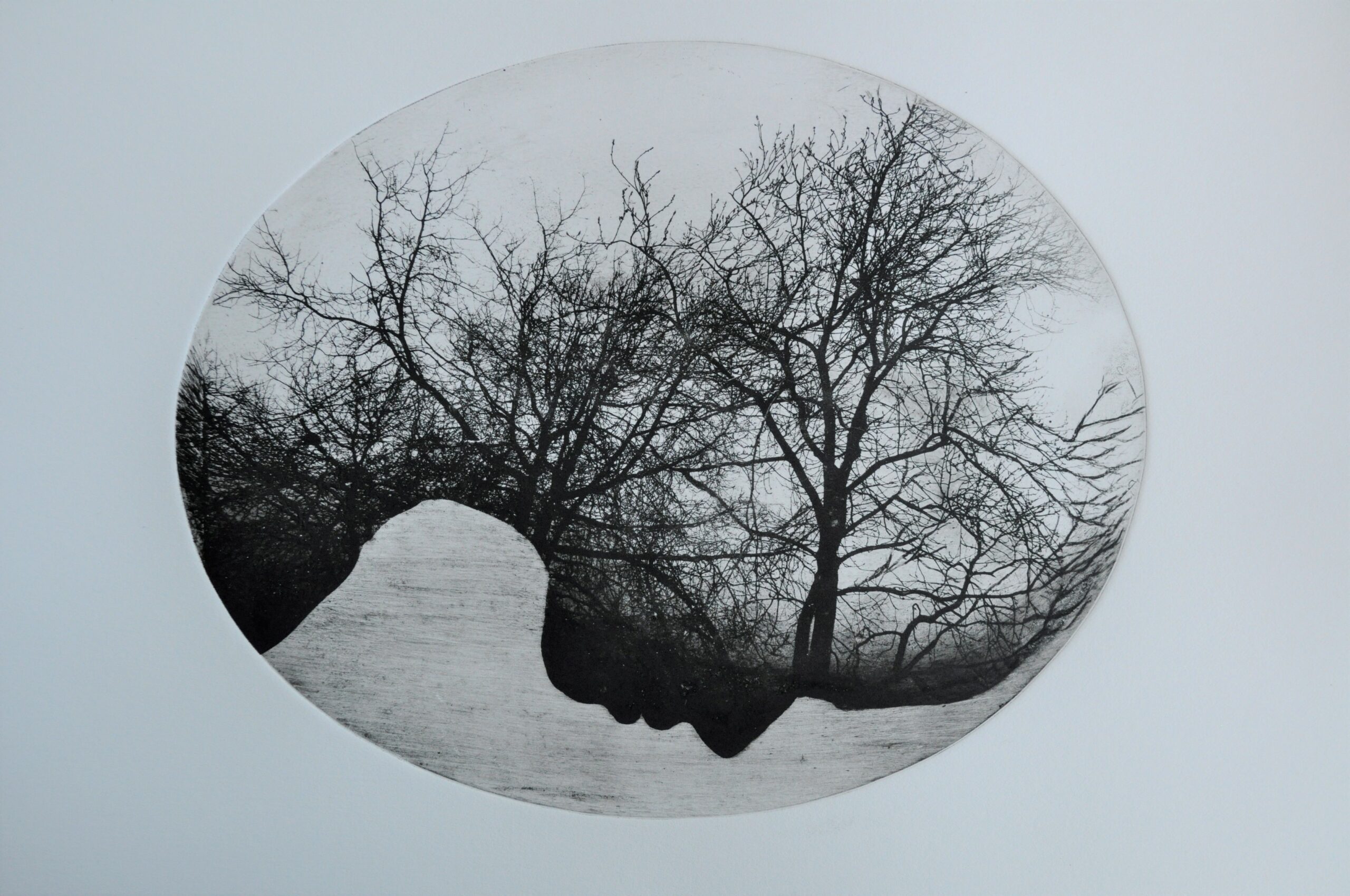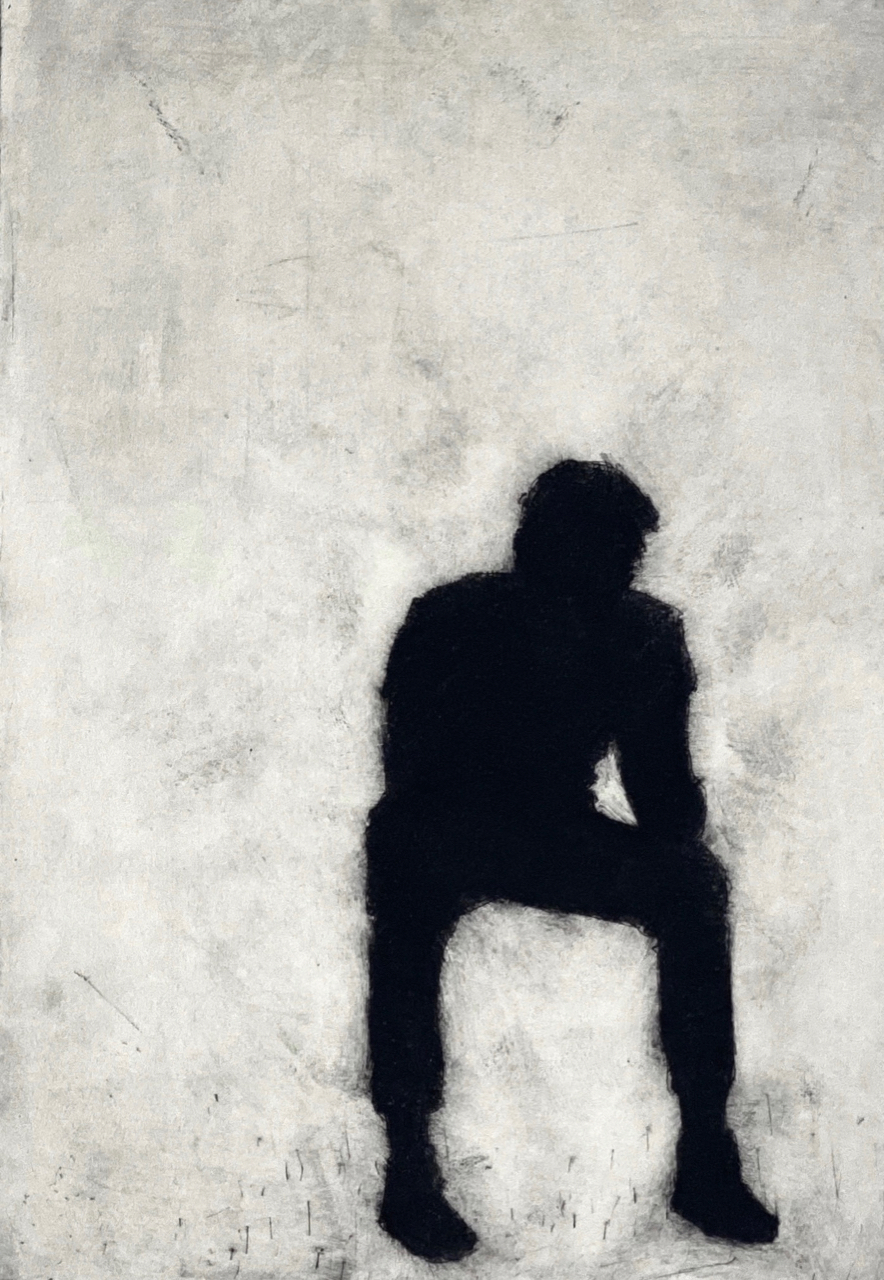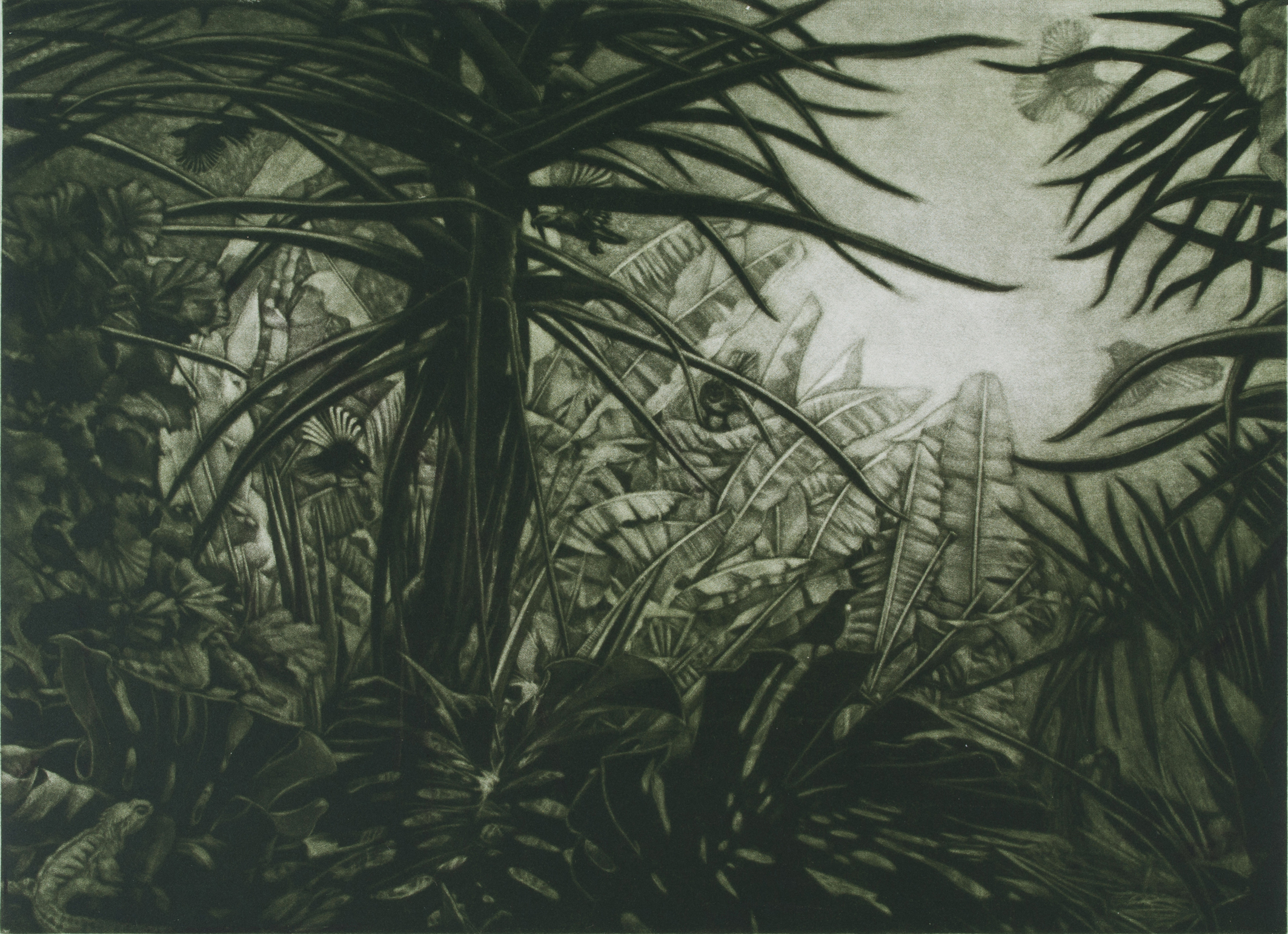 From top:
Kathryn Madill,  The Forest , 2022, monoprint, 25 x 30 cm
Kyla Cresswell, Waihopai, 2021, pre-rocked mezzotint, 5 x 6 cm, edition of 20
Prue MacDougall, Terra, 2021, intaglio photopolymer etching, 25 x 20 cm, edition of 20
Catherine Macdonald, The Quiet, 2021, drypoint, 20 x 20.8 cm, edition of 10
Nan Mulder, Towards Strangeness I, 2019, mezzotint, 32 x 42 cm,
What were some of the foundation ideas for this exhibition project?
There is often a sense of disquiet in the New Zealand experience. It is reflected in our films, art, music. We wanted to bring together a small number of New Zealand artists who were working in printmaking and celebrate this. The title comes from one of Nan Mulder's works (Netherlands/ New Zealand) and this was inspired by the book Why we remain in the dark by Josh Cohen, which is about how we all carry a place inside ourselves, a place of strangeness, which we never can fully understand. The artists have all exhibited together in the past and are all connected in their use of intaglio processes. The work was selected by the artists according to the number of pieces required for the show and the suitability with the theme.
How does the exhibition manifest – what do visitors experience?
Visitors will experience a broad range of contemporary printmaking techniques in the works which will be largely 2D. They will see a snapshot of current New Zealand printmaking from established artists, with women who are well versed in their chosen mediums exploring the strangeness of the human experience as well as the manifestation of this in the landscape.
What are some of the key works and what subject matter do they deal with?
Kathryn Madill's monoprints and mezzotints are like vignettes, exploring fragments of literature, legend and landscape. Kyla Cresswell's works oscillate between the light and dark, tiny mezzotints to draw in the viewer, crisp drypoints and embossings speak of the delicate balance of our ecosystem. Catherine Macdonald's drypoints are a slice of life, depicting people taking stock and taking a break in these strange times. Nan Mulder's large scale mezzotints are an exploration of the time she spent at Wharepuke Subtropical Gardens in New Zealand, experiencing the thick foliage and feeling as if she were slinking towards a metaphorical interior. In Prue MacDougall's work nature is often superimposed and imbued with human traits and qualities having an ancient, mythical presence.
What is it about the printmaking experience that you most appreciate?
The variety of techniques available to suit all matter of imagery. The way these processes are grounded in the past and constantly push the boundaries for the future. Furthermore, the process that each requires, is like a journey and a meditation. Printmaking is also wonderful in the way it draws people together – perhaps in a studio environment providing access to equipment, or maybe through discussion about process and wider artistic practice. It keeps an artist on their toes!
—
Towards Strangeness' is on at PG Gallery, 227 Brunswick St, Fitzroy, Melbourne 14 April-5 May
—
 Join the PCA and become a member. You'll get the fine-art quarterly print magazine Imprint, free promotion of your exhibitions, discounts on art materials and a range of other exclusive benefits.