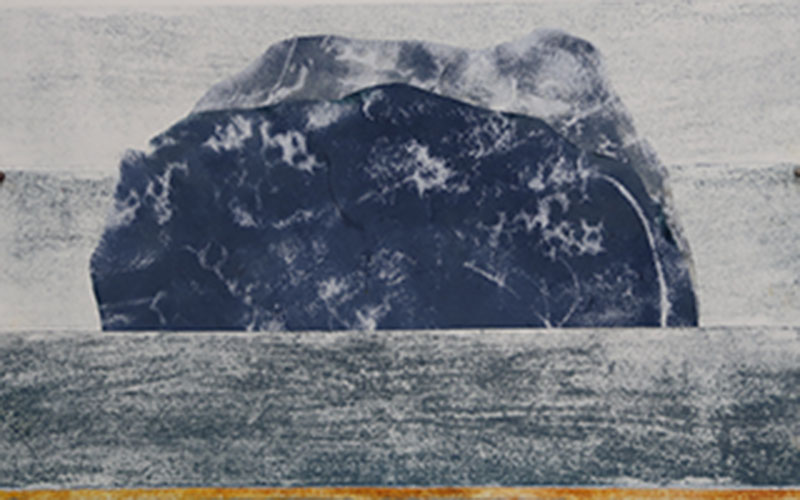 From top:
Anna Russell, Short life, long lineage, 2021, collage, ink, encaustic on board, 40x30cm [Monoprint]
Rebekah Honeyman, Feather1, Time heals all wounds, 2021, lino blind emboss on plaster bandage, 15x30cm
Rebekah Honeyman, Timed out, 2021, drawing, Plaster bandage, 60x60cm
Rhonda Nelson, Incoming, 2021, collagraph, clay print, 39 x57cm
Time for this? is open to many interpretations: make time for this, it's timely, a call to action, a sense of urgency, a call to review priorities. These prints reflect the stillness and emptiness of a world running close to exhaustion, explosive fragmentation of the present against the stability of the past in paint strips, the hieroglyphics of physicists embedded in encaustic, grief that resists fading with time embossed in plaster fragments.
The three artists –  Rebekah Honeyman, Anna Russell and myself – placed no constraints on how we have individually interpreted the theme. We considered the potential for diversity in the nature of the work, materials and techniques a positive.
Russell became interested in the equations used to describe the time intervals of waves, juxtaposing them against the subjective experiencing of time passing. These equations – specialisations of human culture – are incomprehensible to some and a universal language to others. The sense of time passing on different levels is the basis of her work with paint strips. On some levels the passage of time can have an intense and explosive energy, while other levels are relatively static – compare the rate of change for children to the continuity of adult life in the studio. The nature of time makes scale an ally in constructing these works.
Honeyman uses plaster bandages to observe time as an agent of grief.  Grief is a world stripped bare. Where once there was refuge and hope, now only desolation and mistrust.  Her highly emblematic work rendered in a printerly manner is embedded with fragile moments and crumbling imagery. Hints of time marked, and the innate complexities time brings to grief, the work explores the subjective and collective nature of our grieving world.
I have contemplated our responses to living with a looming threat, (climate change anyone? COVID 19? HSC?)  There can be a slowing down of time as a crisis approaches, and we try to grapple with its reality.  We might be curious, horrified, anxious, stressed or panicked and frozen.  Other works suggest a vast ambiguous landscape at the margins of habitation.  A narrow contrasting strip hints at a finite limit in an otherwise timeless field.
We wanted the exhibition to find the balance between showcasing our individual approaches and making the exhibition cohesive and coherent, but also to give each work sufficient space to breathe and to be considered in its own right yet part of the whole.
We agreed to manage the balance by completing more work than we would need, so that we were free to select once we were hanging in the gallery. This process requires trust, restraining egos and maintaining a sense of fairness in the works selected and how they were hung. Since Honeyman is a high school teacher on the Atherton Tableland, she only had a few days with Russell and myself  before the hang.
Our strategy was to get started early, and be well equipped. As expected in hanging the three bodies of work, new meanings and unforeseen connections emerged – one of the great pleasures of hanging.
This exhibition of recent print-based works from Rebekah Honeyman, Rhonda Nelson and Anna Russell is at The Corner Gallery, Cnr Percival Rd and Myrtle St, Stanmore, 8-13 April, 10 am to 6 pm. An afternoon of drinks and conversation with the artists will run 2-4 pm on Sunday 11 April. 
https://thecornergallerystanmore.com/
—
Join the PCA and become a member. You'll get the fine-art quarterly print magazine Imprint, free promotion of your exhibitions, discounts on art materials and a range of other exclusive benefits.