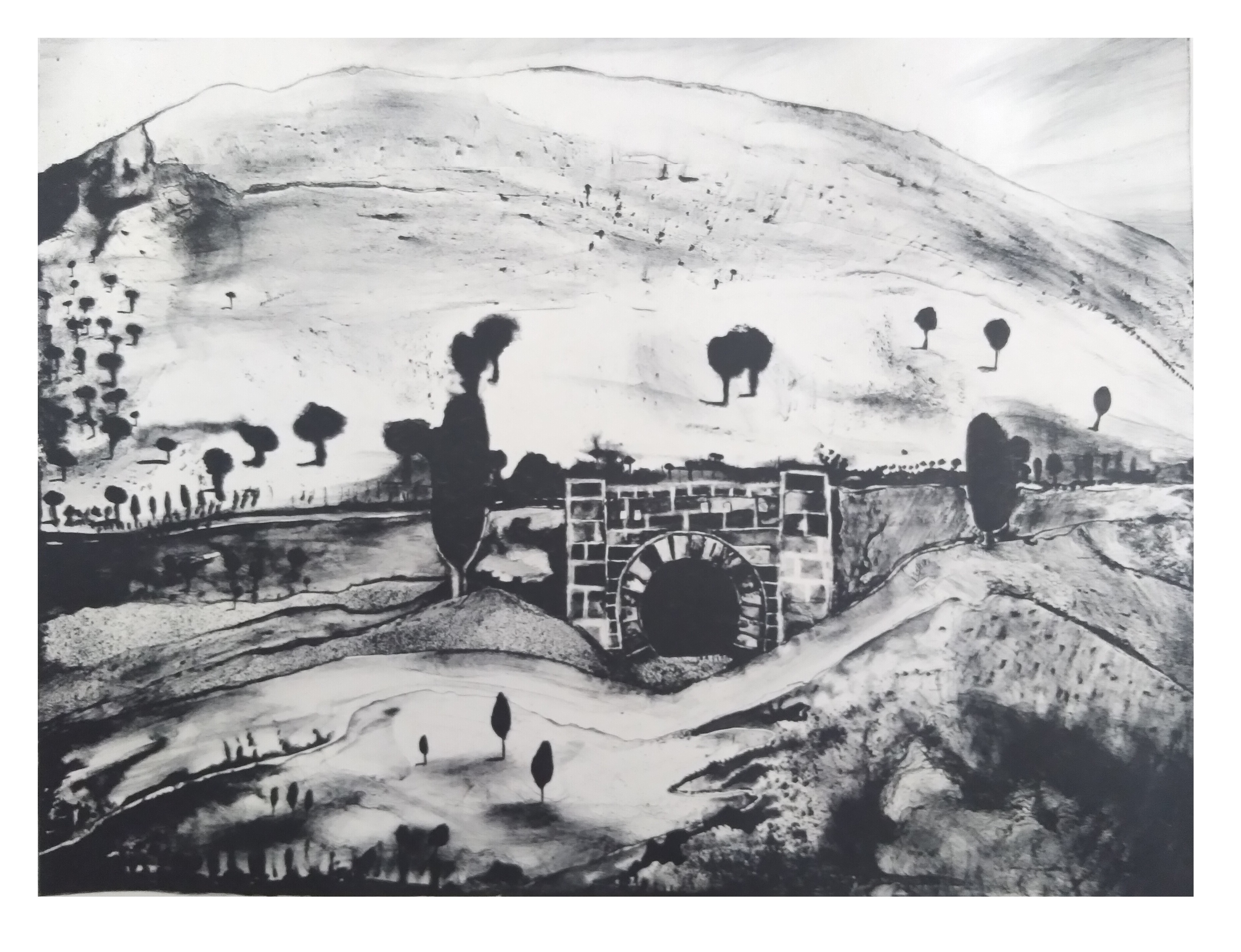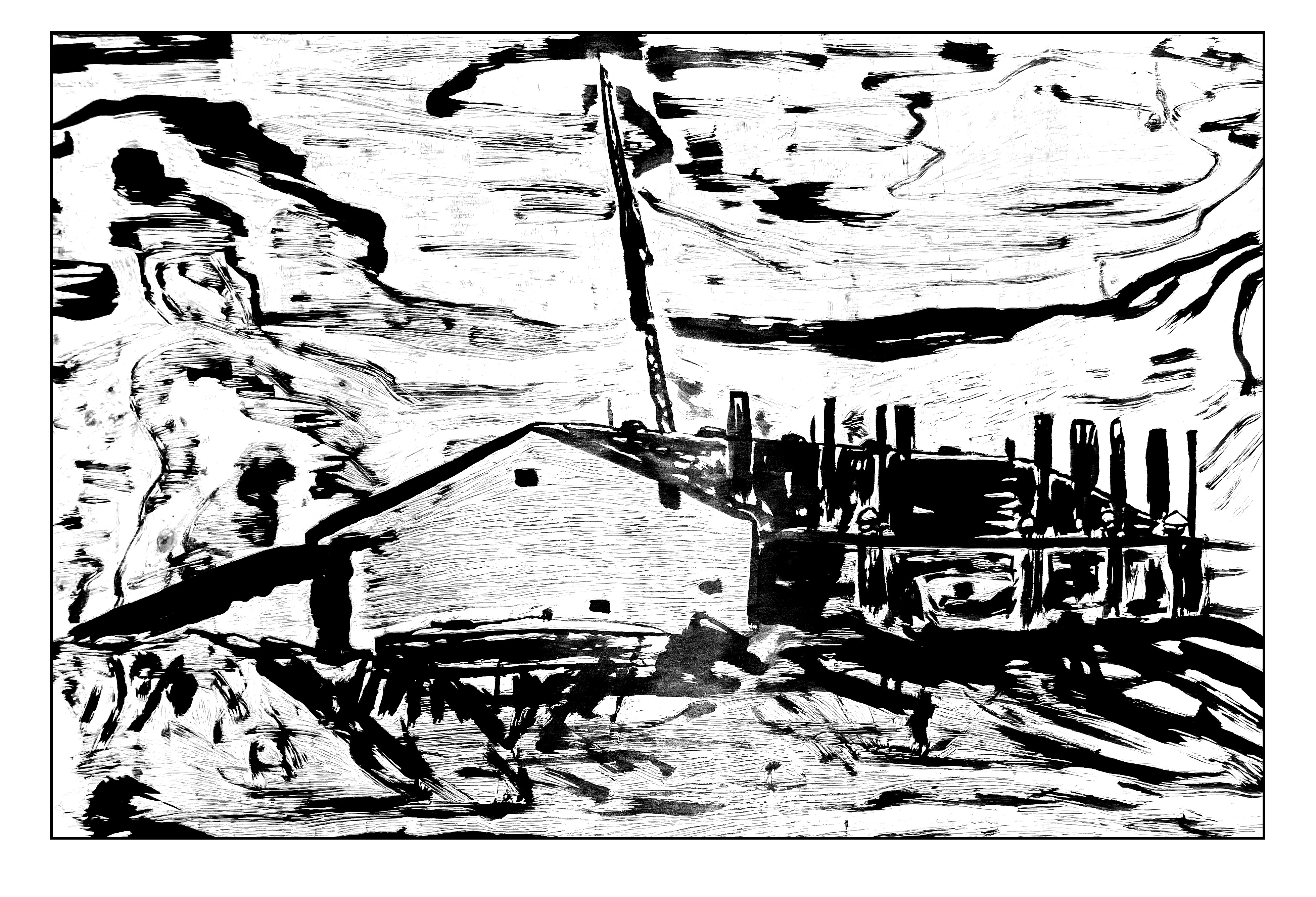 From top:
Kaye Green, A Dreamer, lithograph, 2021, 28x 43cm
Kaye Green, The passageway, lithograph, 2021, 29 x 40cm
Ange Cooper, Crayfish Creek, woodcut, 2021, 40 x 120cm
Ange Cooper, Port Latta, woodcut, 2021, 60 x 91cm
Q: What were some of the foundation ideas you began with when embarking on this exhibition project?
For a number of years Ange Cooper and Kaye Green have been sharing ideas about their work and realised that, although their work is quite different, the landscape is the major concern and inspiration.  Ange's primary media are painting and woodcut and while her paintings are rich in expressive colour, her woodcuts also have a strong painterly quality. Kaye's first love is to draw on lithographic stones. She loves making lithographs; "I love the combination of total control and excited anticipation that I experience when making lithographs."
Ange and Kaye both work directly from their encounters with the landscape and both record their observations by drawing, photographing and plein air painting.  They both have intense reactions to a place or objects in nature and seek to manifest their responses by creating works that embrace these strong connections.
Q: How did the artwork selection take place?
Ange recently spent 6 months in a fairly remote part of North West Tasmania and the body of work in this exhibition is largely representative of her time spent there.
The incomplete works and studies were further developed in her Hobart based studio.
Kaye is constantly on the lookout for captivating subject matter in the landscape. Recently she became caught up in a convoy of bulldozers in order to stop to draw a cave she had seen…which turned out to be quite an ordinary tunnel. The work selected for the exhibition is her most recent body of work dedicated to her ongoing passion for the landscape and sky.
Q: How does the exhibition manifest – what do visitors experience?
The exhibition consists of paintings, woodcuts, lithographs and collages. There will also be a woven basket on show which Ange created using flotsam and jetsam collected from the beaches during her time on Tasmania's North West coast.
Visitors will experience two artists' responses to the Tasmanian landscape…Two Views.
Q: What are some of the key works and what subject matter do they deal with?
Ange Cooper's key works depict her time spent on the North West Coast of Tasmania.  Works include an industrial site at Port Latta, examples of beach shacks and other surrounding coastal features. Her subject matter includes some unique features of that sparsely populated area.  It wasn't an uncommon site to see a tractor on the beach; because there are no jetties tractors are commonly used to transport dingies down to the sea.
Kaye's key works include a series about two conifers on an isthmus called Land End, south east of Hobart.  She first encountered these two trees some years ago and made a lithograph called The Dreamers. Since then she has made two further lithographs: The Dreamers-the other side and The Dreamers – the final tribute. She has also created laser cut "foliage" from a hand drawn branch which is assembled as a collage/installation.
Two Views is at Sidespace Gallery, Salamanca Arts Centre, 27 April-10 May
—
Join the PCA and become a member. You'll get the fine-art quarterly print magazine Imprint, free promotion of your exhibitions, discounts on art materials and a range of other exclusive benefits.