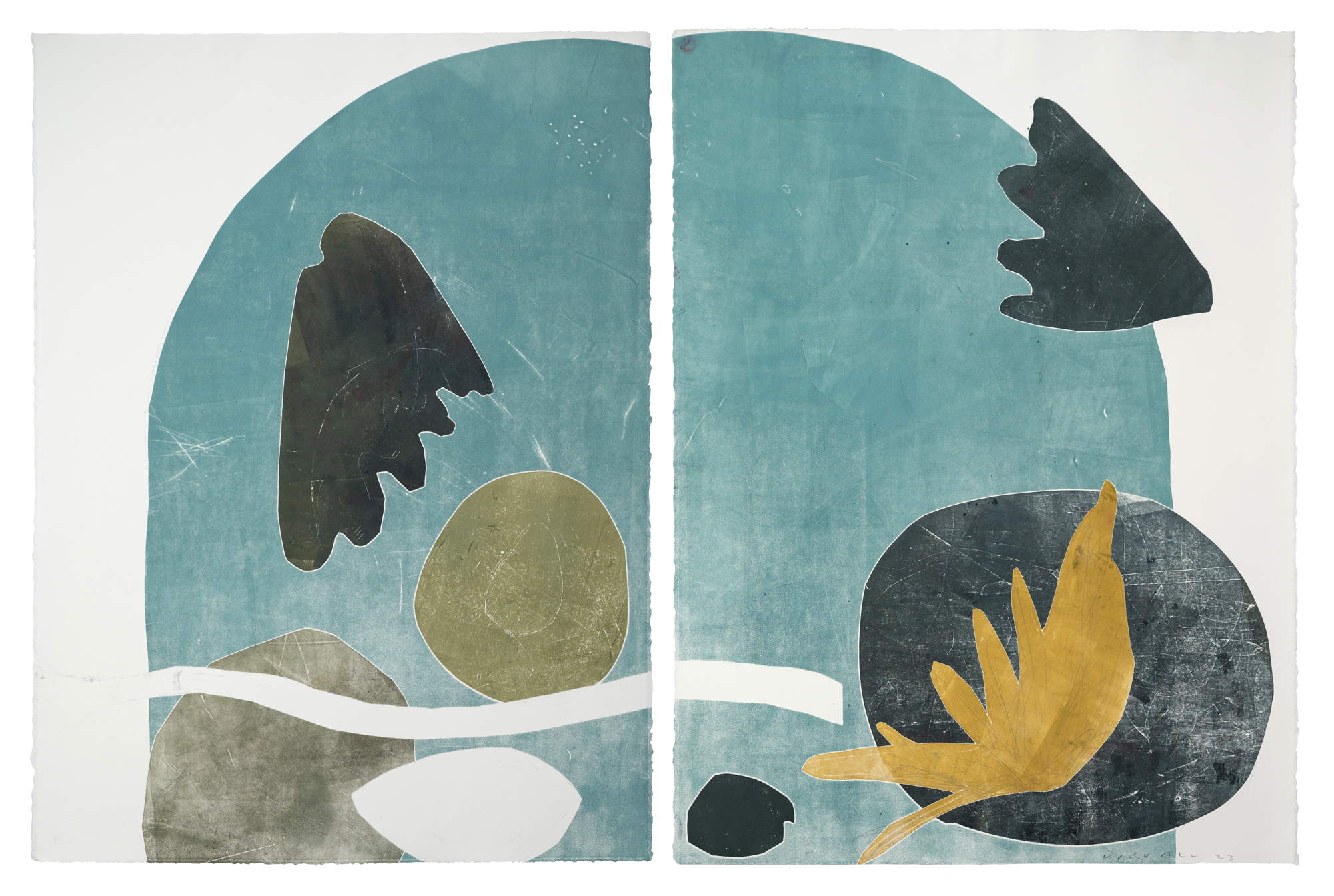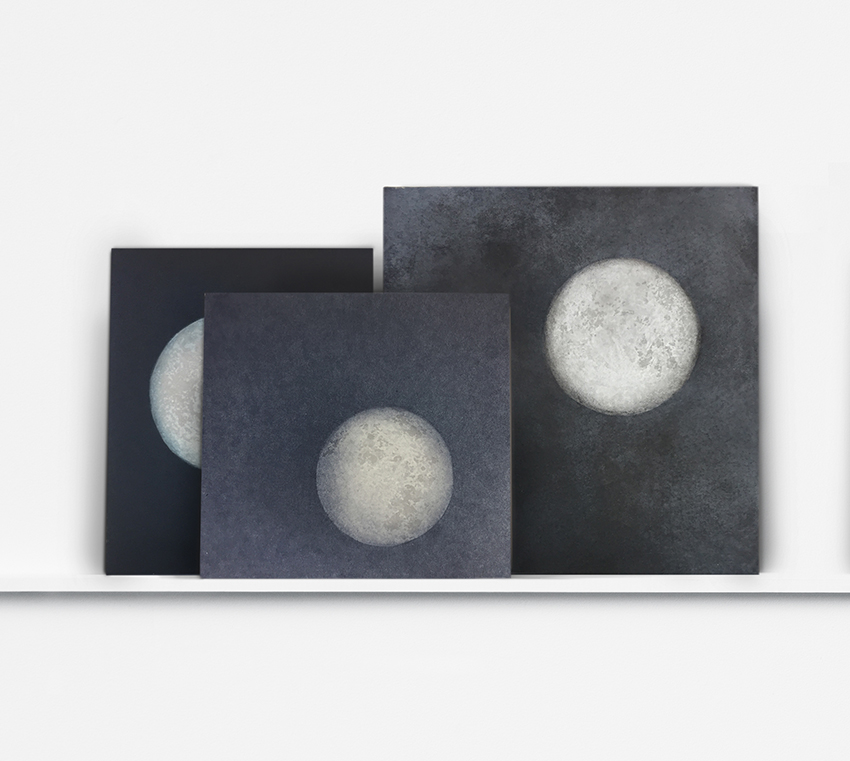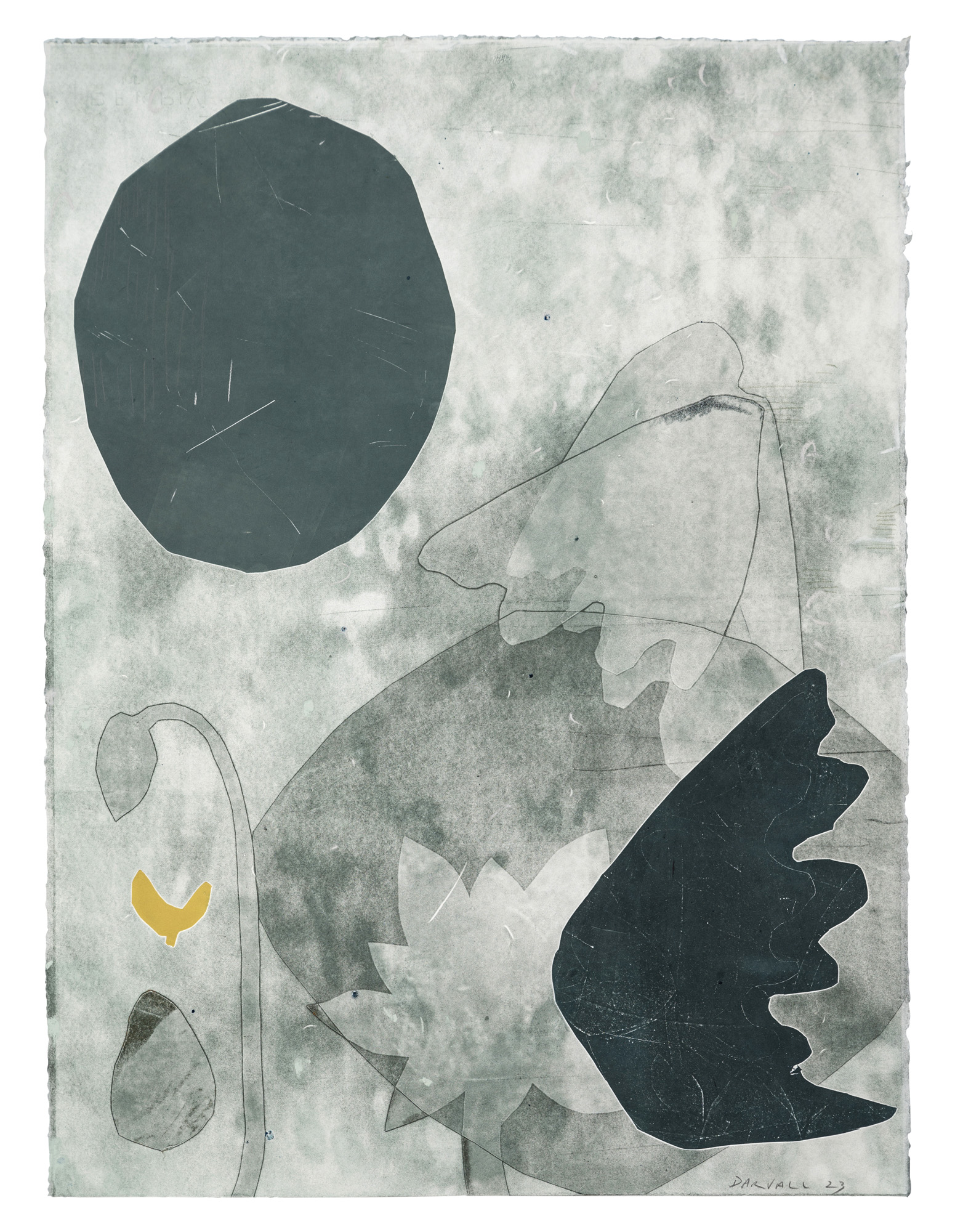 From top:
Pages from Martin King's Diary of Lost Souls.
Jo Darvall, Sea Sings, Lumen, Winged Realm, 2023, pencil and pastel on monprint Arches BFK, 78 x 105 cm. Photography: Miles Noel
Clare Humphries, New Moon on Monday (detail), linocut and monotype.
Jo Darvall, Hydrosphere No 2, 2023, monoprint on Arches BFK, 75 x 52 cm. Photography Miles Noel
Q: What were some of the foundation ideas for this exhibition project?
JD (Jo Darvall): Sea Sings, Lumen and Winged Realm has been eighteen months in the making, and is showing at Albany Town Hall Gallery, on the traditional country of the Minang/Menang Noongar people who have cared for the land, sky and waters in South Western WA for more than 50,000 years.
The remote port city of Albany (Kinjarling) in the Great Southern region of Western Australia, 418 kilometres south-east of Perth, offers an irresistible challenge to reimagine and expand the concept of a body of monoprints titled Winged Realm, with more than fifty-five works in this series.
This historical town and its Victorian Free Classical Revival style Town Hall, built in 1888, is the site that sets the stage of this new version Sea sings, Lumen and Winged Realm. This two-storey stone building with a prominent clock tower was the venue for the first regional meeting of the State Parliament and embodies stories of hope, enterprise and devastation, originally a part of the Swan Colony and its mission of colonisation.
Clare Humphries and Martin King embody the practice of imagination combined with the development of skills. They are eminent printmakers who are challenging their discipline, driven to develop new techniques and create artworks that transport the viewer into another realm.
They each create work that is hauntingly seductive. Humphries' velvety black works on Japanese paper illuminate the sky with a starry haze in contrast to the bright glowing moon. King's detailed studies record birds on the verge of extinction. He creates ways for winged creatures to communicate messages from nature and the past.
Q: How did the artwork selection take place?
JD: I have known both artists for many years, and we have connected over many aspects of practice, from talking about the delicate nuances of working on paper, to sharing our broader thinking about connectedness to land, sky and species. We each engage with practices of walking or wandering to develop our work—be it walking around urban parks, strolling in bushland, leafing through books and archives, or climbing hills to watch the rising moon. I invited them to work with me on the show because I wanted to curate a contemplative encounter for the viewer, offering works that might illuminate a metaphoric path and sing stories of the sea, the land and the trees. We decided to invite poet Yann Toussaint based in Albany to respond to the works, providing an expansion on the initial conception. Yann will respond to the works and perform at the opening night a spoken word performance.
Q: How does the exhibition manifest – what do visitors experience?
JD: The exhibition includes prints, drawings, paintings and sculptural works staged throughout the space. I want the exhibition to activate the kind of attentiveness that I think we share as artists—to convey our desire to be attentive to the presences around us, and to honour the species and ecosystems that are under constant threat in the colonial anthropocene. The works invite a slowness in looking. Many of them are drawn at the intimate scale of the human hand, and rely on subtle shifts in tone, chroma or mark to achieve their effect. The larger works are often composed of smaller, modular elements, so an accumulation or a sequence of pictures combines to produce a composite image.
Q: What are some of the key works and what subject matter do they deal with?
JD: As we face the consequences of ecological change, this exhibition seeks to prompt attentiveness to, and care for, the cycles, rhythms and knowledge of the natural world.
The exhibition includes King's melancholic odes to endangered birds who find refuge in urban parks, and his delicate drawn animations that re-enchant us with the wonder of flight. His giant tree pages from the diary of lost souls explores the intertwined fates of trees and bird life in a poetic portrait. This large work (120 x 90 cms) aims to ignite a conversation about the right of the forest and birdlife to exist.
King's prints can evoke a sense of the earthly, like downy feather plumes and keratinous beaks, but they also often suggest the possibility of airy flight. I was drawn to his work for the exhibition because I'm interested in the interconnections of earth and sky in my own work. My Winged Realm series meditates on the cycle of the lotus flower, which returns to murky water each evening, only to open its blooms again at the break of day, reborn. The recursive sequence that the lotus performs is also symbolic of the metaphysical, and the interconnectedness between sun and flora, and of course us.
In my new monoprints titled Hydrosphere I introduce a sacred arch to provide a visual entrance into an altered Realm of imagination, a fantasy for the winged creatures to interact. Sea grass gently moves gradually building momentum like a piano concerto, reaching a high pitch, whirling sounds generated by hydrosphere (the sea).
Humphries' subtle lunar works explore similar cycles of hope, as she documents her encounters with the ever-shifting moment of moonrise over time. Humphries' works translate observations of the moon as it cycles from one phase into another in a continual process of 'becoming'. The moment of moonrise is of particular interest to her, since it is then that we experience what scientists call the moon illusion, when the moon appears unexpectedly close. In works such as Near Sighted and New Moon on Monday, multiple instances of lunar observation are organised in linear and overlapping sequences, so that the moon appears to oscillate between closeness and distance from the viewer.
Q: What is it about the printmaking experience that you most appreciate?
JD: The process of printmaking creates a opportunity to slow down and really think about what I am going to make. It is also highly communal—the sharing of techniques and a fascination of how different papers behave under pressure.
—
Sea Sings, Lumen and Winged Realm (Jo Darvall, Clare Humphries and Martin King)  Albany Town Hall 3-30 March. Artist talk 10.30am 4 March.
artsandculture.albany.wa.gov.au
—
Join the PCA and become a member. You'll get the fine-art quarterly print magazine Imprint, free promotion of your exhibitions, discounts on art materials and a range of other exclusive benefits.