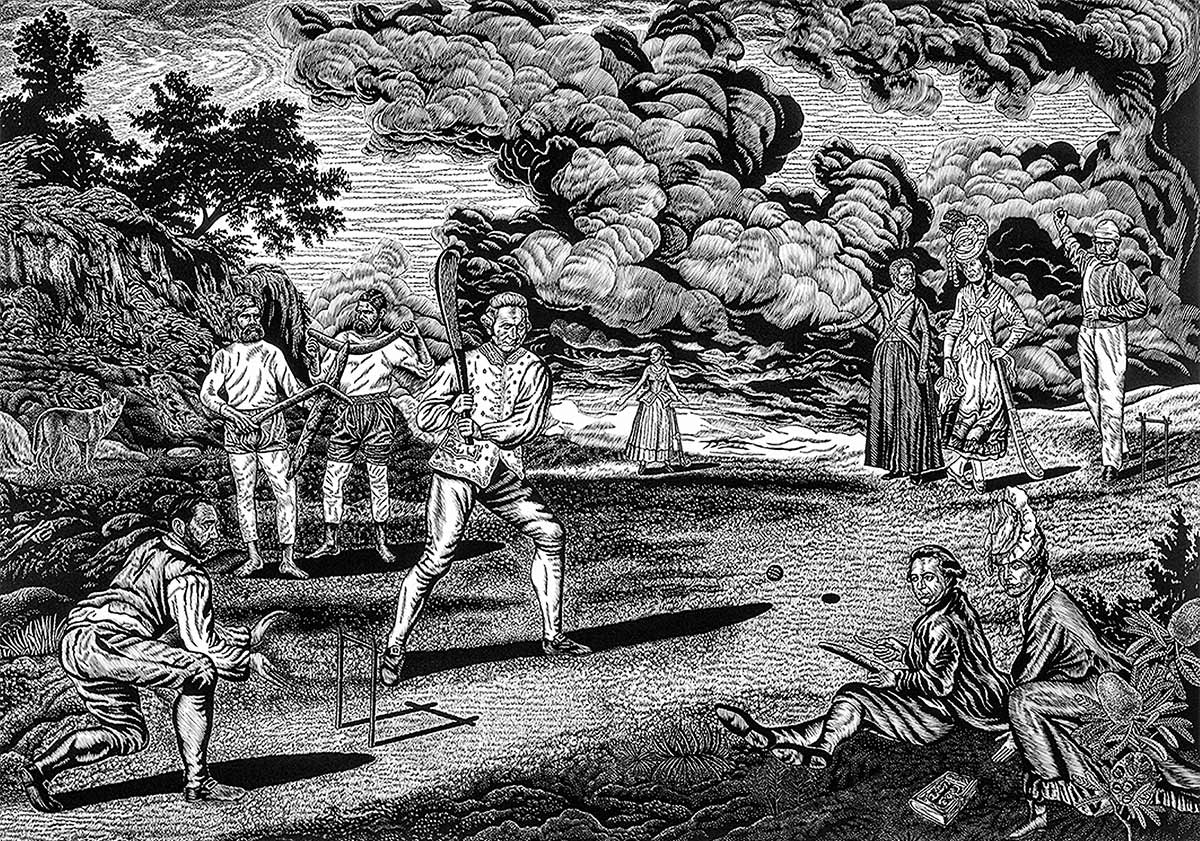 Opening the new Sydney Printmakers 2018 exhibition, Hannah Hutchison, the Assistant Curator of Australian Prints, Drawings and Watercolours at the Art Gallery of New South Wales, reflects on Sydney's printmaking history and her own journey in the world of print.
February 12, 2018
In Review

As someone who has a keen interest in prints and printmaking, Sydney is a really exciting place for me to now be working in as a curator. Sydney has such an interesting print culture and history, and in thinking about my own career, I have been reflecting on an experience that first triggered my interest in prints and made me want to pursue a career as a print curator.
I can recall it quite clearly—in fact, it was viewing prints that were made in Sydney that first sparked my interest in printmaking. Several years ago, while working as an intern at the Art Gallery of South Australia I was looking through solander boxes, when I came across the vivid flat colour and bold, angular lines of prints made in the 1930s by modernist female artists. These dynamic relief prints by Margaret Preston, Thea Proctor and Dorrit Black immediately captured my attention. The colours of Proctor and Preston's woodcuts were so clear and vivid and the sense of movement in Black's linocuts was so spirited. I immediately wanted to know more about this exciting time of printmaking in Australia and about Australian printmaking more generally.
Fast forward a year or two and I was very fortunate to move to Canberra to work with the National Gallery of Australia's exceptional collection of Australian prints and drawings as the Gordon Darling Graduate Intern. Here I viewed, catalogued and researched a myriad of Australian prints dating from 1800 to the present day. It was at the NGA that learnt about the printmaking revival of the 1960s and that in the decade or two prior, fine art printmaking had, in general, fallen out of favour with artists and had almost ceased to exist in Sydney. However, as many Sydney practitioners know, in 1960 the Sydney Printmakers society was formed, holding its inaugural exhibition in 1961 at Blaxland Gallery. This cohort of artist printmakers injected the Sydney contemporary art scene with dynamic works that challenged notions of traditional printmaking. I became familiar with the works of many of the founding members of the Sydney Printmakers. I pored over the bitingly satirical etchings by Elizabeth Rooney and the lyrical colour of Eva Kubbos' prints. I was excited by the gestural mark-making utilised by Earle Backen and the sophistication of design of Frank Hinder's lithographs. The Sydney Printmakers became advocates for the vital place of printmaking within contemporary Australian art, one that continues today, notably due to the sustained efforts of the members of Sydney Printmakers over thepast fifty-eight years.
During my time at the NGA, the Gallery was generously given the Boundless and Borderless portfolio that many members of Sydney Printmakers contributed to along with Canadian printmaking contemporaries. I spent much time looking through the prints and was impressed by the collaboration, exchange of ideas and the myriad of printmaking processed I encountered with each artist responding to the theme of the portfolio with diverse subject, style and method.
One of the many things I think is really special about the Sydney Printmakers group is its all-encompassing attitude to printmaking—there is no dominant printmaking technique or style imposed on the members and as I look around this exhibition I am struck by the range of styles and techniques utilised. This eclectic group of works embraces print in an array of forms, ranging from methods grounded in traditional printmaking techniques, prints incorporating collage and mixed media, through to digital print methods. The works in this exhibition are dynamic, gentle, observational, lyrical, some injected with humour, but most of all they are a celebration of print. They reveal Australian printmaking as the ideal medium for reflecting and capturing contemporary life, and a medium that is always in flux.
One of the other things I think is distinctive about Sydney Printmakers is that as a group it is a community initiated and fostered by a group of artists passionate about print, and whose ability to constantly reinvent themselves has ensured the continuing relevance and vitality of Sydney Printmakers. In the exhibited works, I can see the clear influence of early members shining through—the rich tradition from where the Sydney Printmakers has sprung. However, at the same time the works being created today look to the future of Australian printmaking. Many of the members of Sydney Printmakers are represented in state and national collections such as the NGA and AGNSW. This is a testament to the strength of the work being created.
This is an exhibition that showcases printmakers who are continuing the tradition of the Sydney Printmakers in a manner that is lively and compelling. Together, current and past members of Sydney Printmakers have etched and impressed their way into the rich history of Australian Printmaking.
Sydney Printmakers 2018 is at Artsite Gallery, 165 Salisbury Road, Camperdown, until 24 February.