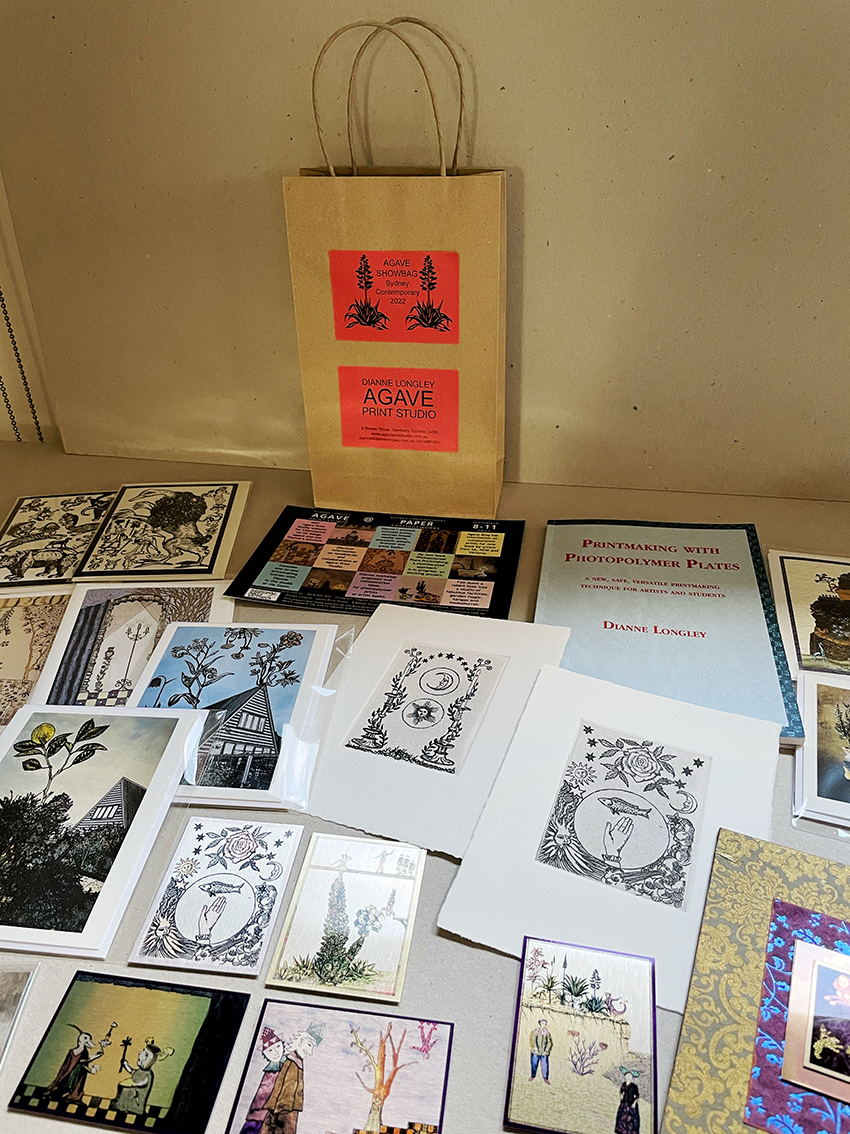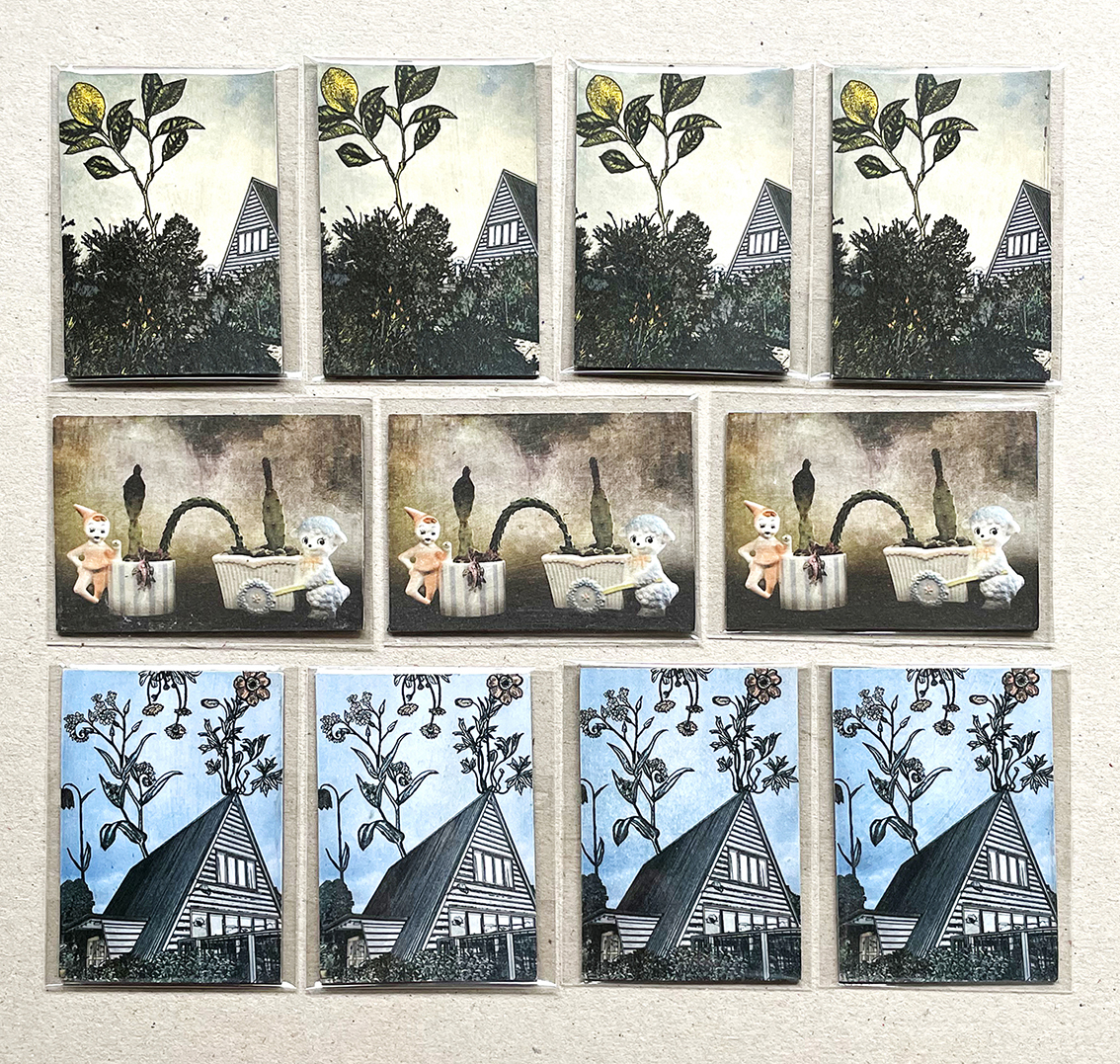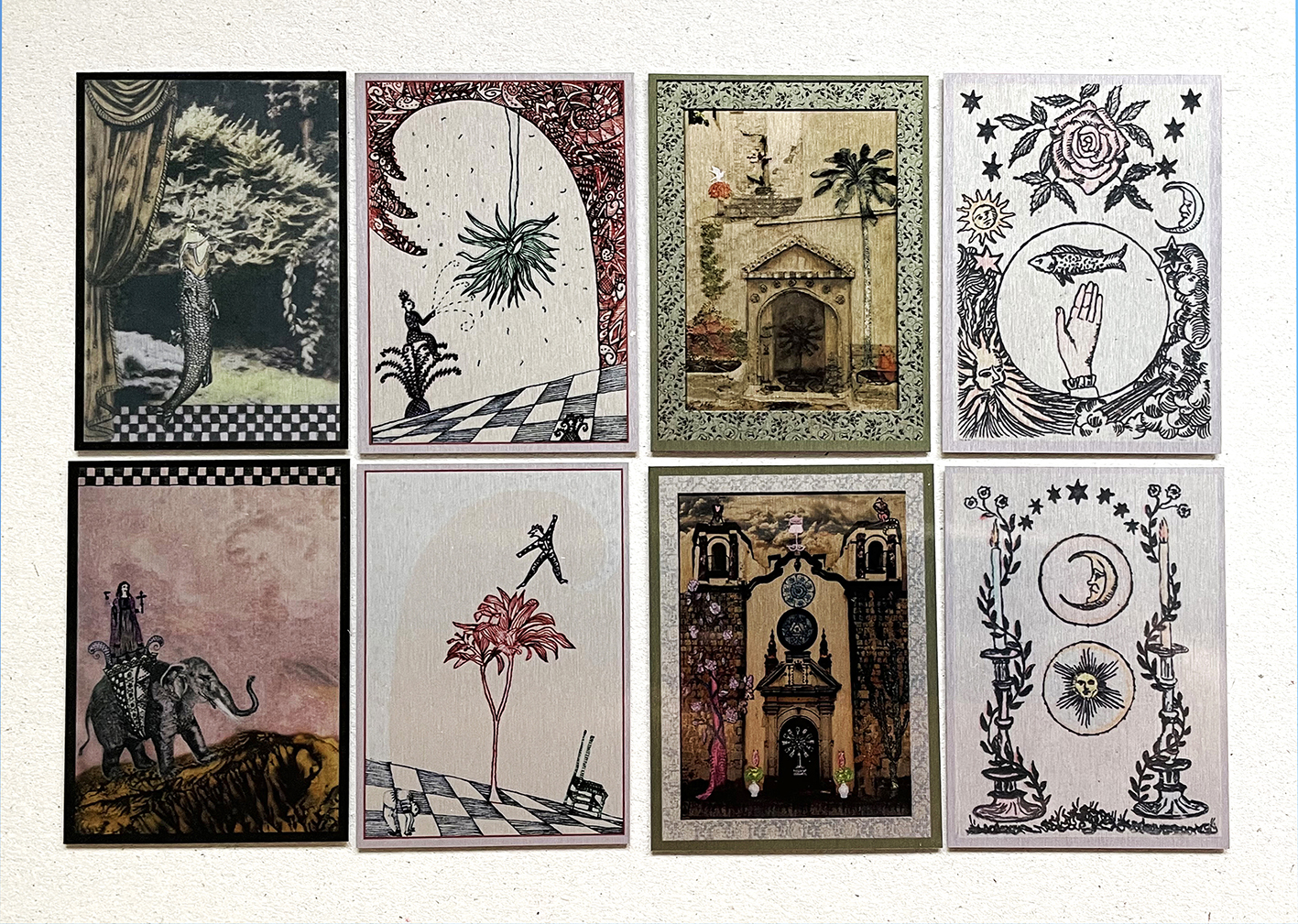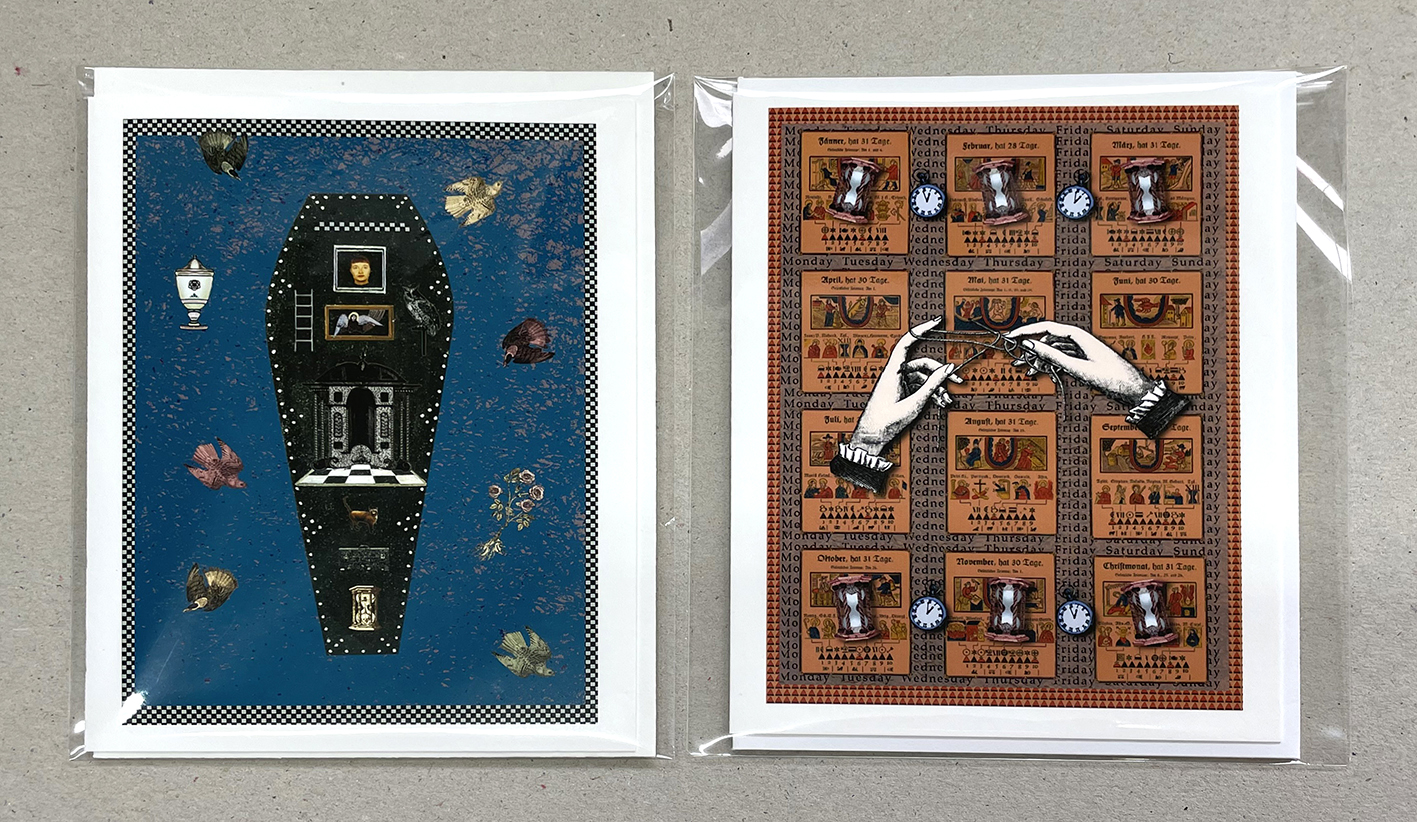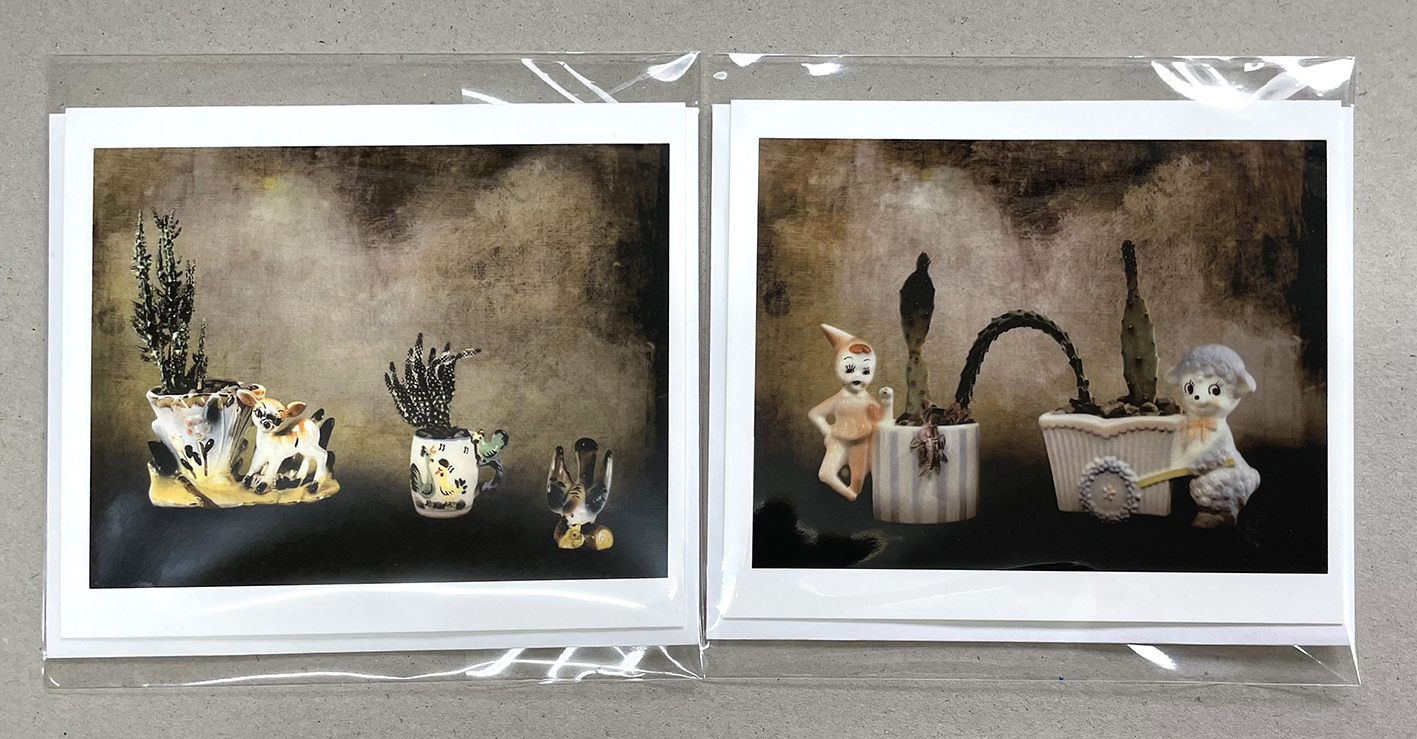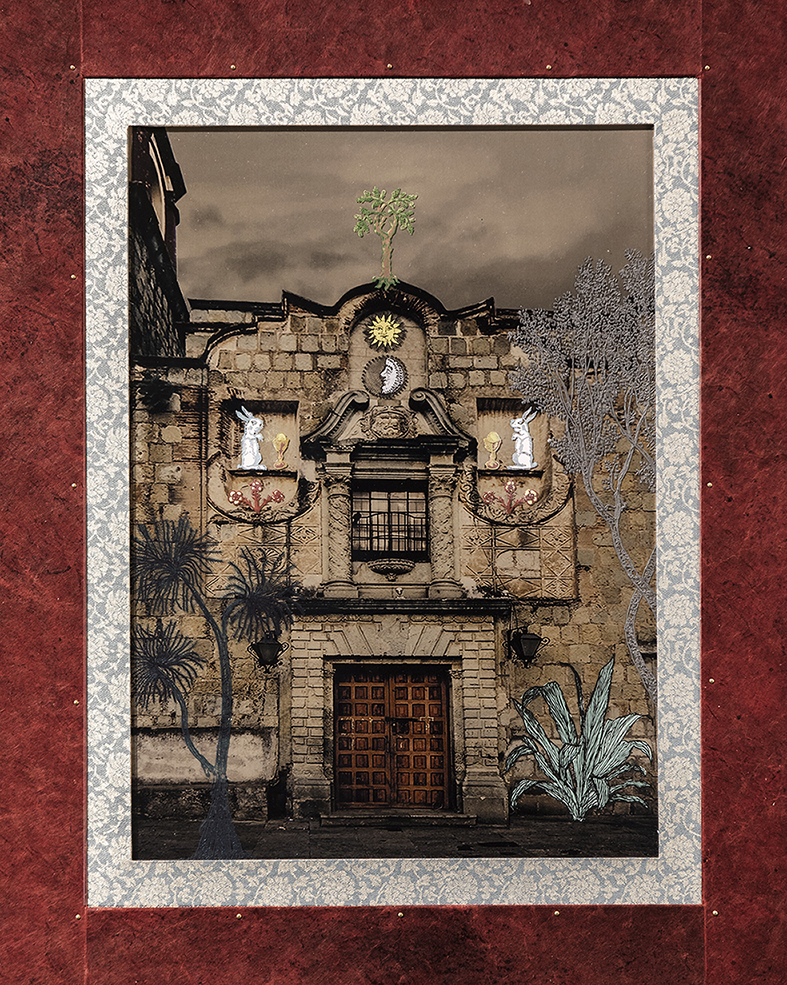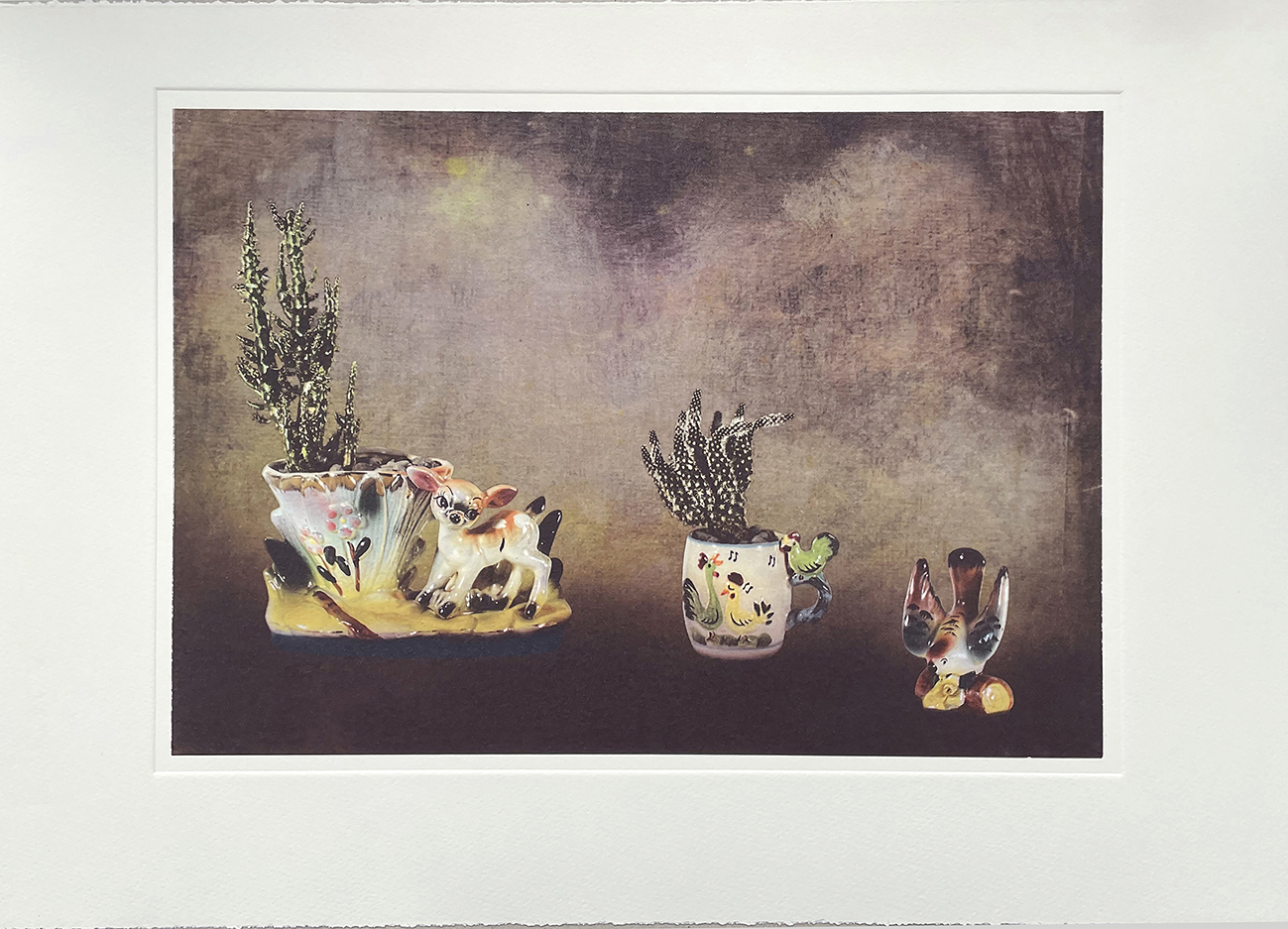 From top:
The showbag; fridge magnets; more fridge magnets; inkjet cards, and more inkjet cards.
Dianne Longley, House of Mysteries II, 2018, mixed media, 81 x 60 cm
Dianne Longley, Sweet sweet narrative, 2022, 28 x 40 cm
Q: What were some of the founding ideas for exhibiting at Sydney Contemporary?
A: I grew up on a sheep and wheat farm in central west NSW and went to art school in Newcastle, so I love a good road trip and the adventure of participating in the Sydney Contemporary art fair. I can catch up with printmaking friends, see their works, and share ideas and generally wave the flag for my wonderful 1970s A-frame Agave Print Studio in rural Victoria.
Q: What is it you love about this art fair?
A:  Well, you can see a lot of art from so many galleries and countries. There are always discoveries, sometimes in a corner or out of the way space, that make me reflect upon the nature of the work and why it captures my attention. There is usually something inherent in the artist's work that extends my wonder at how and why people make art. It's such a thing, to spend a lifetime on.
Q: How does the Agave stall manifest – what do visitors experience?
A:  I was at Sydney Contemporary in 2018. And sharing a stand with Roz Kean and her amazing woodblock prints. Our works are very different, but in a way I think that works. We will both have framed editioned prints and some unique works on the wall, and smaller unframed prints on our table. I have also created an Agave Sydney Contemporary Showbag, where you can choose a 'Grab and Go' showbag or a 'Pick and Mix' showbag. I hope it's a lot of fun, choosing from a range of miniature prints and artworks, hand printed fridge magnets and cards.
Q: What is it about the printmaking experience that you most appreciate?
A:  I love multiples! And I love making things. For me that's what printing or printmaking offers. From beautiful limited edition handprinted works to artist books, and letterpress printed cards. Even my business cards are handprinted using a 100-year-old foiling machine. I love the possibilities of digital and traditional processes mixing. I love that I use Epson digital printers and in the same studio I am using presses and machines made 150 years ago. I am taking a 1940s Ajax Major letterpress printing press to Sydney Contemporary to do a demonstration as well as talking about Ex Libris prints.
—
Agave Print Studio:  agaveprintstudio.com.au
Sydney Contemporary art fair, including PAPER Contemporary, is at Carriageworks 8-11 September sydneycontemporary.com.au     
—
Join the PCA and become a member. You'll get the fine-art quarterly print magazine Imprint, free promotion of your exhibitions, discounts on art materials and a range of other exclusive benefits.