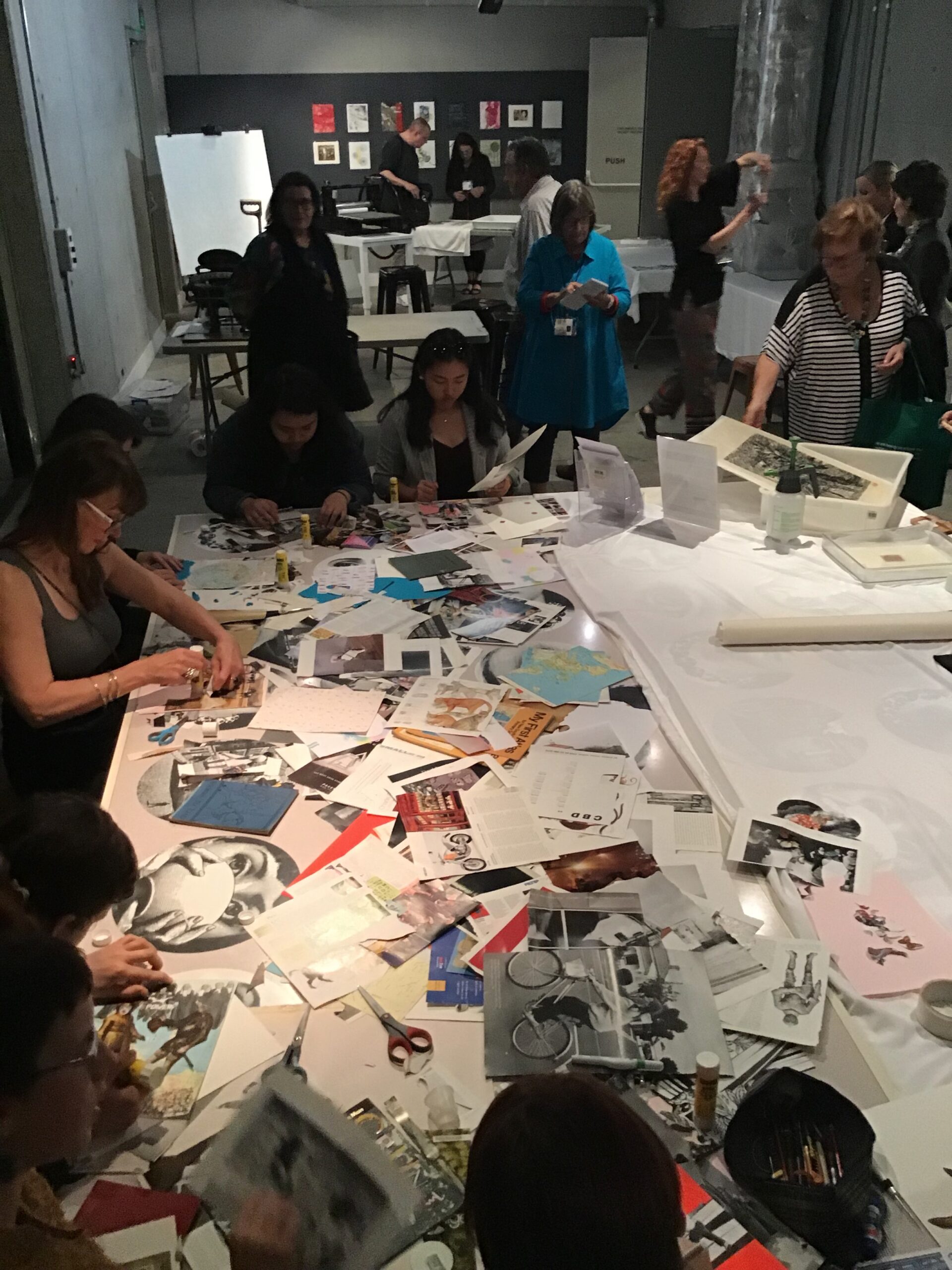 From top:
The PCA stall at last year's fair, and a workshop featuring – of course – lots of paper and participants.
Q: What were some of the founding ideas for organising Paper Contemporary at Sydney Contemporary? What's the history with this?
A: Why a specialised art fair in Sydney? Well, a few reasons: there was no art fair in Australia as yet in the 1980s; my passion about getting art on paper on the art map; and the fact that the Melbourne had its own contemporary art fair.
I was introduced to art fairs when I worked for a gallery in Amsterdam, regularly taking part in Art Basel and other European fairs. I realised art fairs remain the best way to learn about the latest developments in the art world, to meet gallery owners from abroad, and to discover new artists and trends.
In 1989 I established the International Master Print Fair, later re-named Sydney Art on Paper Fair (SAPF), the only international art fair in Sydney and the only one of its kind in the Asia Pacific region. It was a boutique-sized art fair aimed principally at educating and developing the audience and market for prints and increasingly delivering substantial rewards for Australian and international artists, galleries and collectors.
The Print Council of Australia (PCA) exhibited in that first art fair and continued to be represented until the last one in 2007. After the 10th anniversary of SAPF I decided it was time to refresh and renew, looking at new ways to promote printmaking, art on paper, artists books, an evolutionary process which prevents it from becoming stale or predictable. Like other recurring events, art fairs must be sensitive to changing times and reflect and reassess to address challenges and the future.
My chance came when Tim Etchells and Barry Keldoulis approached me with an idea to start a PAPER segment as part of SYDNEY CONTEMPORARY and was I interested to curate this PAPER Contemporary adventure?  And yes, I was interested, especially to present PAPER Contemporary in association with the PCA in the form of a curated show with a strong representation of galleries, printmaking workshops and art publishers from around Australia and abroad featuring modern and contemporary works of art on paper and artists books
Q: What is it you love about this art fair?
A: It is the contribution the fair makes to keep works on paper in the forefront, stimulate debate and create a wonderful ambiance for the general public to enjoy and appreciate Paper Contemporary (now re-named PAPER). PAPER presents such a good opportunity and platform to show the best of the best of printmaking, art on paper, artists books and zines and introduce future collectors to the joy of buying and living with works of art on paper. Also important is the great program of talks, demonstrations, workshops and tours, all providing an up close, personal and professional insight into artists' practice. Art on paper is a worldwide strong performing medium and with drawings, watercolours, three- dimensional work, artist books, photography and all print media, it is very versatile indeed.
Q: How does the PCA stall manifest – what do visitors experience?
A: With the presence of the PCA at PAPER there is expertise and knowledge at hand. We inform visitors, collectors and those building on established collections about the joys of collecting prints, works on paper, zines and artist books. We are launching, like in previous years, the 2022 edition of the annual Print Commission, on view and for sale in the PCA booth (C22). We'll promote IMPRINT, our quarterly magazine, and most importantly entice people to become PCA members.
We will talk a lot, make connections, stimulate debate and create a wonderful ambiance for the general public to appreciate PAPER.
For the PCA, PAPER presents a good opportunity and platform to show the best of the best, to better educate everyone on the joy of buying and living with works of art on paper.
Q: What is it about the printmaking experience that you most appreciate?
A: My love for the printmaking medium and consequently my print collection started during my study at the Royal Academy of Art in Hertogenbosch, where I majored in printmaking. I was mesmerized by the rich variety of mark-making that is possible only within the fine-print medium.
Jim Dine explains it so eloquently. In Jim Dine, A Printmakers Document he writes: "A print is not always easy to grasp at first glance. It takes some visual education to see the intricacies and also to understand the layers and different techniques. This knowledge doesn't take away the joy of the first meeting. Even when you look at the simplest lithograph by Matisse, you wonder how its beauty was made It is rewarding to know the complexities and various combinations of techniques. It can brighten your eyes (so to speak)." (p.308)
For printmakers, exploration and experimentation are leading to new and exciting ideas and open up new ways to produce ambitious prints in light of such diversity, there is no simple or singular way to define the importance of works of art on paper in a contemporary context
Printmaking is an exciting and critical part of our visual arts culture, and arguably can be seen as the most fundamental, spontaneous, collectible and personally satisfying of all art forms. In other words, I am definitely passionate about printmaking. And I believe to date, Australian printmaking is flourishing and will continue to do so.
—
Sydney Contemporary art fair, including PAPER, is at Carriageworks 8-11 September sydneycontemporary.com.au     
—
Join the PCA and become a member. You'll get the fine-art quarterly print magazine Imprint, free promotion of your exhibitions, discounts on art materials and a range of other exclusive benefits.