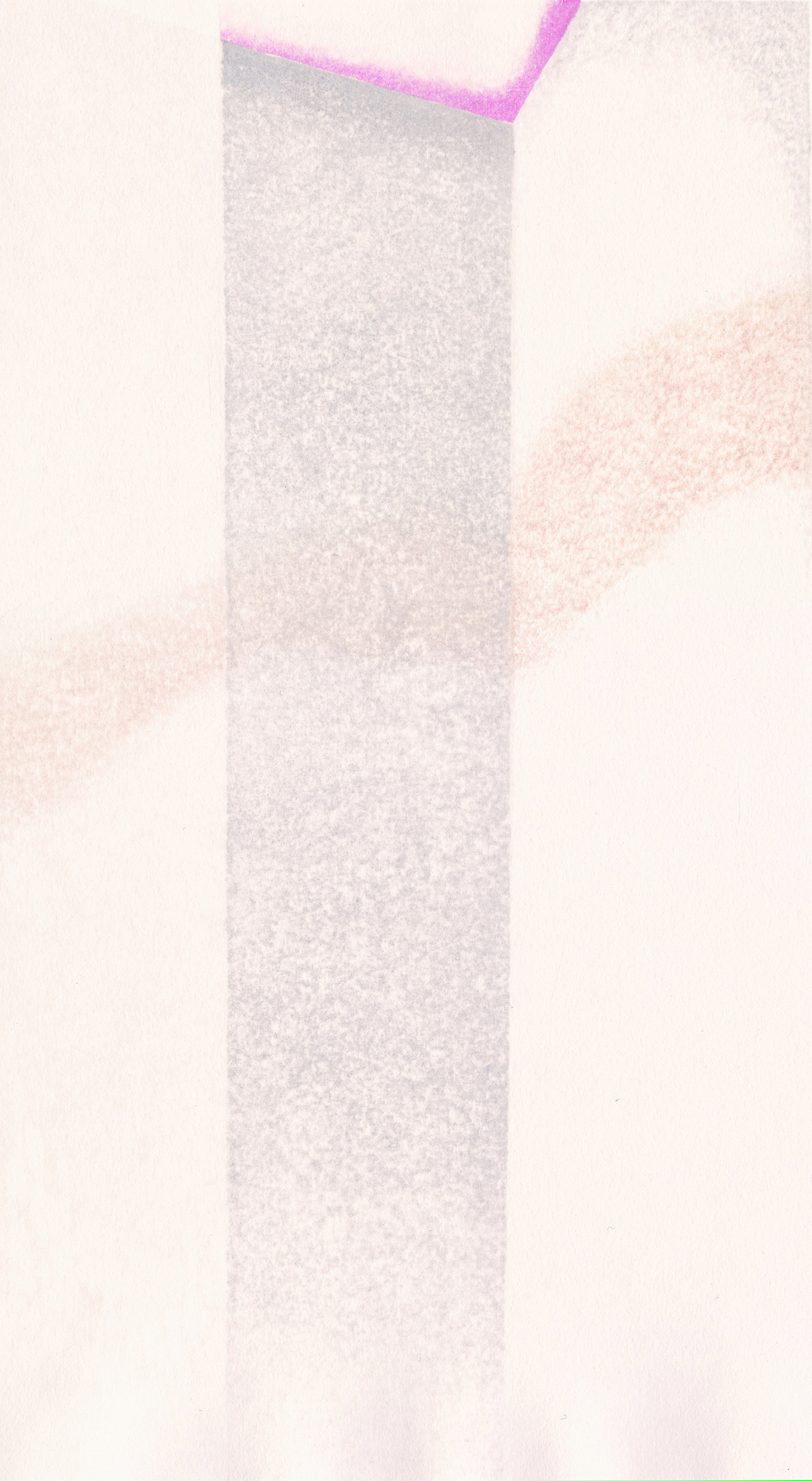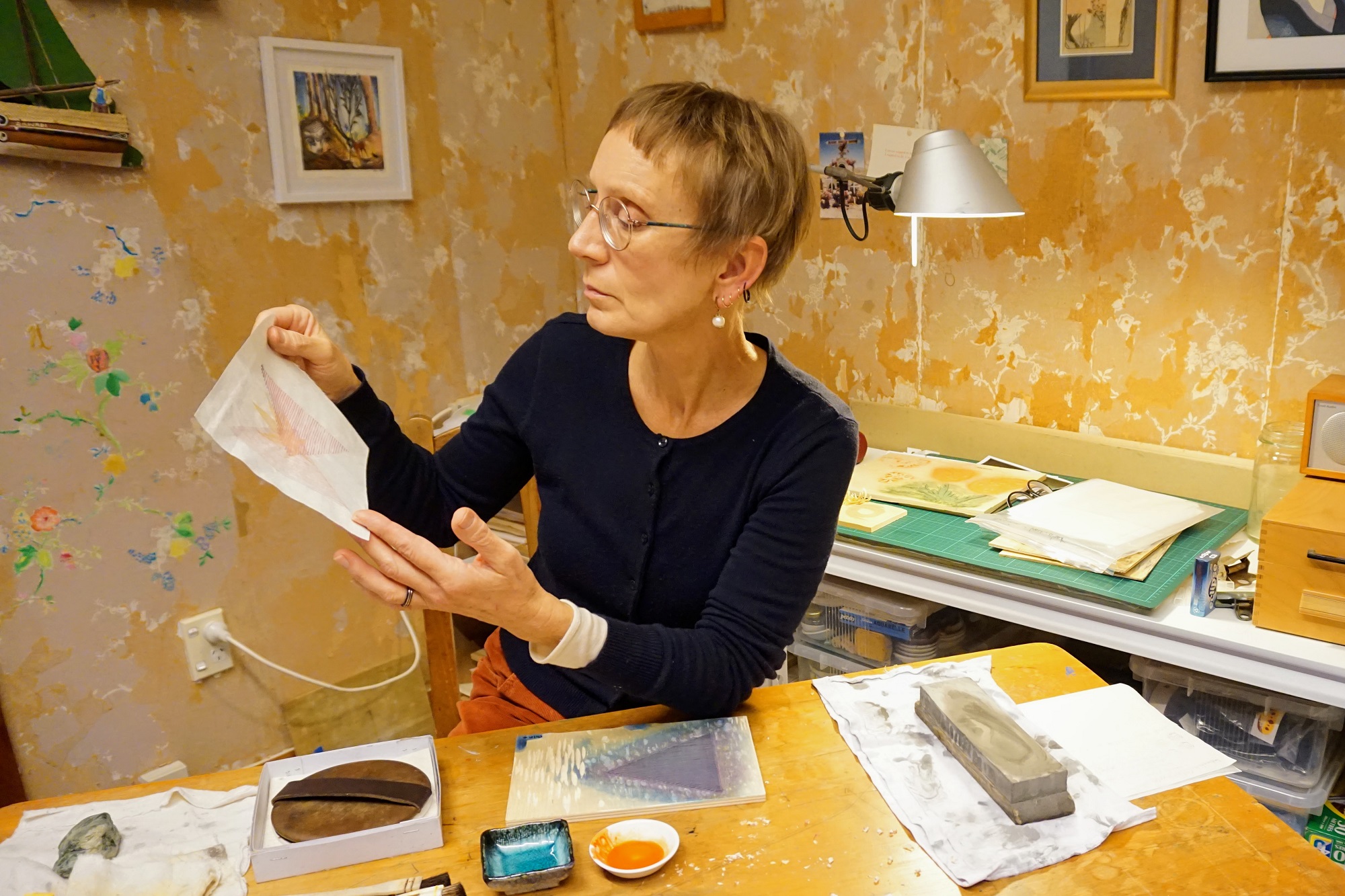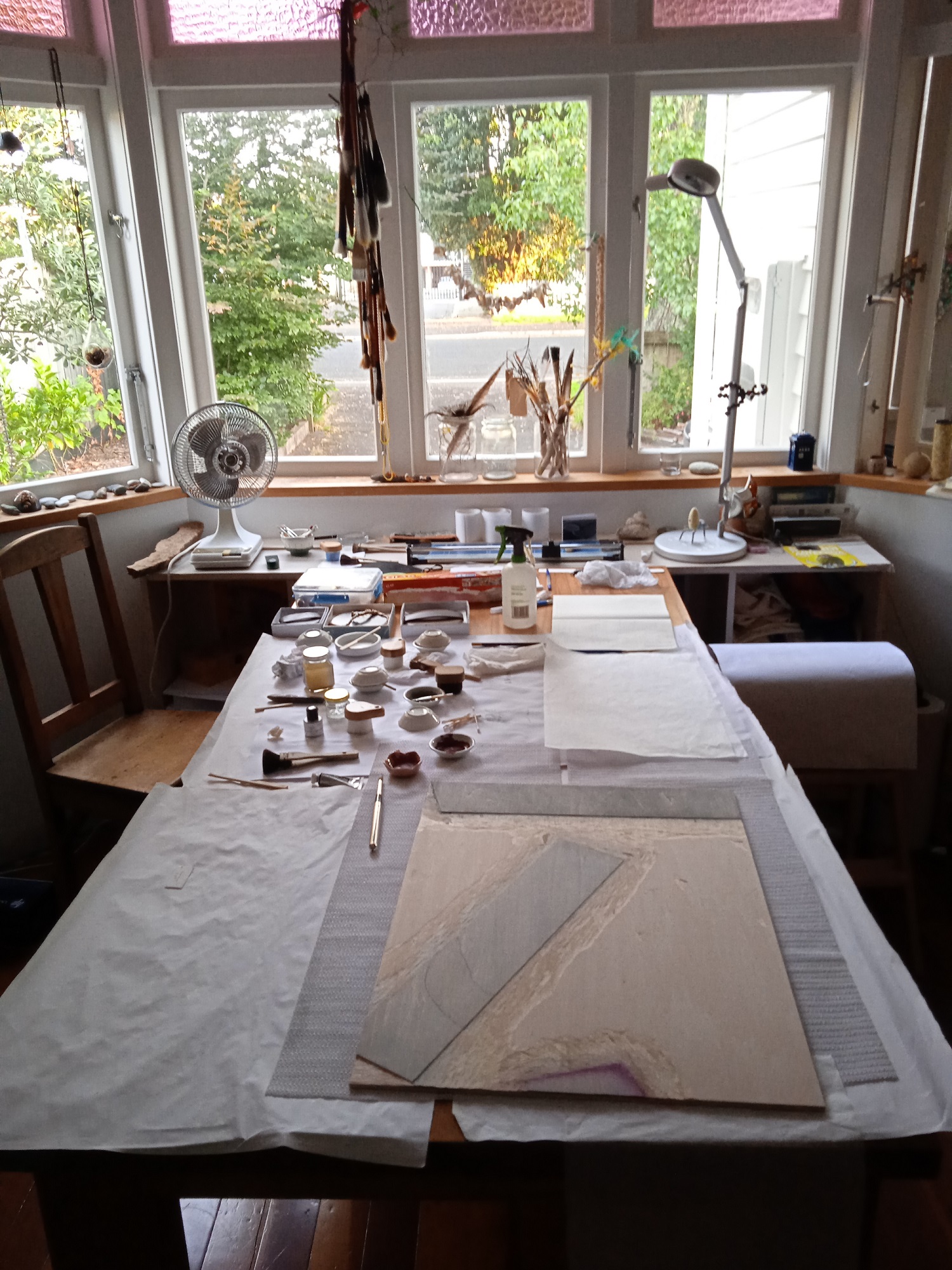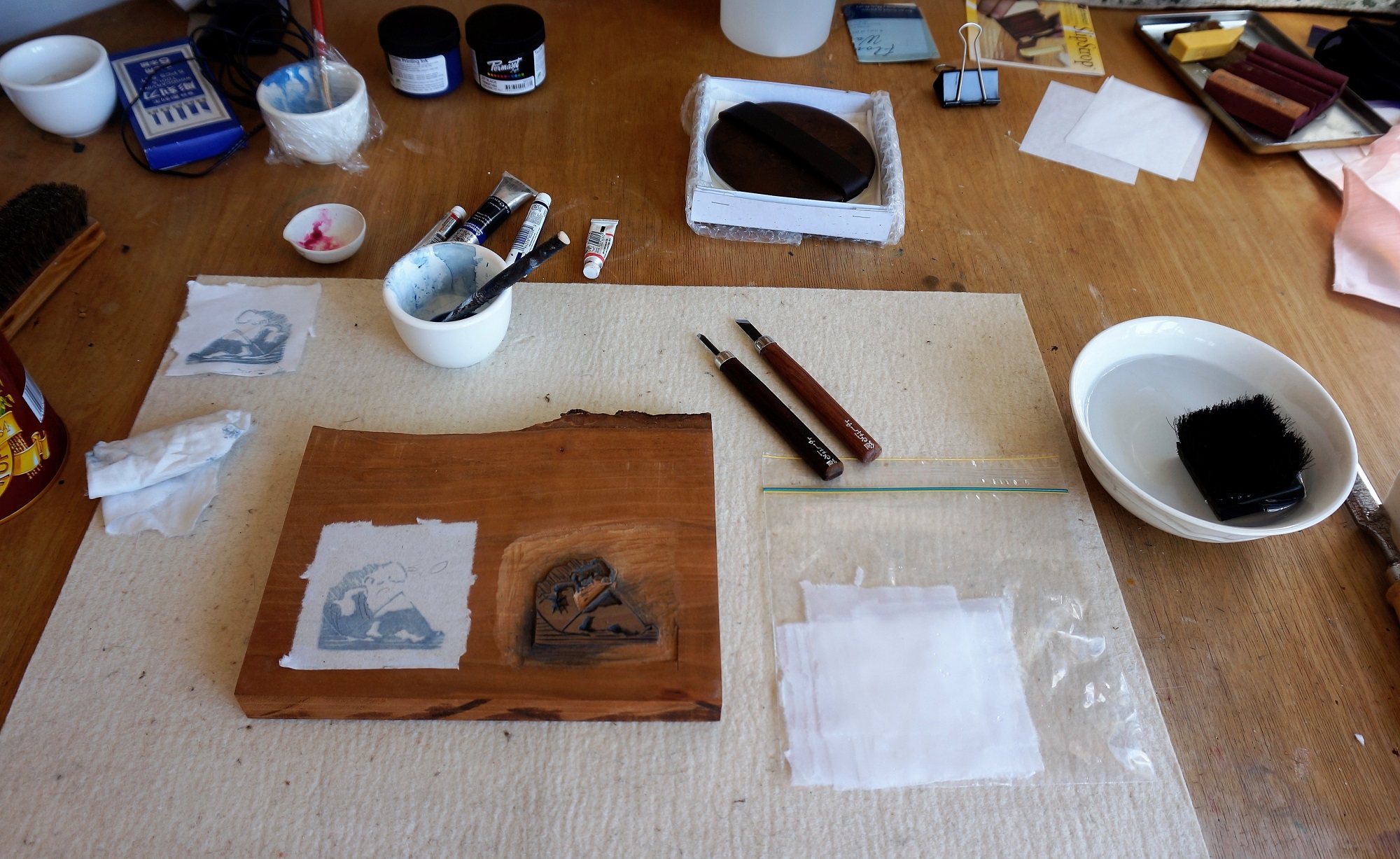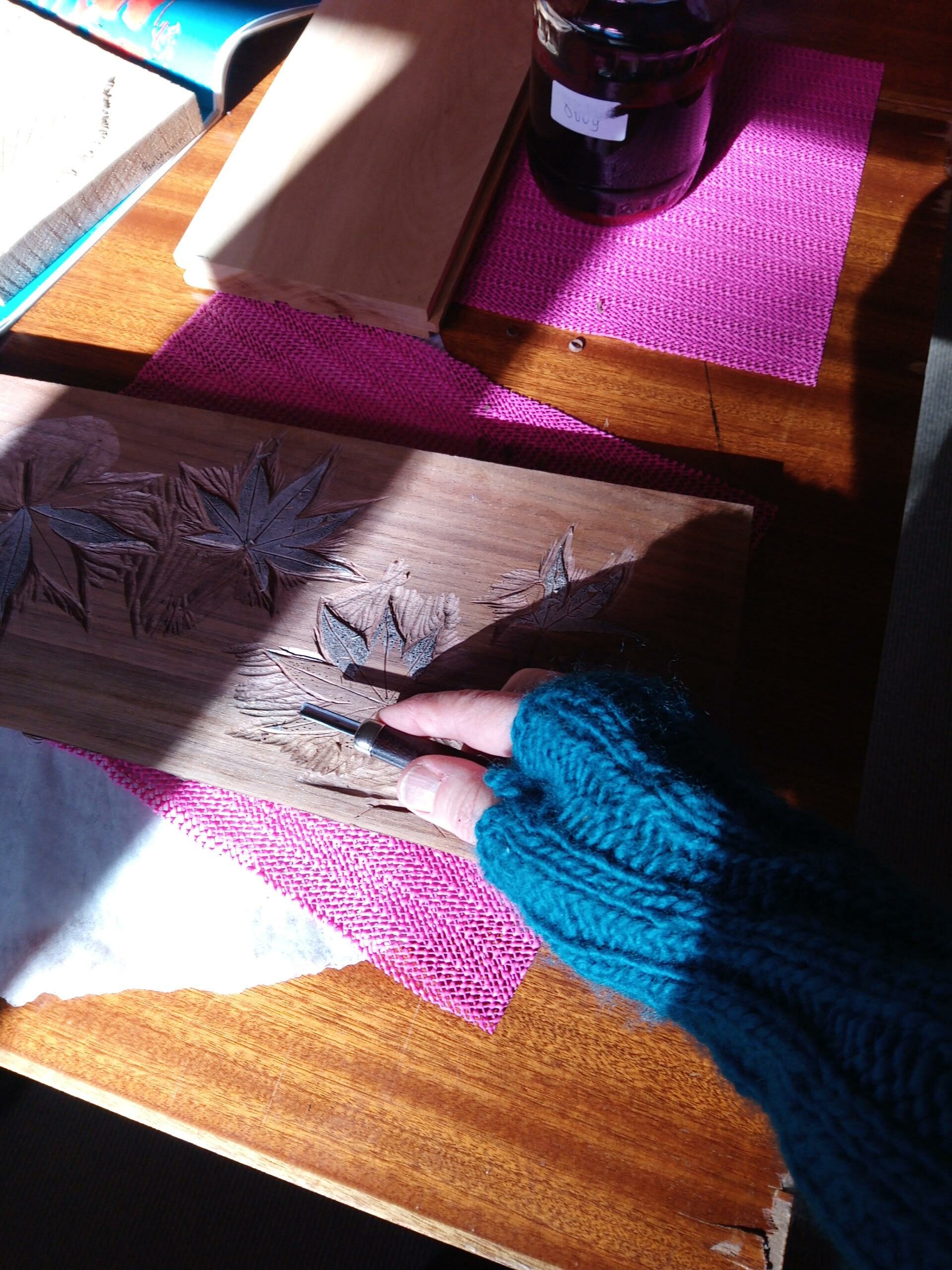 Top:
Sybille Schlumbom, Light Shifting, 2022, mokuhanga (baren printed water-based woodblock print) using watercolour, mica, gum Arabic, 56 x 38 cm, edition size: 30
My working space is in constant flux and follows the renovation of our house. I have attached several photos, shot over the last few years. What stays is the heart and soul that flows into the space, the objects, sketches and artworks that seem to grow around me like mushrooms.
Light and shadow are still a strong source of inspiration, which I started combining with tangible memories. The resulting work moves fluently between representative and abstracted, like the prototype of My first mother-in-law's pearls.  It is the connection of stories connected to objects (and vice versa) and the sense of belonging they create.
The medusa is a recent work that I might extend on, they are such an interesting subject both visually and biological. Medusa + Medusa verso is printed on both sides of the paper, an effect called "urazuri" (Medusa verso being the back).
So, one could say that my family is a strong inspiration for me, but often the print itself is informed by a mokuhanga printing technique that I am interested in and want to try in a visual meaningful way.
The Tangible memories have the potential to become an ongoing project; but I also want to turn the "inwards gaze" outwards again and push myself from the turning-backwards-to-memories to-looking-forwards-to-experiences and see how these can be used to impress on me (omg, printer's pun). In real life that means attending and taking workshops, connecting with print makers, organise and take part in community events and demonstrations, artist residencies… getting out there again!
—
To view and buy a 2022 Print Commission print visit:
www.printcouncil.org.au/print-commission/print-shop/
—
The Print Commission is on display at interstate venues over the next few weeks, and there is still time to order the prints and claim the discounted rate for PCA members. As always editions are selling fast so order early to avoid disappointment. You can view and securely purchase the prints on our website here.
View the Print Commission 2022
New South Wales
Level 1 NUspace (University of Newcastle)
5 September – 31 October
Hunter & Auckland Streets, Newcastle NSW 2300
(02) 4921 5255
Queensland
Umbrella Studio Contemporary Arts
7 October – 13 November
408 Flinders St Townsville, QLD 4810
Open Tues – Fri 9am – 5pm, Sat – Sun 9am – 1pm
umbrella.org.au
Australian Capital Territory
Megalo Print Studio
14 September – 15 October
21 Wentworth Avenue, Kingston, ACT 2604
Open Tuesday – Saturday 9.30am – 5.00pm
Victoria
Print Council of Australia
2 September – 28 October
Studio 2 Guild
152 Sturt Street, Southbank, VIC 3006
Open to visitors every Wednesday and Thursday, 10am – 4pm
—
Join the PCA and become a member. You'll get the fine-art quarterly print magazine Imprint, free promotion of your exhibitions, discounts on art materials and a range of other exclusive benefits.