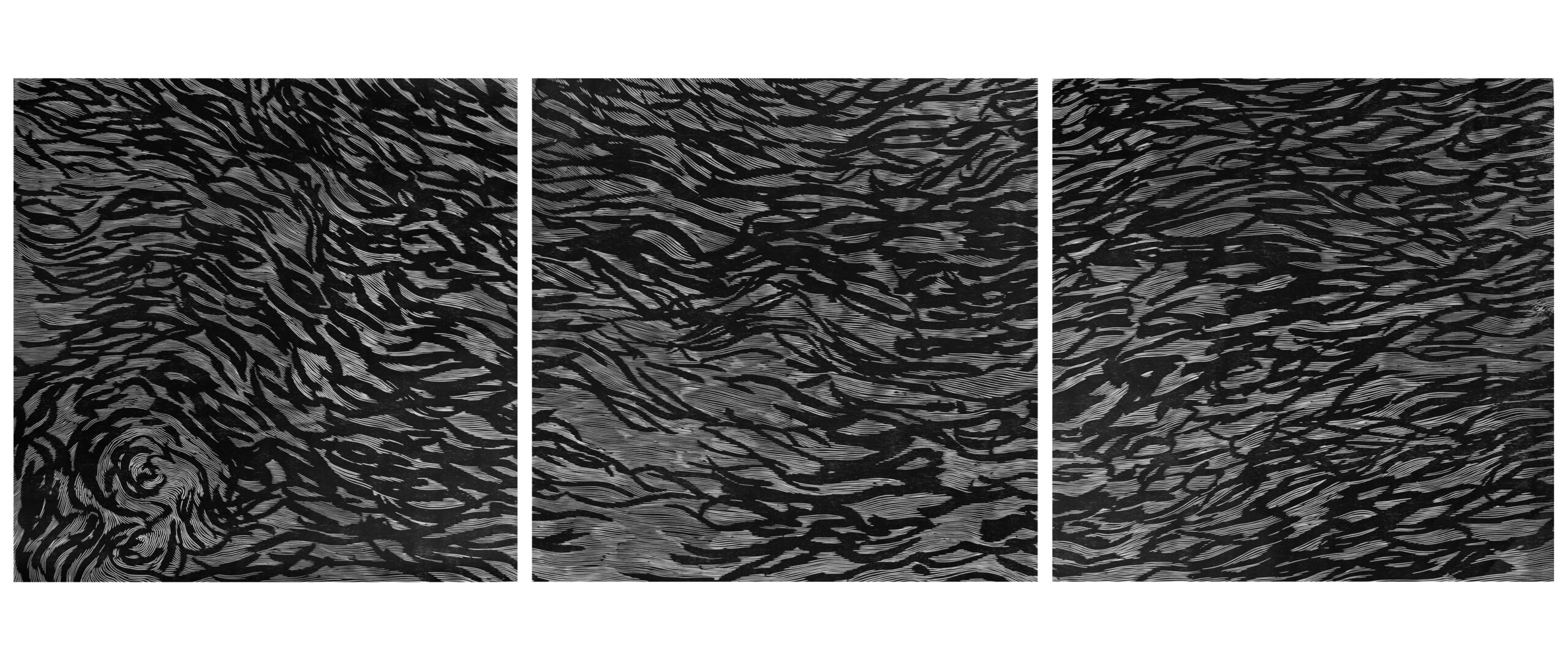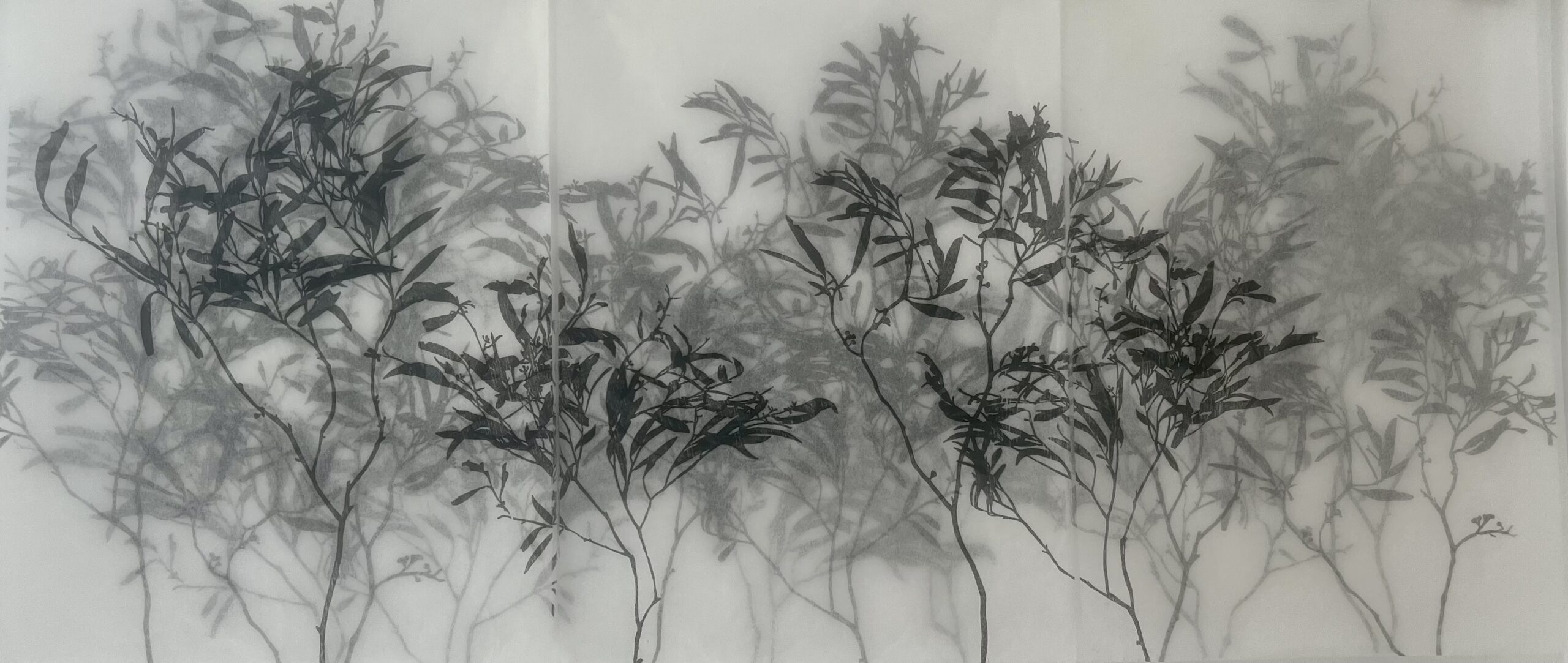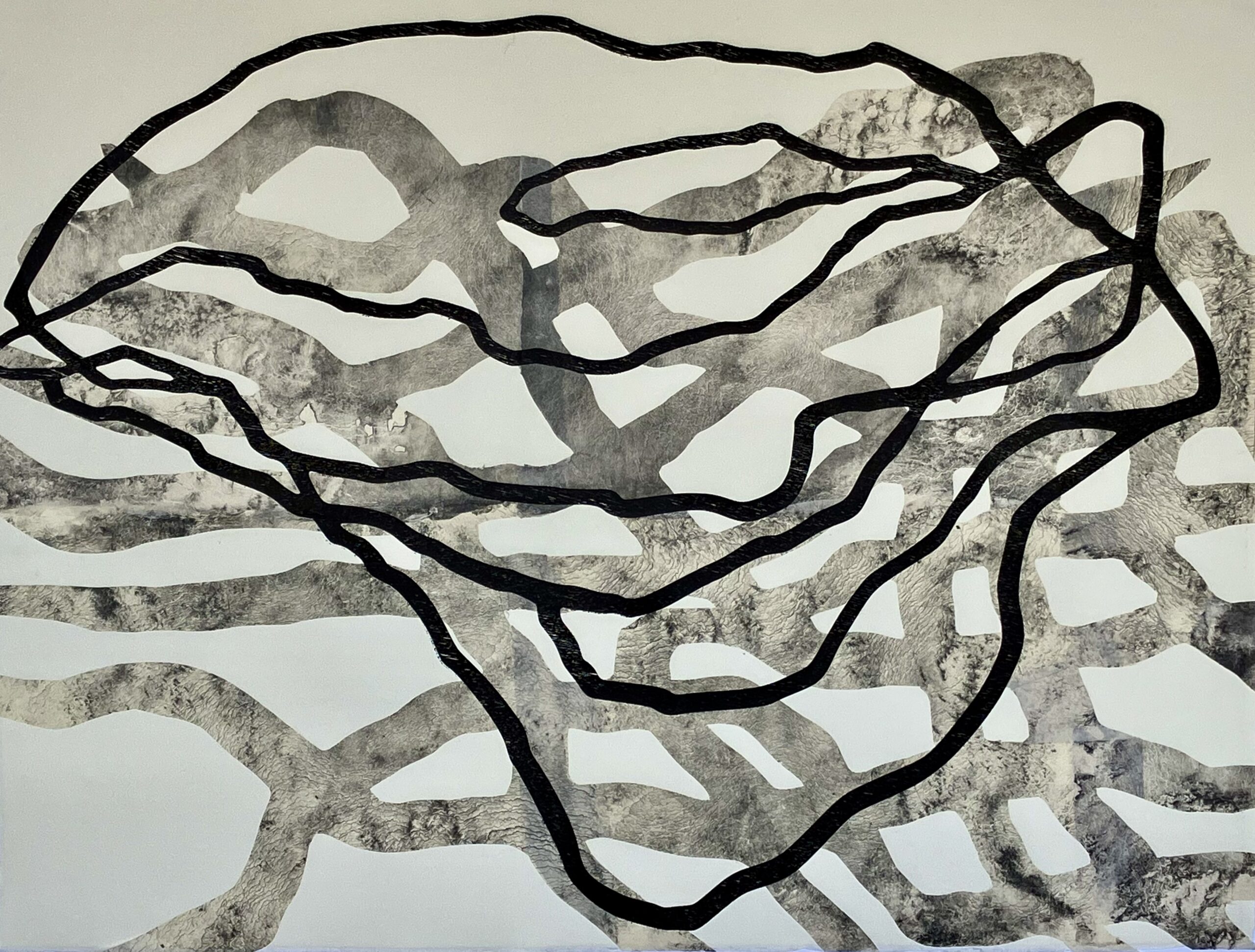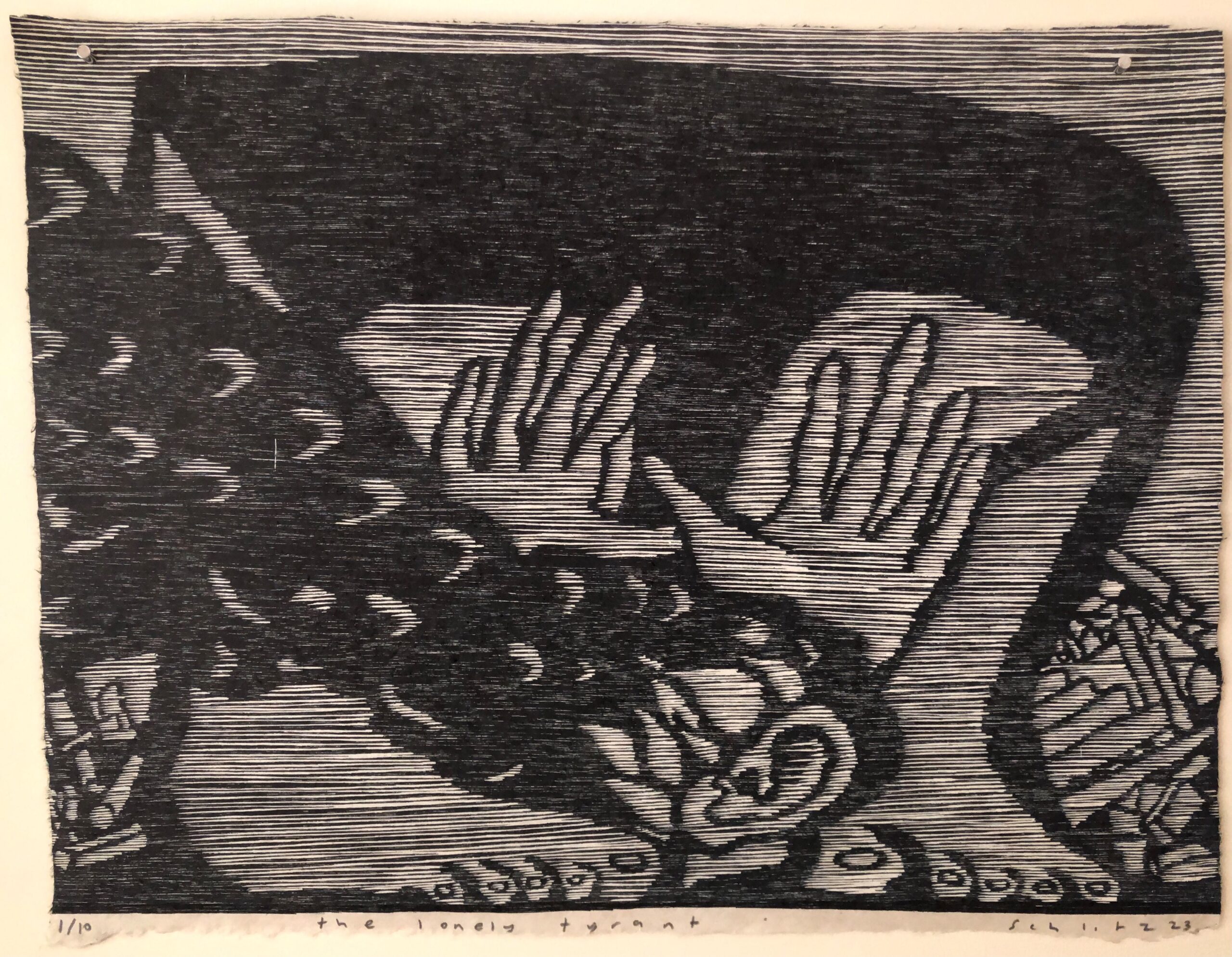 From top:
Tim Coad, The Field, 2021
Antonia Aitken, recurrent woodcut, 2022
Helen Mueller, Forest Story 4, 2023
Jan Hogan, River attachment II, 2023
Melissa Smith, between breaths, 2023
Michael Schlitz, lonely tyrant, 2023
Q: What were some of the foundation ideas for this exhibition project?
A: lutruwita, Tasmania presents an opportunity to examine what it means to live and make within the context of a distinct island place. Positioned to the south of mainland Australia by a watery land bridge known as the Bass Strait and exposed to the forces of the Southern Ocean, lutruwita is a fertile and varied environment. To live on an island is to understand being simultaneously autonomous and in-relation; both connected and separated; particular and universal. It is this shifting state that informs many of the questions being asked by the artists in the 'nowhereprint' collective. What are the stories of this island place and how do they shape our concepts, material engagements, and print practices?
lutruwita informs the way we examine personal and political, mythological and narrative connections, as we develop prints in-relation with its unique ecosystems and cultural histories. As we make, we acknowledge the Palawa people who have tended the land through millennia-old inhabitation. We also recognise that this place has been exploited and adapted by an appropriating culture to meet its industrial needs for timber, minerals, and agriculture. These actions have created deep conflicts and complex histories which we each navigate through practice.
Q: How does the exhibition manifest – what do visitors experience?
A: The exhibition presents at least one print-based work, sometimes two or more, by each artist along with a folio of prints which was shown at impact 12 in Bristol in 2022. Diedre Brollo, the Canberra based print, book and installation artists, in her thoughtful opening words, told how the show provided her with a 'sensory, immersive experience' and how the work struck her as being about 'less knowing and more feeling, listening and encountering of place with our sense'.
Q: What is it about the printmaking experience that you most appreciate?
A: This exhibition brings together artists whose processes of enquiry are centred around print. Many different traditional and innovative methods are represented, but perhaps what unites them is an appreciation of print's unique flexibility to explore and define; and to dissolve and reconfigure.
—
somewhere here: a show of print-based work by the Tasmanian nowhereprint collective: Antonia Aitken, Raymond Arnold, Tim Coad, Rebecca Coote, Anthony Curran, Mindy Doré, Jan Hogan, Jennifer Marshall, Olivia Moroney, Helen Mueller, Nicole O'Loughlin, Lex Palmer Bull, Natasha Rowell, Michael Schlitz, Hope Smith, Melissa Smith. At Megalo Print Studio in Canberra until 13 May.
—
Join the PCA and become a member. You'll get the fine-art quarterly print magazine Imprint, free promotion of your exhibitions, discounts on art materials and a range of other exclusive benefits.