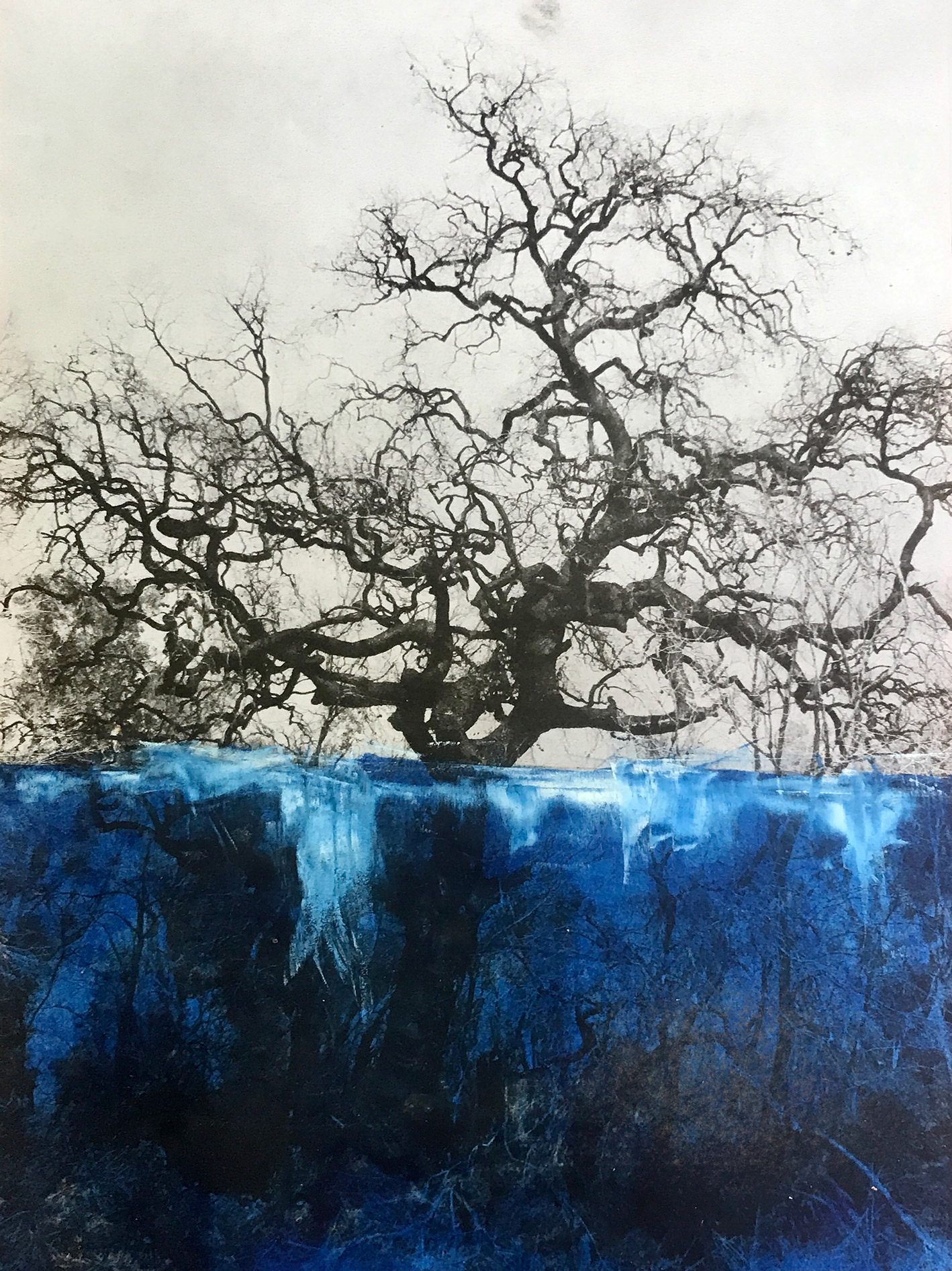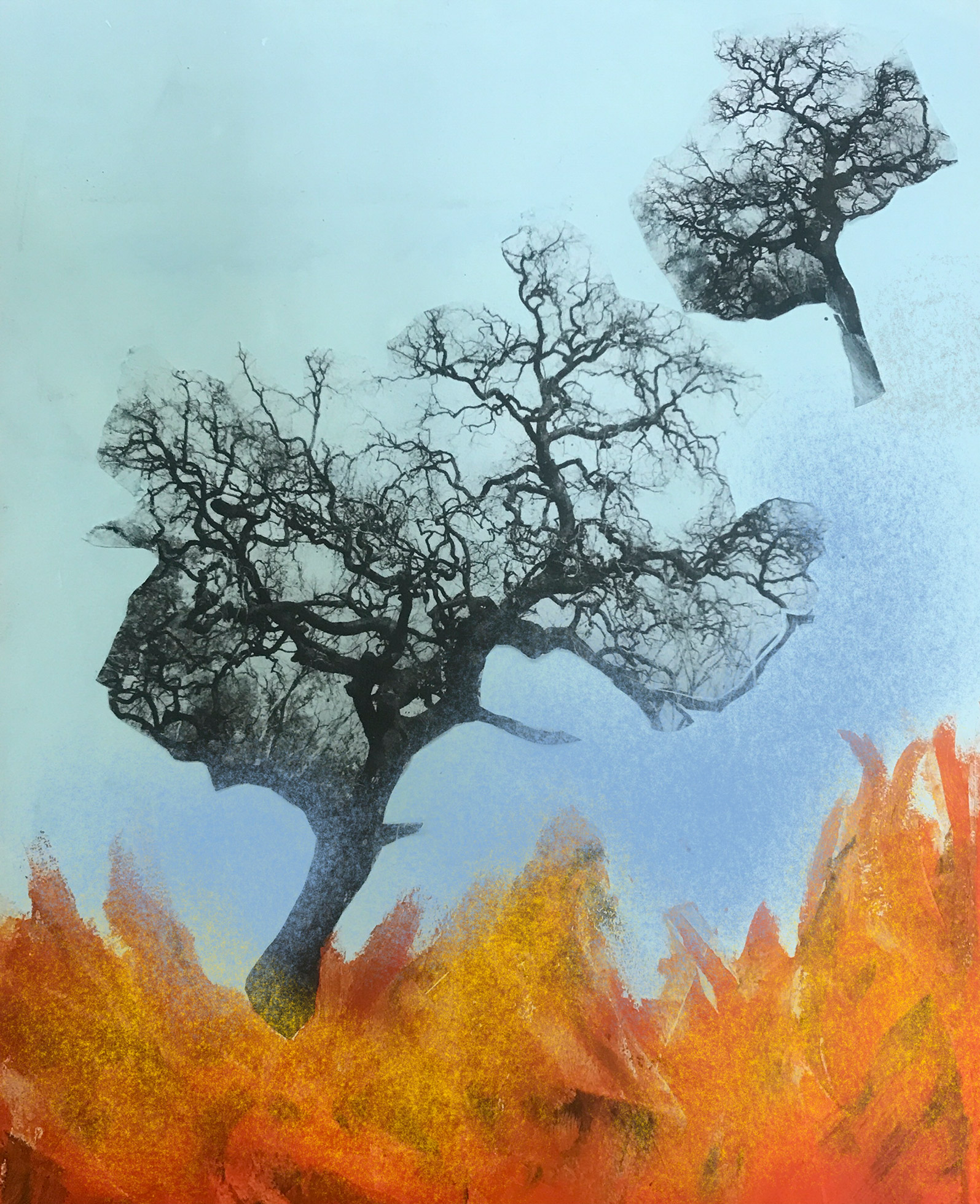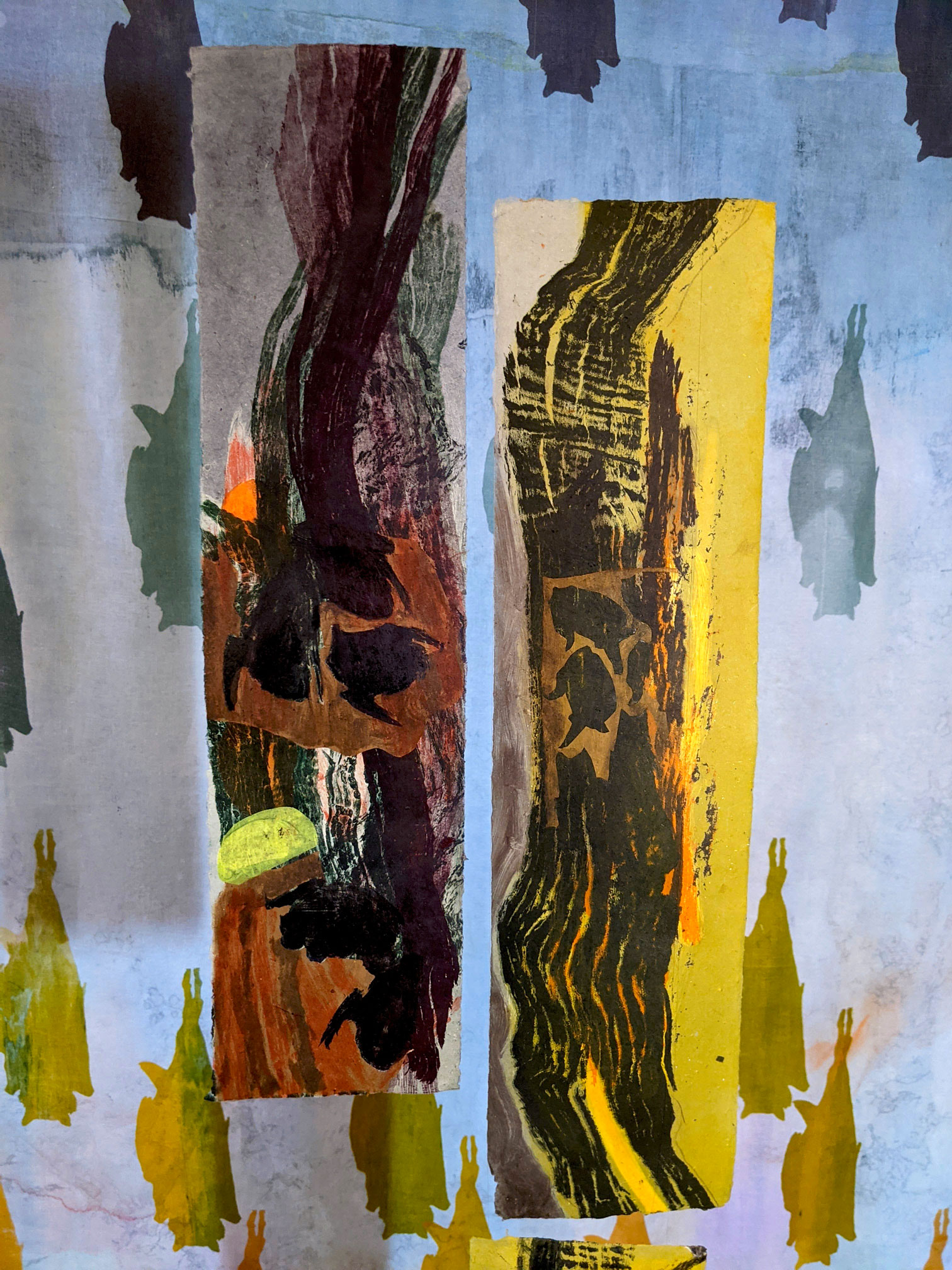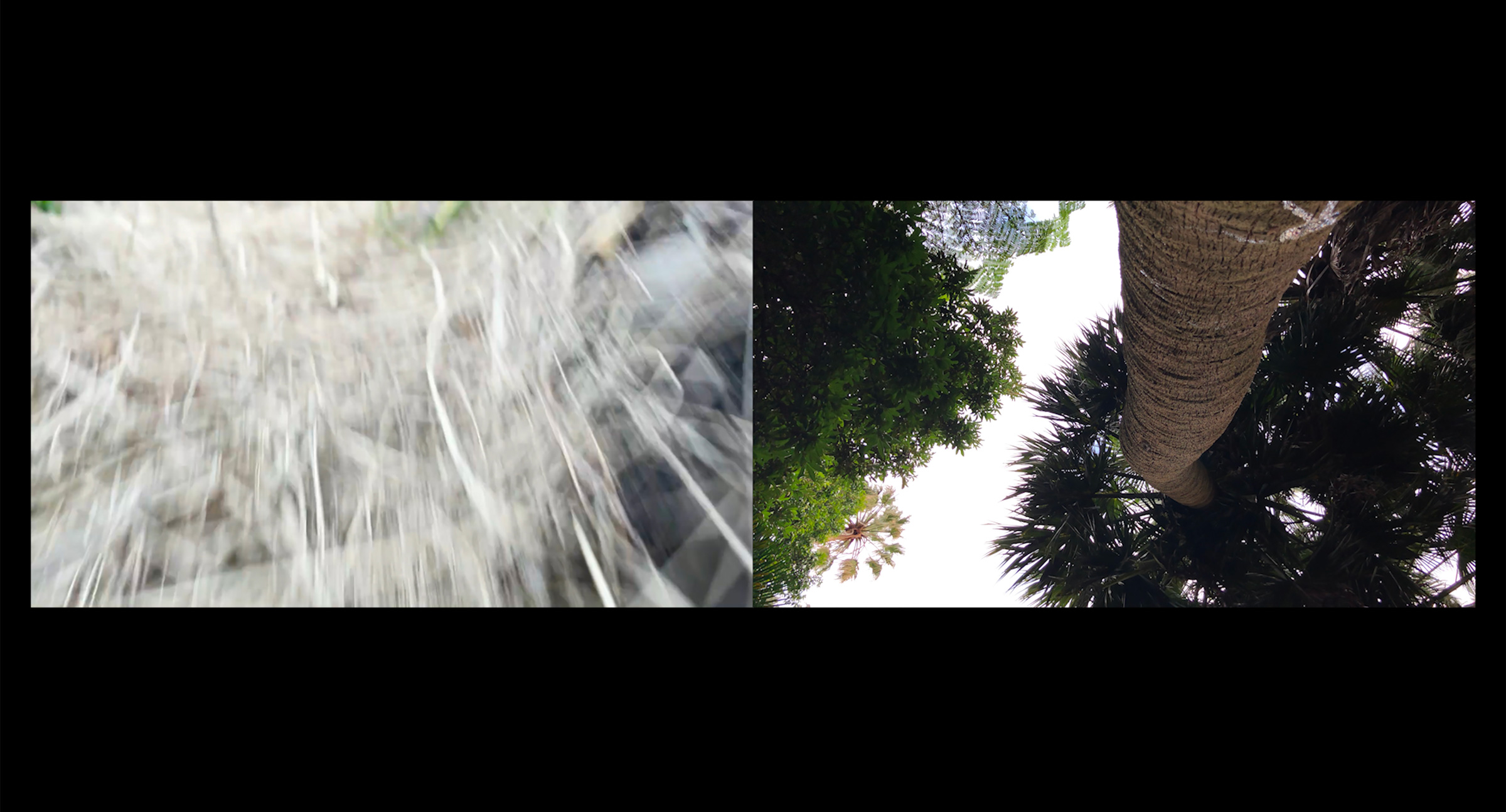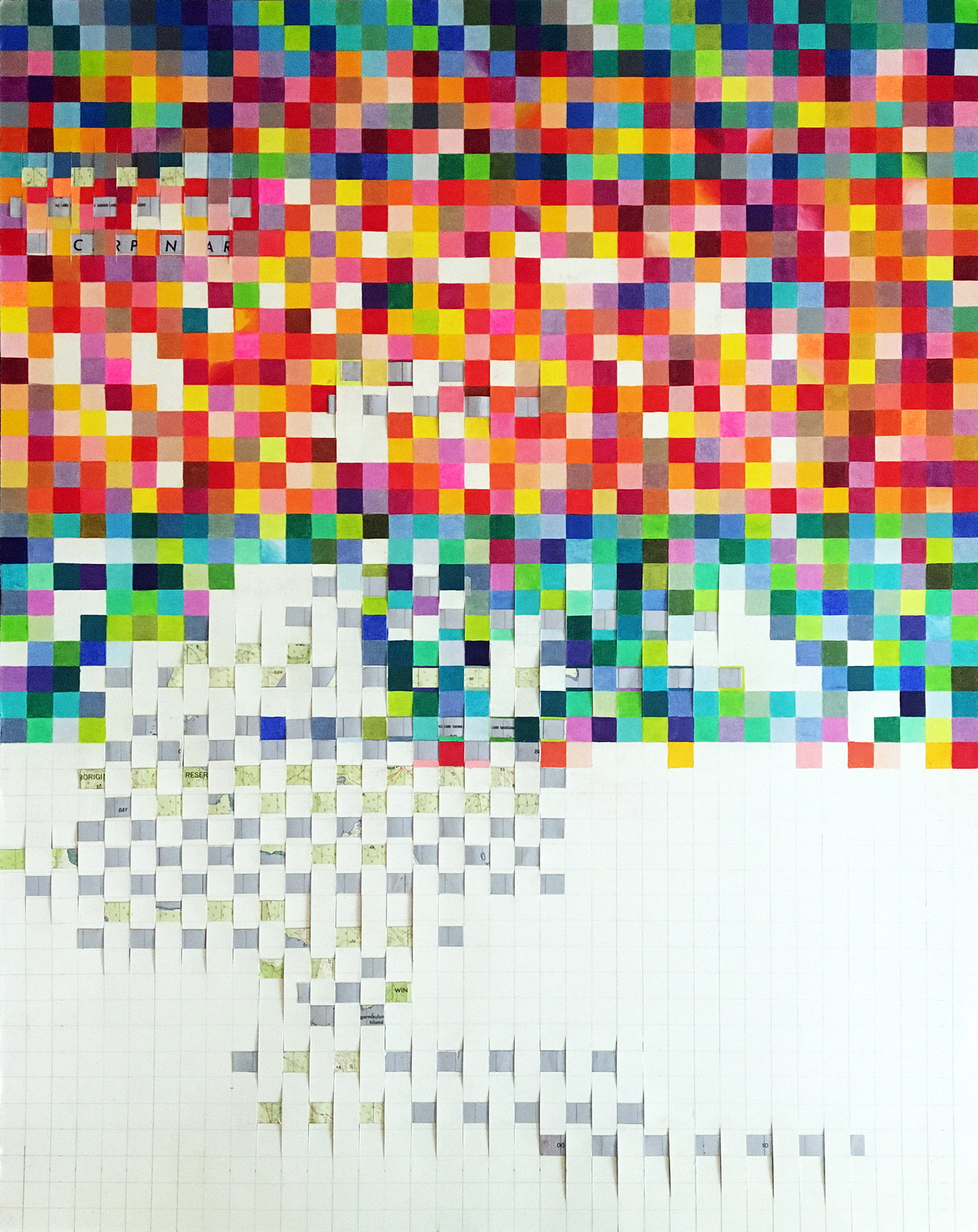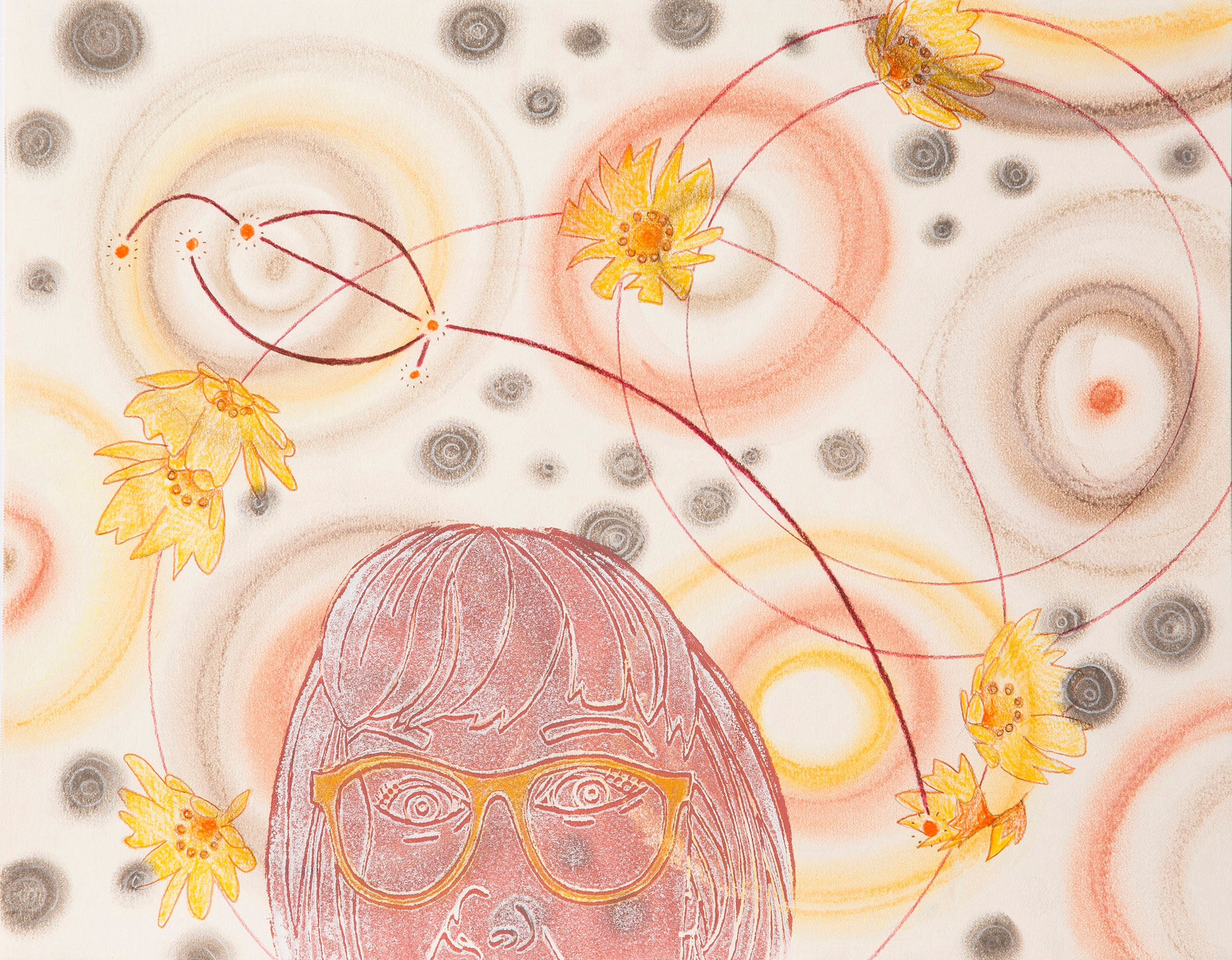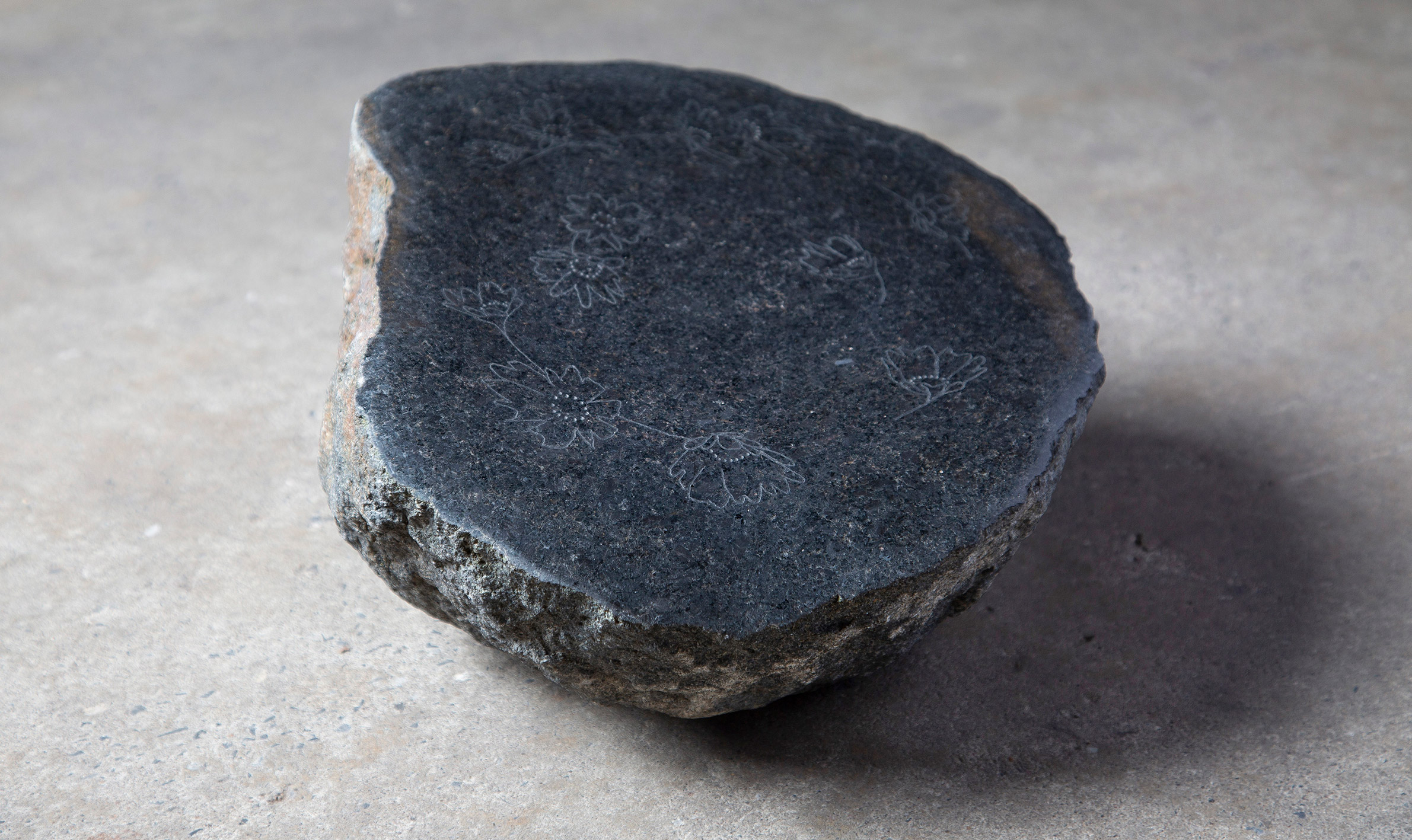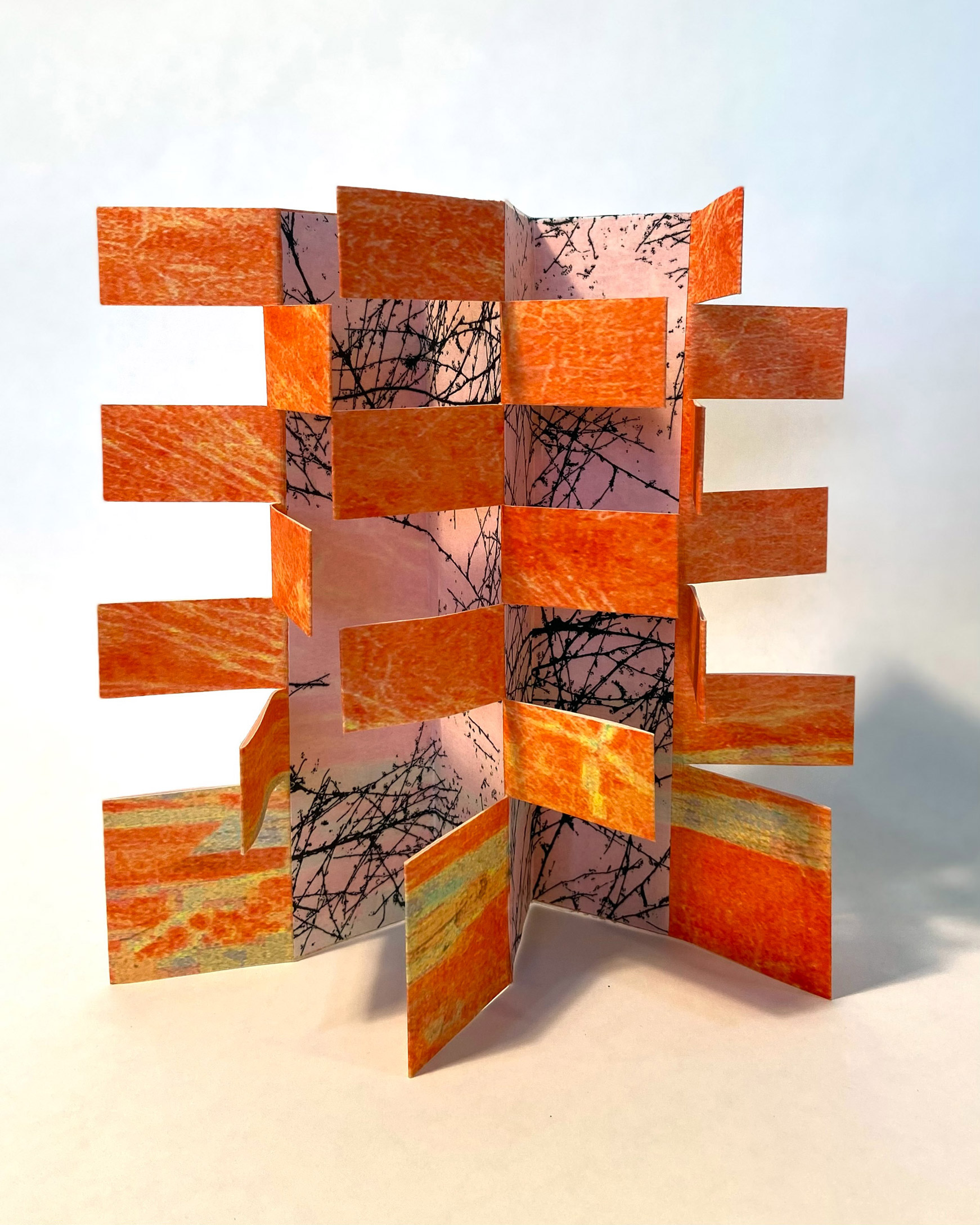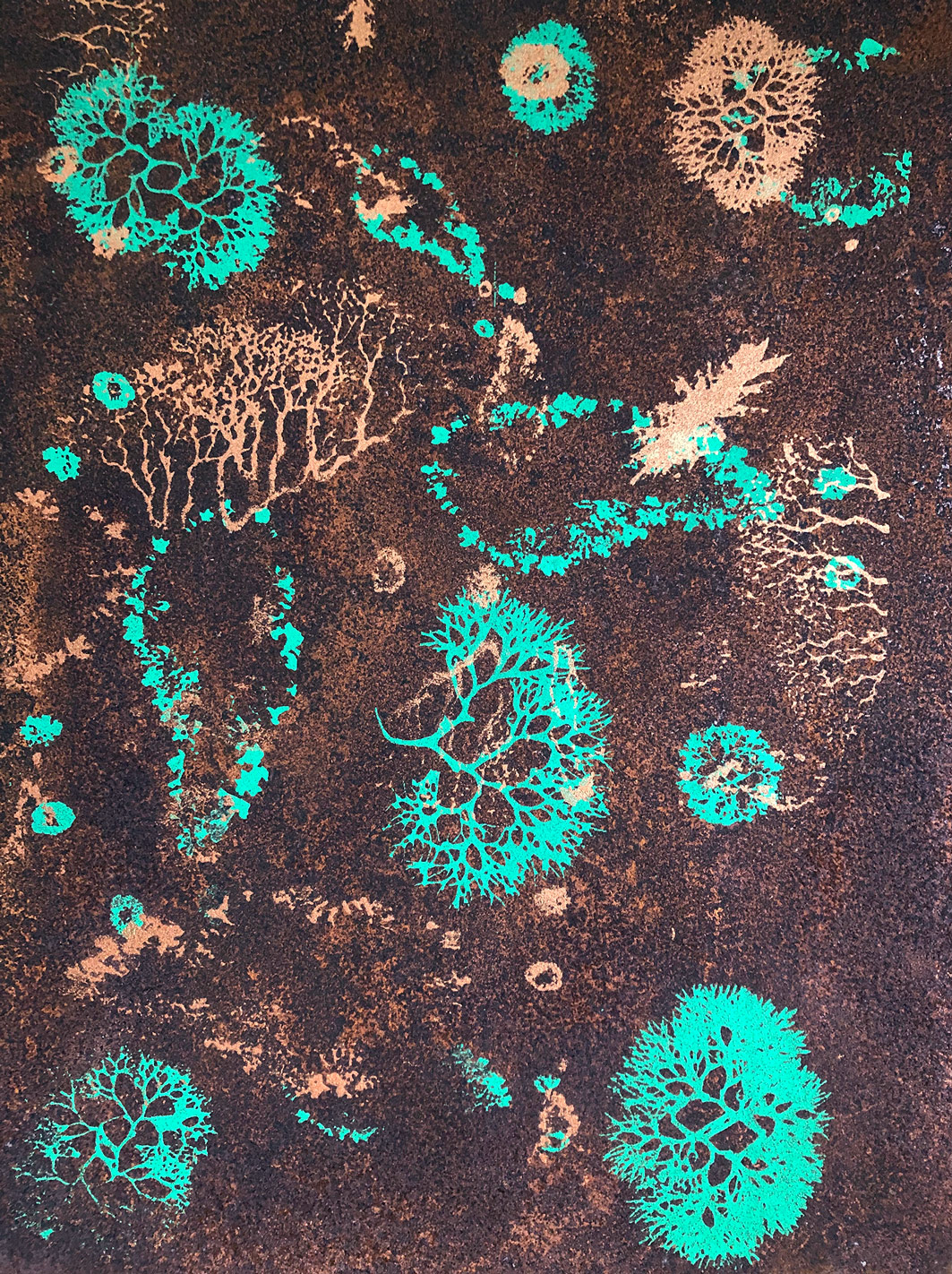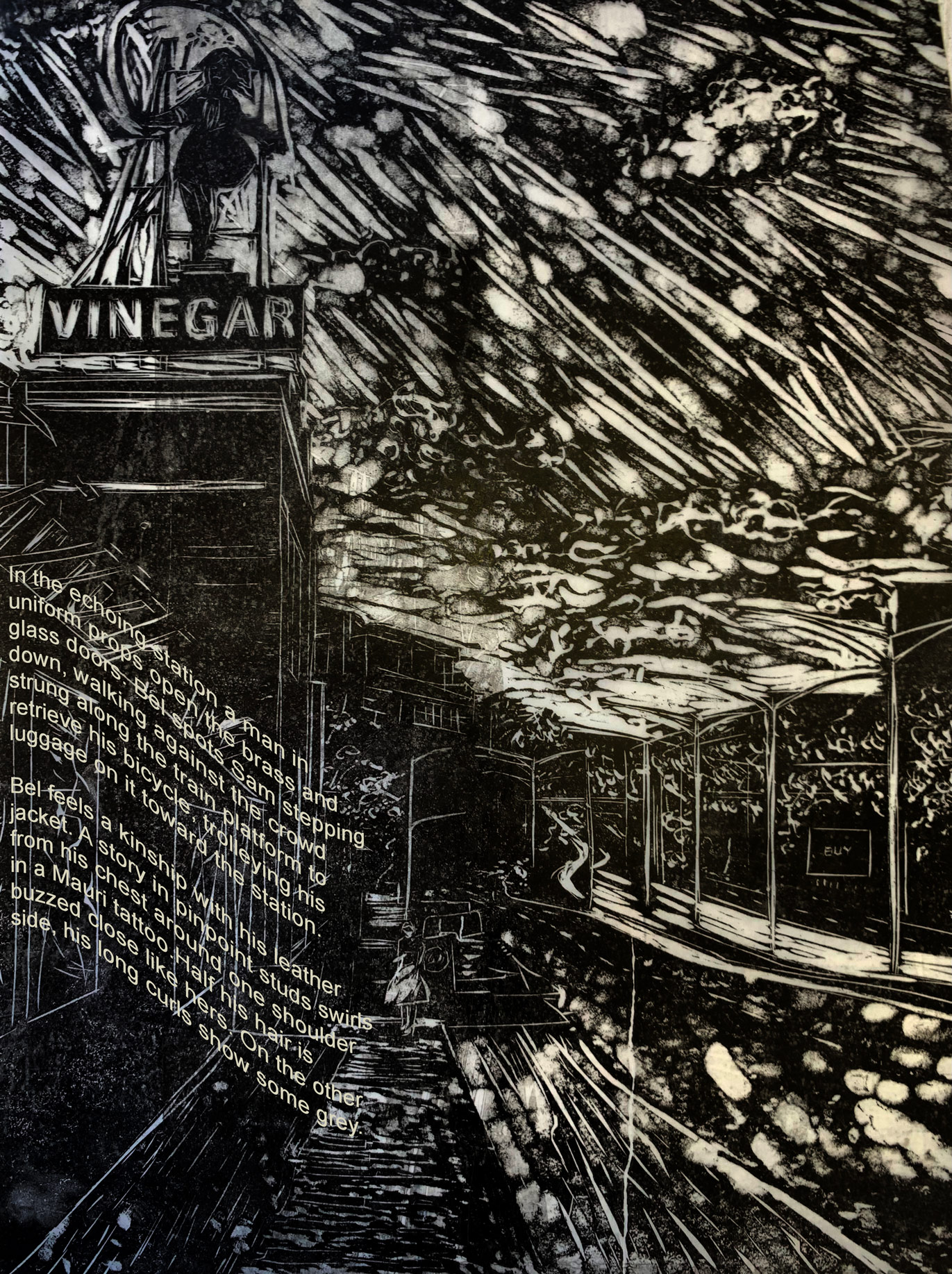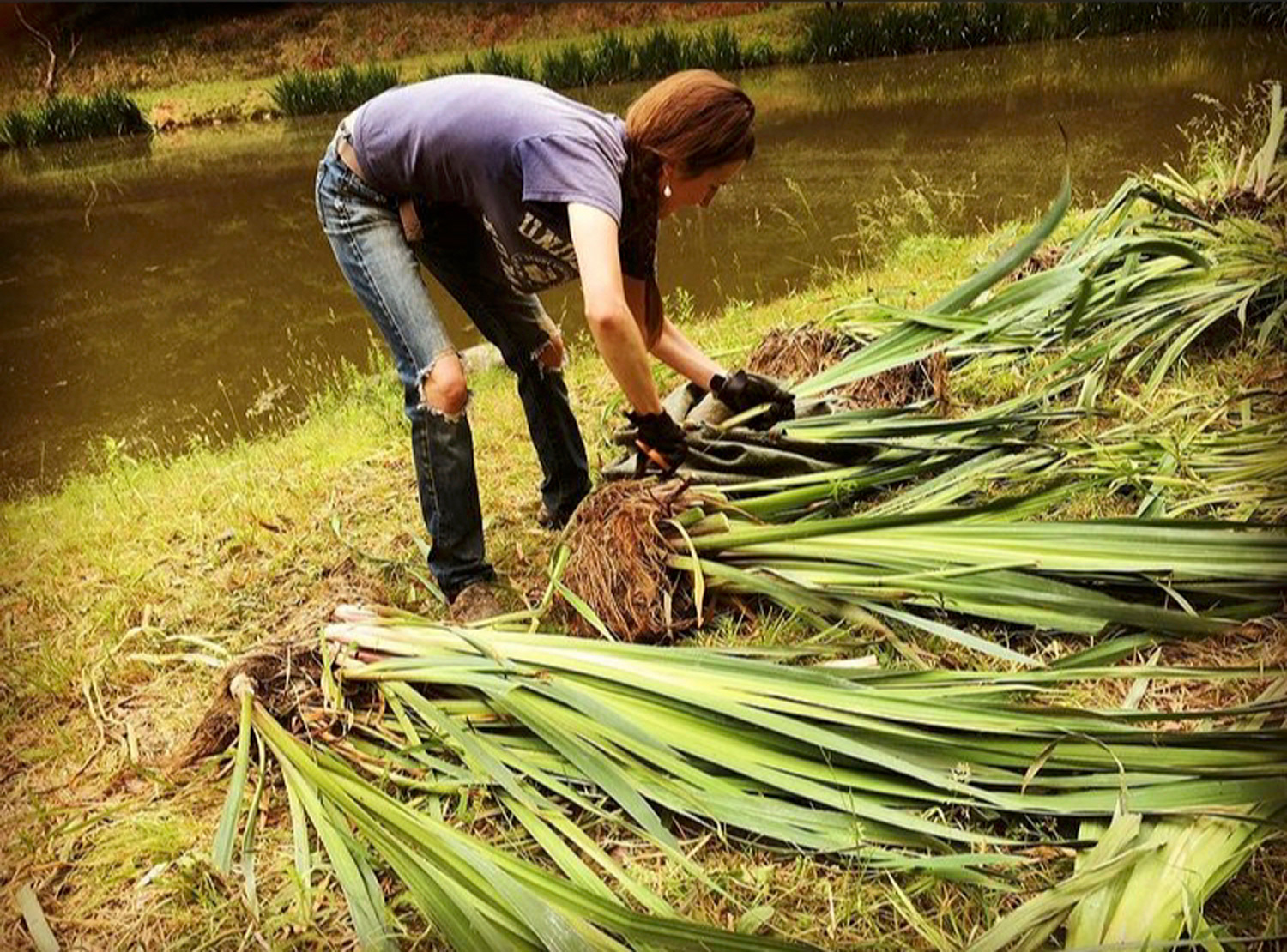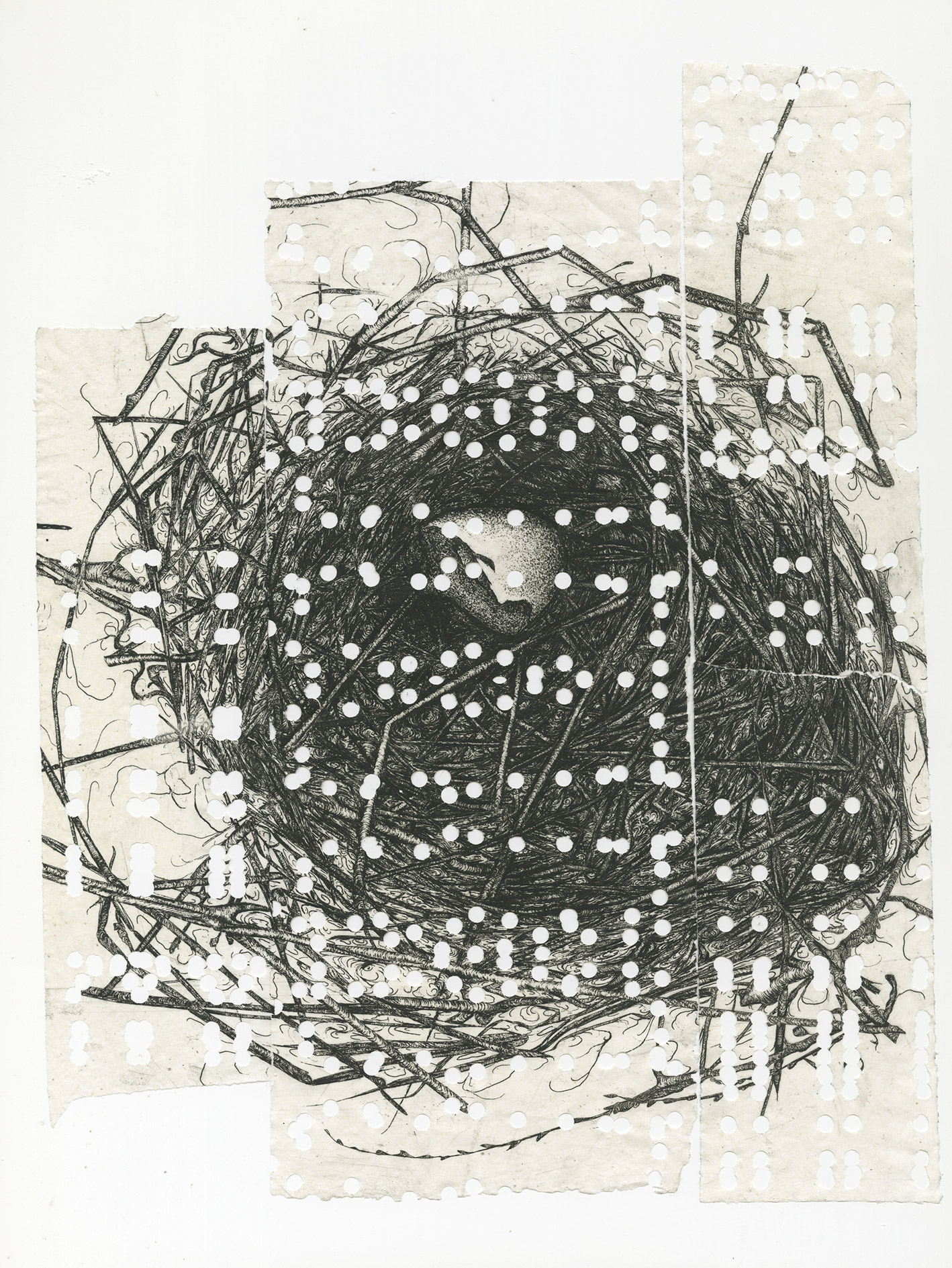 From top:
Shantala Palat and Jackie Gorring, 2021, Gotcha!, painting and print collage, unique state, 76 x 34 cm
Jillian Ciemitis and Linde Caughey, Drowning Tree, 2021 , oil and lacquer on digital print on Hahnemühle fine art paper, edition of 20, 42 x 29.7 cm
Linde Caughey and Jillian Ciemitis, Fire Escape, 2021, oil paint, collage on digital print, printed on fine art Hahnemuhle paper, edition of 20         , 42 x 29.7 cm
FARSISS (Fanny Retsek and Sandra Starkey Simon), Habitat: Bark and Bats (detail), 2022, mixed media (monotypes with chine colle and colored pencil on paper, watercolor and screen print on linen, unique state (site-specific installation), variable
Lizzie Thomson and Erin Woodbrey, As Above So Below (video still), 2022, two-channel video installation, unique state, variable
Alyssa Beech and Louise Holmes, Connection, Side 1 (Grid), 2022, coloured pencil on board, woven paper, unique state, 61.2 x 48.5 cm
Andi Silver, Calgary, 2021, chalk pastel, conté, relief print ink and coloured pencil, unique state, 32 x 44.5 cm
Christine Cholewa, Okanagan Sunflower Rock, 2021, Adelaide black granite, hand cut and carved, rubbing ink, unique state, 20 x 30 x 40 cm
Sallie Ketcham, Synergy, 2022, print on rice paper and vellum, edition of 25, 20.32 x 20.32 cm
Hanah Williams, Flourish, 2022, screenprint and rust on steel plate, unique state, 40 x 30 cm
Bronwyn Rees and Gwen Davies, Skipping Girl with text from 'Bel and Sam Play the Pandemic', 2021, lino print on drafting film, text, varied, edition of 10, 30 x 30cm
Rachel Singel, Rachel Singel harvesting Yellow Flag Iris (an invasive waterway plant) from a farm in Charlottesville, Virginia USA       2021
Gail Hocking and Rachel Singel, Nest, 2021, ink on handmade paper (cotton and Tree of Heaven), unique state, 40 x 30 cm
Pivoting to the Rhythm of Change:
An Intercontinental Collaborative Journey in an Unprecedented Time
November 2021, "Collaboration is nerve-wracking! Thankfully, it pushed me to another level that I doubted at first."
February 2022, "In flooded South Australia, roads are washed away, communities cut off, animals and plants are rejoicing."
Artistic collaboration is a daring creative endeavour, add to the mix paired artists living on different continents, who may not know each other, nor met in person, then add the goal of exhibiting their new works after two years incubation and a snapshot of Sister City II appears.
Based in Adelaide, Andrea Przygonski, artist/printmaker and curator has dreamed a bold artistic vision to life and created her second international exhibition, Sister City II. Her belief that it is possible and desirable to link artists living at great distance, many of whom she met during her studies in Chicago in 2012-2013, in the intimate process of creating collaborative new works has culminated in eighteen paired artists from Australia, USA, Canada and India. Developed over 18 months during the disruption of the Covid-19 pandemic, artworks by the nine artist teams will ultimately be exhibited in Adelaide. Eleven years after Przygonski and I met during residencies at the Banff Centre for the Arts in Alberta, Canada, it was with enthusiasm and delight that I accepted to write an essay for her globally networked, grassroots project.
The theme of CHANGE – both positive and negative ­– was adopted by Sister City II's participants. 'Change' acknowledges the enormous issues we face living in the Anthropocene, the era of destructive human impact on our planet's ecosystems, and our profound desire to comprehend and bring awareness to this urgent problem brought swiftly to our attention during the pandemic. Many of the artists' projects address the global climate crisis and the implications of disrupted weather patterns, environmental and habitat degradation, and species decline. Other projects draw our attention to the dynamics of the human psyche, touching on resilience, compassion, and relationships in the context of social uncertainty, inequality, and precarious livelihoods.
August 2020, "In the Gammon Ranges (South Australia) there has been more than a drought, the environment is dead … there are bones and dead animals everywhere, no animals are alive, no plants or trees are alive."
The world's communication technologies were spurred rapidly to the next level by our need for remote contact when the pandemic emerged in March 2020. With these astounding free internet tools we conversed in over 13 virtual monthly meetings hosted by Przygonski – a technical impossibility during her previous project, Sister City I: Prints (2018), also collaborative and intercontinental. During our stimulating monthly discussions artist pairs shared progress on their collaborative artmaking, their experiments, new processes, research, dead ends, and breakthroughs. We inspired and uplifted each other and became an online community. Experiencing the pandemic as it evolved around the world created a bond between us, our connections were deepened by sharing moments from daily life lived during the unprecedented global health and climate crises. Our Sister City forum became a respite from pandemic isolation experienced by most, though not all. The essay's quotes are taken from our conversations.
August 2020, "In the USA the pandemic is atrocious, only the privileged are safe. People who live in densely populated areas, or who can't afford to stay home from work, they are dying."
September 2020, "My daughter is going into hospital for a serious operation … none of the family can be with her because it's in Melbourne, another state, and the borders are closed."
Sister City II's artworks encompass many forms. During their creation some travelled physically back and forth across the globe, others were digitally transferred. While it's a challenge to grasp art in the flow of creation conveyed via virtual meetings and social media posts, the broad strokes include the following. Innovative forms of printmaking are plentiful, as nearly half of the artists are printmakers, they range from the use of ecologically responsible printing materials and processes, hand-made paper produced from invasive plants, prints of trees in climate distress, bat silhouette and tree bark prints, vintage garments printed-over, printed and painted figures conjoined à la exquisite corps, and rusted printing plates. Other works include an installation of engraved rocks and natural stones, a murder-mystery fiction, a sensorial video conveying an animal's perception of the environment, collages of maps interwoven with minimalist paintings, a booklet of email correspondence, and so much more. This cornucopia of imaginative aesthetics and creativity witnesses the transformation of difficult issues into visual poetry.
May 2021. "Here in India, the second wave has come like a tornado…there are no medical (oxygen) supplies in the hospitals which are overrun by death." 
"We have been housebound for months; we are working on small art projects and connect daily with our dear ones to keep our spirits up."
Collaborative artistic expression has gained a lot of momentum in recent years. Increasingly, artists embrace collaboration as a way to reinvigorate and expand their own artistic practice or to broaden art's social role by expanding its relational and ethical implications. Social activism often goes hand in hand with artistic collaboration, and both of Przygonski's Sister City projects as the title implies showcase women artists, giving support for their practice, space to be the centre of attention, and recognition for their artistic ingenuity and excellence.
July 2021, "Raspberries baked on the vine during a heatwave in British Columbia. The temperature was 45 degrees Celsius, 20 degrees above normal."
November 2021, "In the USA it's been very difficult, I've been a wreck, I'll be honest with you, I've been very distracted. I'm so glad the government is changing, but it's been very, very stressful."
From my perspective in Ottawa / Adàwe, Canada – a city the same size as Adelaide – and one of the world's coldest capitals, located on the unceded territory of the Algonquin Anishinaabeg, my participation in Sister City II has been a most enriching journey.
Judith Parker, Ottawa, January 2022
—
Sister City II is at praxis ARTSPACE, 68-72 Gibson Street, Bowden SA, 7-29 April 2022. Launch is on 7 April, 6pm, with speaker Dr Kate Wylie, Climate Medicine.
—
 Join the PCA and become a member. You'll get the fine-art quarterly print magazine Imprint, free promotion of your exhibitions, discounts on art materials and a range of other exclusive benefits.