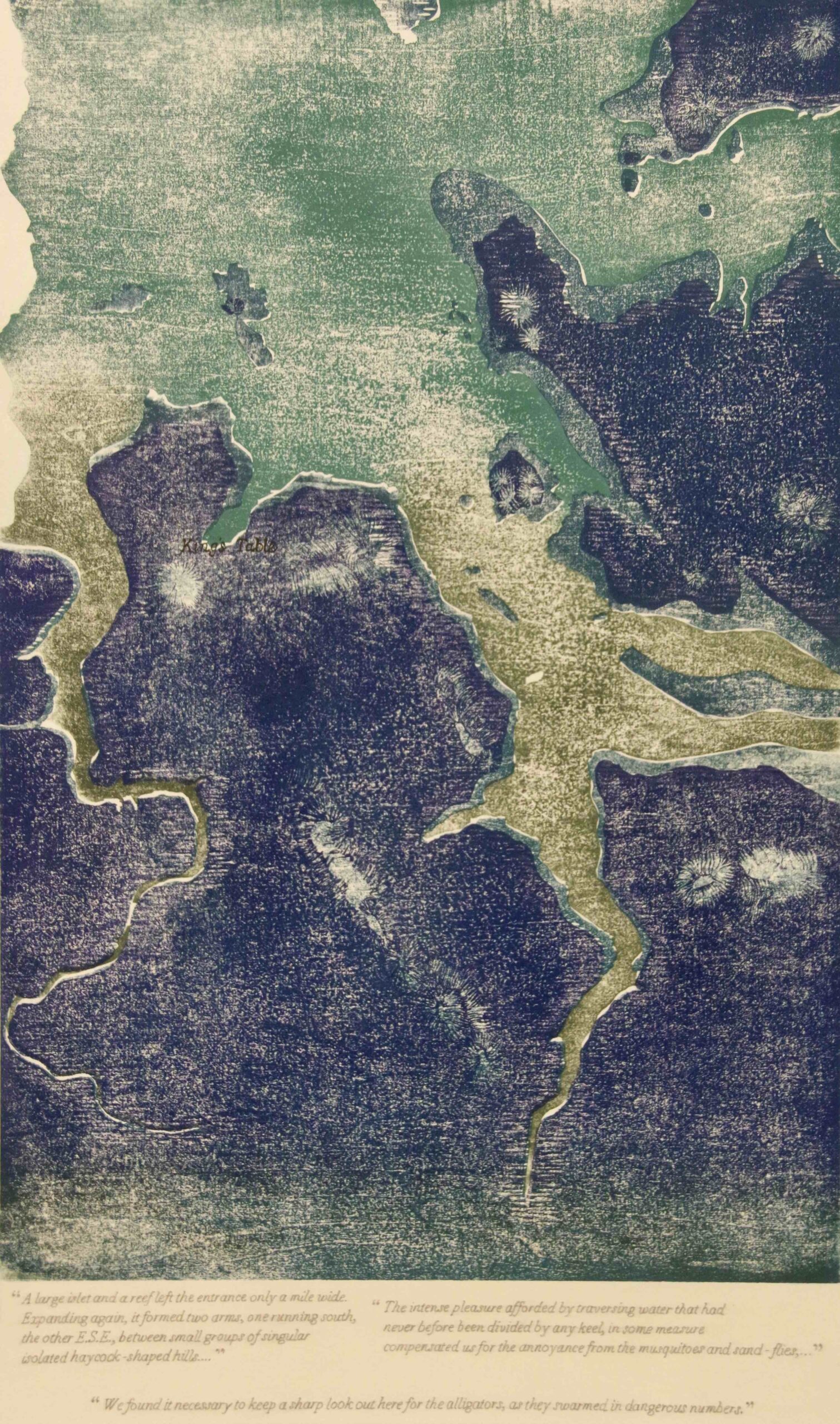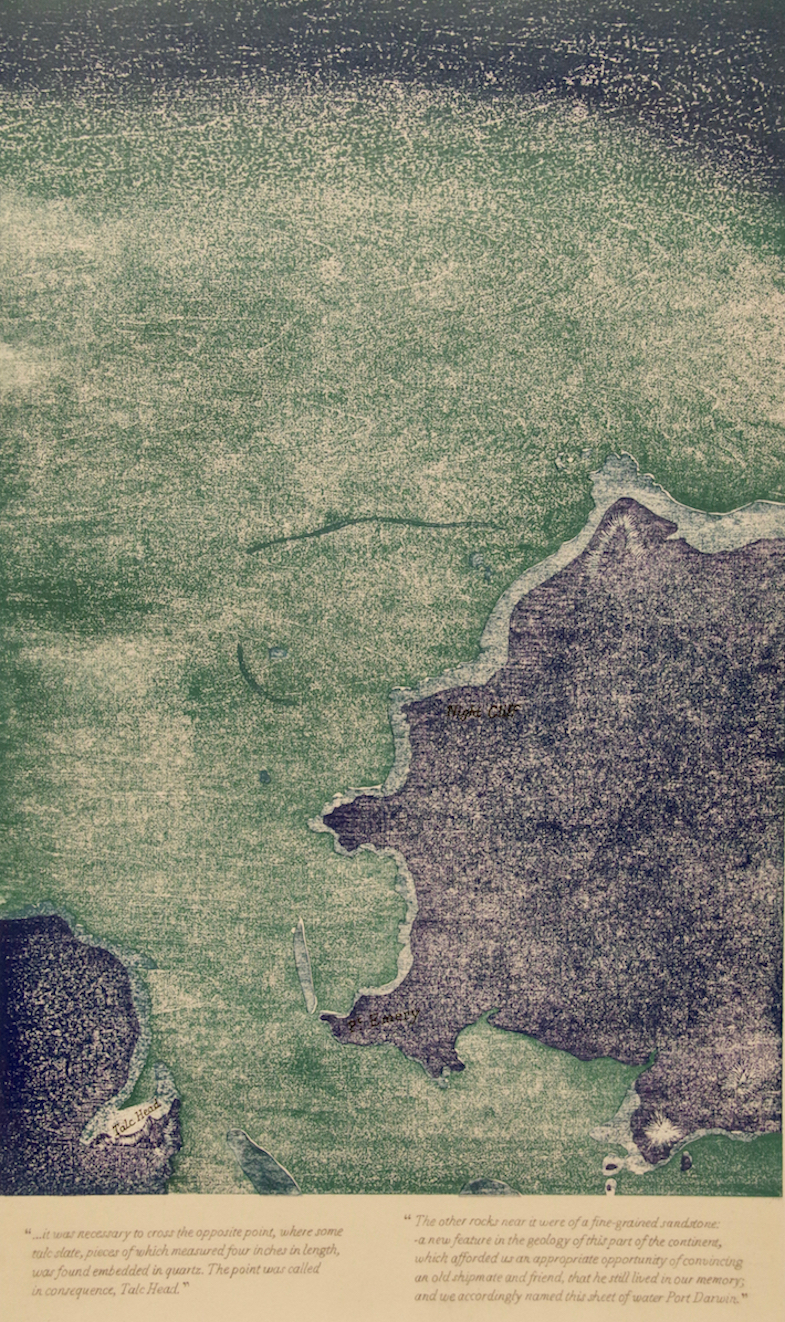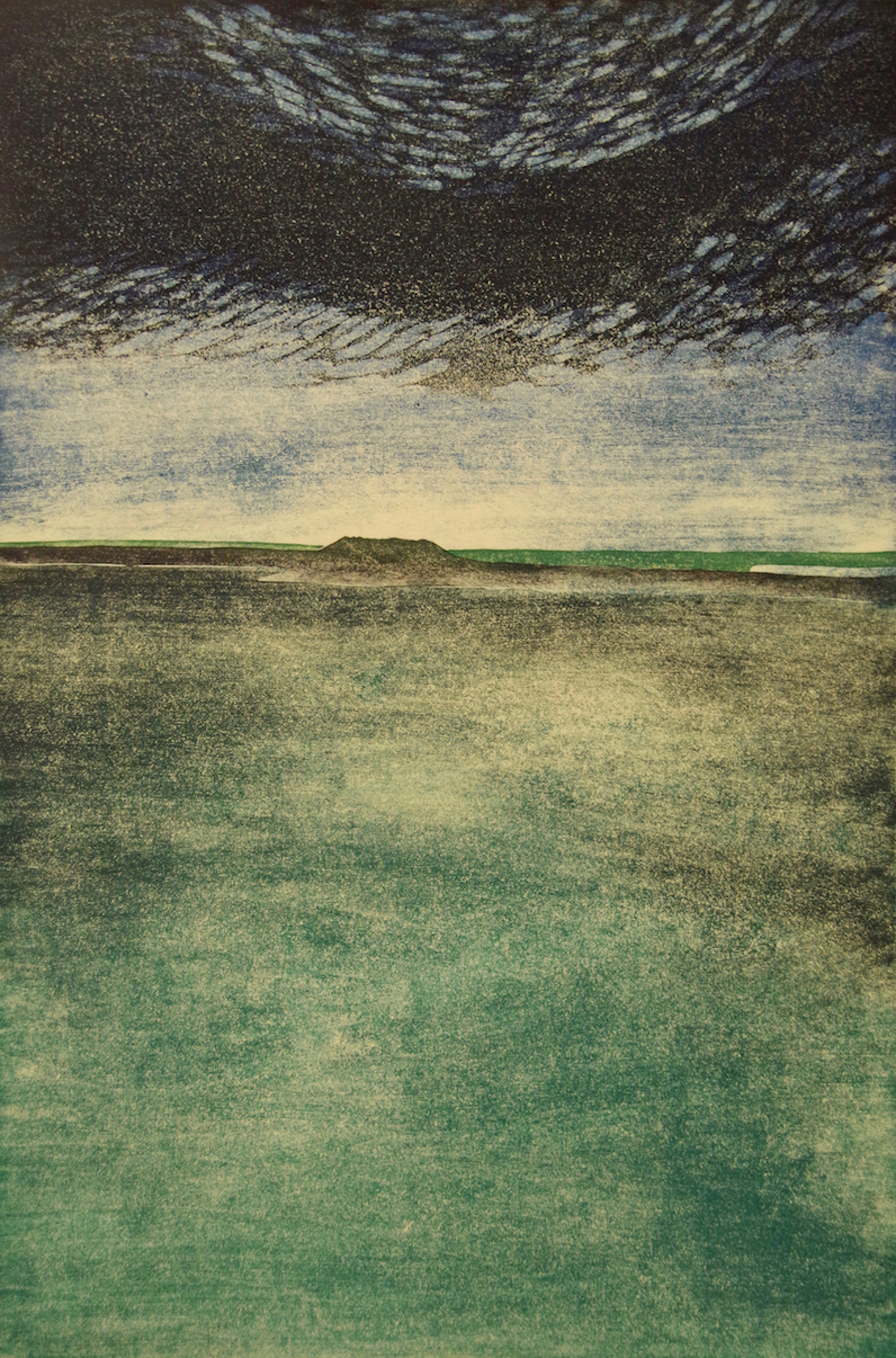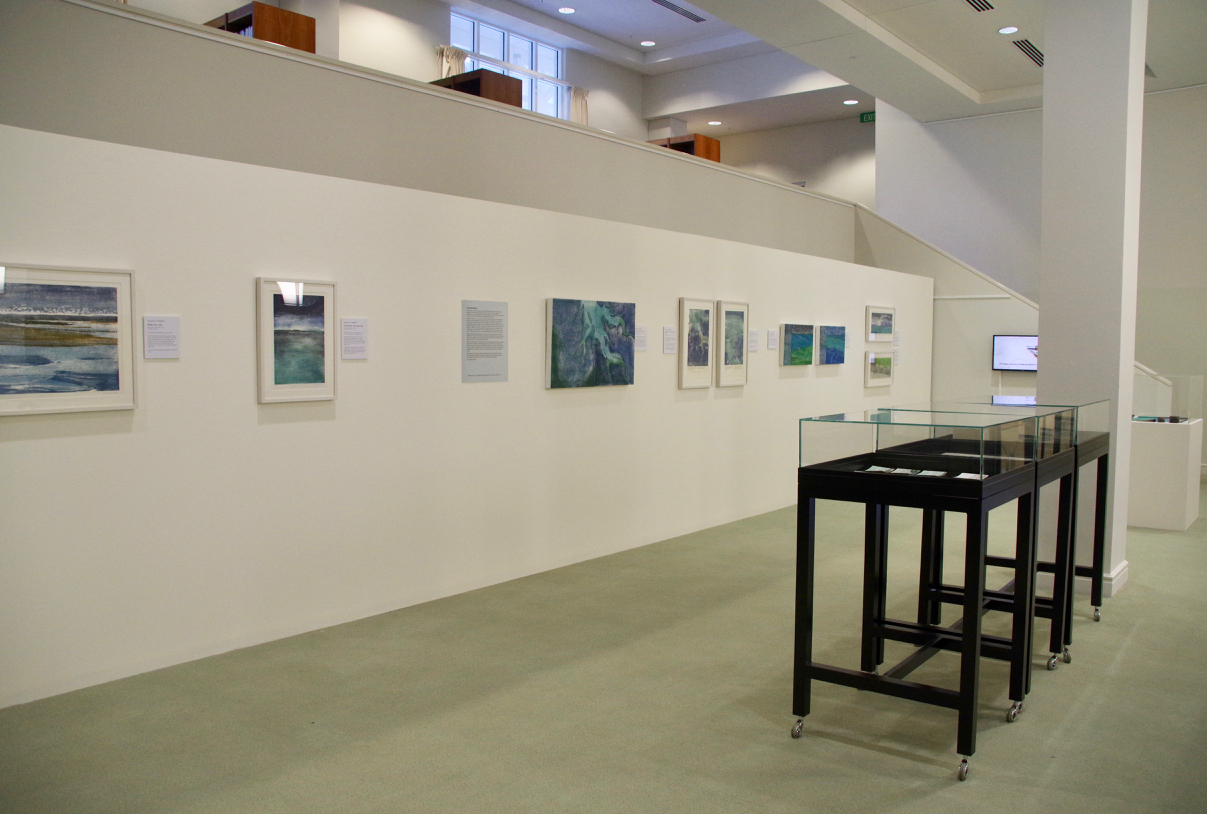 Shifting Tides, 2022, water-based woodblock, image size 45.4 x 60 cm
King's Table – Reflecting Stokes, 1839, 2022, water-based woodblock with ink and pencil, image size 54.5 x 30 cm
Port Darwin – Reflecting Stokes, 1839, 2022, water-based woodblock with ink and pencil, image size 54.5 x 30 cm
Storm Brewing – Kings Table, 2022, water-based woodblock, image size 45.4 x 30 cm
Shifting Tides exhibition, Library & Archives NT, Parliament House
Q: What were some of the foundation ideas for this exhibition project?
A: I first began observing Darwin Harbour when working intermittently as a deckhand on a small commercial boat. Travelling through the lock at dawn, I would gain an impression of the harbour that day, whether it was calm and clear, choppy and breezy, or high or low tide.
As a deckhand, there are moments just looking and enjoying being on the sea. I started noticing the range of colours and ebbs and flows of the water. The harbour would reveal itself as an area of mudflats and mangrove roots at low tide, but appeared to be brimming at high tide.
From the land, I observed the harbour's high tidal range from a twenty-story building with almost 360-degree views overlooking Darwin Harbour. I got to know more intimately the harbour's inlets and beaches through regular watercolour sessions with friends at various locations along the coastline.
As these thoughts developed I visited the Northern Territory Library, housed in the Northern Territory Parliament building, which sits directly above the harbour. I learnt more about the harbour from a historical and geographical perspective, discovering the Library's collection of charts, some of which were quite old and beautifully drafted. I read about the history of the harbour, its development, as well as its ecology, and talked to locals.
Given the Library's location, my ongoing research and through talking to one of the librarians, the idea of developing a series of mokuhanga (water-based woodblock prints) as an exhibition was formed.
Q: How did the artwork selection take place?
A: While the process of developing and creating the images was quite organic, it was always about conveying the light, colour and movements of Darwin Harbour that had originally caught my eye when out on the boat. I think the final exhibited works capture these elements and open a visual window onto Darwin Harbour, with the Library providing the historical backdrop.
The development of the chart works came later and these works established a direct connection between myself as the artist with the Library's historical collection. However, I didn't want to exhibit the charts themselves as I felt they could detract from engaging with Darwin Harbour on a visual and emotional level through the artworks and the exhibition would risk becoming a historical display. I needed to strike the right balance and in the end chose to exhibit one section of a rare chart, which related to my works.
From the start of the process of developing my images I was sure that I also wanted to make an artist book as part of the exhibition. Being a lover of books anyway, and having a special opportunity to exhibit in a library, it seemed appropriate.
Q: How does the exhibition manifest – what do visitors experience?
A: The exhibition presents a creative, historical and geographical based response to Darwin Harbour. Through the technique of mokuhanga visitors are able to experience images of Darwin Harbour that convey its light, colour, and the ever-changing tides and weather.
Many visitors to the Northern Territory Parliament building are from interstate and overseas. Through their visit to the Library inside the Parliament building, they learn about Darwin and Northern Territory history and culture through its permanent displays. As a temporary art exhibition, Shifting Tides gives a greater dimension to this experience by creating a direct visual experience about the place they are visiting, and visitors have responded overwhelmingly to this portrayal of the harbour in their comments.
I have included a short film detailing the process and technique of mokuhanga and the meaning of an original print and edition. Close to this, I have presented woodblocks and tools in a display case that adds a further informative and educational aspect to the exhibition.
Q: What are some of the key works and what subject matter do they deal with?
A: Shifting Tides (2022) is the title of the exhibition and also one of the key works. Darwin Harbour has an iconic shape and is often described by locals in terms of its "arms", these being East Arm, Middle Arm and West Arm.
Three of the works are interpretations of charts. I was drawn to the draftsmanship and design of the charts within the Library's collection, and wondered how these could be translated into mokuhanga. Gradually, I observed how charts and maps are subjective according to the time, place and politics of the day despite the methodical and scientific nature of charting. They can be distorted and exaggerated, and places are often named after surveyors, explorers and their contemporaries.
King's Table – Reflecting Stokes, 1839 (2022) and Port Darwin – Reflecting Stokes, 1839 (2022) are both interpretations of the maritime chart produced by John Lort Stokes after he surveyed the north coast upon the Beagle with Captain John Wickham in 1839. I have included handwritten text in these prints from Stokes' engaging account of his challenging trip in Discoveries of Australia (1846).
Tide Lines ~ Darwin Harbour (2022) comprises two woodblock prints on gesso panels showing the three arms of the harbour. Although referencing modern day marine charts through its colours and tidal variation, the image conveys a sense of open land with inlets and rivers running through it, with the sea and mud flats forming the three arms. Places are unnamed and modern day facilities and landmarks are omitted to create an image of an area as yet unexplored.
Q: What is it about the printmaking experience that you most appreciate?
A: I originally trained as a Printer in Japan in intaglio, which is my first love and it was only later that I learnt mokuhanga. I apply them both to my creative practice and appreciate and love them for different reasons. I often look at the world through the prism of etching or woodblock.
I created all works for Shifting Tides in mokuhanga because this is how I started to see Darwin Harbour – through the colours and translucency that I could potentially achieve. I enjoy carving woodblocks because it is a meditative process from which I can disengage from the outer world for a while. I also work in a mostly intuitive way so I don't always know what will happen once I print the block. Printing is a more intense process, as I need to concentrate on balancing the elements of water, glue, ink and pressure to create the feeling I'm trying to achieve.
—
Shifting Tides is at Library & Archives NT, Parliament House, Mitchell Street, Darwin, NT, from until 30 October www.lant.gov.au or www.jacquelinegribbin.com/shifting-tides
—
Join the PCA and become a member. You'll get the fine-art quarterly print magazine Imprint, free promotion of your exhibitions, discounts on art materials and a range of other exclusive benefits.