Seven Forms (Collie '22), 2022, Exhibition view at Collie Art Gallery, Layli Rakhsha, Dreaming – series 1-7, 2022, Silkscreen print on paper (Edition of 3), 38 x 25.5 cm. Alana McVeigh, Black Diamond Series, #3, 2022, Lumina Porcelain, variable size. Monika Lukowska, Open Cut, 2022, Digital print on Hahnemühle German etching paper, 80 x 200 cm. Photographer Melanie McKee
1 August 2022
In Exhibitions,
Printmaking, Q&A
Sarah Robinson, Melanie McKee and Janice Baker explore the Seven Forms (Collie '22) exhibition.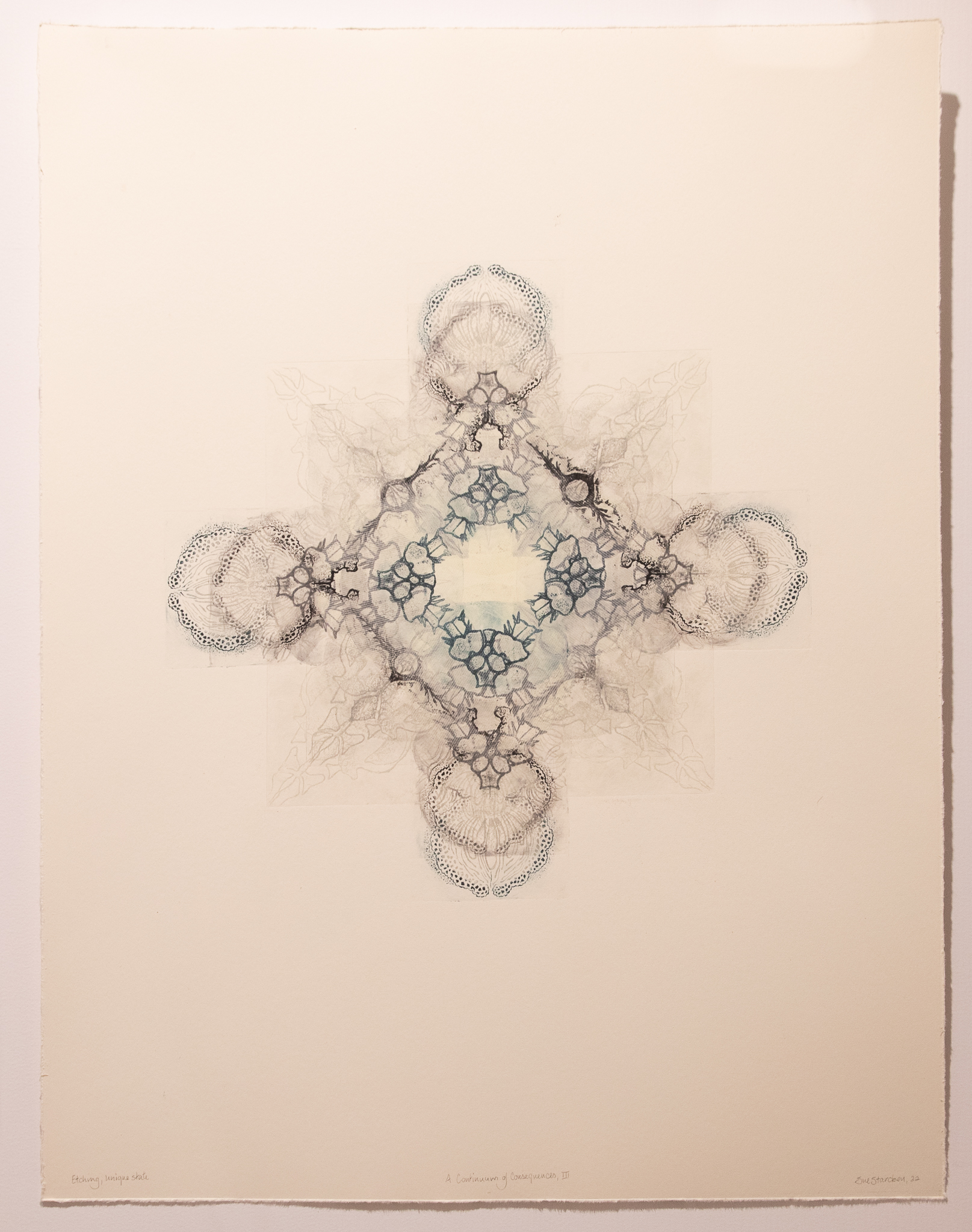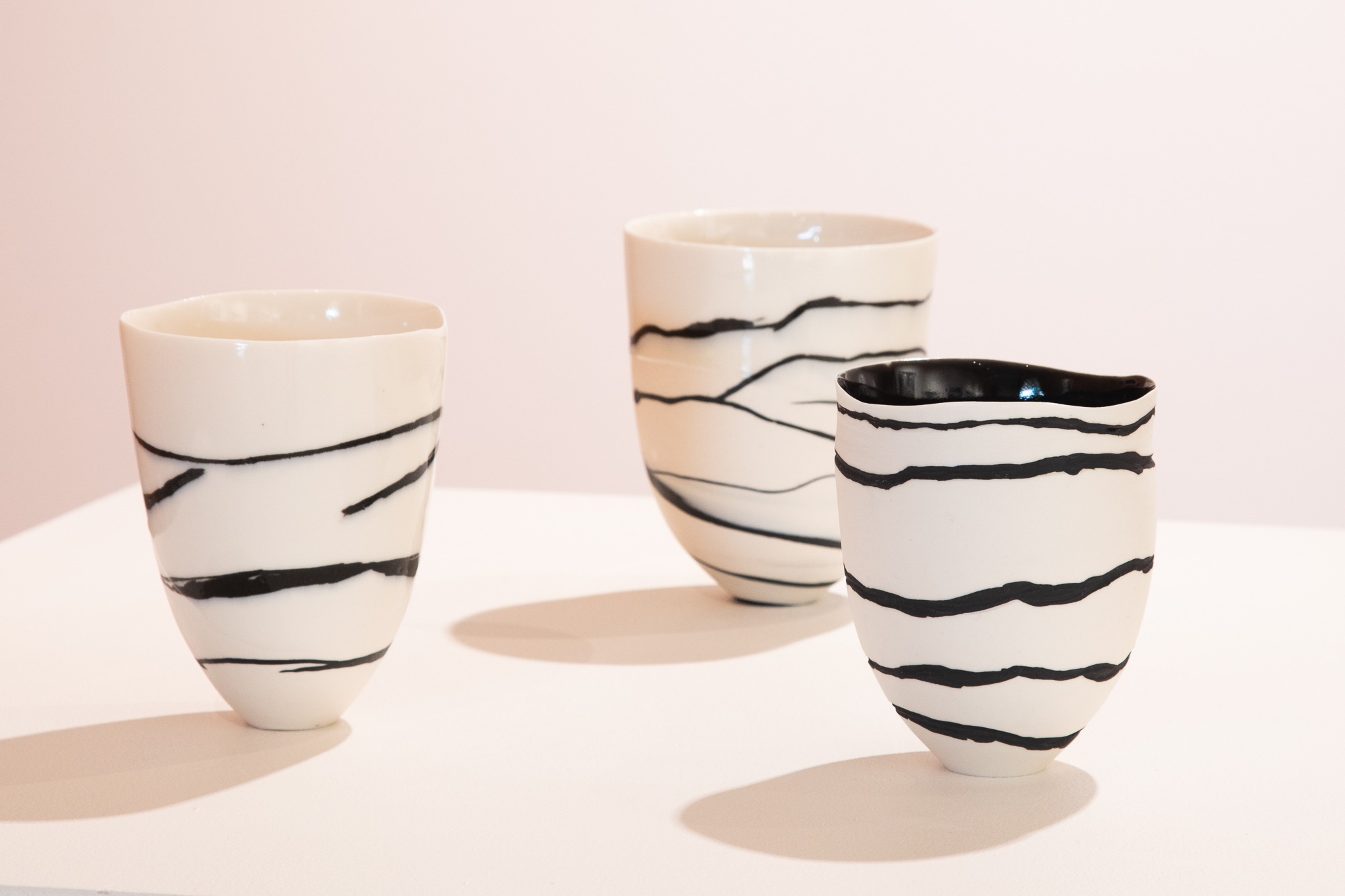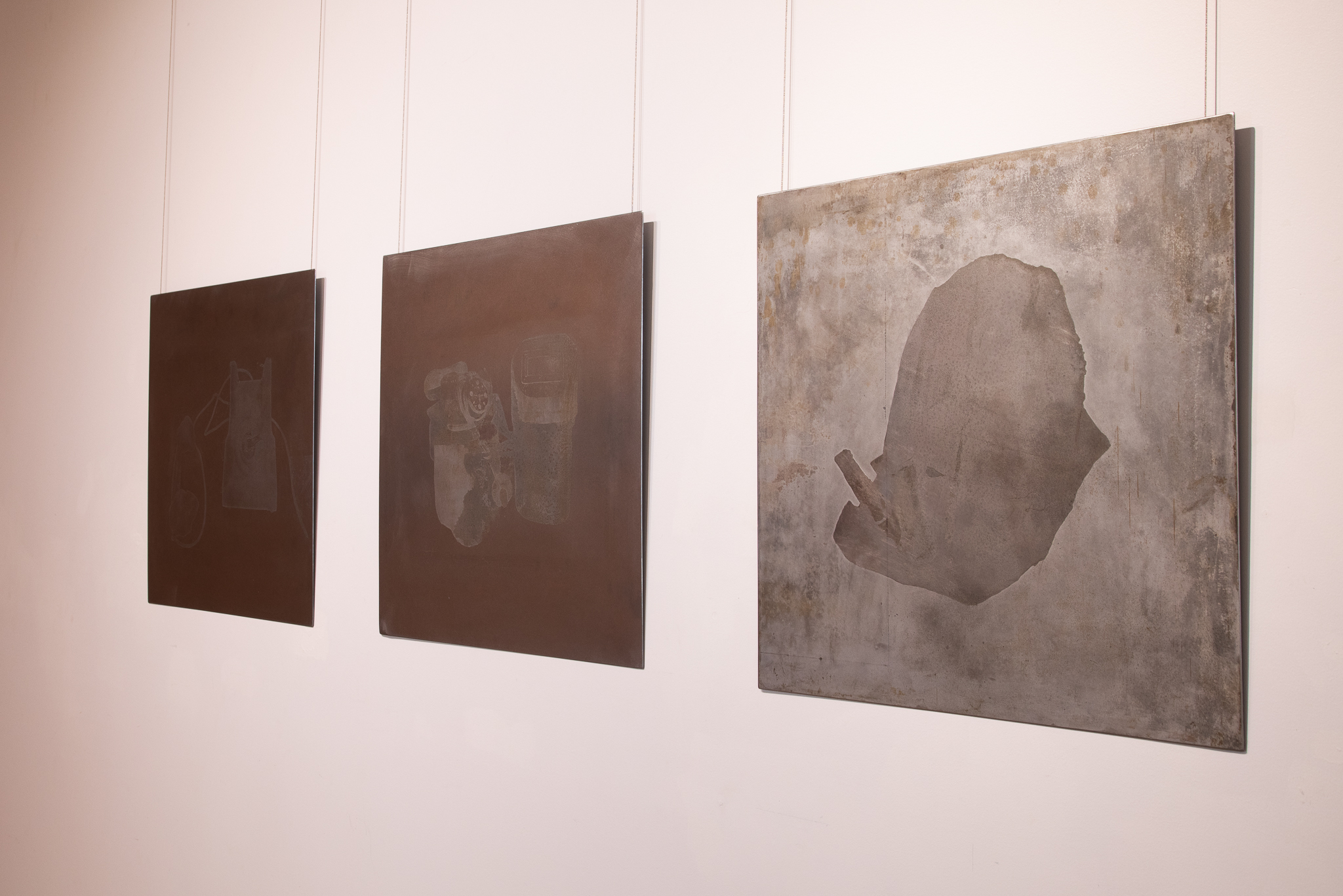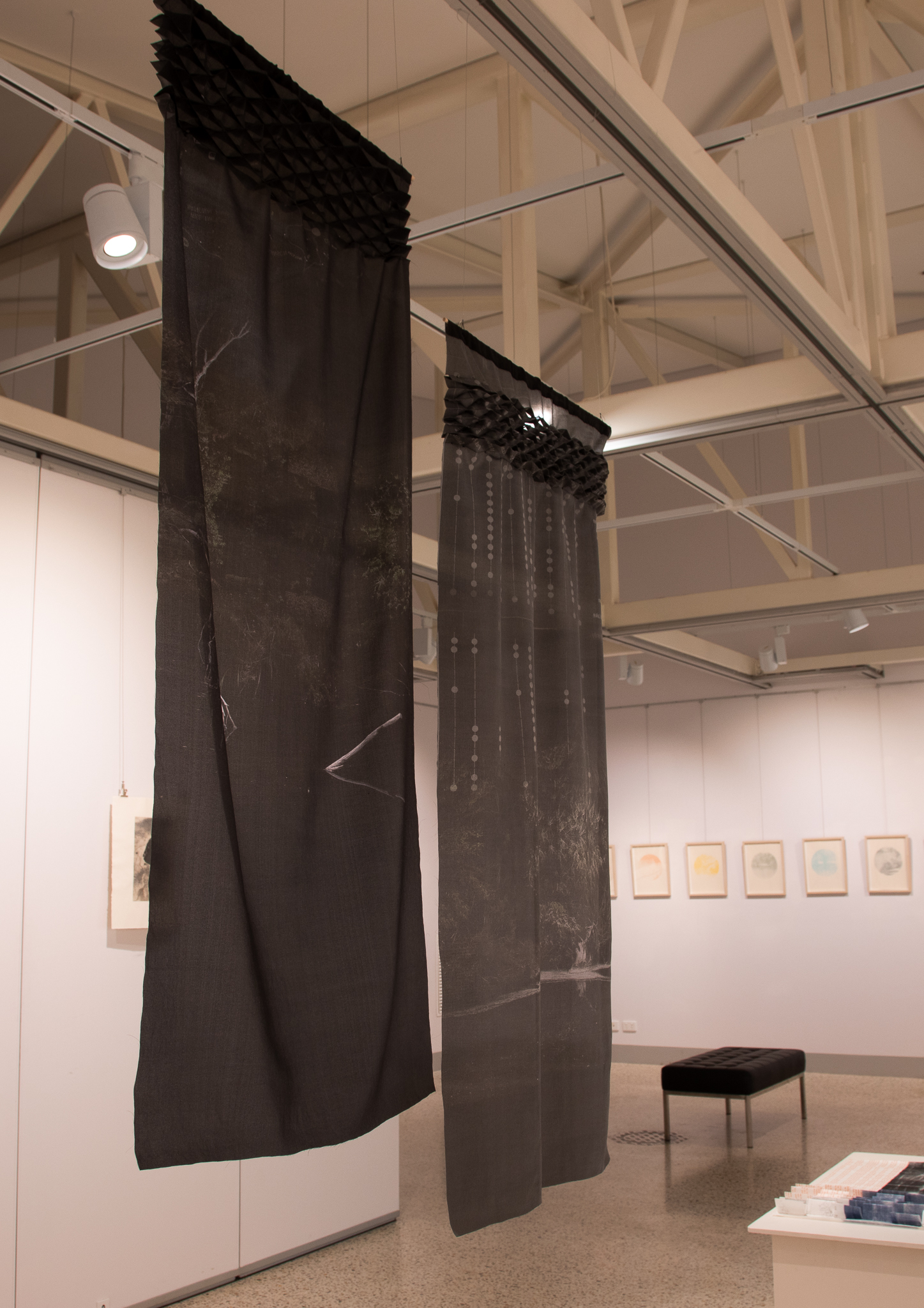 From top:
Sue Starcken, A Continuum of Consequences III, 2022, Etching on Hahnemühle paper, 73 x 56 cm. Photographer Melanie McKee
Alana McVeigh, Coal Line Series, #1,#2,#3, 2022, Lumina Porcelain, size variable. Photographer Melanie McKee
Sarah Robinson, Ghost Energies, 2022, Cold rolled steel etched with Lake Deborah salt (non-toxic etching), digital, Each plate 60 x 60 cm. Photographer Melanie McKee
Melanie McKee, Pool 1 & Pool 11,  2022, Inkjet prints on silk crepe de chine, 58 x 133 cm/ 59 x 133 cm. Photographer Melanie McKee
Images courtesy of curator Dr Janice Baker and the artists
Q: What were some of the foundation ideas for this exhibition project?
A: Seven Forms (Collie '22) is an exhibition reflecting a place in transition inspired by the regional town of Collie in the south-west of Western Australia. The seven artists (Susanna Castleden, Monika Lukowska, Melanie McKee, Alana McVeigh, Layli Rakhsha, Sarah Robinson and Sue Starcken) engage with sites and locations in the Collie region. They present a visual response to a mining town in transition as it diversifies its economy and activities. The artists each have a significant creative practice that is concerned with how the processes involved in making art reflect the formation of places. They engage with how the experience of a site, object or event inspires the creative process through a material engagement and manifestation of a place. The exhibition is held at Collie Art Gallery, a site that itself reflects the town's process of cultural transition.
Q: How did the artwork selection take place?  
A: Seven Forms (Collie '22) is curated by Dr Janice Baker, who is interested in how artists and museums are confronting the climate challenge. Her work is focused on facilitating creative research projects and programs that support artists and environmental art history. The artists were invited to participate because of their established interest in addressing place-based concerns in their practices. Baker worked with the artists over a period of twelve months as the project developed, with studio visits and the final curation taking place within the gallery space itself. Baker says that artists play a pivotal role in observing places and providing new ways of telling stories about local and global communities. This exhibition is intended as the inaugural exhibition in a series investigating and responding to Western Australian towns and regions through a focused engagement with transition, place, and material form.
Q: How does the exhibition manifest – what do visitors experience?
A: The combination of industrial and physical landscapes is a focus of the Perth-based artists in Seven Forms. Collie is a town set amid forests and waterways. It is a region of great natural beauty, alongside an industrial base of coal mining and energy production. Collie's railway, timber, coal, and electricity generation are inseparable from the industrial development of the state. The exhibition offers viewers an altered way of seeing familiar places and things. The artists create work inspired by Collie while bringing to the task their ability to produce material formations that connect industrial culture and the physical world. This is done in ways that resonate with concern at environmental disruption and optimism at opportunity for change.
Evidence of the 'digital' in contemporary printmaking is also evident across many of the works, which include installation, textile, porcelain, etching and silkscreen. The digital influence on our lives and creative processes is hidden amongst the manual materiality of etched images on steel, glass, contorted Sumi Rice paper, silk, paper and linen.
Q: What are some of the key works and what subject matter do they deal with?
A: The artists spent time camping in forests, photographing and sketching by rivers and pools, and observing mining and energy production sites. Castleden's prints are a fascinating engagement with Collie's past and present, inviting us to wonder how surfaces are demarcated by the physical geography and geology of places yet are never really static and always in a process of transformation. While Rakhsha presents glimpses and contemplations of her journey along the Collie River in her series of silkscreen prints and hand-coloured studies. Research continued at the town's museums, visitor centre and heritage places, online, at the vintage secondhand shop and amongst the town environs. Back in their studios, the artists focused on an aspect of Collie that affected them as poignant and relevant to explore further. Starcken worked with etching; the prints produced from her plates mark the skull bones of small animals and carry her felt response to the hybrid critters of the Collie region. Creating individual images on copper plates, she transforms these into larger works printed on Belgium linen. Across Lukowska's works in the exhibition, we are given an effective linkage with the ancient fossil coal and its global reach as a presence that will remain long after our species is extinct.
Q: What is it about contemporary printmaking that you most appreciate?
A: Contemporary printmaking's transdisciplinary approach is exciting! As McVeigh's vessels suggest there is more beneath the surface than meets the eye. Ceramic becomes print; Triggered by the way McVeigh observed light reflected off strata in Collie's open-pit mine she carved fine yet scratched lines into hand-thrown clay, then inlaid with darker coloured porcelain. These incised markings tell of her encounter with the region's watery places. Likewise, the underground is implied in Robinson's three steel etching plates which carry the ghost of the past in their markings and materiality, emphasising the matrix as an art object and conveyor of meaning. Collie's popular Honeymoon Pool is mirrored as two of McKee's digitally printed fabrics float lightly in the air. Indeed, the pool's dark depth, drifting within the silk, is seen twice. This contemplative image is disrupted by the pleating of fabric and the overlay of words used to describe that place by various government institutions; reflecting on the way places are understood, experienced and shaped by the language we use about them.
Lastly, the exhibition installation provoked community dialogues during the opening and artists' talks, including how the printmakers considered the coal industries vibe by using different qualities of black ink in their work, by adding indigo or Prussian blue. Even in a broader context, questioning how world events had affected the price of steel or Collie communities worries that the industrial heritage sites such as the Muja power station turbine hall may be lost forever.
Sarah Robinson, Melanie McKee and exhibition curator Janice Baker
—
Seven Forms (Collie '22) is at Collie Art Gallery, 134 Throssell Street, Collie WA 6225  from 23 July – 4 September 2022. 
This exhibition supported by the Government of Western Australia Department of Local Government Sport and Cultural Industries.
—
Join the PCA and become a member. You'll get the fine-art quarterly print magazine Imprint, free promotion of your exhibitions, discounts on art materials and a range of other exclusive benefits.