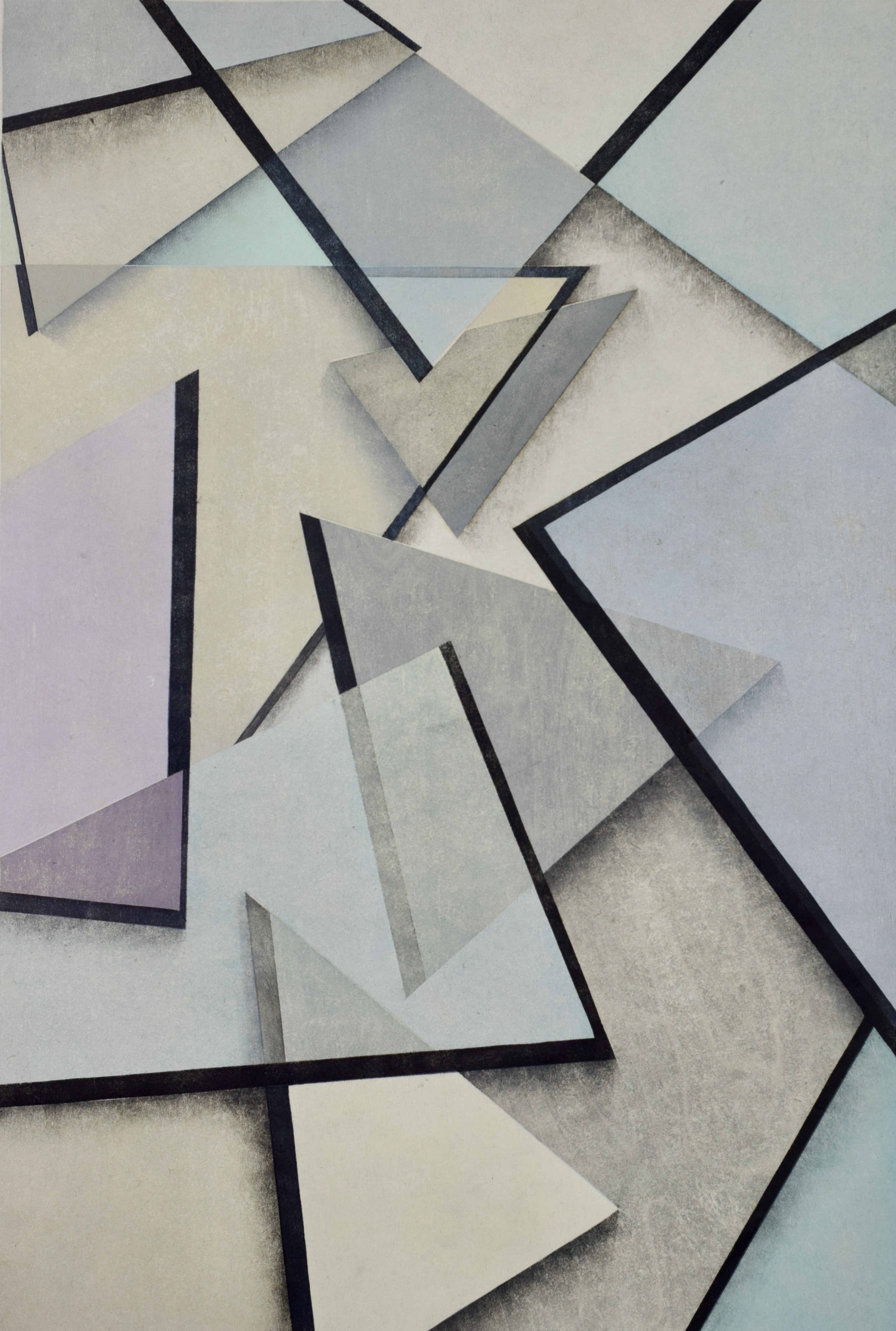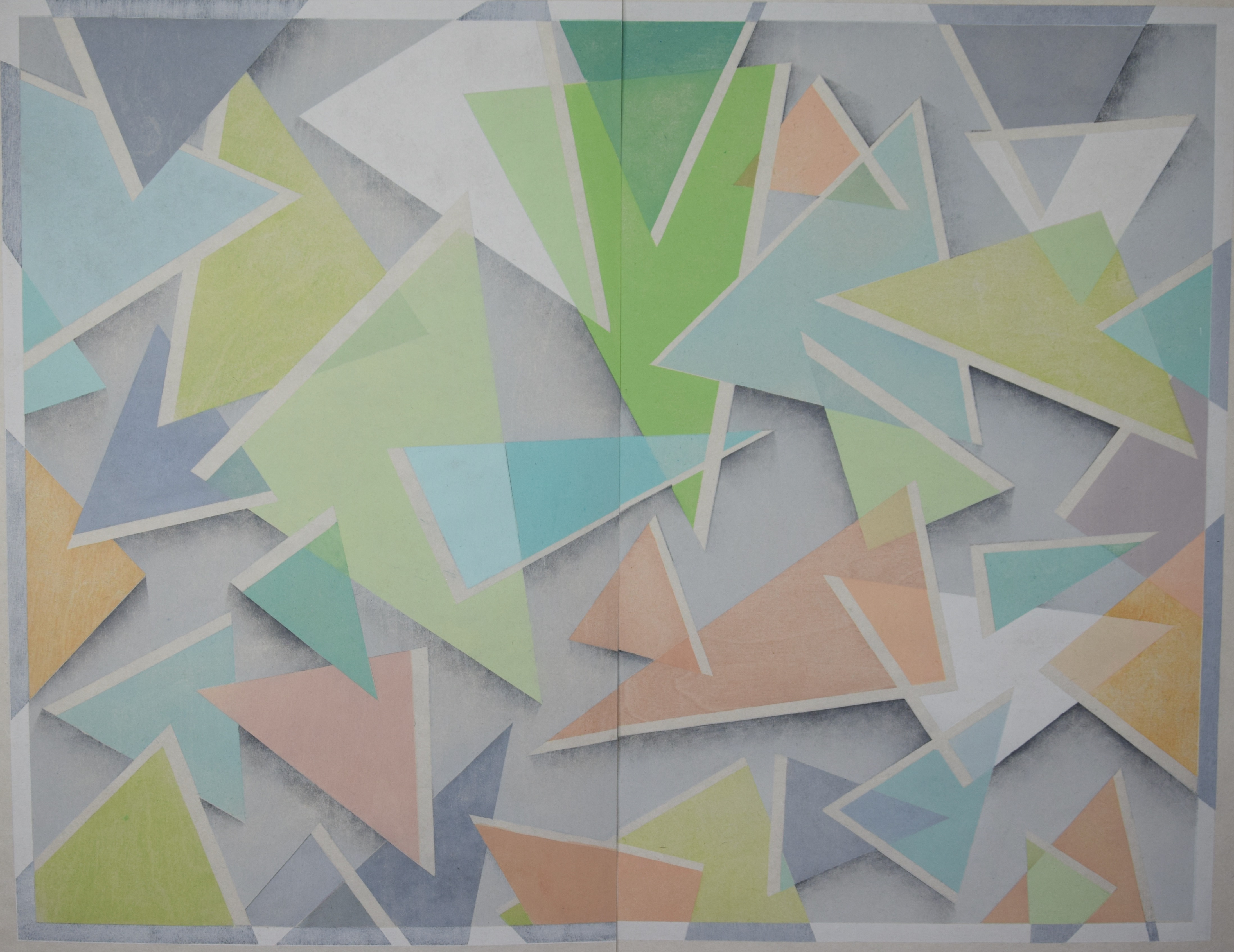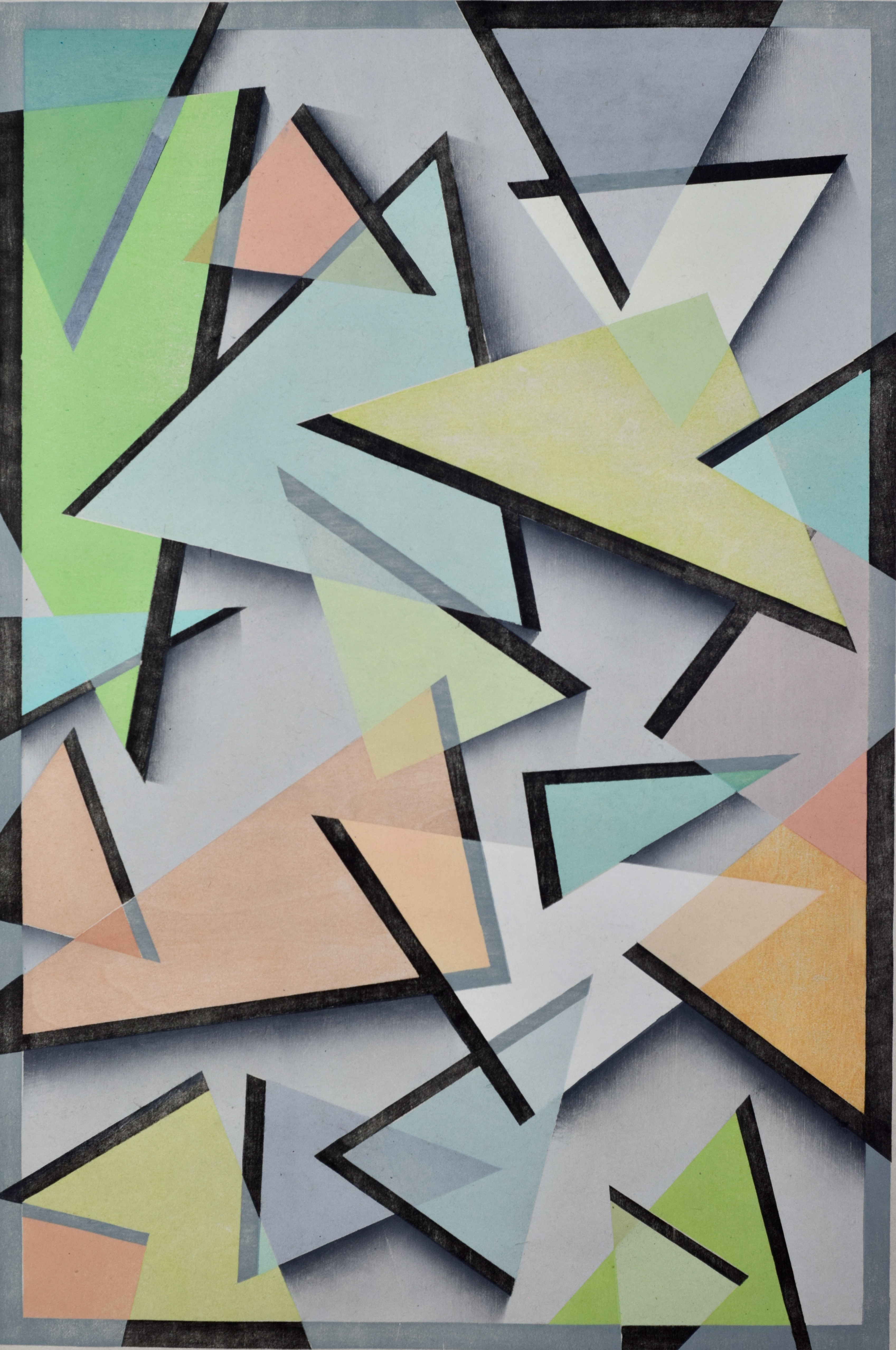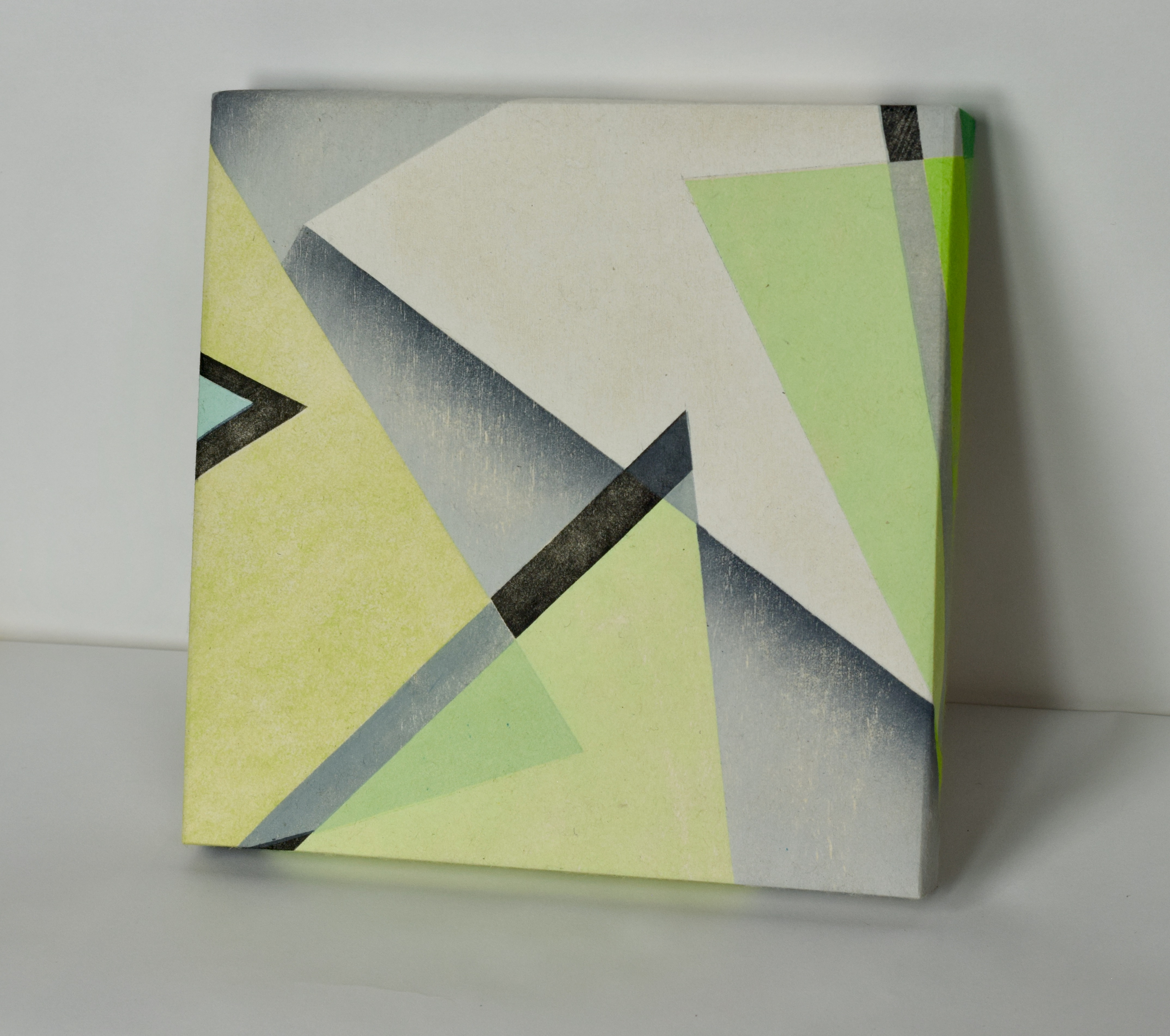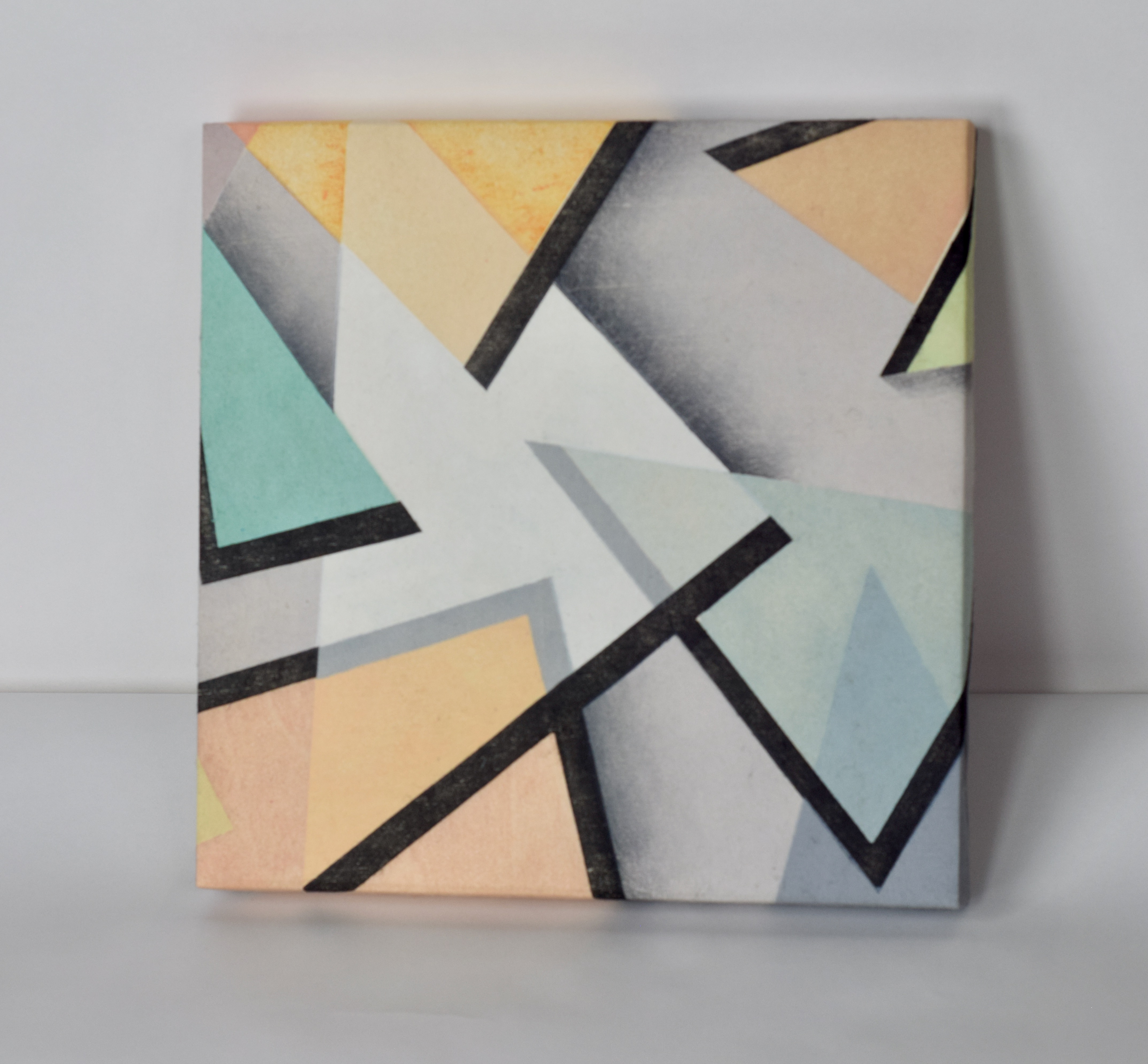 From top:
Roslyn Kean, Mindfulness, 2020, woodblock, 75 x 50 cm
Roslyn Kean, Shattered not Broken, woodblock, 75 x 50 cm
Roslyn Kean, Transition 1, diptych, woodblock, 75 x 100 cm
Roslyn Kean, Transition 2, diptych, woodblock, 75 x 100 cm
Roslyn Kean, Untitled 1, 2020, wrapped woodblock, 25 x 25 x 3 cm
Roslyn Kean, Untitled 2, 2020, wrapped woodblock, 25 x 25 x 3 cm
Q: What were some of the foundation ideas you began with when embarking on this exhibition project?
RK: During early 2020 and the months of lockdown in Sydney due to COVID-19 I was delighted to have long uninterrupted days in my studio—but to be creative was a challenge. With all the uncertainties in the world in March, it was uncertain how much we would be affected and how we were to proceed. I reflected on some earlier works dealing with Aristotles' Triangle of reason—Pathos, Ethos and Logo. This seemed the perfect foundation for a new series of works and the curiosity of what I could achieve with the triangle.
Q: How did the artwork selection take place?
RK: I was very fortunate to be invited by gallery owner Stella Downer to exhibit this body of work when she saw several of the pieces only a month ago. I managed to complete the series in the last weeks in time for framing and hanging by early October. Having the right balance of works for the intimate gallery space has been my objective and the final selection for hanging took place in the gallery with Stella.
Q: How does the exhibition manifest – what do visitors experience?
RK: The exhibition hopes to make reference to the difficult circumstances and changes we have all had to deal with on various levels during this time of a pandemic. A time to reflect, a time to be mindful of those around us, distancing but not excluding, confusion and uncertainty and drifting in our thoughts. I hope visitors will respond to my use of triangular forms and subtle layering as contemplative and leave the viewer with a sense of transition and change.
Q: What are some of the key works and what subject matter do they deal with?
RK: The earliest key work in this series is titled Shattered Not Broken  and was made at the time of the horrific bushfires in NSW January 2020.  Since the bushfires I have tried to make works that grapple with a new sense of space, chaos and states of transition. The loss of so much by so many but the tremendous spirit of people in the communities effected to be able to rebuild their lives and help each other. Images of destroyed homes, loss of all possessions and so many shattered memories. The minimalist use of colour and muted soft tones depict what is left as if covered in ash, or as if looking through the haze of grey smoke, but with a glimmer of hope. The choice to wrap prints around a 3D shape is a new concept for me and the intention in this series of Untitled #1-6 of small works is the reference to how precious life is during a time of so much change. The new concern for distancing and inability to touch.
—
Through Shadows is at Stella Downer Fine Art until 14 November.
https://www.stelladownerfineart.com.au/exhibitions
—
Join the PCA and become a member. You'll get the fine-art quarterly print magazine Imprint, free promotion of your exhibitions, discounts on art materials and a range of other exclusive benefits.