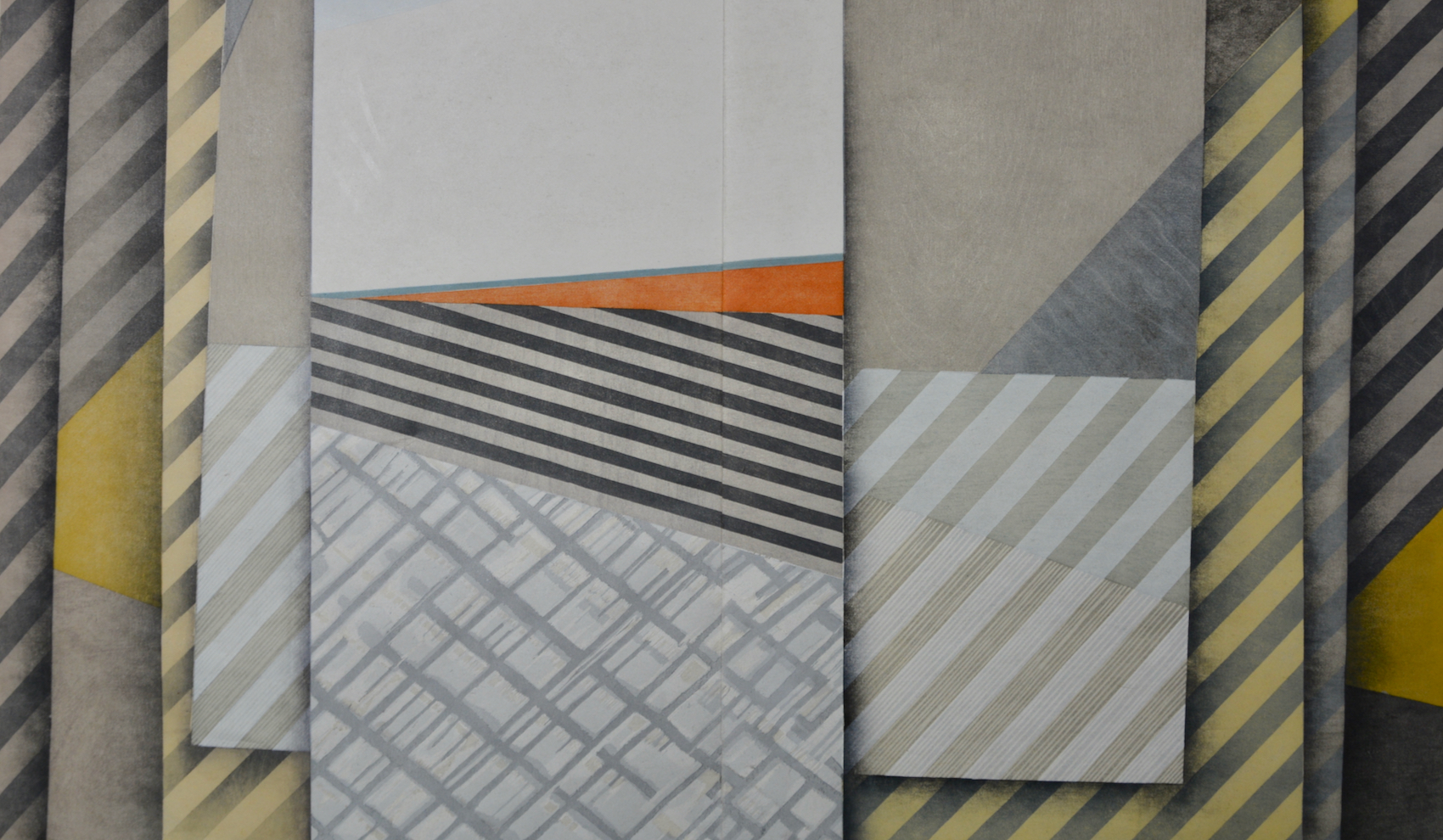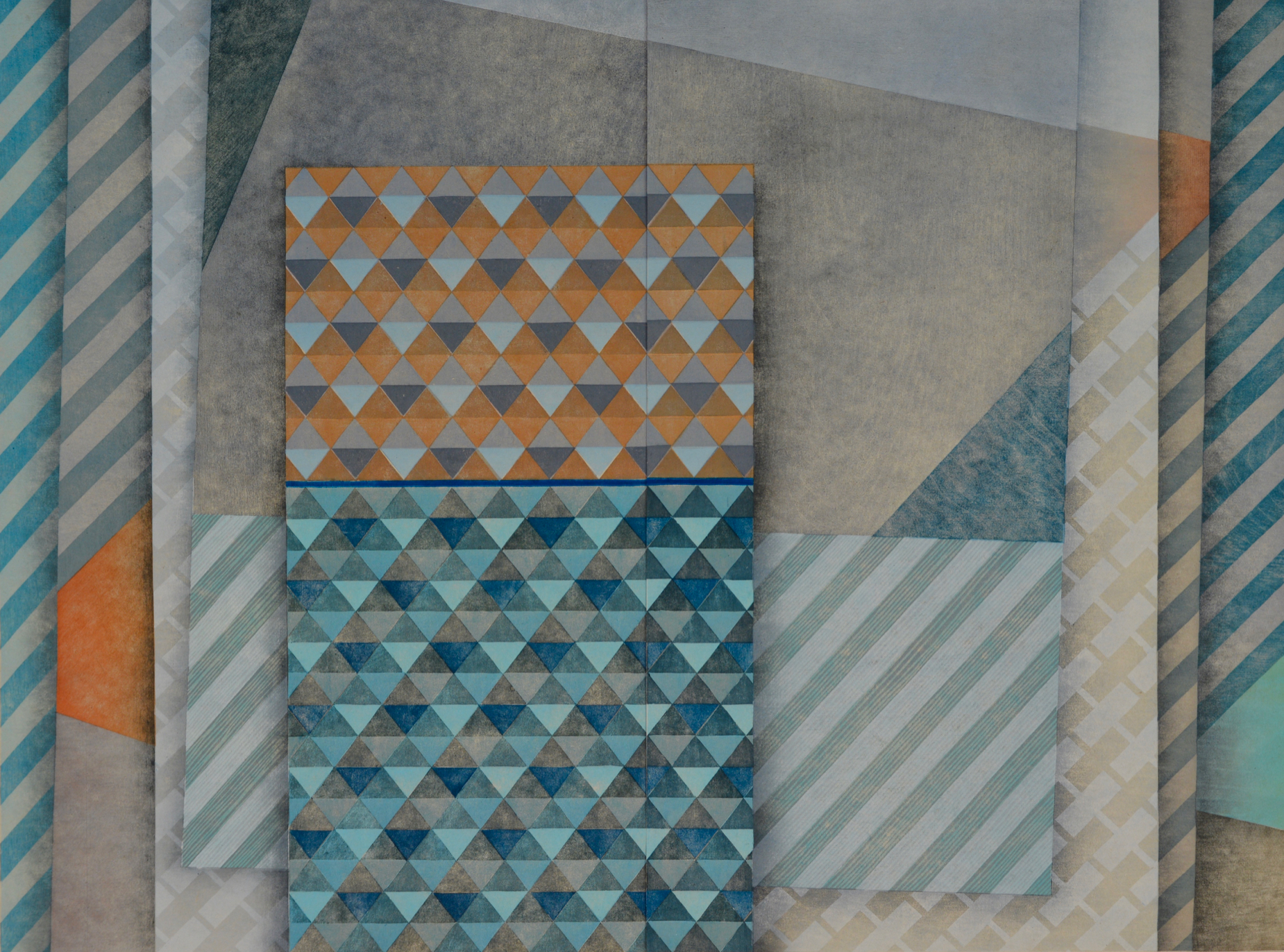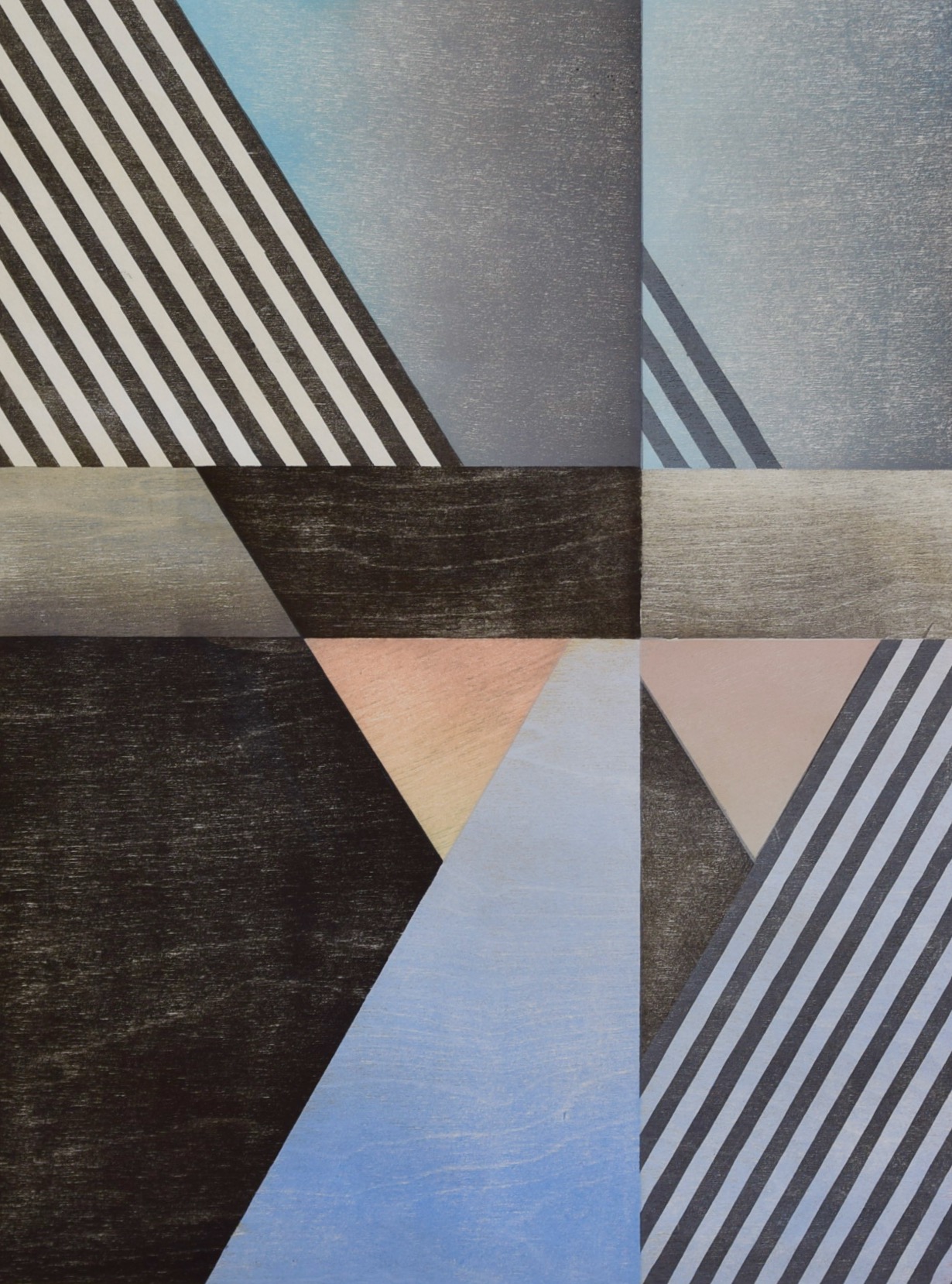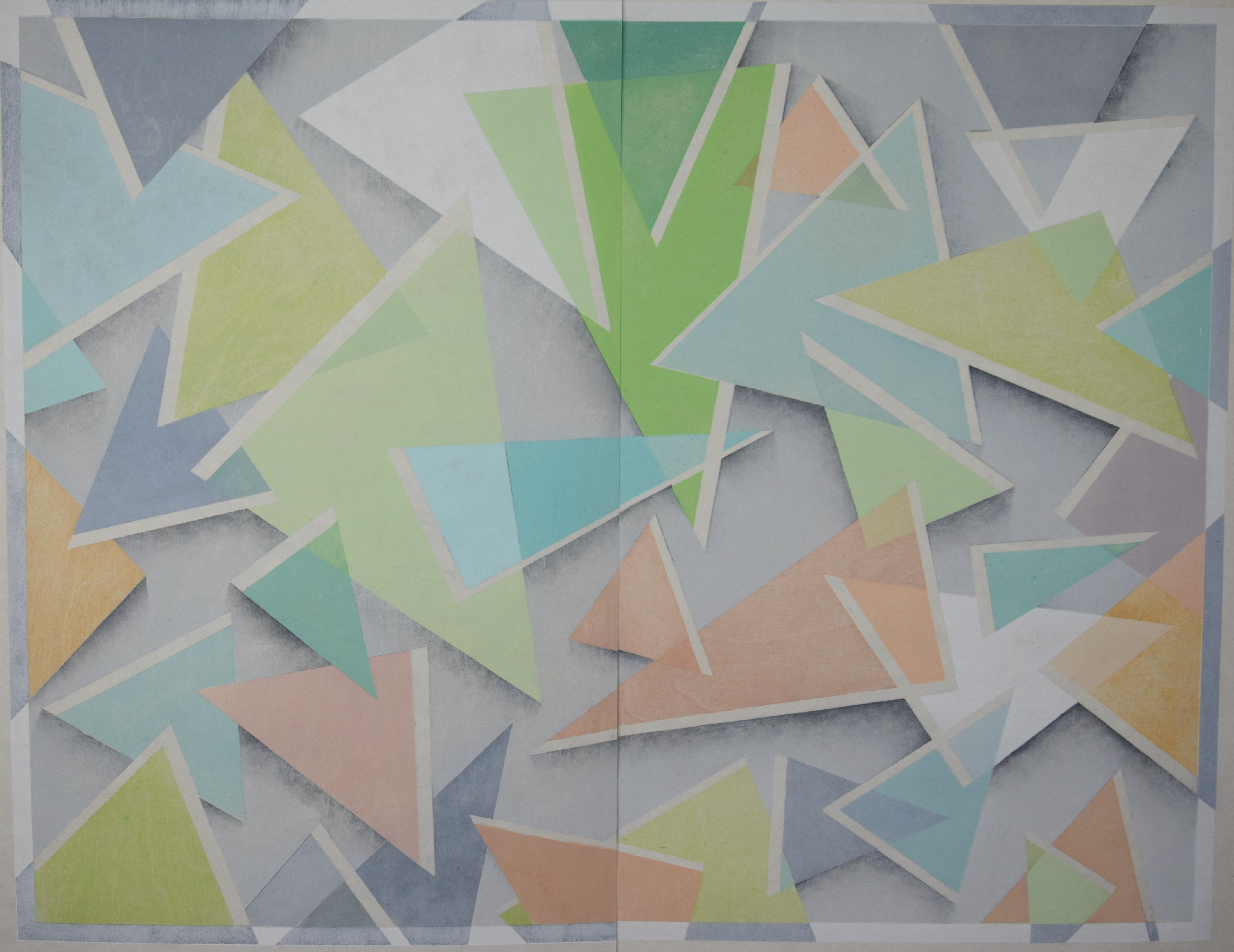 From top:
Roslyn Kean:
Defining the Edge 1, woodblock, 70 x 50 cm
Defining Edges-Creating Shapes, Venice 2018, woodblock, 76 x 112 cm
Weaving Ancestral Voices II, multi-block woodcut, 91 x 112 cm
Reflections of Summer, 2020, multi-block woodcut
Transition #1, woodblock, 70 x 101 cm
Embedded in a dense, black bamboo forest adjacent to a vast lotus lake, giant Koi circle under a small red arching bridge beyond Roslyn Kean's studio. Situated in the Hawkesbury sandstone region north-west of Sydney, croaking frogs and the sound of water flowing into the Koi pond punctuate the evening stillness as a full moon rises over the lake. This juxtaposition of classical elements of Japanese landscape within an Australian bush setting signal Kean's long-standing engagement with Japanese culture and in particular, Japanese Woodblock printmaking.
Kean grew up in this area, later travelling to study art in England, Japan and Tibet. She has continued to combine her practice and teaching with an international program of exhibitions and travel. Her outstanding practice within the contemporary Japanese printmaking Mokuhanga movement, was recognised in 2017 when she was awarded the prestigious Grand Prize for Excellence in the medium at the International Mokuhanga Conference in Hawaii. As a generous mentor to countless students, Kean actively passes on this deep love of the medium, and respect for it's traditions.
Evenings in her studio offer quietness and stillness through which Kean orients her attention to the spacious and technically complex prints that are signatures of her work. Carving huge blocks with astonishing precision, enabled through decades of practice and her skilled sharpening of tools; preparing pigments and inks, always deeply aware of the alchemy of colour and tone; and handling huge sheets of Japanese kozo papers; these stages all entail the attention to detail and culture that this setting inspires. The final stage of transferring the image from the inked block to paper is achieved through applying pressure across the blocks using her personally-developed Kean Ball Bearing Baren. This finely calibrated baren enables her to reveal the wood grain as another element in the print.
The Japanese philosophical ideal of yūgen, signifies the power to evoke a profound, mysterious sense of the beauty of the universe. It suggests the ability to arouse thoughts or feelings rather than state them directly. In this current series of Kean's prints, such a quality is evident as we are invited to peer through seemingly infinite layers of subtle tonal variations as light fades to reveal shadows; edges dimming into new spaces, at times suggestive of a tactile, or even an aural sensibility. These tonal gradations belie the complexity of technique required to achieve such apparent seamlessness.
While Kean has long been inspired by the composition and colour used in the Japanese Edo period (1603-1867), in this exhibition, she has been influenced to create a colour scheme drawing directly on the famous series of prints by Yoshitoshi titled, One Hundred Aspects of the Moon. That series of works celebrated a new sense of composition and colour that, for their time, broke with the conventions of the ukiyo-e period. The composition and colour scheme in Kean's current exhibition is influenced by Yoshitoshi's work Mount Yohino – Midnight Moon, printed in 1886. In Kean's prints, blocks of pattern are reminiscent of ancient textiles, and repeating bands in gradated tones are suggestive of Venetian stripes, or perhaps a Modernist cognizance. Black rimmed triangles in tonal hues of warm yellow, red, rose and deepening blue and purple, float as though suspended across a timeless cosmos.
Kean's recurring use of the triangle in her work references Aristotle's Triangle of Rhetoric in which Pathos, Logos and Ethos are seen as elements of a discourse, or line of reasoning. In a previous exhibition, Through Shadow, she noted the triangular reference as inviting us '"to be mindful of the space we share with others, to have time to reflect and a time to be hopeful".[i]
In this exhibition, Kean maintains her sustained exploration of light, shadow and spaces between, all the time pursuing an ancient sense of inner order. She generously invites the viewer to join her as she (captures) … "a moment in time and the stillness and quietness of a space as the light slowly changes in the room casting shadows and reminding me of time spent with a tradition."[ii] 
[i] Kean, Roslyn. (2020) Through Shadow, Stella Downer Fine Art, Sydney
[ii] Kean, Roslyn. (2021) Support Statement for Defining Shapes – Creating Edges Series 2016 –  .
Roslyn Kean, Defining Shapes – Creating Edges, is at Megalo Print Studio Gallery, Canberra, until 12 June. www.megalo.org
—
Join the PCA and become a member. You'll get the fine-art quarterly print magazine Imprint, free promotion of your exhibitions, discounts on art materials and a range of other exclusive benefits.