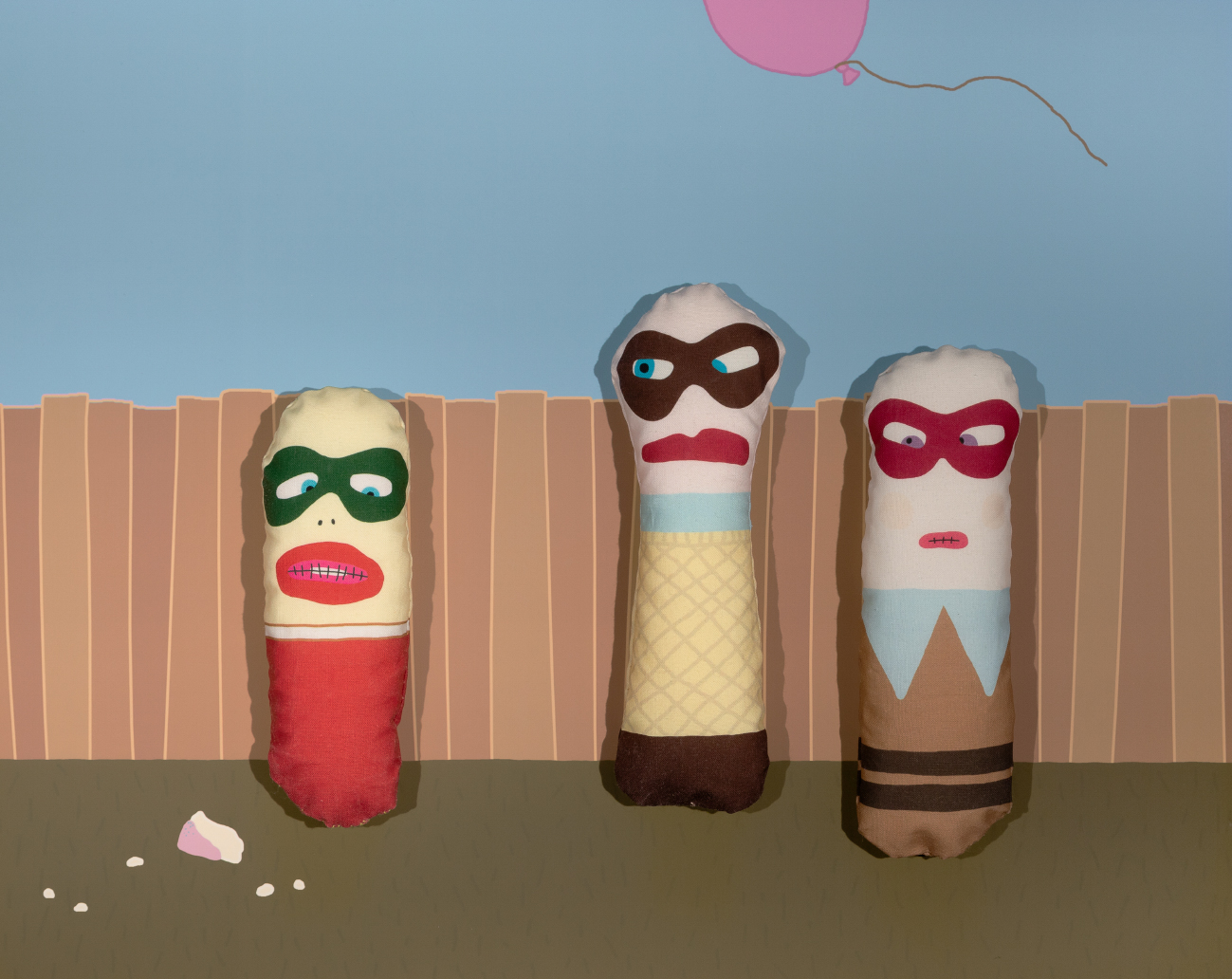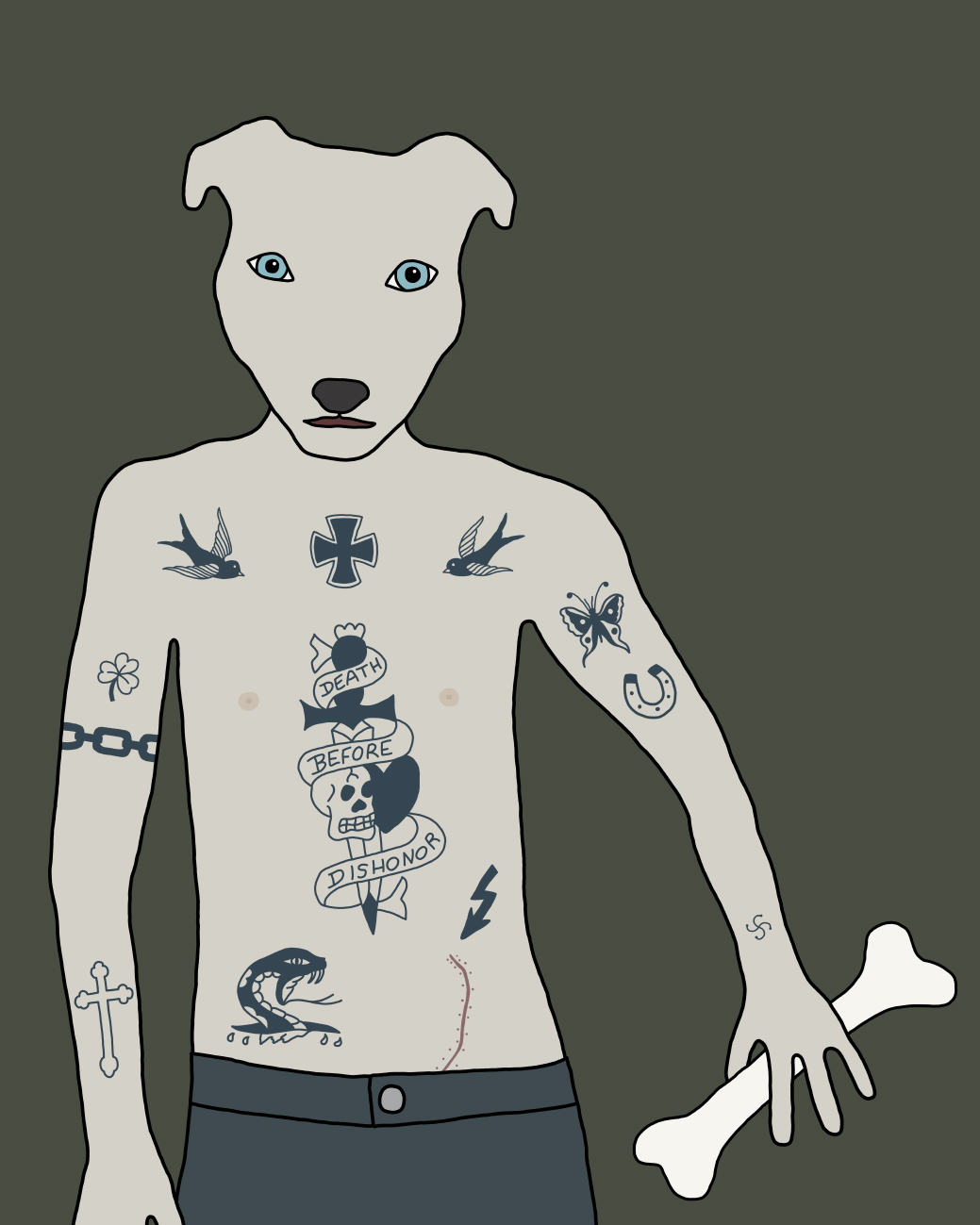 From top:
Rona Green, Encounter, 1998, lithograph, image 38.5 x 52 cm, sheet 50 x 63.5 cm. Edition of 11
Rona Green, Birthday Boogies, 2002, poppets (xerography, fabric, stuffing, thread, and chromogenic print), 32.7 x 40.3 x 6 cm
Rona Green, junkyard dog, 2005, inkjet print, image 50 x 40 cm, sheet 55 x 44 cm. Edition of 13. Printed by Peter Hatzipavlis, Final Grade
Rona Green, Lucky LeVon, 2022, hand-coloured linocut, 56 x 76 cm. Edition of 23
Rona Green, pretty boys, 2005, sugarlift, aquatint and hard ground etching, 38 x 56 cm.. Edition of 40. Printed by Belinda Fox and Trent Walter, Port Jackson Press
Q: What were some of the foundation ideas for this exhibition project?
A: A few years ago I was lucky to have the curator of Whitehorse Artspace, Jacquie Nichols-Reeves, offer me a show at the gallery after Jacquie had a conversation about my work with Stuart Purves, the director of Australian Galleries. It was my suggestion to her that 2022 marked thirty years since I began studying printmaking and the exhibition could celebrate the milestone of thirty years of practice. Jacquie was in total support of the idea and hence Rona Green: 30 Years of Printmaking has come to fruition.
Q: How did the artwork selection take place?
A: The selection of work was decided upon by myself which was a daunting task. It was fascinating to look back over decades of work and see connections between early prints and recent ones. Then it was a challenge to edit down to a succinct grouping for the exhibition that would reveal the variety of techniques I've explored as well as appear somewhat unified in regards to subjects and themes threaded through the prints over the years. Finally, as a matter of logistics, the selection of work had to fit the gallery space!
Q: How does the exhibition manifest – what do visitors experience?
A: This exhibition is the first comprehensive survey of my printmaking. It comprises over thirty works and includes examples of monotype, lithography, digital printing, etching, screenprinting, linocuts and poppets (which are little 3D things I make that are sort of dolls but not quite as they are presented behind glass and not up for being toyed with). I've also produced a new hand coloured linocut especially for the show titled Lucky LeVon. It's a bit of a departure for me in regards to colour palette, and depicts a self-possessed blue horse.
Q: What are some of the key works and what subject matter do they deal with?
A: For me all the works in the exhibition are of importance for different reasons. The images I make are figurative, and early on started out as various individual species and then became hybridised over time. Many of the subjects in my pictures are persons known to me, others are amalgams of the real and imagined, and others are purely dreamt up. Some of my favourites include Encounter, Birthday Boogies and Chips, as these are a few of the works inspired by my partner. Whatever I create is a musing on persona and the notion of transformation. The darker side of the psyche is endlessly enthralling in particular.
Q: What is it about the printmaking experience that you most appreciate?
A: Printmaking is bewitching. It offers so much as a medium with the range of techniques available to an artist being inexhaustible. The majority of the work I've produced over the past decade has been hand coloured linocuts. Linocut attracted me because of its unassuming reputation. The linocut process is deceptively simple. One can be introduced to the basics quickly but to master the technique is another matter altogether. Contemporary practitioners such as Heather Shimmen, Rew Hanks, Deborah Klein and Jazmina Cininas demonstrate the level of sophistication that can be achieved using this humble process. Being a reductive process, linocut is conducive to my inclination of paring things back to what is essential. Linoleum does not take kindly to overworking – there is only so much that can be cut from a block – and it is delightfully beneficial that the material itself tells you when enough is enough!
—
Rona Green: 30 Years of Printmaking is at:
Whitehorse Artspace
17 March – 30 April 2022
https://www.boxhilltownhall.com.au/artspace-exhibitions
Broken Hill Regional Art Gallery
10 June – 21 August 2022
https://www.bhartgallery.com.au/Home
Rona Green is represented by:
Australian Galleries – Melbourne and Sydney
Beaver Galleries – Canberra
Penny Contemporary – Hobart
Solander Gallery – New Zealand
You can view the exhibition catalogue online via https://www.ronagreen.com/publications/pdf/Rona-Green_30-years.pdf and if you'd like a hard copy of the catalogue visit https://www.ronagreen.com/store.html
—
 Join the PCA and become a member. You'll get the fine-art quarterly print magazine Imprint, free promotion of your exhibitions, discounts on art materials and a range of other exclusive benefits.