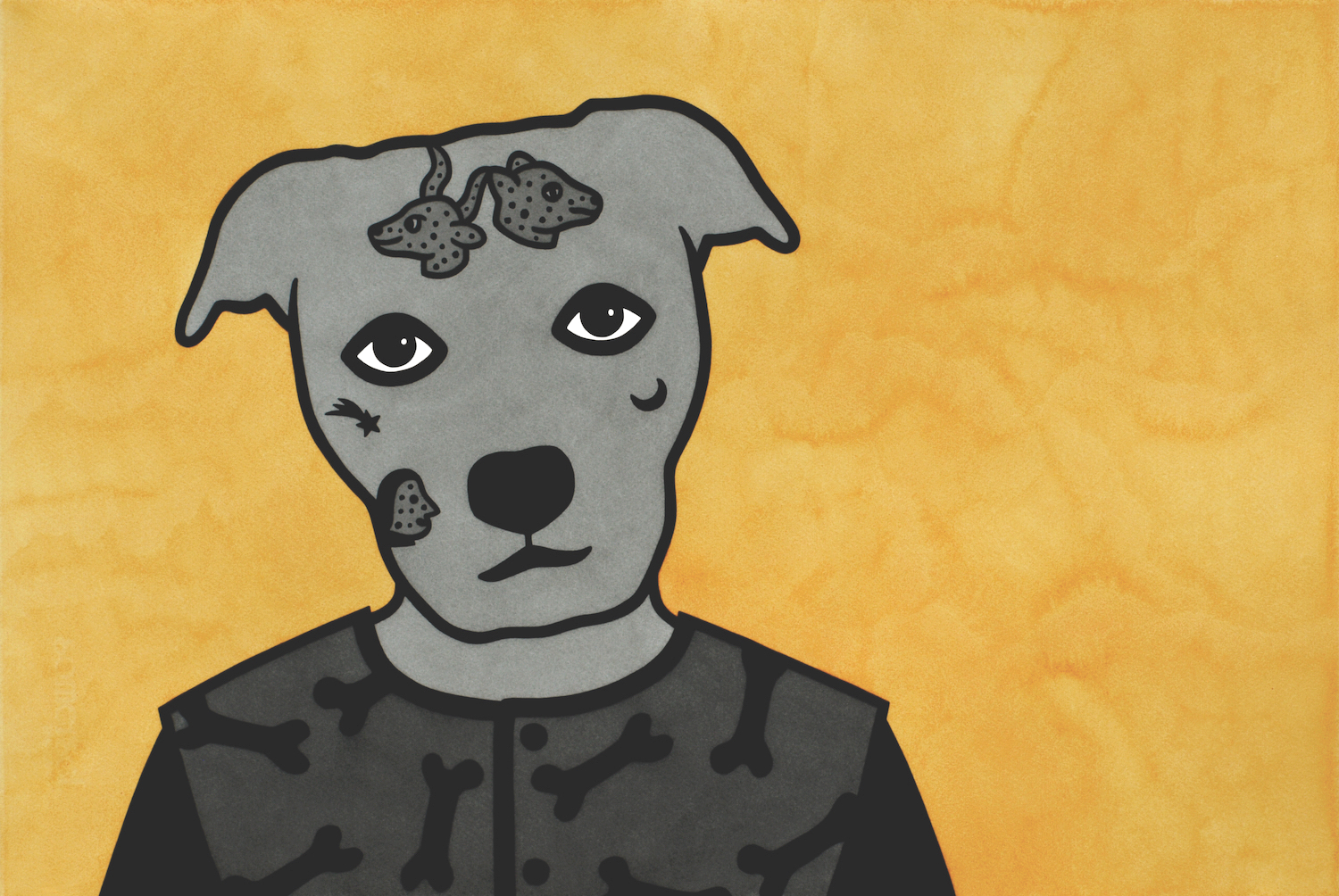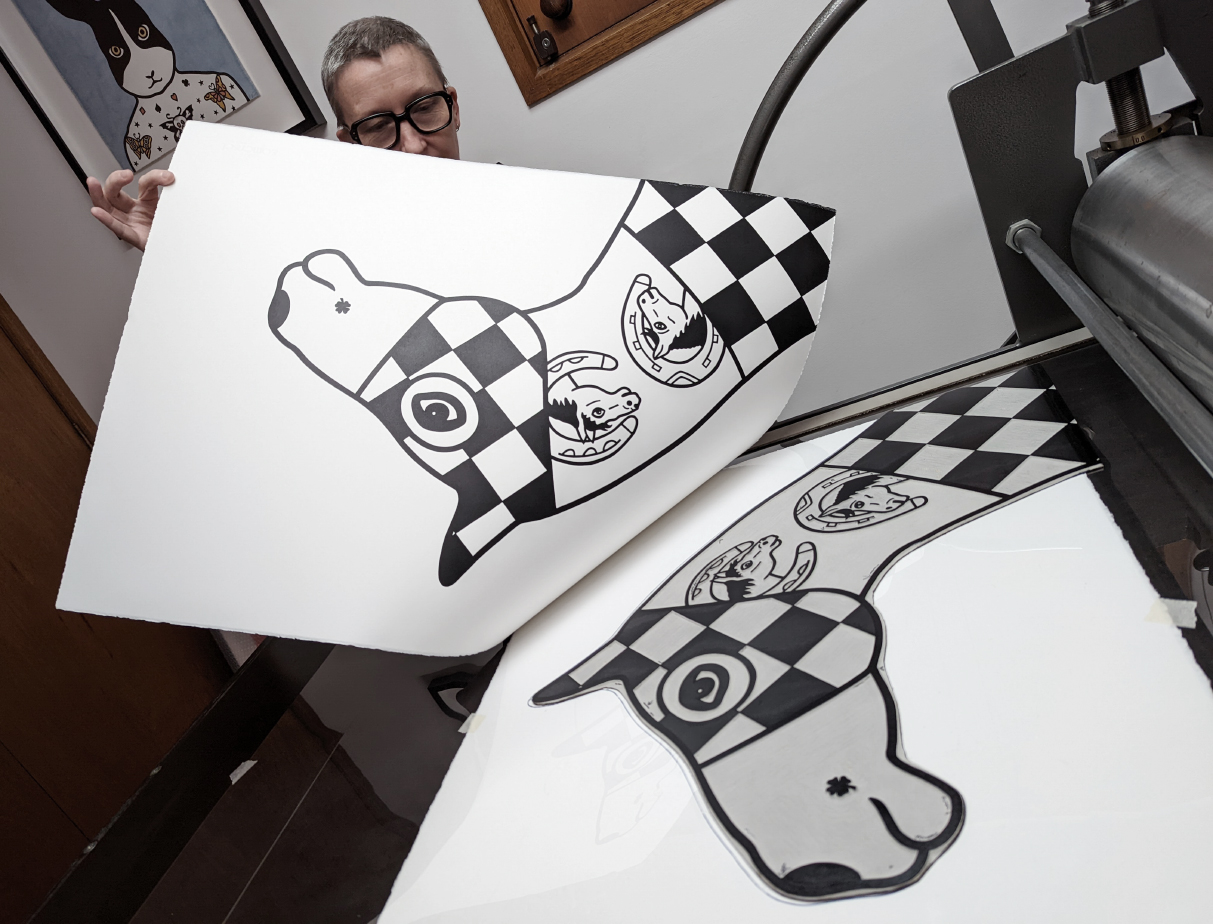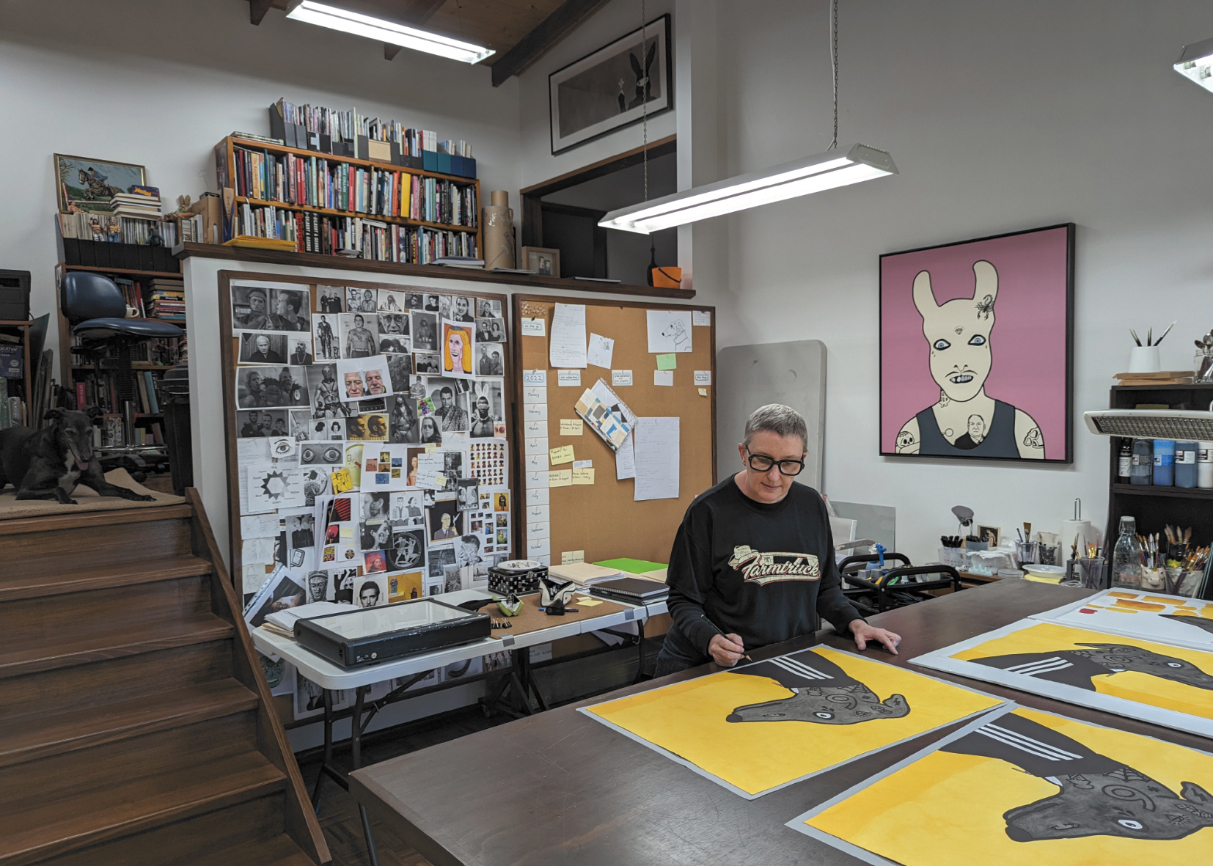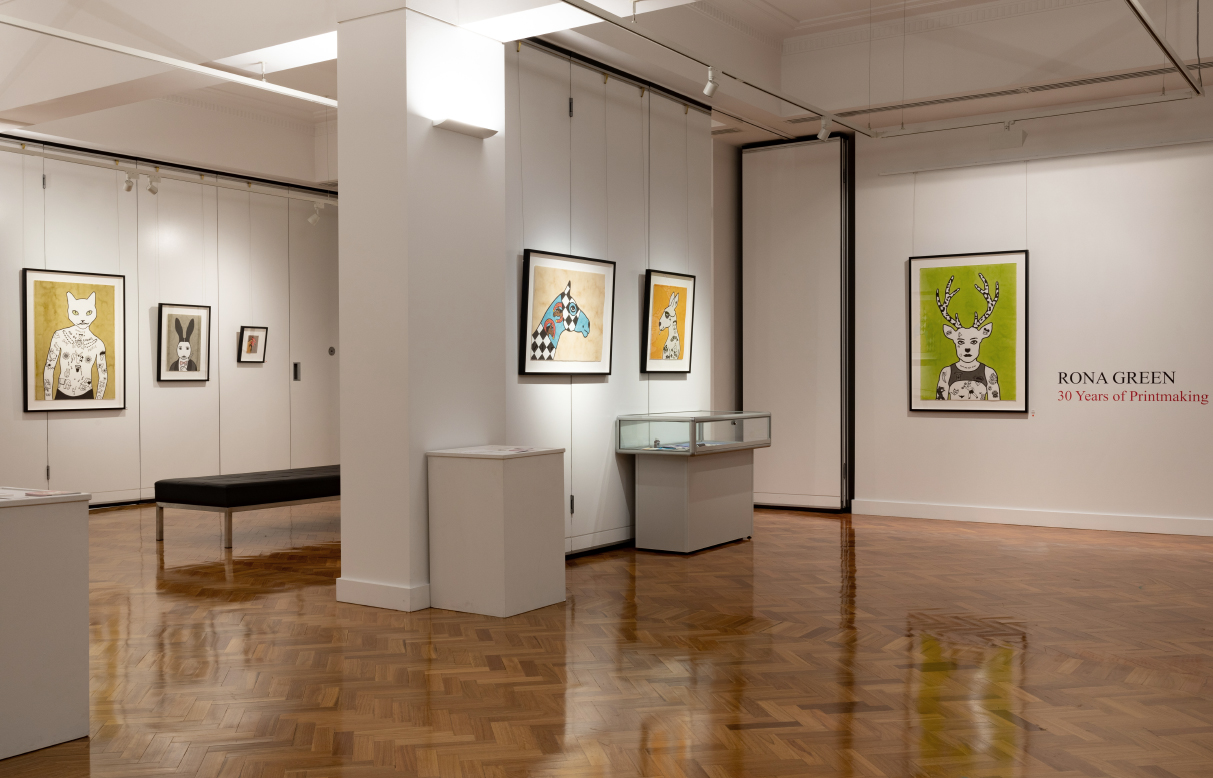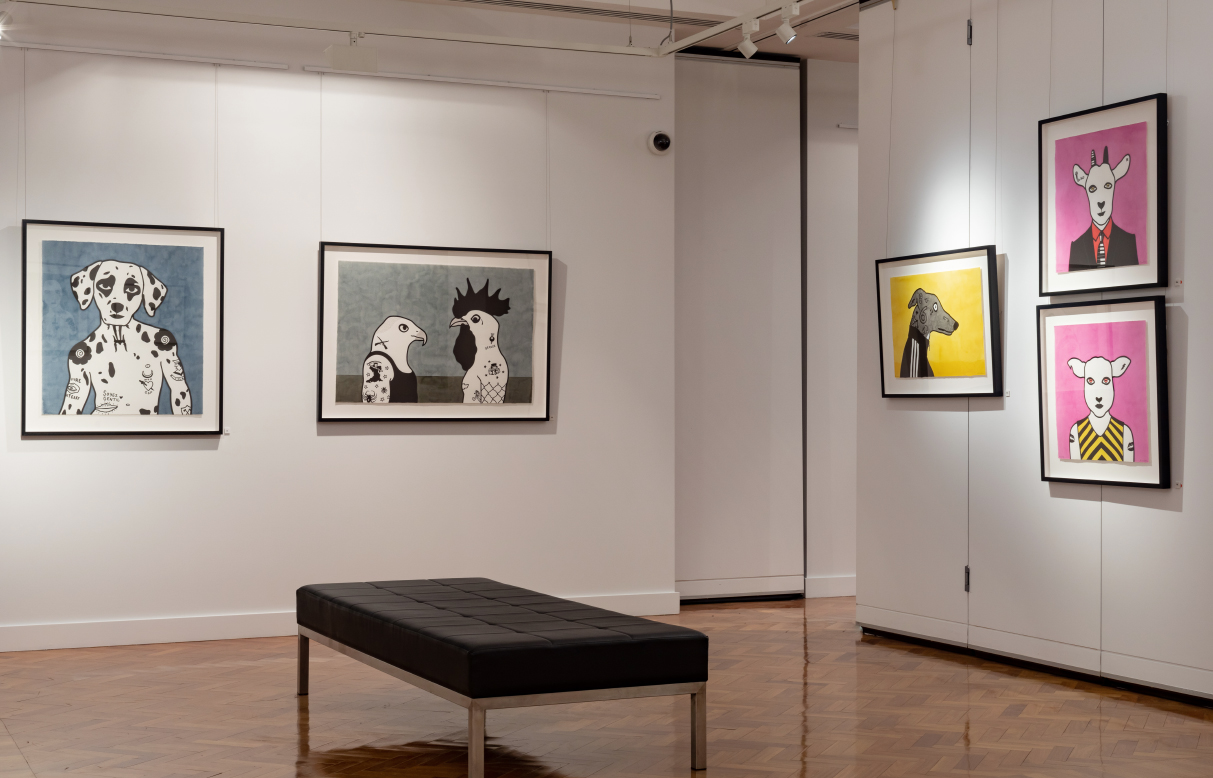 Top:
Rona Green, Welig, 2022, hand-coloured linocut, 38 x 57 cm (image), 38 x 57 cm (paper)
The studio space I work in is part of my home in the Dandenong Ranges. It's fairly compact but easy to arrange so I can be making prints, paintings, drawings or sculpture. One of the best things about the studio is that my printing press has its own special little room. The atmosphere of the space is variable. It can be cluttered or tidy, relaxing or chaotic, depending on what's happening. It's generally very tranquil here in the ranges, surrounded by a verdant garden, and the visits from local wildlife are delightful. Since moving here in 2016 the environment has influenced brightening my colour palette, and the native fauna as well as the ferals that visit have appeared in my work. It is always somewhere I enjoy being. Plus, I get to hang out with Oomi the greyhound all day; he is a quality companion.
It is the figure that I find continually fascinating and a constant challenge to work with. As a subject the animal kingdom is limitless. Early on, when I began printmaking, my figures were various individual species, then they became hybridised over time. A formative experience was encountering Egyptian art, specifically representations of theriocephaly – not to mention a childhood love of cartoons and comics centred on anthropomorphic characters having a major impact on my own way of image making. A cornerstone of my practice is conjuring up absurd persons that amuse me, and all going well will engage the viewer and prompt an unspoken dialogue.
This year has been a significant year for me as it marks three decades of making prints. To celebrate this milestone the exhibition Rona Green: 30 Years of Printmaking has toured Whitehorse Artspace, VIC and Broken Hill City Art Gallery, NSW.  My appreciation of printmaking began when I studied at La Trobe University in Bendigo during the early 1990s. The printmaking lecturers Peter Jacobs, Barry Weston and John Robinson were most inspiring. Jacqui Comer also provided loads of support as the department technician. It was an absolute thrill to be introduced to a multitude of techniques and begin a long-lasting relationship with printmaking.
To conclude the year I'll be having an exhibition at the Australian Galleries Print Room in Melbourne from 22 November-10 December, which I'm very excited about. Currently I'm making a new linocut of Oomi for this show that will be a companion piece to an earlier print Icecream days (that you can see me signing in the studio photo accompanying this post). A future project that I'm looking forward to is titled Whereabouts. This is a print exchange folio I'm organising and 55 wonderful Victorian artists are taking part. The Whereabouts prints will be exhibited at the Art Gallery of Ballarat in late 2023. Ideally, most days, I'm just chipping away at things in the studio plus taking time out for a walk with Oomi.
www.ronagreen.com/publications/pdf/Rona-Green_30-years.pdf 
—
To view and buy a 2022 Print Commission print visit:
www.printcouncil.org.au/print-commission/print-shop/
—
The Print Commission is on display at interstate venues over the next few weeks, and there is still time to order the prints and claim the discounted rate for PCA members. As always editions are selling fast so order early to avoid disappointment. You can view and securely purchase the prints on our website here.
View the Print Commission 2022
New South Wales
Level 1 NUspace (University of Newcastle)
5 September – 31 October
Hunter & Auckland Streets, Newcastle NSW 2300
(02) 4921 5255
Queensland
Umbrella Studio Contemporary Arts
7 October – 13 November
408 Flinders St Townsville, QLD 4810
Open Tues – Fri 9am – 5pm, Sat – Sun 9am – 1pm
umbrella.org.au
Australian Capital Territory
Megalo Print Studio
14 September – 15 October
21 Wentworth Avenue, Kingston, ACT 2604
Open Tuesday – Saturday 9.30am – 5.00pm
Victoria
Print Council of Australia
2 September – 28 October
Studio 2 Guild
152 Sturt Street, Southbank, VIC 3006
Open to visitors every Wednesday and Thursday, 10am – 4pm
—
Join the PCA and become a member. You'll get the fine-art quarterly print magazine Imprint, free promotion of your exhibitions, discounts on art materials and a range of other exclusive benefits.