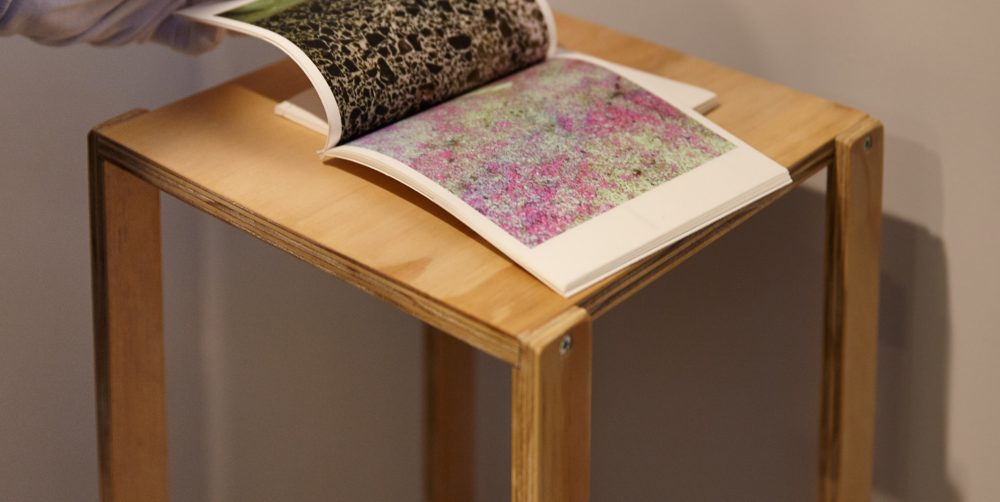 Vanessa Wallace: Reiterated Instant
Monika Lukowska and Sarah Robinson discuss the new exhibition 'Reiterated Instant' with artist Vanessa Wallace and gallery director Leah Robbie.
11 December, 2018
In Exhibitions,
Printmaking, Q&A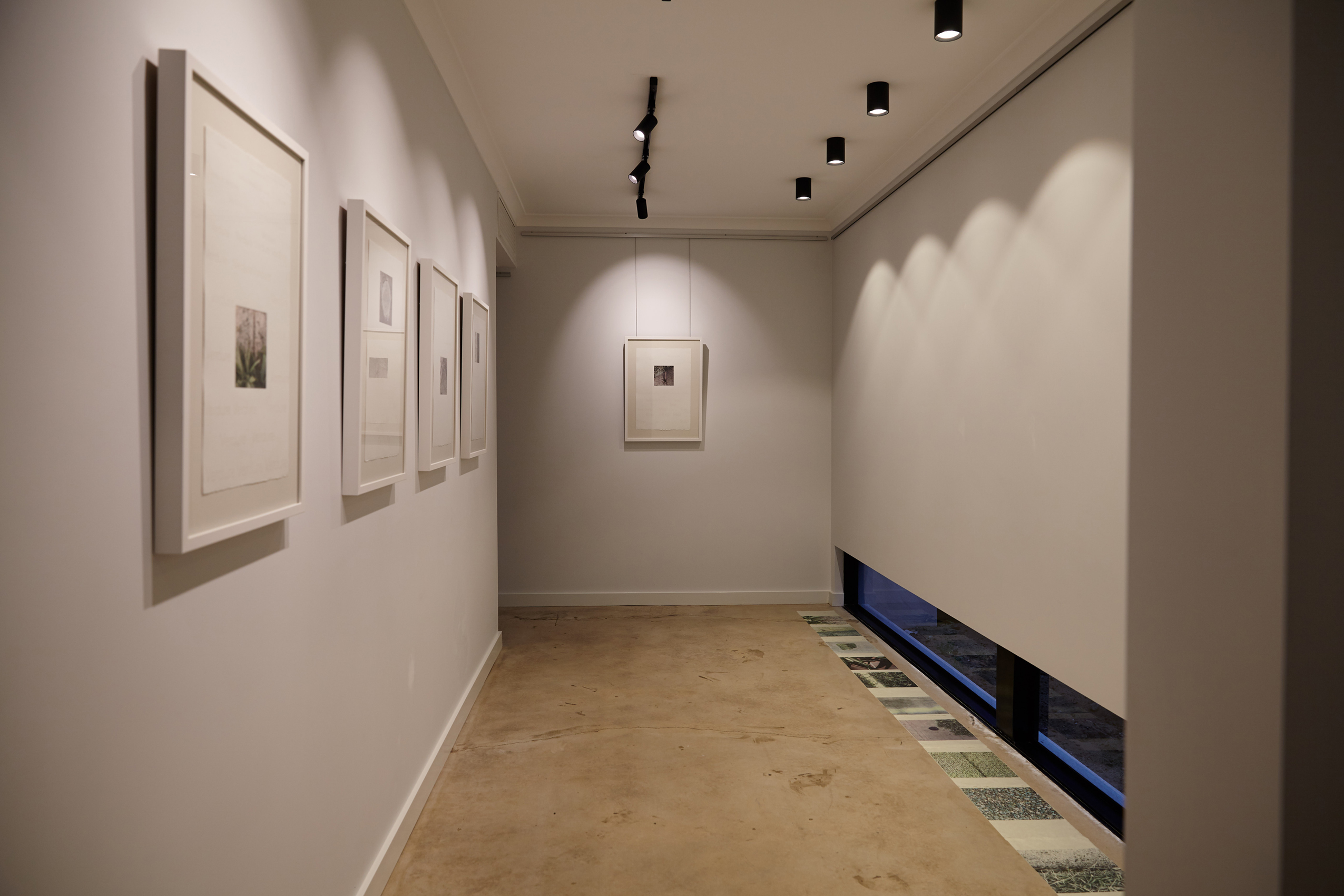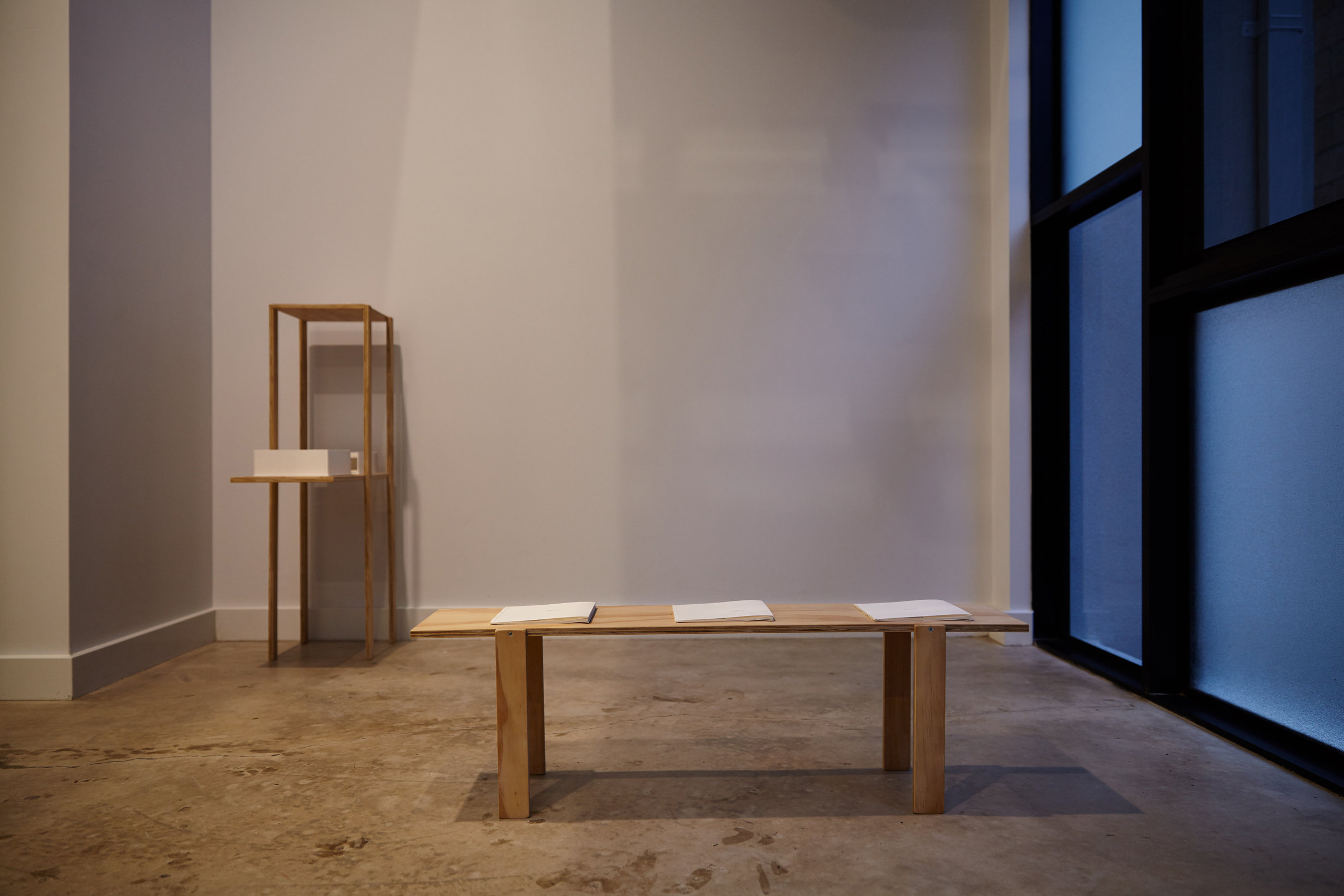 From top:
Vanessa Wallace, Loop (detail of books on upper shelf), 2016 -2018, artist books, archival inkjet print and typewriter ink on Inbe paper and BFK rag paper, clamshell box on ply table 92 x 24 x 48 cm
Vanessa Wallace, installation view of Reiterated Instant, 2018, works on paper, dimensions variable
Vanessa Wallace, installation view of Reiterated Instant, (loop and loop continuing), 2018, artist books on ply tables, dimensions variable 
Vanessa Wallace, Verdure, 2018, solvent transfer and coloured pencil on Kitakata cool Japanese paper, 503 x 26 cm
Sarah Robinson (SR) and Monika Lukowska (ML) spoke with Vanessa Wallace about her recent show Reiterated Instant at The Lobby. While Wallace reflects on her printmaking practice and conceptual aspect of the work, gallery director of The Lobby Leah Robbie comments on this alternative exhibition space within a domestic sphere, found in a typical Perth suburb.
SR, ML: What are the main concepts behind your current exhibition?
Vanessa Wallace: Reiterated Instant further investigates the driving concerns within my art practice that of the use of ground space combined with text to analyse the intersection of public and private space. Public and private space in this context relating to both material and virtual world and the increasingly blurred lines between public / private and material / virtual. Integral to the work is the use of materials and processes that are labour intensive to slow down and give weight to spaces often overlooked.
SR, ML: What is the background story behind setting up THE LOBBY as an exhibition space?
Leah Robbie: The Lobby is a multi-layered project and there are a plethora of reasons for why I decided to create the space. Firstly, I have an interest in alternative exhibition spaces from a historical and contemporary perspective. I also find it interesting to see how people negotiate a domestic gallery from a psychological perspective (this harks back to the origins of the museum). As an emerging curator, The Lobby affords me the opportunity to work with Perth artists and assist in curating exhibitions. One of the biggest factors for me in deciding to do this project was the lack of economic support provided to artists. Going back to university as a mature age student and mingling with art students, I found it distressing that art students sacrificed so much (things like food) for their materials to make their work. When I began volunteering in gallery spaces and having the realisation that artists are charged excessive hire / exhibition fees and commission fees it bothered me and I wanted to do something about it.
SR, ML: How did you find the installation process in the space confined to a domestic house?
Vanessa Wallace: Due to the nature of my work and the conceptual concerns underpinning it I found it allowed me to develop my work in a slightly different direction in order to respond to the space. Aspects in particular that interested me where the low window set at floor level and running the entire length of one wall of the main space. The material version of Verdure (large floor work) was made in direct response to this, its virtual beginnings are hidden within the @groundedness Instagram feed. The space in the entry way that surrounded and went under the stairs offered a chance to further play with the height of book tables encouraging the audience to bend down and reposition themselves in order to view the works. On a practical level I was allowed to install with methods that showed the work to its best advantage and able to access the space at flexible times in order to install.
SR,ML: In your view should there be more alternative exhibition spaces like this and if so what are their benefits?
Vanessa Wallace: I think both artists and viewers benefit from a wide range of spaces in which to exhibit and contextualise work. A domestic space offers a chance to read work within a different context. It allows an artist to reposition their work and work within a space that is a living space rather than a space with purely gallery function perhaps leading to development within an arts practice and also allowing the viewer a different reading of the work. Nontraditional art spaces can also give those who may not always feel comfortable within a traditional exhibition space an access point through which to view artwork.
SR, ML: Why did Leah Robbie director of The Lobby consider the galleries context in a domestic space Frankensteinian?
Leah Robbie: The concept of the domestic gallery is not new, its genealogy is rooted in the Impressionist and Conceptual art of the 1960s and 70s, coupled with more recent contemporary takes on the concept. The Lobby represents a hybridity of sorts, a purpose-built space designed to question the intrinsic 'nature' of the art gallery, dissimilar to its counterparts where the repurposing or renaming of a domestic home into a gallery takes place. The Lobby is not all that different to Dr Frankenstein's creation not in a destructive capacity, but in a more learned sense in the fact that the creature is acutely aware of the economic imbalances within society. This is best portrayed when Frankenstein's monster lists off all he had learned from his time in a modern society; 'the division of property, of immense wealth and squalid poverty; a rank, descent and noble blood' (Shelley 1980). I guess, this really comes back to the economic component  of my answer in the previously asked question.
http://www.vanessa-wallace.com
https://www.thelobbyperth.com.au
Reiterated Instant was held in October 2018 as part of SymbioticA's Unhallowed Arts Festival.
https://unhallowedarts.org/wp-content/uploads/2018/09/Unhallowed-Arts-Brochure-digital.pdf