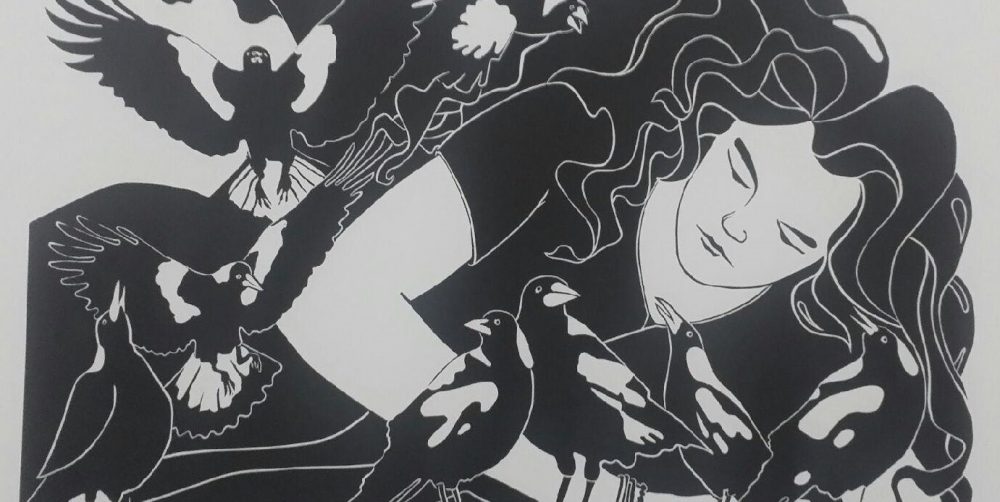 Stephen Bennett: New Found Voice
Stephen Bennett discusses his new exhibition 'New Found Voice' at Umbrella Studio.
21 January, 2019
In Exhibitions,
Printmaking, Q&A
What is the premise for this exhibition  and how have you been working towards it?
I took up print making at the beginning of 2017. I found that it was a good medium to say some things I didn't feel capable (free?) to express verbally. A lot of it is simply illustration of ideas, but other pieces are allegorical or even cathartic in nature. I have included every piece I have done. In chronological order. The exhibition will show the development of the artist both technically and developmentally. The idea is to encourage the maybe/wannabe artist to have a go and to get the casual viewer to think a bit harder about some in your face issues.
What are some of the foundation ideas for the work in the exhibition, and what are visitors likely to experience?
Visitors will find a mixed bag of prints from whimsical illustrations like "Tuna in a duvet" to commentary on aspects of military life through to intensely personal pictures that border on confessional. As my learning curve has been short and steep, I have not had time to find my style or niche, but have two years of experiments in print. Some work….some are, well, experiments. With somewhere around 60 works on the wall, I'm positive everyone will find something to resonate with.
How was the work developed technically and what were some of the challenges involved?
That's a difficult question to answer because technically, I'm not so sure it has developed. I haven't attended any formal training and so it's a bit amateur. I can see some improvements over time, and so will everyone else, but is it technically better? Stuffed if I know. The biggest challenge is not knowing how to get an effect I wanted and having to learn by making mistakes. To illustrate this, I have intentionally put two pictures of the same subject on the wall to compare. The first shows my mistakes. The second, well…a bit better.
What future projects are you working on?
To be honest, the advent of the exhibition is like a huge sigh of relief and I'm not thinking past it at this point. I would like to try some other mediums in future: Copper plate etching looks cool, as does Litho. I like metal (my former trade was metal fabricator / welder) and have always admired bronze sculpture. Who knows? I may end up in any number of places and they're all good.
New Found Voice is at Umbrella Studio Contemporary Arts, 482 Flinders Street, Townsville, 25 January-24 February. umbrella.org.au