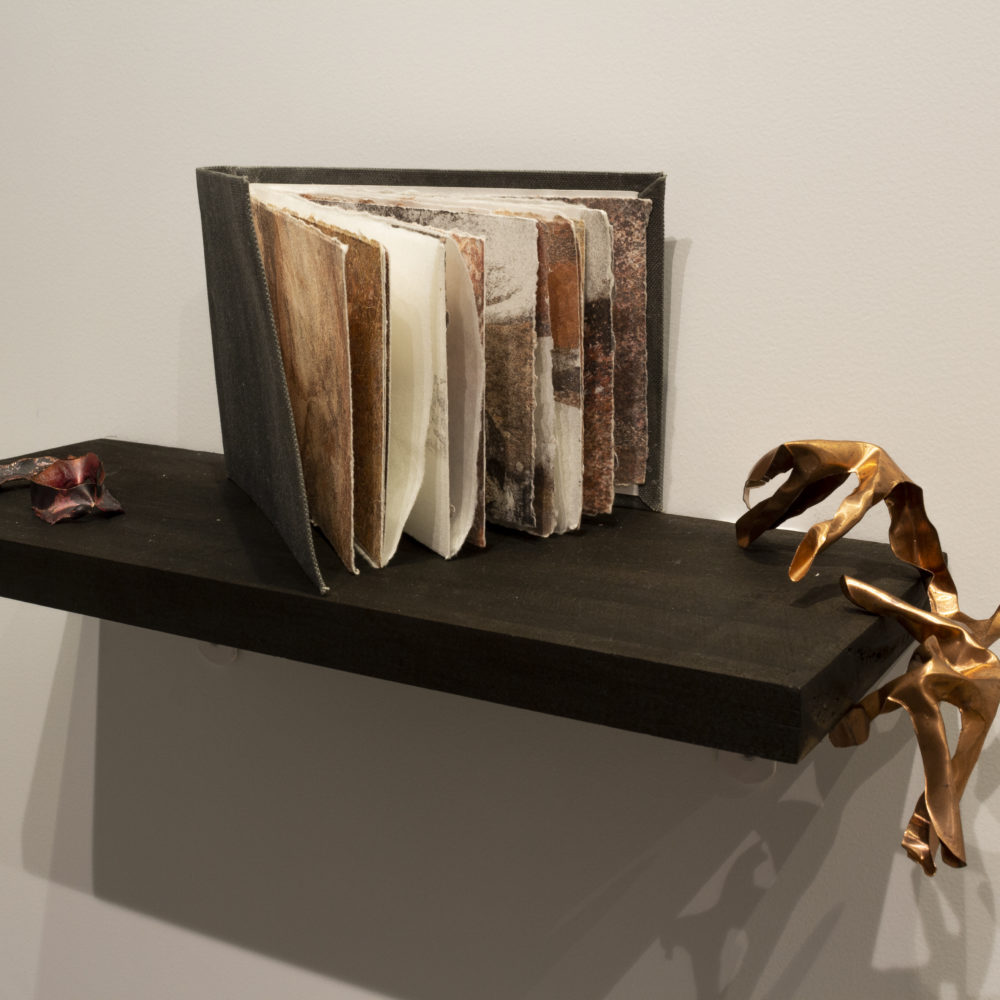 Penumbra II: Tessa Beale and Bina Butcher
Tessa Beale and Bina Butcher discuss their recent exhibition Penumbra II, the second iteration of a collaborative body of work.
3 June, 2019
In Exhibitions,
Printmaking, Q&A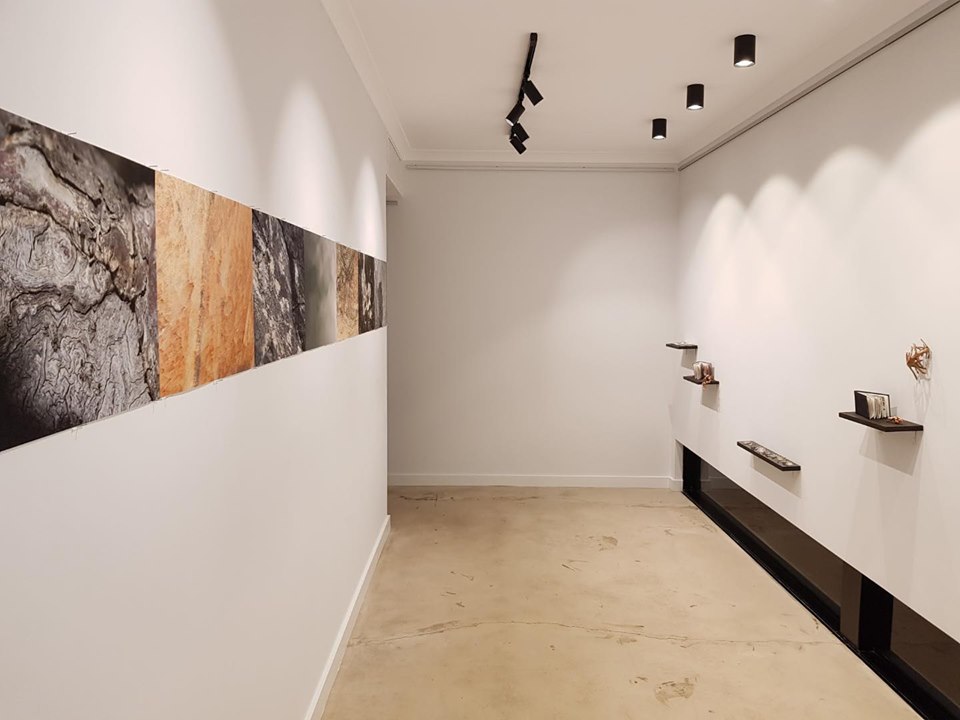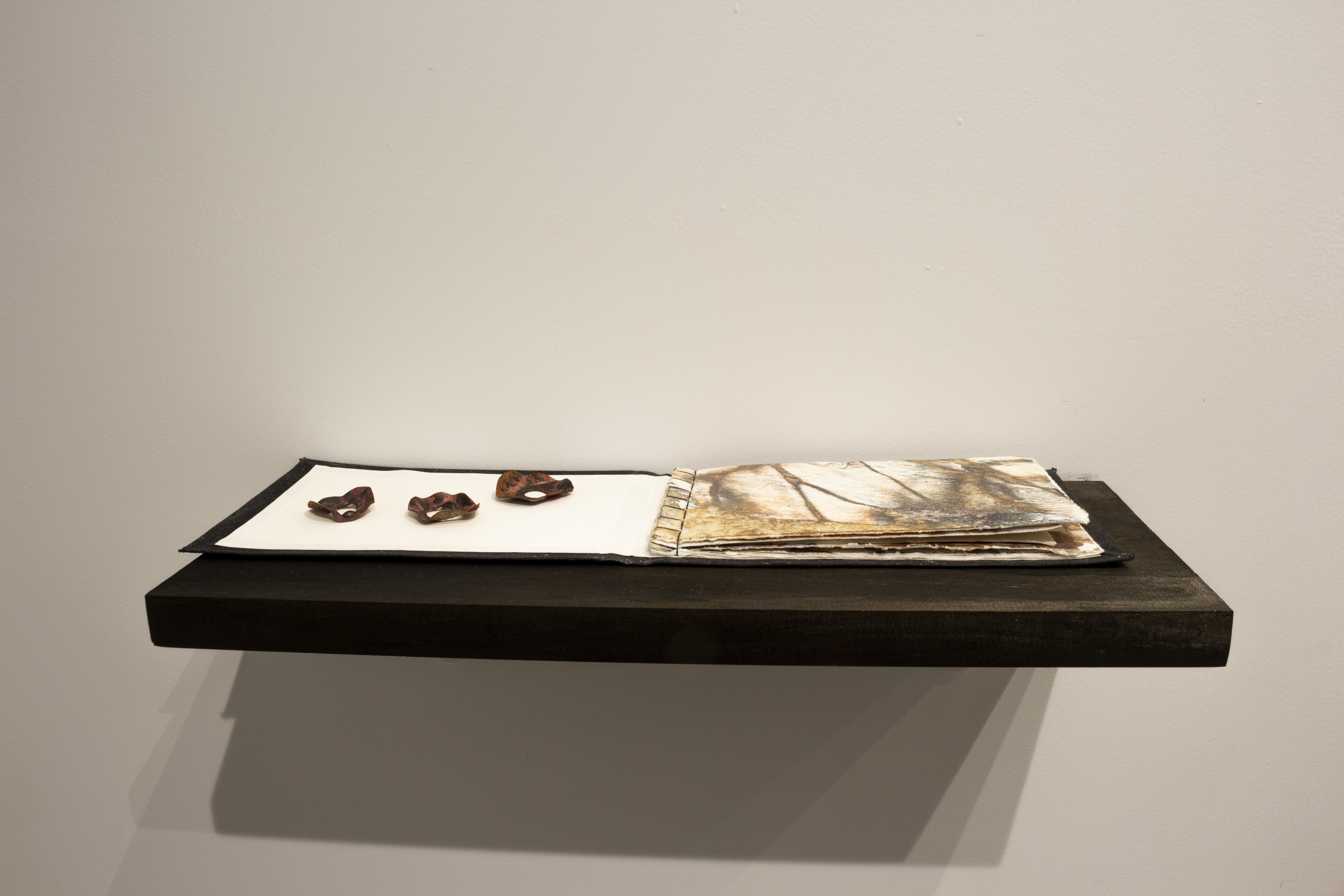 From top: Tessa Beale, Hull IV, V, 2019, copper, dimensions variable; Tessa Beale, Bina Butcher, Abrade, 2019, hand-bound artist book, waxed canvas, embossing, solvent transfer; Tessa Beale, Critter I, 2019, copper, dimensions variable.
Penumbra II installation. Photography: Leah Robbie.
Tessa Beale,

Hull I, II, III, 2019, copper, dimensions variable; Tessa Beale, Bina Butcher, Vestige, 2019, hand-bound artist book, waxed canvas, embossing, solvent transfer.
Q: What were some of the foundation ideas you began with when embarking on this body of work?
This project was a way for us to try and create the conditions for a slower, quieter consideration of our surroundings and our place in the natural world. We want to encourage people to tune in by giving them cues that they could use to approach their natural surrounding more intimately. By revealing what often goes unnoticed we hope to enable the viewer to connect and engage with the environment on a closer level.
By giving ourselves constraints, such as focussing on bark textures alone, we visited several locations in the lead up to this exhibition. These guidelines acted as a focus for us to uncover aspects of the environment that may otherwise be overlooked. From these visits, we produced digital photographs, video and sound recordings, moulds of surfaces, drawings and rubbings to which we responded either on site or back in the studio.
One of the central works was a set of artist books which we intended to function as a manual that people could take with them on their own explorations. Although the books were a direct result of our own visual and sensory experiences at these sites, we want the familiarity of the imagery to instigate a similar curiosity in the audience's own surroundings and encourage a more purposeful engagement with the natural world.
 Q: How does the exhibition manifest – what do visitors experience?
When you enter, your eyes are immediately drawn to unusual places on the wall. A small series of prints wraps around the corner from the ceiling to the top of the wall, and more can be found below eye level.
We tried to enhance the unusualness of the space – a purpose-built gallery within a domestic space. The intimacy of the gallery lent itself to a playful and non-traditional installation.
We installed the work in a way that enhances our ideas of engagement and slowing down as it demands the viewer to physically move close to view and experience the work in more detail. We tried to create a flow through the space which required discovery on the viewers behalf – one which invited different ways of approaching. By the viewer investing the effort necessary to view the work, they spend more time engaging with it, and contemplating what we have offered.
Q: what are some of the key works and what subject matter do they deal with?
The four artists' books in the exhibition were a foundational concept for the project. These are a record of our responses to the trips we took and reflection on slowing down. These were also intended to be manuals for the audience, acting as their own portable guide encouraging them to interact with and interpret future experiences in nature. They act as impetus for the viewer to focus on certain aspects they may have not have considered before.
They are a collaborative work, each hand bound and hand printed. They focus on facets of our site visits, such as water, bark or rock surfaces. There are several processes that made up each manual with a focus on solvent transfers and embossing's.
All the books are quite small, no larger than postcard size, with the idea that they could easily be packed in your bag or pocket and taken into the bush.
These were initially going to be just guidelines for ourselves to focus in on our investigative trips but evolved into works themselves.
Q: Do you like to experiment with process? What were some of the technical challenges?
Both of our practices are very process driven and this project originally evolved from us simply going to a location with no preconceptions or idea of what the outcomes of the project would be.
In this iteration of the project we gave ourselves specific tasks to challenge how we naturally work and bring about a more distilled response.
A challenge of this particular project was the installation in the space. Being a gallery in a domestic space, although purpose built, challenged us to look at how the works interacted with each other in a more intimate setting.
We avoided having a rigid plan for install and allowed the space dictate how it was installed. As it was such as unusual space, the hallway of a house, we tried to harness the nooks and not overcrowd all wall space. To do this we set up a small projection from beneath the staircase to the wall, we placed small prints along the skirting boards and staggered shelf height for the manuals and small objects. We also placed the large-scale macro photographs above traditional eye level.
 Penumbra II was at The Lobby, Swanbourne, Perth, 10-24 May