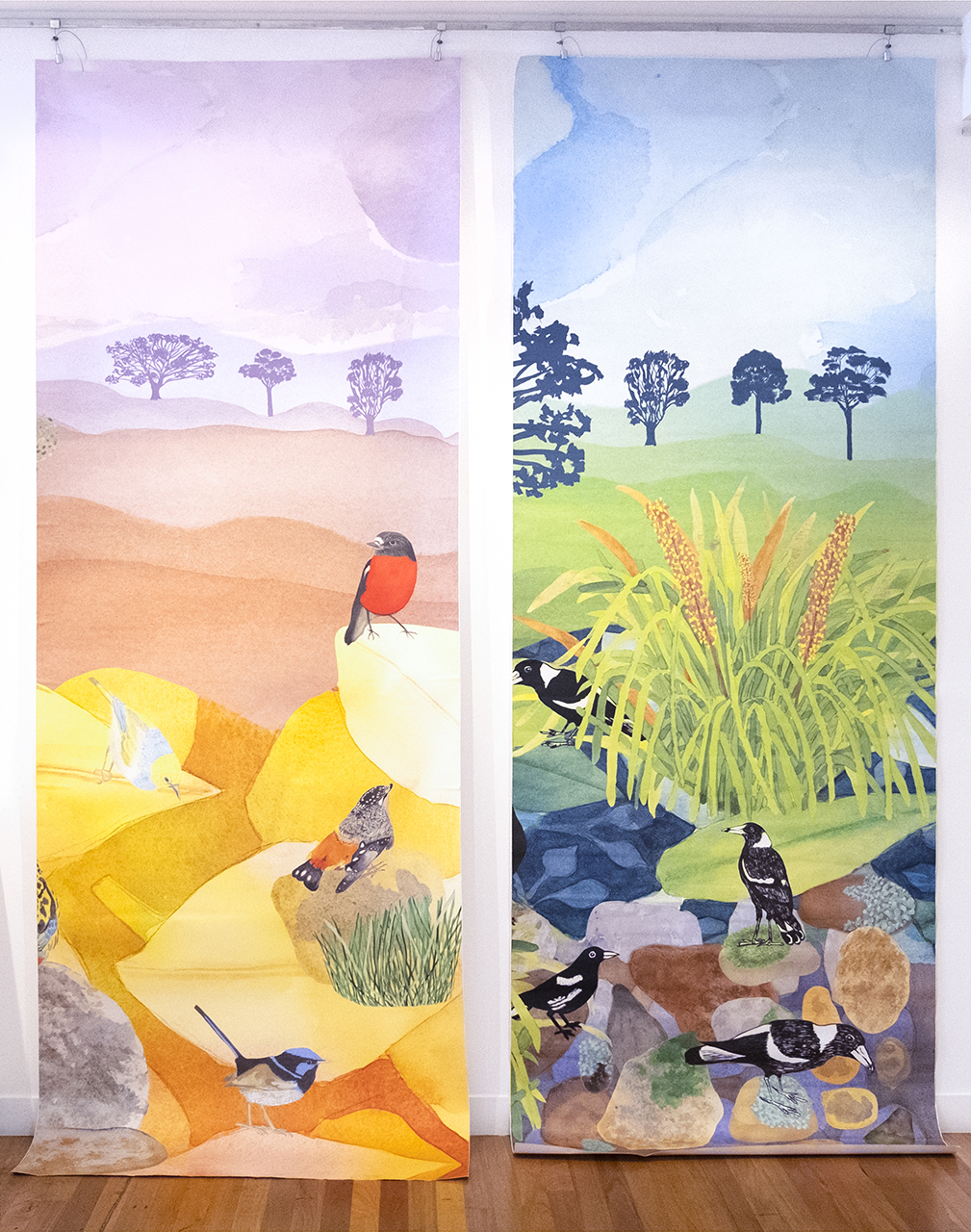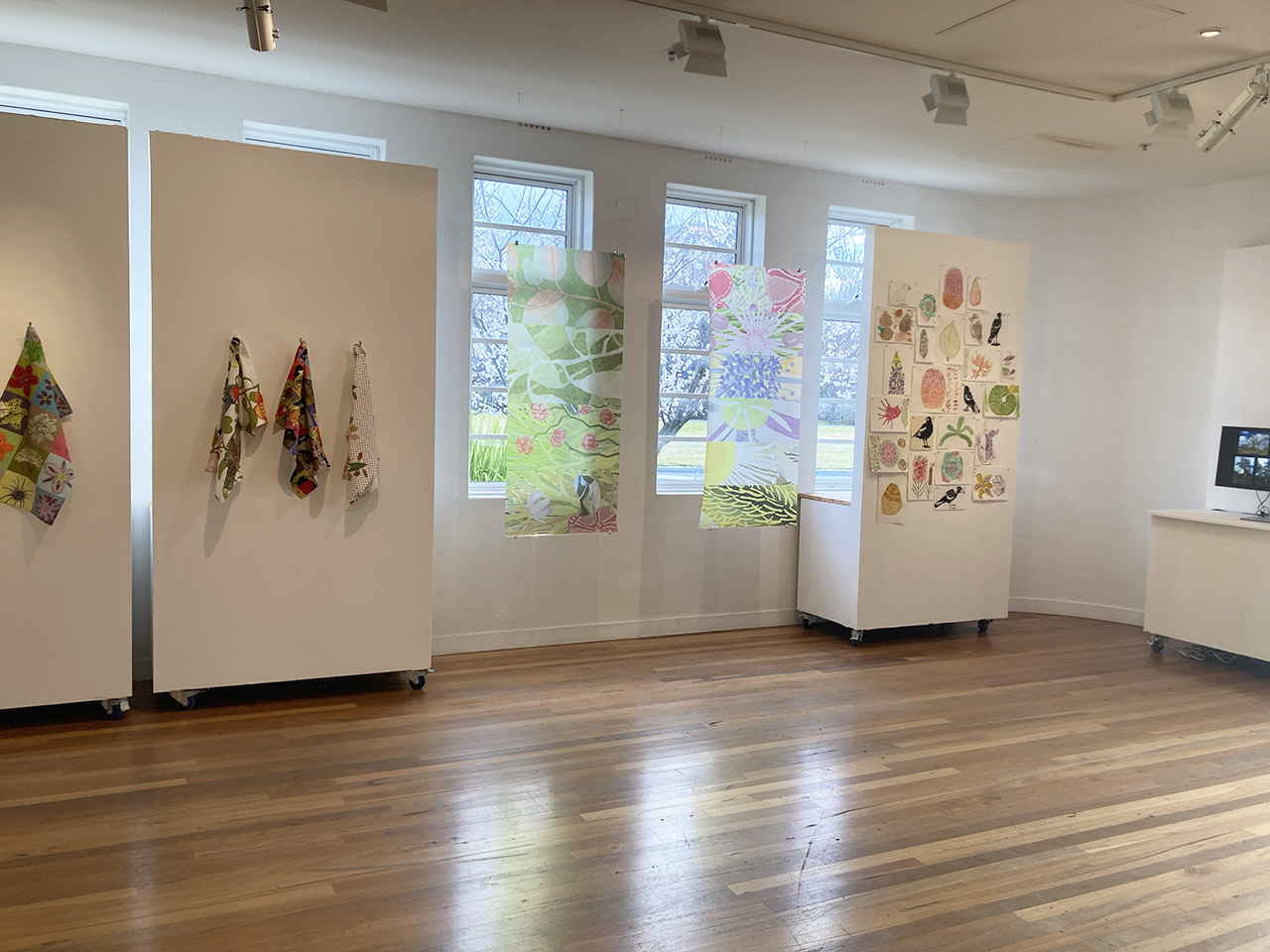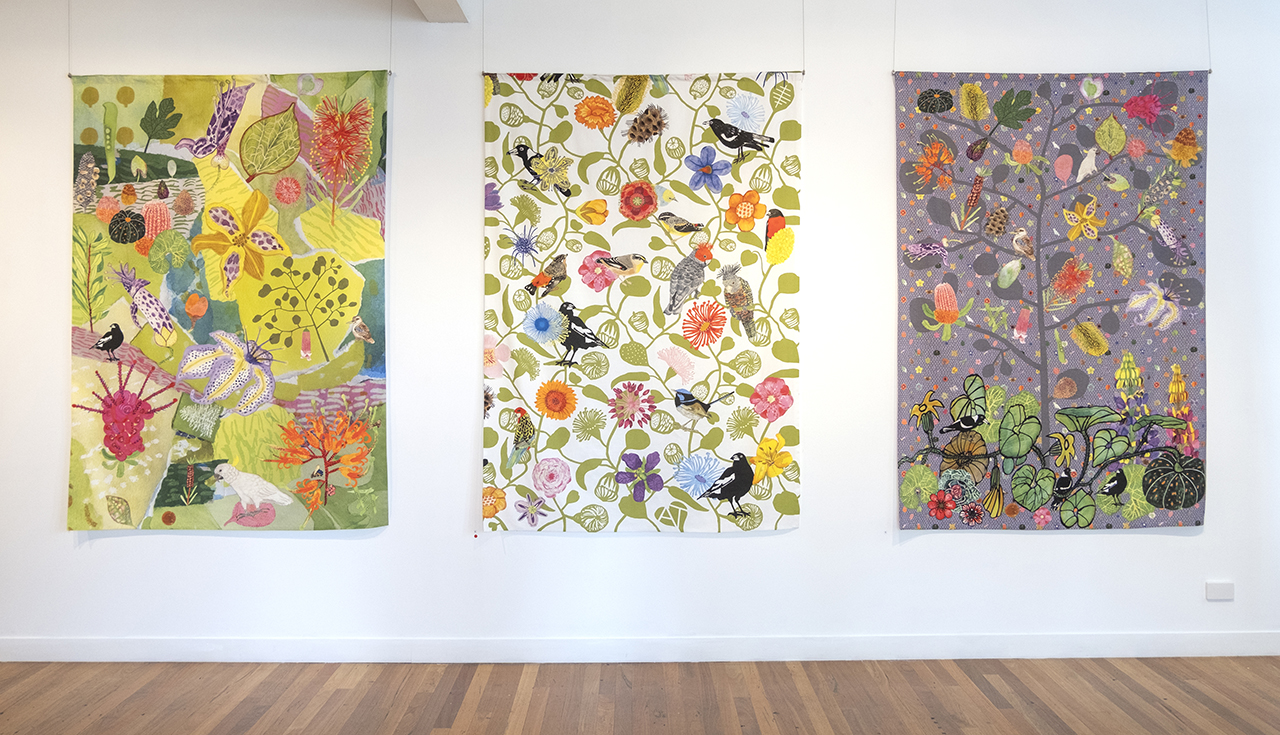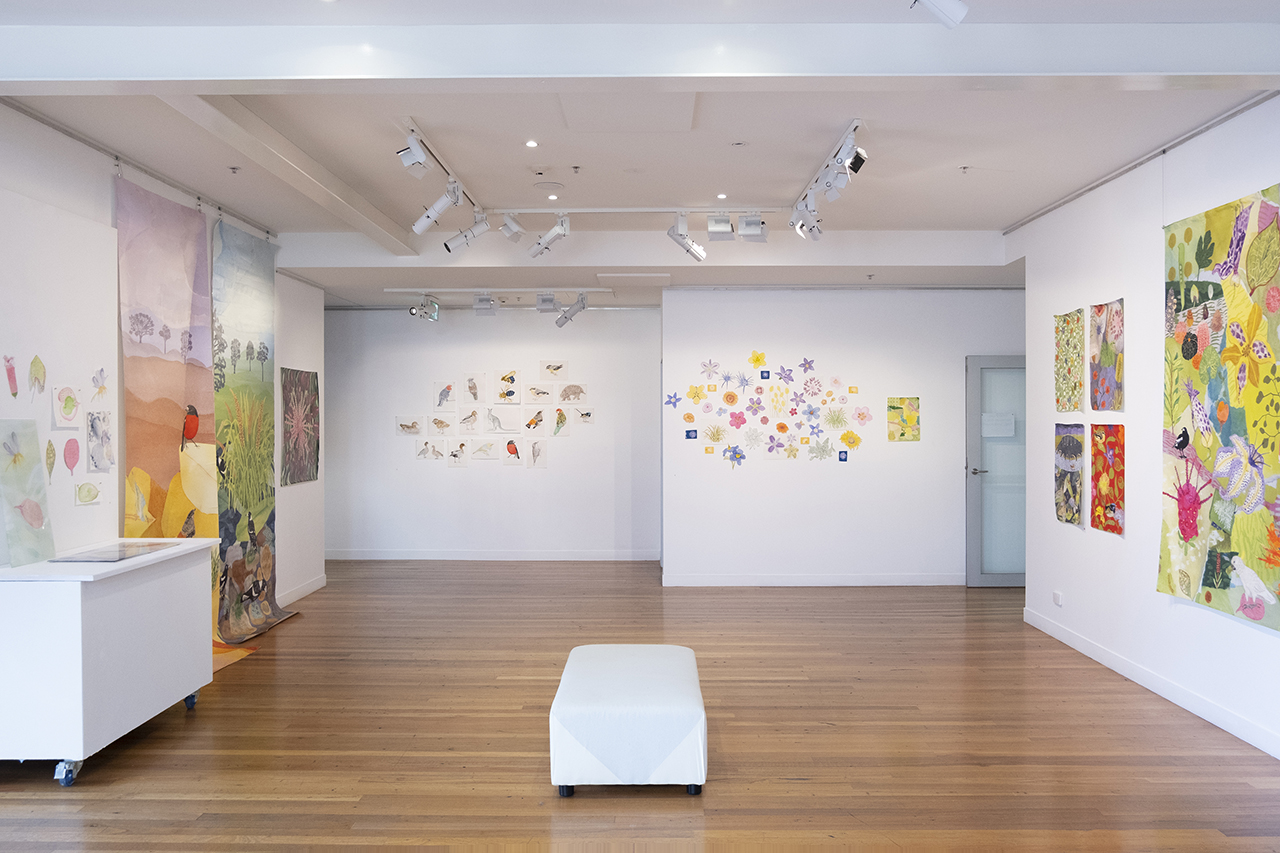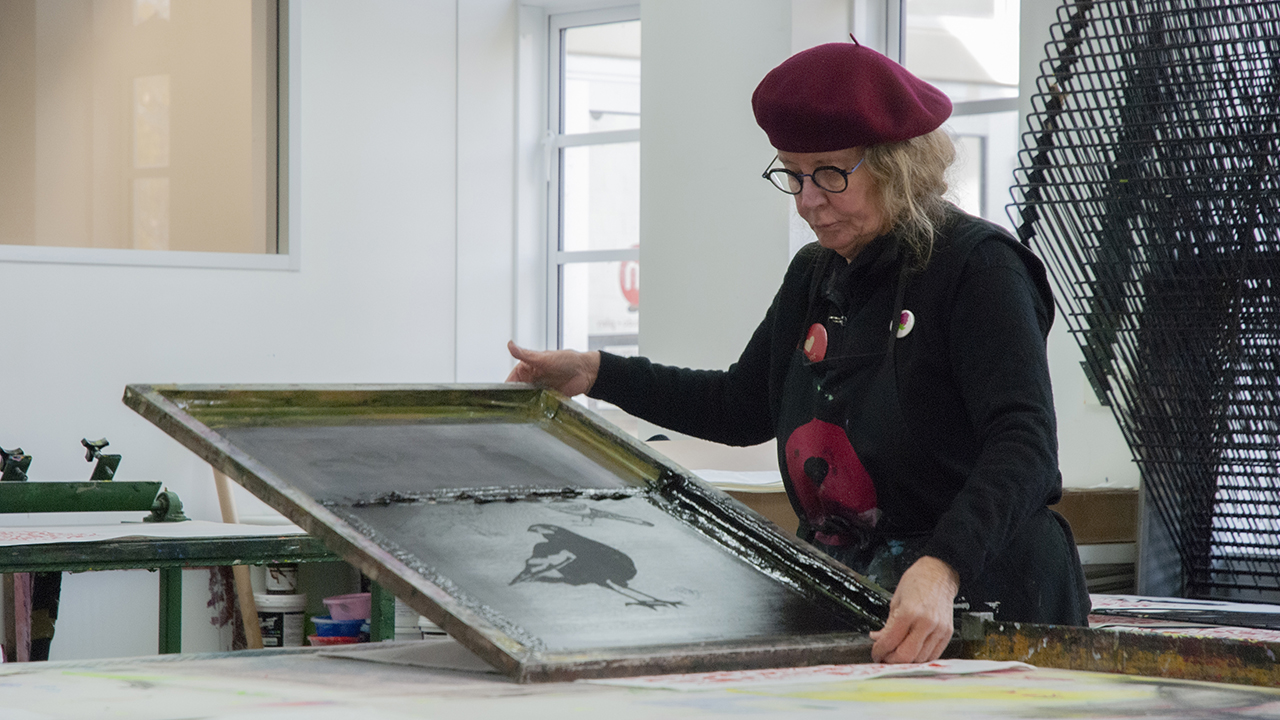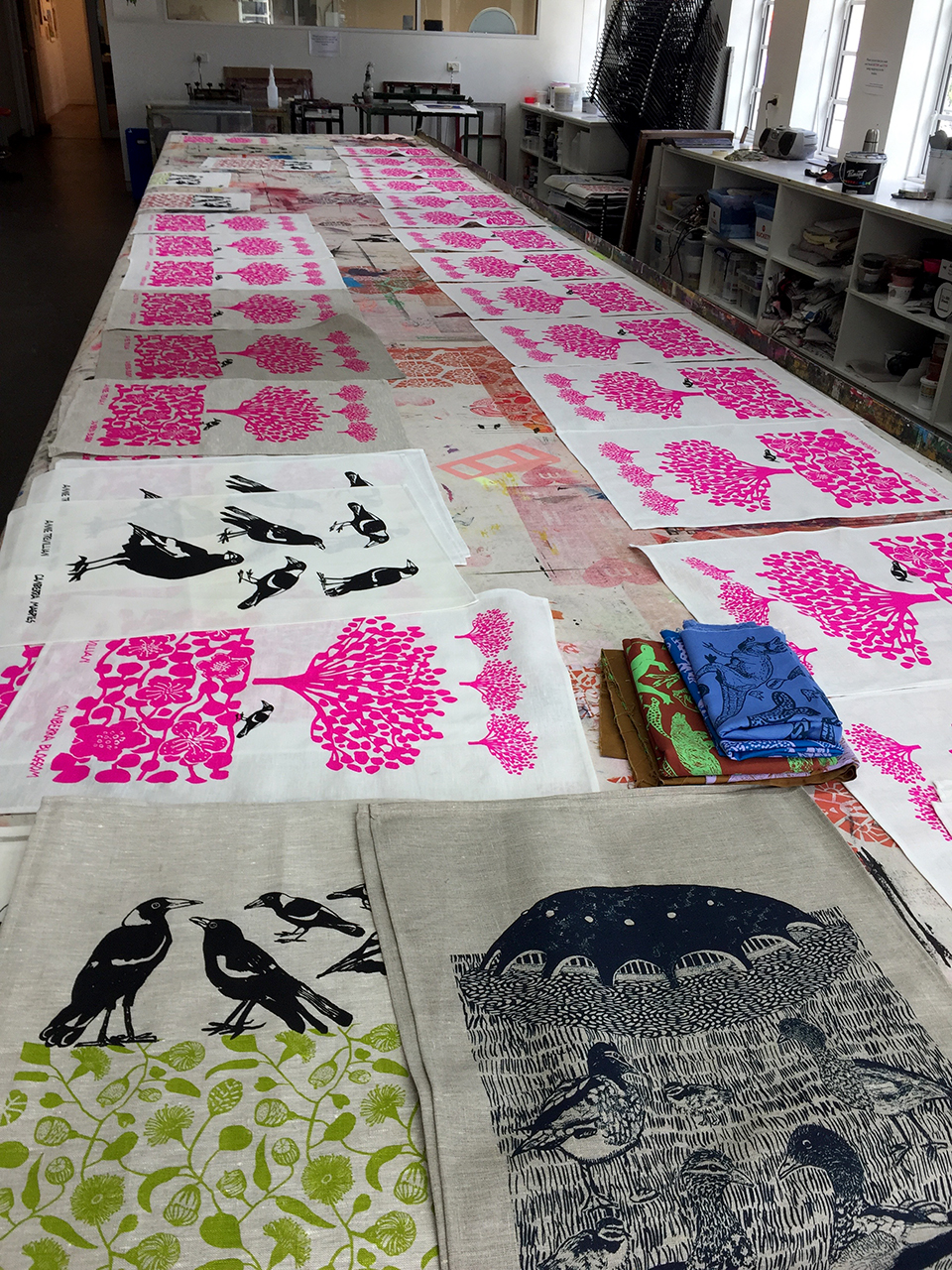 From top:
Backyard Toile, 2022, digital prints on cotton/linen, 193 x 138 cm. Photography: Annie Trevillian
Dhulwa project sampling, Cassia and Lomandra (detail), 2016, digital print on wallpaper, 300 x 110 cm each. Photography: Francis Kenna
Annie Trevillian. Patterning: surface design projects install, Canberra Cloths 2022, vinyls 2016, watercolours 2022, digital prints on cloth and vinyl, watercolours. Photography: Annie Trevillian
L-R Backyard Toile, Canberra Birds and flowers, Annie Tree install, 2022, 2019, 2022, digital prints on cotton/linen, 193 x 138 cm. Photography: Francis Kenna
Annie Trevillian. Patterning: surface design projects install. Photography: Francis Kenna
Annie Trevillian screenprinting on textiles, 2021. Photography: Francis Kenna
Annie Trevillian tea towel designs at Megalo Print Studio, 2021. Photography: Annie Trevillian
Q: What were some of the foundation ideas for this exhibition project?
A: Annie Trevillian. Patterning: surface design projects highlights how I amalgamate drawing, painting and screenprinting with digital technologies.
Since 2009 I have been commissioned to develop artworks for architectural spaces. It has involved adapting archival materials with historical and cultural research into images and motifs that explore and interpret heritage sites, places and experiences.
The 2016 Dhulwa Commission and the 2020 Gawanggal Commission with Fiona Edge, for Canberra Health Services was for large scale digitally printed wallpaper, vinyl for glass and glass splashbacks. I was inspired by the surrounding landscapes with its local flora and fauna providing the theme. I created the painted motifs in my studio. I worked with Fiona Edge to scan and clean all the motifs in Adobe Photoshop. They were then wrangled into the separate designs by shuffling those layers of backgrounds and rocks and birds and barks and trees and flowers and maggies.
I often revive and reinterpret my collection of motifs into new designs for textiles, paper and wall coverings. The exhibition features my use of motifs to recreate my own range of textile designs and highlighting my 2022 textile designs – Backyard Toile and Annie Tree as well as Canberra birds and flowers (2019).
Q: How did the artwork selection take place?
A: Stephen Payne and staff members from Megalo Print Studio visited my studio to see a selection of my artworks dating back to when I first started printing there in 1983. Stephen set the curatorial brief to include existing and new work. The existing work came from two commissions for Canberra Health Services –  Dhulwa Mental Health Unit in 2016 and Gawanggal Mental Health Unit in 2020. He wanted to emphasise the constant innovation and experimentation of my practice with printmaking processes at its very heart.
Q: How does the exhibition manifest – what do visitors experience?
A: The exhibition is set out to showcase my process of art making and printing. There are flocks of hand painted watercolour, ink, gouache or acrylic bird images; a floriade of plants and a wall of my 2022 watercolours. These are working drawings which are then scanned.
The commission work includes suspended large-scale samples of digital prints on vinyl (image 3) beautifully displayed in front of the windows allowing the outside spring blossoms to mingle with the floral imagery. There are two large drops of digitally printed wallpapers: Cassia and Lomandra (image 2) and digitally printed glass splashbacks.
There is a wall of three large digital prints on cotton/linen including Canberra birds and flowers 2019, Backyard Toile 2022 and Annie Tree 2022 (image 4). Smaller cloths showcase ten alternate designs.
A Powerpoint which shows the entire process of the commissions from the initial consultations to installation shots of finished work with detailed images of my design processes.
In the shop my products include large screenprints on paper, screenprinted cushions and teatowels and Canberra cloths.
Q: What are some of the key works and what subject matter do they deal with?
A: The brief for the art at Dhulwa and Gawanggal Mental Health Units was to support the Unit's work as a place of healing and rehabilitation and enhance quality of life for the users of the building. Dr Jennifer McFarlane, Curator, Arts in Health, expertly guided the stakeholders through a series of extensive consultations on site, with health professionals and consumers, within necessary timelines. The artwork shifts the building from being an institution towards being a home.
Backyard Toile – a storied cloth
In Photoshop I gardened. I planted my newly painted images. I cleaned them, I coaxed them into healthy looking motifs, I moved them around and gave them more light and breathing space. I bunched them together or weeded them out. I pruned and propagated. I enjoyed their uniqueness. I adored their overall beauty and ability to create pleasure. I cajoled them into a landscape based on my own observations from my studio window. I patterned my backyard and it told a story of my time during lockdown. It is a movable, changing, surprising and so, so deeply satisfying story.
Q: What is it about the printmaking experience that you most appreciate?
A:  My knowledge of printmaking techniques and processes fundamentally informs the way I design. It allows experimentation with screenprint on paper or fabric or a digital print via Photoshop onto fabric, paper, vinyl, glass and metal.
I love that a place like Megalo Print Studio exists and has supported and enhanced the opportunity for me to continually upgrade and diversify my creative output for more than half of my life. I truly appreciate the Megalo printmaking family.
—
Annie Trevillian. Patterning: surface design projects is at Megalo Print Studio from 27 August – 8 October 2022 www.megalo.org
—
Join the PCA and become a member. You'll get the fine-art quarterly print magazine Imprint, free promotion of your exhibitions, discounts on art materials and a range of other exclusive benefits.