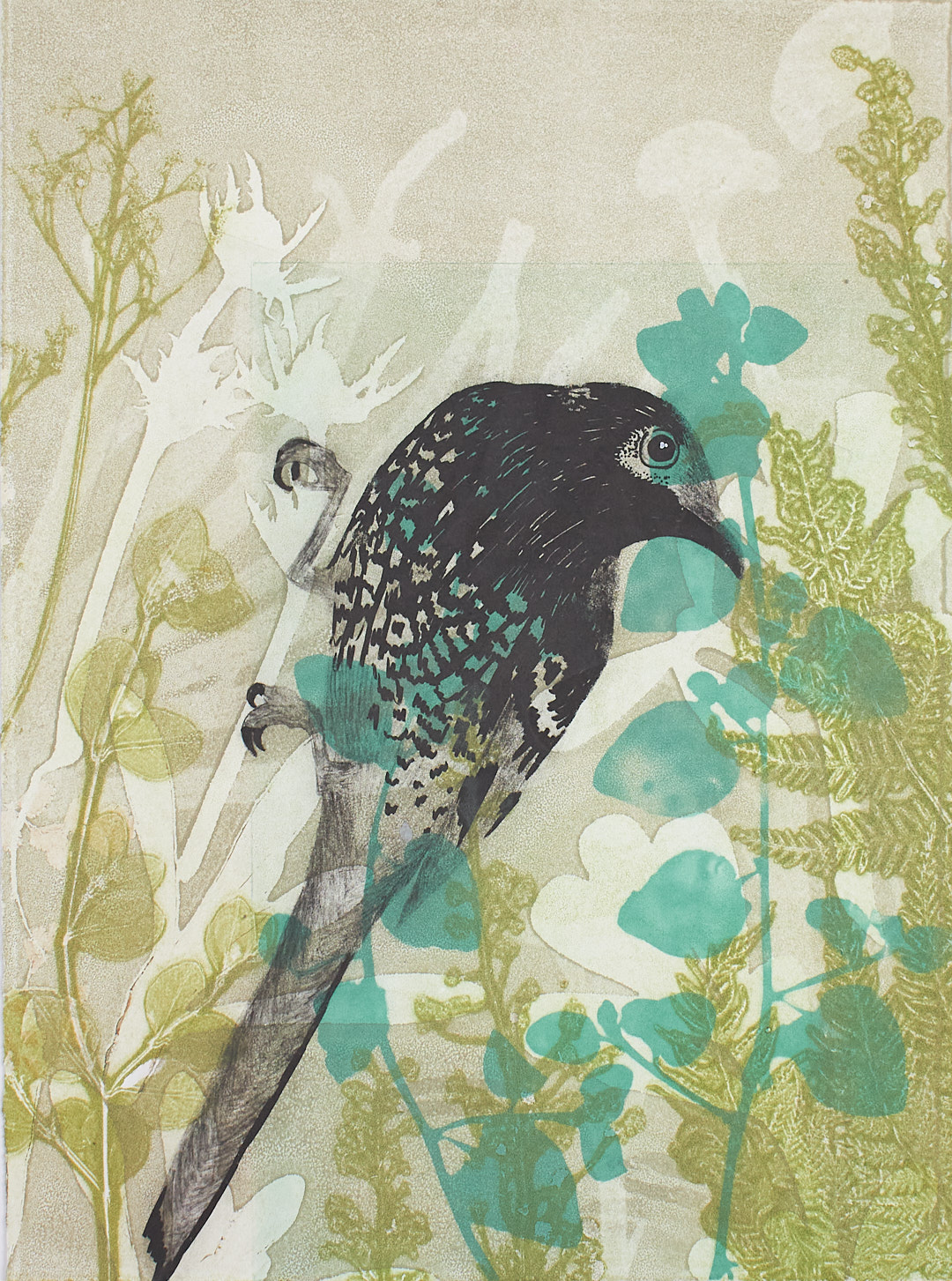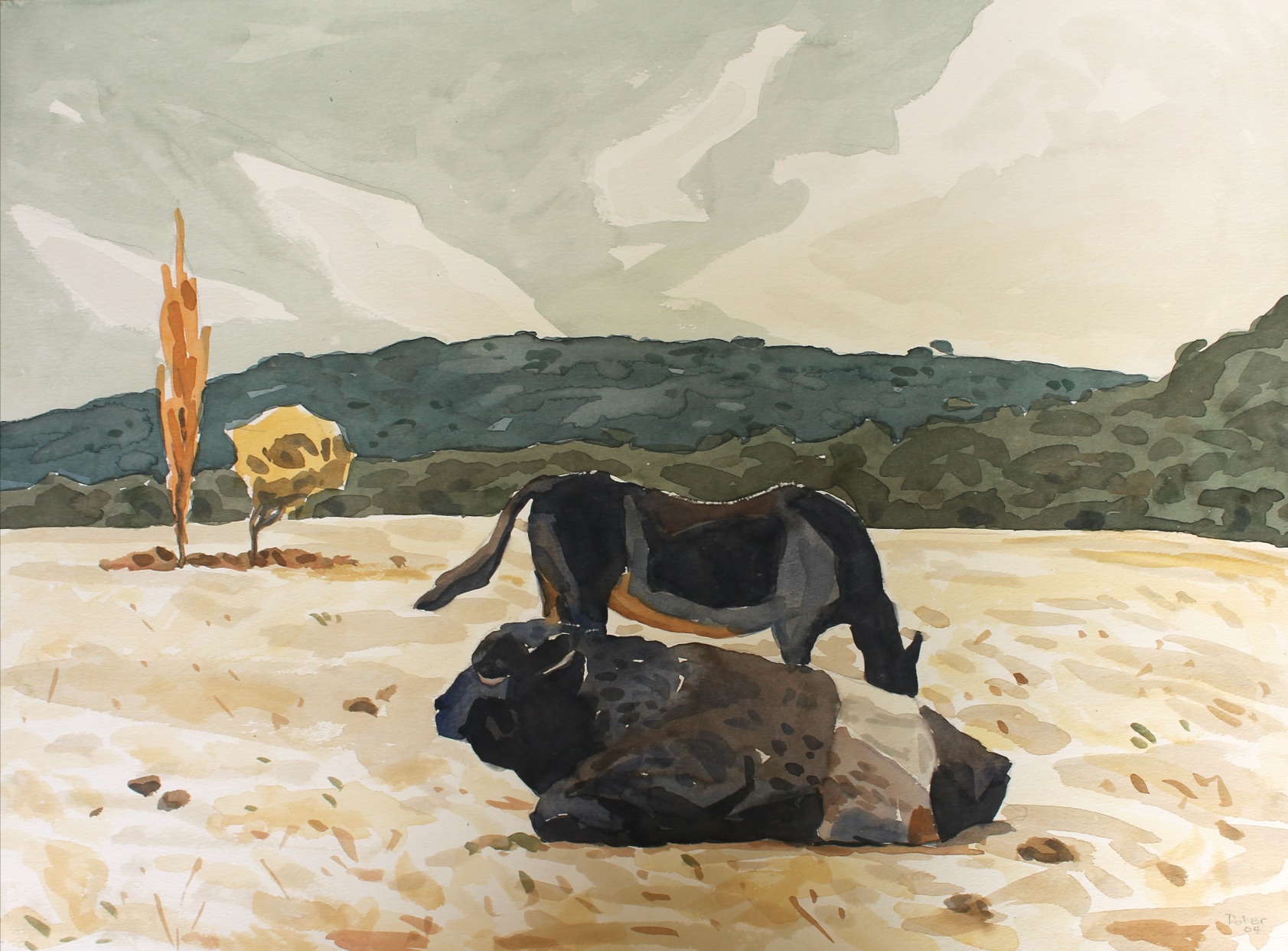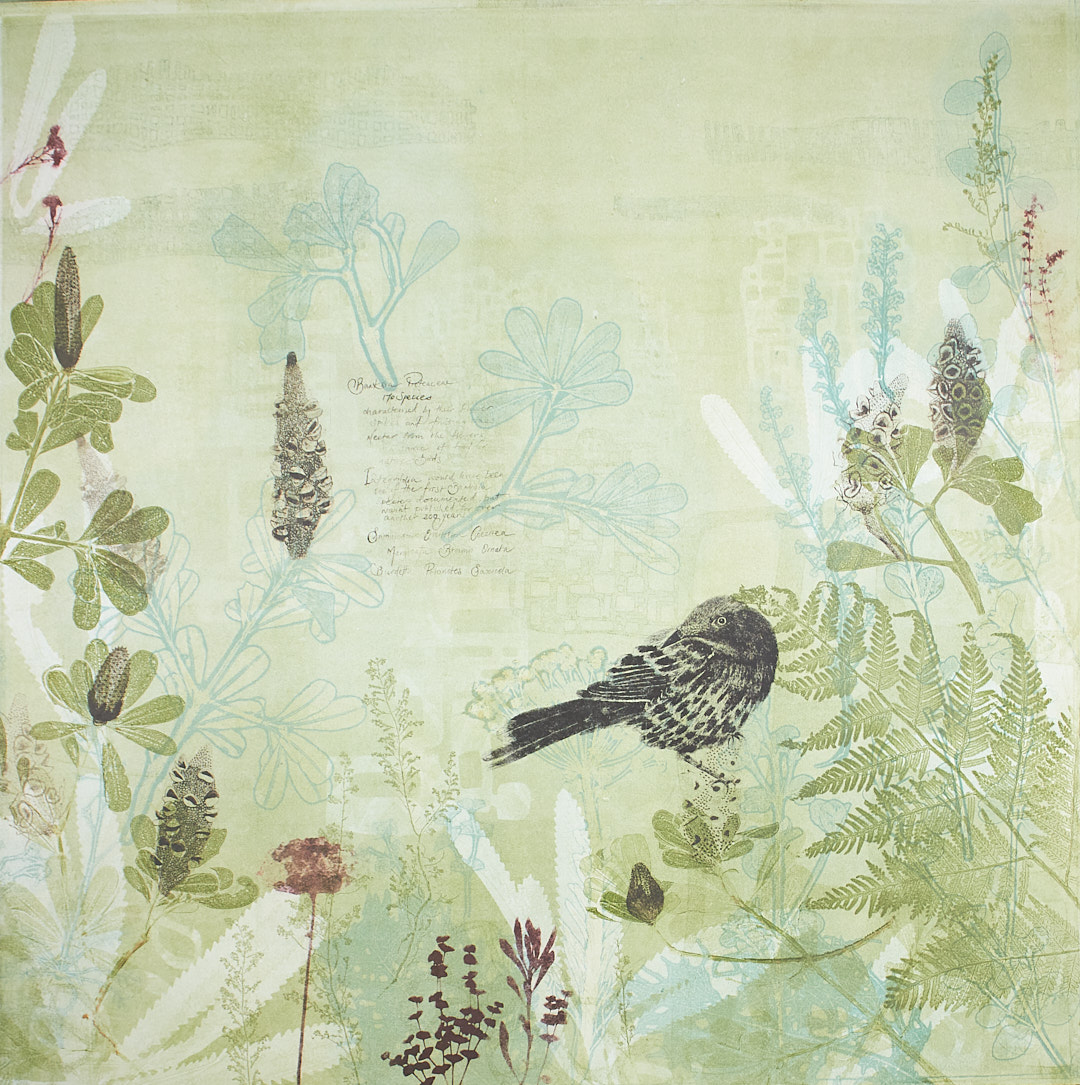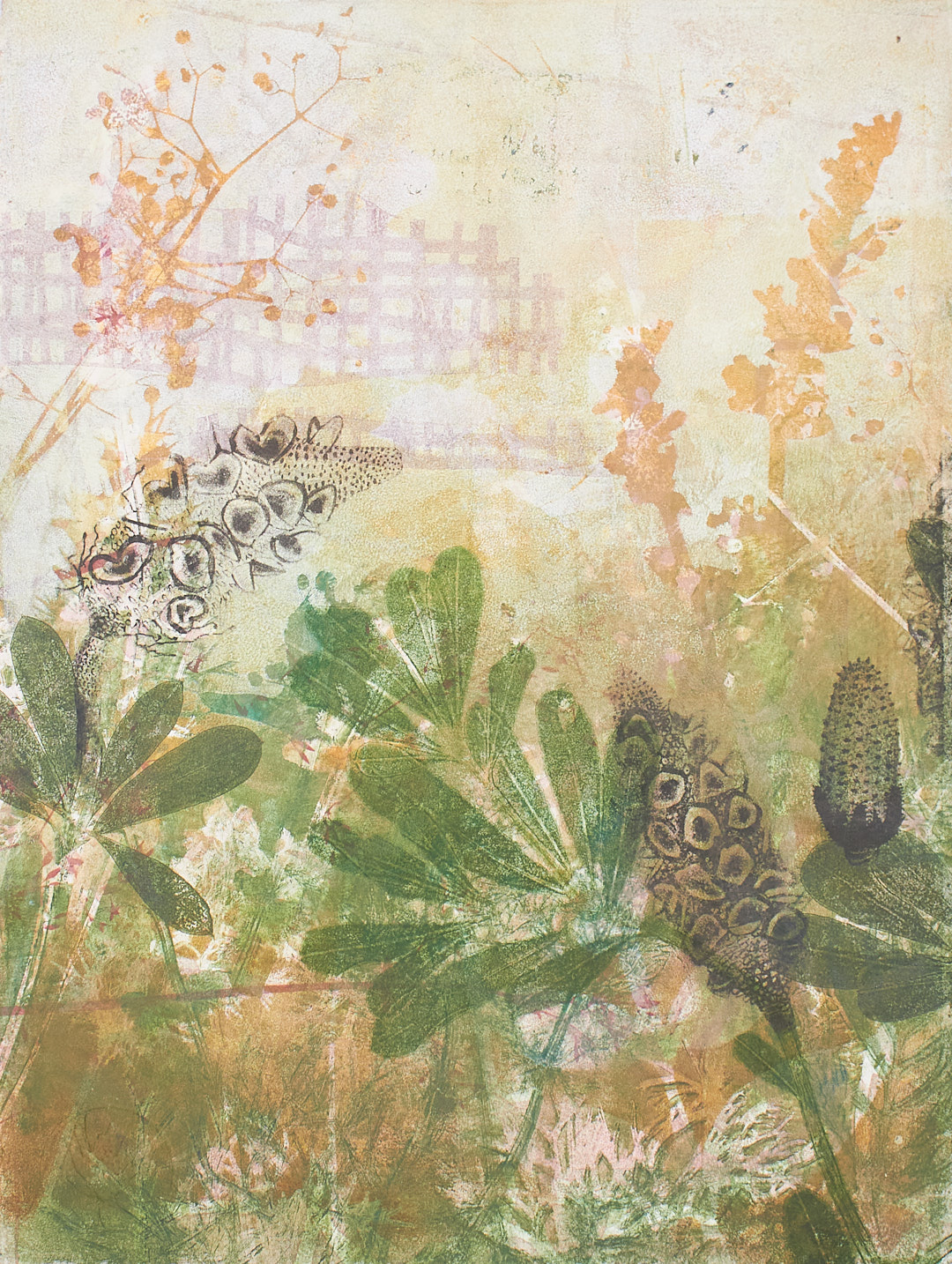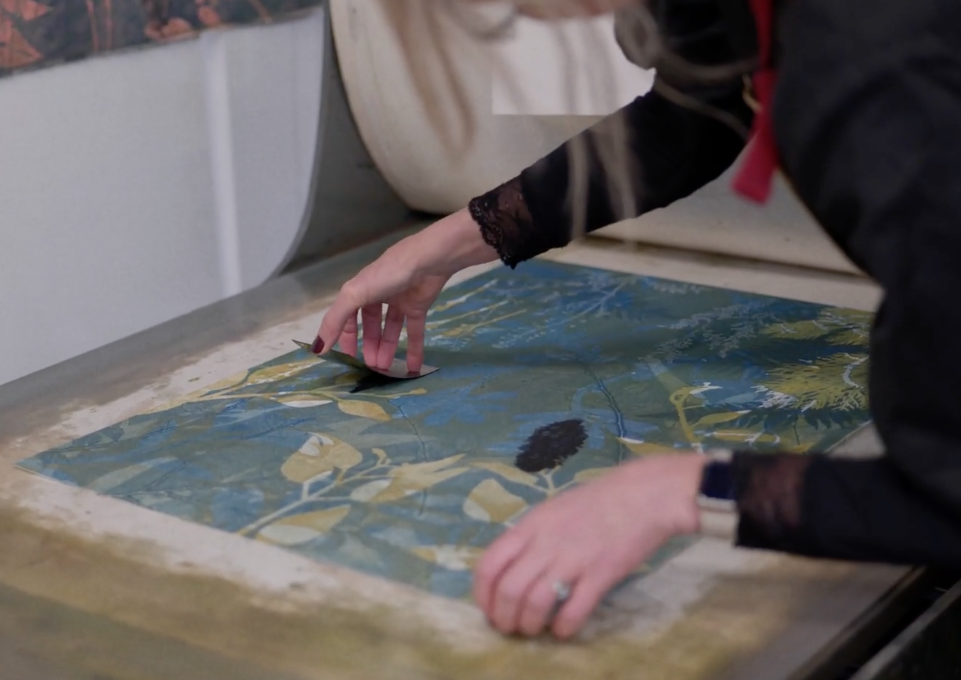 From top:
Trudy Rice drawing a banksia for solar plate etching.
Trudy Rice, Regent Honeyeater Watching, 2023, multi-plate solar etchings and monotype unique state
Mark Dober, Bull and Horse, 2023, gouache on paper, 56 x 76 cm
Trudy Rice, Vital Sweetness for the Earth, 2023, multi-plate solar etchings and monotype unique state
Trudy Rice, On My Walk Banksias, 2023, multi-plate solar etchings and monotype unique state
Trudy lifting a solar plate etching after printing.
All images  © the artist.
Q: What were some of the foundation ideas for this exhibition project?
 A: Recently, I have been fascinated with the banksia. With the lockdowns, I didn't have much choice. The coastal banksias grow in my local area, becoming my new favourite. The seed pods are so intriguing – they look like something that's been around for centuries.
 With this new body of work being exhibited at Queenscliff Gallery, I started combining thoughts of living in an urban environment and my love of the natural world. 
 I've made solar etchings of many wattlebirds and learned that recent genetic research suggests they are closely related to the critically endangered regent honeyeater (anthochaera phrygia). It's troubling to hear that such a beautiful bird is at risk of disappearing forever. So I featured a couple of regent honeyeaters in this collection.
 It's an honour to showcase my work alongside someone as skilled as artist Mark Dober from Castlemaine. 
 Mark's oils and gouache artworks capture the resident cow under open skies, while my multi-plate solar etchings delicately layer flora and fauna in a closer look. Our work is complimentary and will be an uplifting celebration of contemporary Australian art and expresses the vibrancy and vitality of our native landscape.
 We certainly have distinct styles, but this exhibition reveals our profound attachment to nature's beauty.
 Q: How did the artwork selection take place?
 A: For several years, I have worked with Soula and Theo Mantalvanos at Queenscliff Gallery. They intimately know my work and its connection to the local coastal area. I have contributed artwork to many group exhibitions they've held and as a finalist in the Peebles Print Prize. 
 As part of the process for this exhibition, I compiled a selection of artworks that worked well together and professionally photographed them for submission for the show. Sending the digital version to the gallery for their first perusal before physically seeing the work at the gallery for the final curation. 
 It's been a great experience, and I'm excited to see the final results hanging in the beautiful gallery space in the stunningly renovated church in Queenscliff.
 When putting together a body of work, it's important to consider the threads that tie everything together. Look for common themes or elements that connect each piece and use those to create a cohesive exhibition. This will help the work stand out and make a stronger impact for visitors.
 My exhibitions have often been noted to evoke feelings of calm and tranquillity. I would love visitors to enter Pastoral and Flight and feel they have stepped into a garden. Getting lost in my many layers.
 Q: What are some of the key works and what subject matter do they deal with?
 A: A key work for this exhibition is the Vital Sweetness for the Earth, created with multi-plate solar etchings and monotype; like most of my current work, it is a unique state, one-of-a-kind work on paper. The subject matter is the regent honeyeater and the banksia, and here I've included some etched text about the banksia to add depth, another layer, and a bit of a play on old botanical drawings.
 Another key work in this exhibition, On My Walk, Banksias created another unique state work on paper with multi-plate solar etchings and monotype. This work is the continuation of my connection to be closer and closer to nature; there are deeper, more complex layers. 
 These artworks take a lot of time to percolate. I often have many sheets of printmaking paper ready for the next layer. Always making decisions. They are built one layer at a time and can take a couple of years to complete the final piece. Knowing when to stop is the key.
 Q: What is it about the printmaking experience that you most appreciate?
 A: The most exciting part for me is lifting the felt blanket from the press, ready to pull the paper from the matrix; you never know precisely what you will get. I love the element of spontaneity and experimentation. It keeps me alive and continuing to create.
—
Pastoral and Flight, Mark Dober and Trudy Rice, is at Queenscliff Gallery
81 Hesse Street, Queenscliff, until 9 July
 https://qgallery.com.au/pastoral-and-flight-mark-dober-trudy-rice/
 https://trudyricecollection.com/pages/the-artists-process
 Instagram: @queenscliffgallery @trudy_rice
—
Join the PCA and become a member. You'll get the fine-art quarterly print magazine Imprint, free promotion of your exhibitions, discounts on art materials and a range of other exclusive benefits.