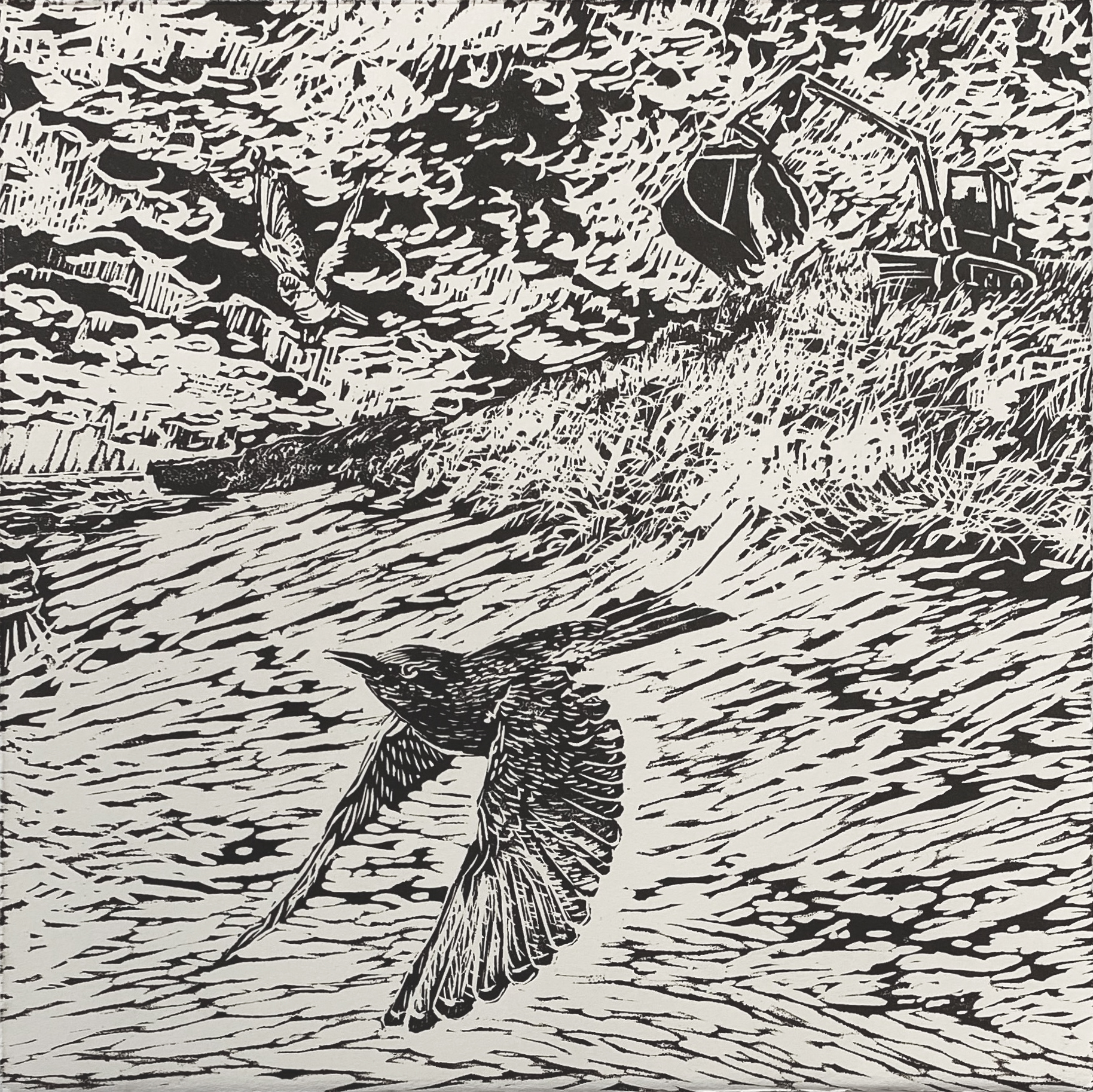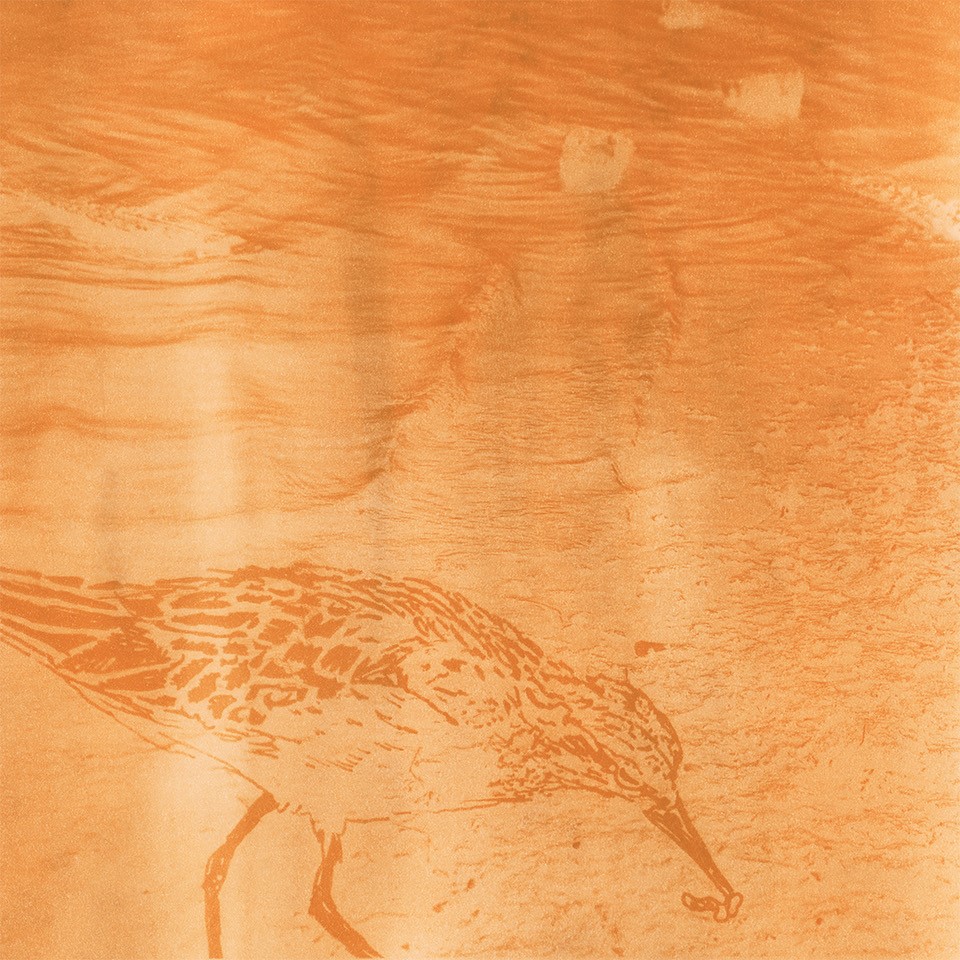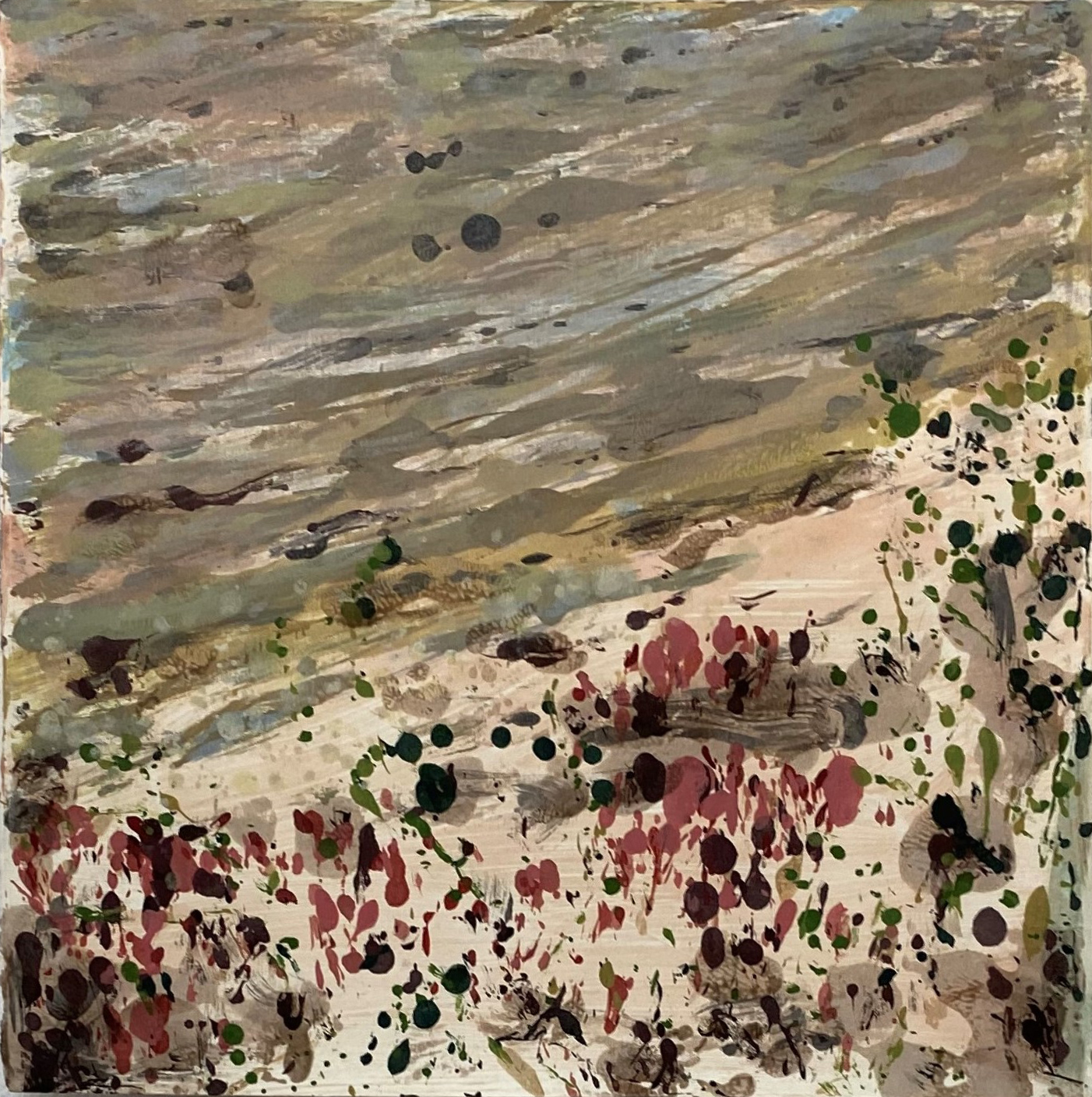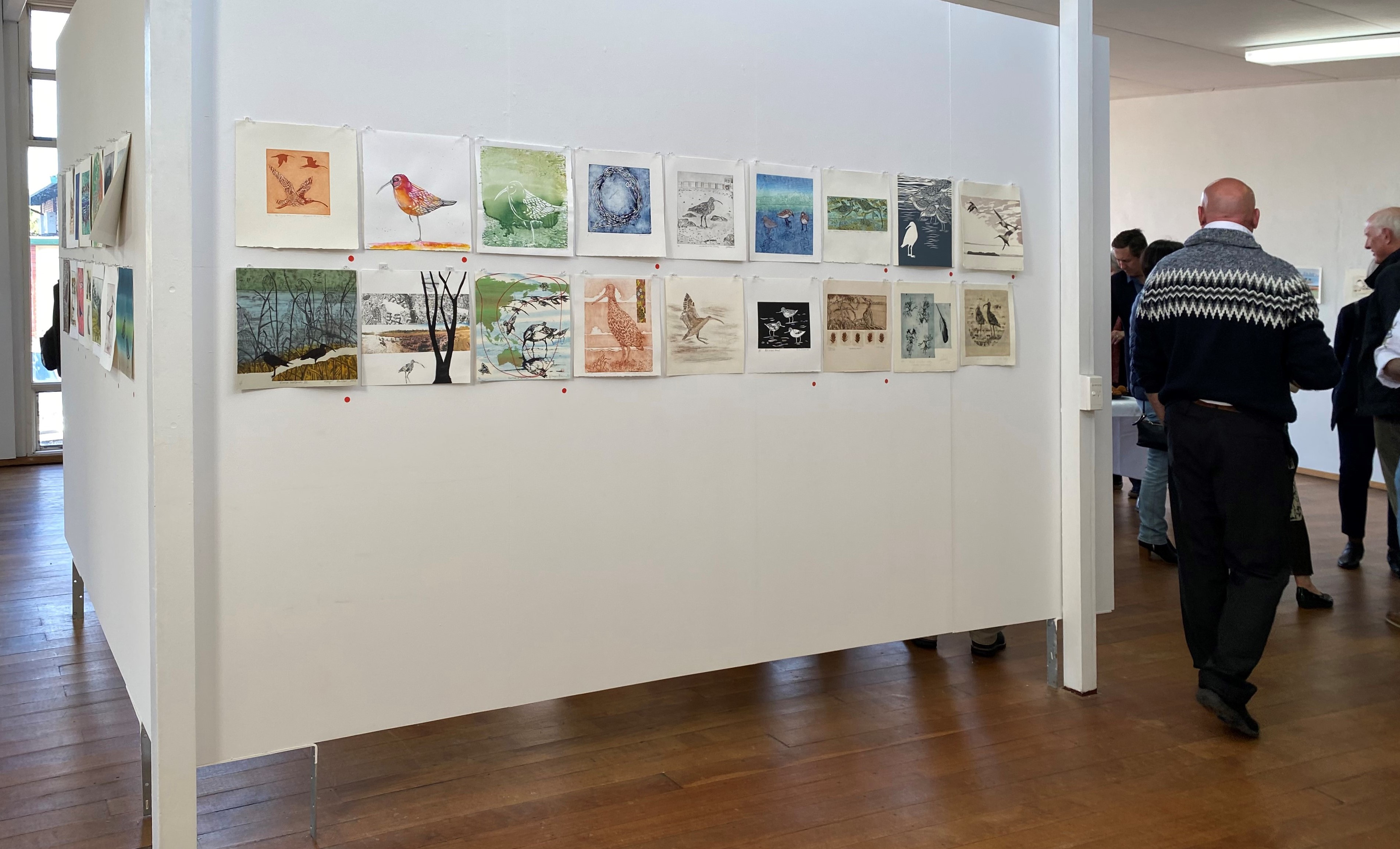 From top:
Petra Sara, Avocet Wading in Shallow Water, drypoint and collagraph, hand coloured. Edition of 4.
Veta Holmes, Save Ocean Reef, linocut. Edition of 10
Perdita Phillips, Light, mud, time, depth, digital print of scanned turmeric anthotype. Edition of 7
Elizabeth Morrison, Saltwater, Paperbark and Samphire, monoprint,. Edition of 2
Summer on the Swan, exhibition view at Nyisztor Gallery. Photographs Monique Bosshard Curby
2020, this strange year, has been marked by isolation and social distancing, yet it also seems to have generated a sense of community in the view of 'being in this together'. I find the state of being 'together-apart' reflected in my role as a printmaker artist as well member of a printmaker's association. Working in isolation and in the familiarity of my studio is where my ideas find a form. On the other hand, the connection with the (art) world around us, with other creatives and thinkers is imperative to taking stock, to contextualising one's ideas and approaches. This, of course, can be done in many ways. Printmakers are a sociable kind of makers with many groups and associations to join where action, interaction and exchange are key aspects. Through regular gatherings ideas, skills, knowledge of techniques and processes are shared and shown off in group exhibitions.
The current exhibition of the Overwintering Project in Western Australia: Summer on the Swan at the Nyisztor Gallery is one such example local artists have joined to participate in the conservation art project. Initiated and coordinated by Kate Gorringe-Smith, the aim of the ongoing project is "to seek to raise awareness for our migratory shorebirds and their habitat by inviting to make them visible".[1]
The inclusive project not only joins local artists of the Printmaker's Association of Western Australia (PAWA) but through its travelling exhibitions joins many artists nationwide. Just like the migratory birds on their annual circuit or flyways through numerous countries, the Overwintering Project's body of prints travels long distances across borders that, for now, are closed to us sandgropers. With the show coming over to us such projects open up horizons for distant printmakers like here in WA, where we feel currently even more distanced than in pre-COVID-19 times. The project offers the opportunity to show alongside other practitioners we might have heard about or seen only in digital or printed format.
The Overwintering Project though connects on yet another level. The passionate and very knowledgeable introductions to the burning issue and the visitation of local bird habitats on the Swan River by volunteers of organizations of wildlife protection – here the Swan Estuary Reserves Action Group Inc. (SERAG) – gave many of us print artists new insights into the precarious journeys these birds are undertaking and the uncertain future they're facing due to rapidly diminishing habitats and safe havens needed to survive such enormously long passages.
In this project conservationists and artists connect as passions combine through printing and creating imagery that observes, quietly ponders and urges us to look, bringing attention to a devastating loss. Artists may even become conservationists or vice versa. The interest in the print exhibition is therefore not just one of an artistic concern and attracts a wider audience than usual art circles.
The main interest for me though is that such projects have the ability to connect and form wider networks that show concerns well beyond the humble idea of producing a beautiful print, with issues far more pressing. I consider the collaboration between printmakers, their association, the conservationists and environmentalists and the audience as the actual artwork. It's a work bigger than an individual could possibly achieve. New connections and awareness are forming as the exhibition keeps travelling in time and space.
The exhibition Overwintering: Summer on the Swan was organised on behalf of PAWA by Shelley Cowper and members of the Committee and SERAG founding member Margaret Matassa and Catherine O'Neill.
[1] https://www.theoverwinteringproject.com/