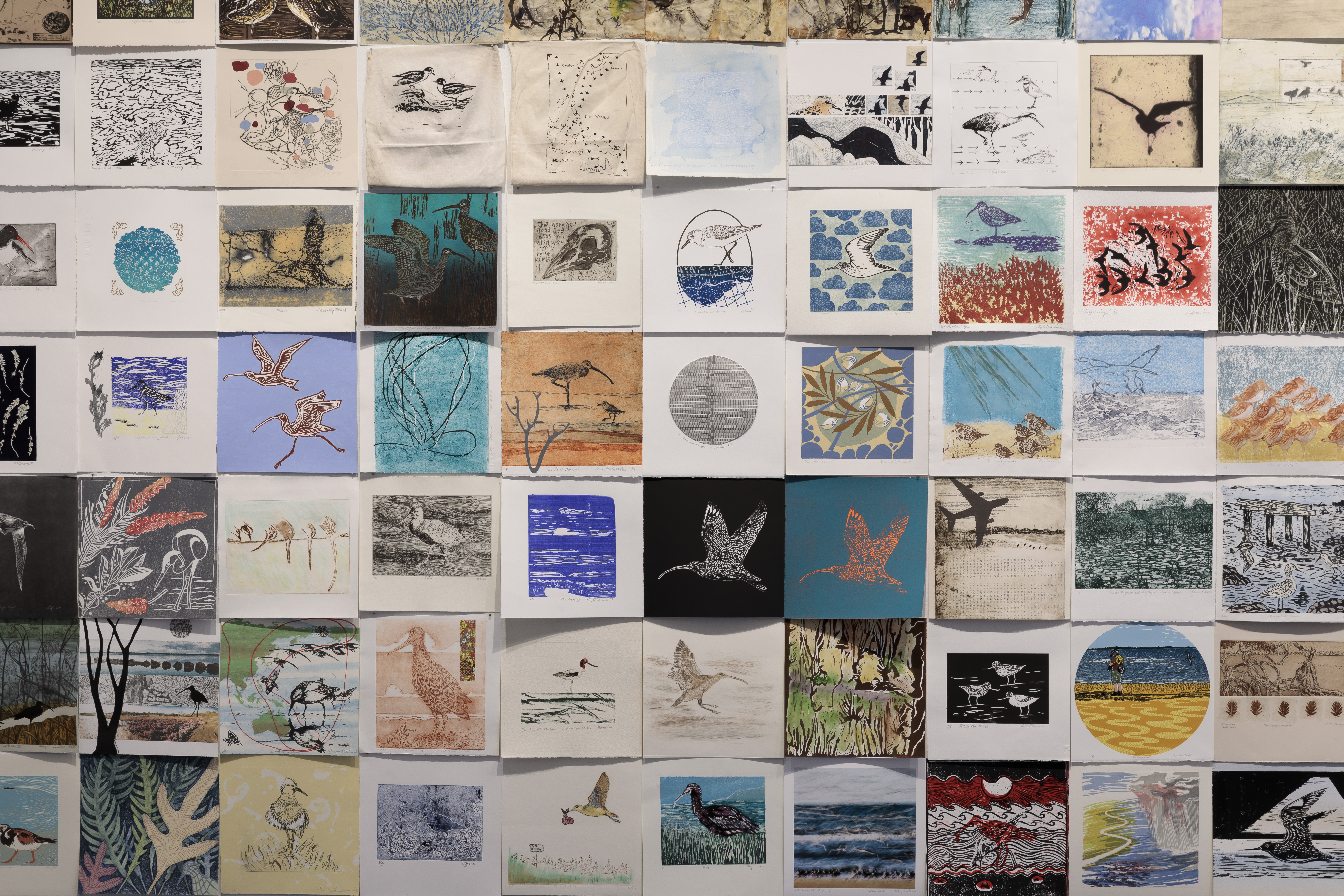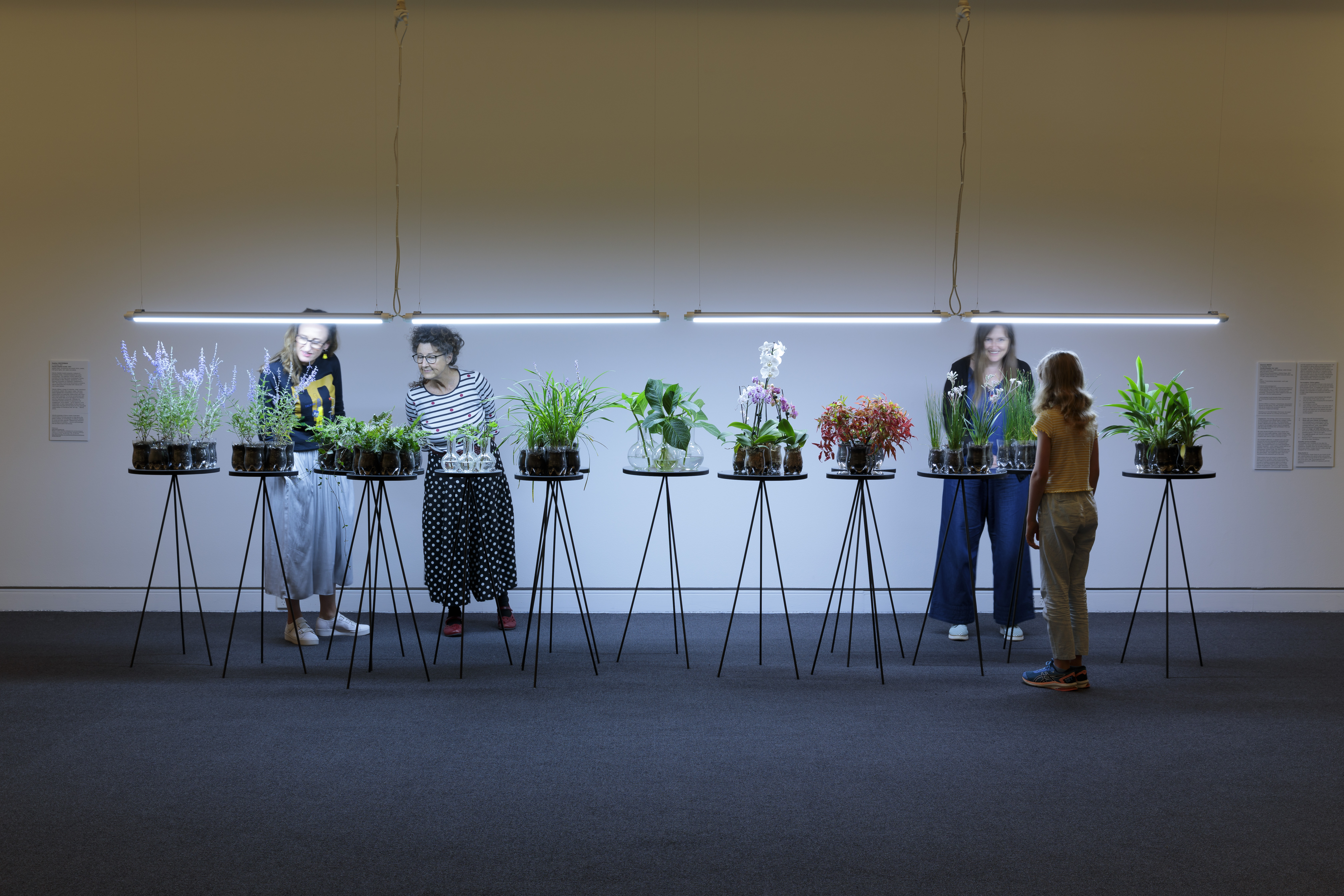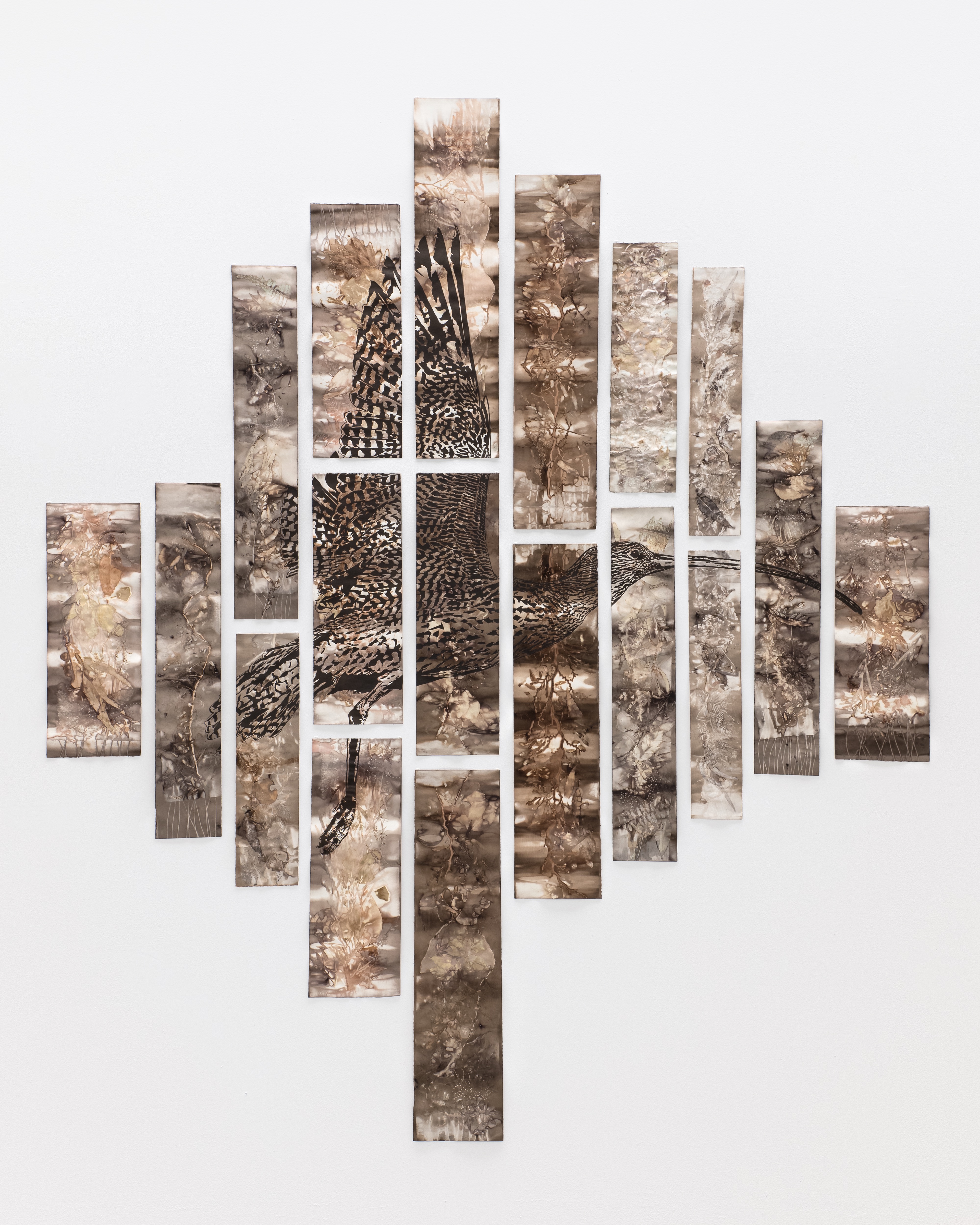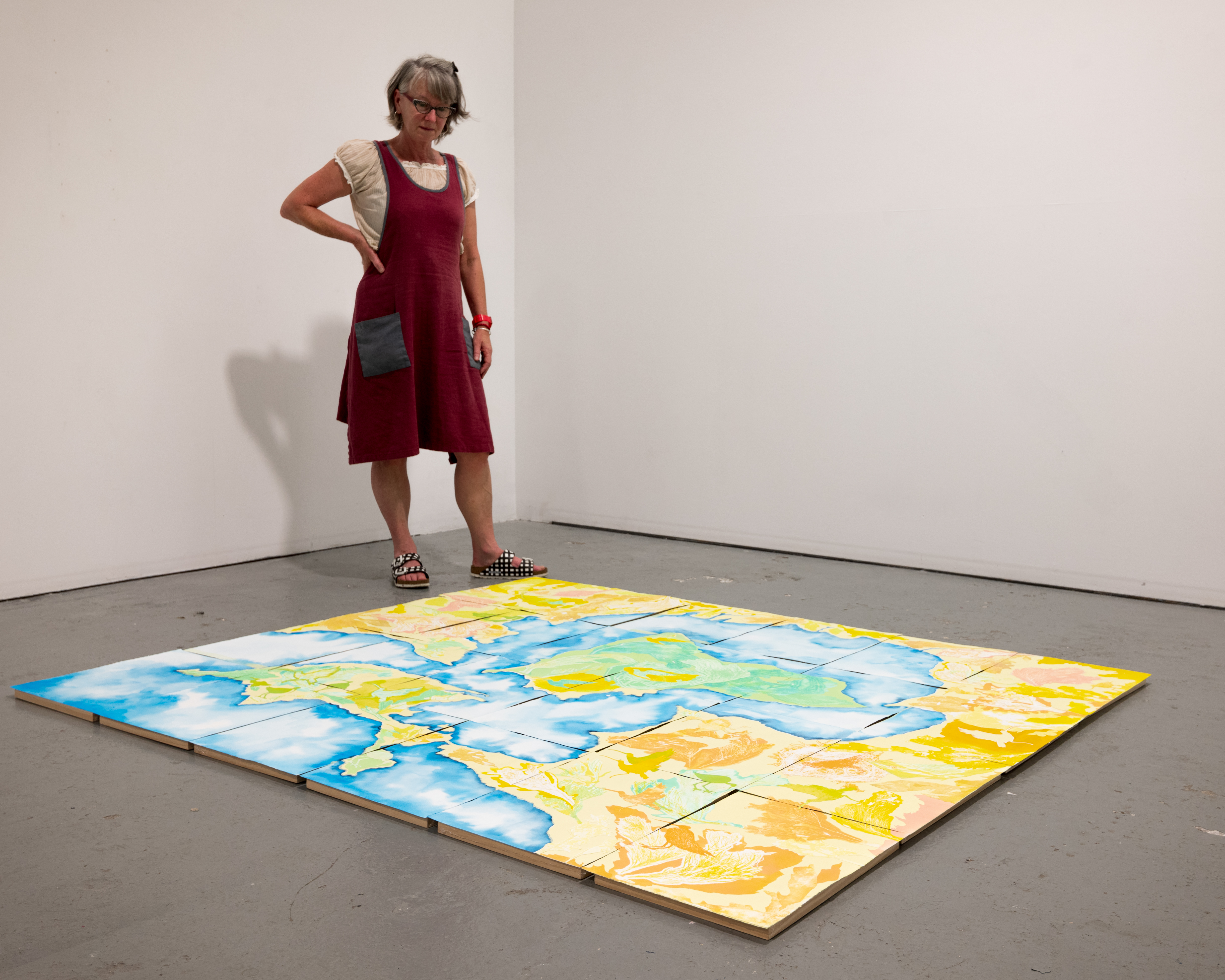 From top:
Gwen Scott, Birdwatcher, reduction linocut, 2020, 28 x 28. Site: Stockyard Point, Jam Jerrup, Westernport Bay, Victoria. Artist's Statement: In late February 2020, Kate Gorringe-Smith had organised a visit to Stockyard Point for numerous artists interested in learning more about the shorebirds of Westernport Bay. It was a beautiful day and we spent many hours soaking up the sun and listening to Roger Standen's (Chair of the Victorian Wader Studies Group) informative talk about the birds on this shoreline. Having done no sketches on-site and only taken a few photographs of birds at a distance that day, I decided to produce a print that reflected the beautiful day and environment with a fellow artist/birdwatcher thrown in!
 The Overwintering Project Print Portfolio. Detail. 2017-2021. Numerous artists and print techniques, prints 28 x 28 cm. The Overwintering Project Print Portfolio is the heart of the Overwintering Project, and is the result of an ongoing open-call for prints made in response to artists' local migratory shorebird habitat. The Potrtfolio currently number over 300 prints by artists from Australia and New Zealand. Next deadline for prints is May 31. Exhibition view. Photo supplied by MPRG.
Heather Hesterman, Islands (habitat model), 2021. Welded steel, cut plywood and acrylic mirror, plastic, LED grow lights, soil, water and plants. Dimensions: variable. Exhibition view. Photo: supplied by MPRG.
Kate Gorringe-Smith, Eastern Curlew, Westernport Icon: I am my Habitat, 2021. Linocut on ecoprinted Fabriano Tiepolo paper, 300 x 250 cm. Photo: Andrej Kocis.
Helen Kocis Edwards, Avian perspective, 2021. Monoprints from flora, watercolor and collage on dutch etch paper and wooden panels displayed as floor piece, 252 x 168 x 2 cm. Photo: Andrej Kocis.
Lindy Yeates, Australian Nature Studies – Sanctuary, 2020. Artists book. Linocut on handmade paper, found paper and tracing paper, collage of pages from J A Leach's "Australian Nature Studies" (1922), ink, watercolour and pencil, post marks and stamps, twine and split pins, 29 x 19 x 180 cm. Back view.
Both migratory and resident shorebird populations in Australia have been considerably declining over the past three decades. Western Port Bay, as part of the East Asian-Australasian Flyway and an internationally significant RAMSAR wetland, is of particular importance to our migratory shorebirds. This includes the critically endangered Eastern Curlew (Numenius madagascariensis) along with dozens of other species. Western Port Bay and the Mornington Peninsula are also home to Victoria's most threatened resident shorebird, the Hooded Plover (Thinornis rubricollis).[i]
Since its beginning in 2017 as an open contribution print portfolio, Kate Gorringe-Smith's The Overwintering Project has aimed to raise awareness on the plight of migratory shorebirds as well as their irreplaceable habitats. It has been exhibited more than 20 times in a wide range of forms and locations, echoing its subject by carving a migratory path of its own across Australia. Each one of these exhibitions, including The Overwintering Project: Western Port, has been developed with the principal intention of fostering connection between the Australian community and the eco-systems that surround and support us.[2]
Kate Gorringe-Smith's latest iteration of the project strikes a careful balance between the ecological light and the dark. It cultivates hope for the future while conveying the very real threat of habitat destruction, presenting the beauty and fragility of the local Western Port ecosystem and pushing back in protest against AGL's gas plans for Western Port Bay.[3]  Every one of the 20 curated artists featured in the exhibition has represented their chosen subject matter with tenderness and honesty, either the birds themselves or the biodiverse habitats that nurture them, with 13 of these artists responding directly to Western Port through their artwork.
On entering the gallery space of The Overwintering Project: Western Port, you find yourself transported into a captivating sensory experience. A plinth of both cast and collected treasures from the ocean rests on a bed of sand in the foreground of a human-sized fragmented Eastern Curlew print. This larger-than-life print is juxtapositioned alongside a life-sized pair of meticulously crafted metal Eastern Curlew wings.
A flock of shorebirds fly in a mesmerising dance on a screen, while others call and sing through the gallery sound system, surrounding you with the hum of birds that are both everywhere and nowhere. In one of the most poignant pieces, experienced in action only at the opening of the exhibition, a shorebird sculpted from frozen paint melts while the artist dances in a representation of grief and loss of home. All that is left behind for future gallery visitors is a skeleton-like wire form, with the bird now disappeared into a pool at its feet.
The exhibition continues on to include poetry, hand-carved wooden sculptures, etchings, linocuts, monoprint, chromogenic print, collage, embroidery, installation pieces, video works, live plants, maps, digital artworks, drawing, photography, a wearable Hooded Plover sculpture, and even a classical music composition. The curated artists who produced these works include Raymond Arnold, Alexis Beckett, Rea Dennis, Hank Tyler, Heather Hesterman, Andrej Kocis, Helen Kocis Edwards, Simeon Lisovski, Beverley Meldrum, Magda Miranda Arnone, Khue Nguyen, Jan Parker, Liz Walker, Cathryn Vasseleu, the Bowerbird Collective, Dominic White, Lindy Yeates, Byron Scullin and Kate Gorringe-Smith herself.
Of course, The Overwintering Project: Western Port features the print portfolio itself, a collection of prints by 260 artists from Australia and New Zealand. Artworks donated the project have been made in response to each artist's local shorebird habitat, in all types of printmaking mediums, and all to the size of 28 x 28 cm. Exhibited on the far wall of Mornington Peninsula Gallery, 306 portfolio prints are presented together in a grid formation that takes up an overwhelming space 10 metres wide and 2.5 metres tall.
Shown in this way the prints come together as a glorious mixed flock of all types of shorebirds, along with their habitats, in both colour and black and white. As an important part of the projects support for shorebird conservation each artist has been asked to contribute two editions each, with Kate Gorringe-Smith being able to offer the second print for sale and so far raising $23,000 for the Australasian Waders Study Group.
As an add-on to the project exhibition at Mornington Peninsula Regional Gallery, the Oak Hill Gallery next door features the Wall of Wings. Shorebird prints contributed from across over the world, all cut to the outline shape of the bird, are collaged across the walls throughout the entirety of the small gallery space and create another beautiful moving flock. This smaller exhibition aims at immersing viewers within the birds, connecting them to the way migratory birds live and move together while overwintering on the shores of Australia.
It is more important now than ever to use the platform of art as a means of relating ecological causes to the public in a way that can reach them on an empathetic (not just scientific) level. This exhibition does exactly that, and Kate Gorringe-Smith has done the migratory and resident shorebirds of Western Port Bay, and their at-risk habitat, justice with this latest instalment of her ongoing project.
The Overwintering Project: Western Port is showing at The Mornington Peninsula Gallery until May 23, while the Wall of Wings is on until March 31.
[i] "Migratory Shorebird Program," Birdlife Australia, March, 2021, https://birdlife.org.au/projects/shorebirds.
[2] Kate Gorringe-Smith, "The Overwintering Project," March, 2021, https://www.theoverwinteringproject.com/.
[3] "The AGL Threat- Fast Facts," Save Westernport, March, 2021, https://savewesternport.org/news/the-agl-threat-fast-facts/.
—
Join the PCA and become a member. You'll get the fine-art quarterly print magazine Imprint, free promotion of your exhibitions, discounts on art materials and a range of other exclusive benefits.