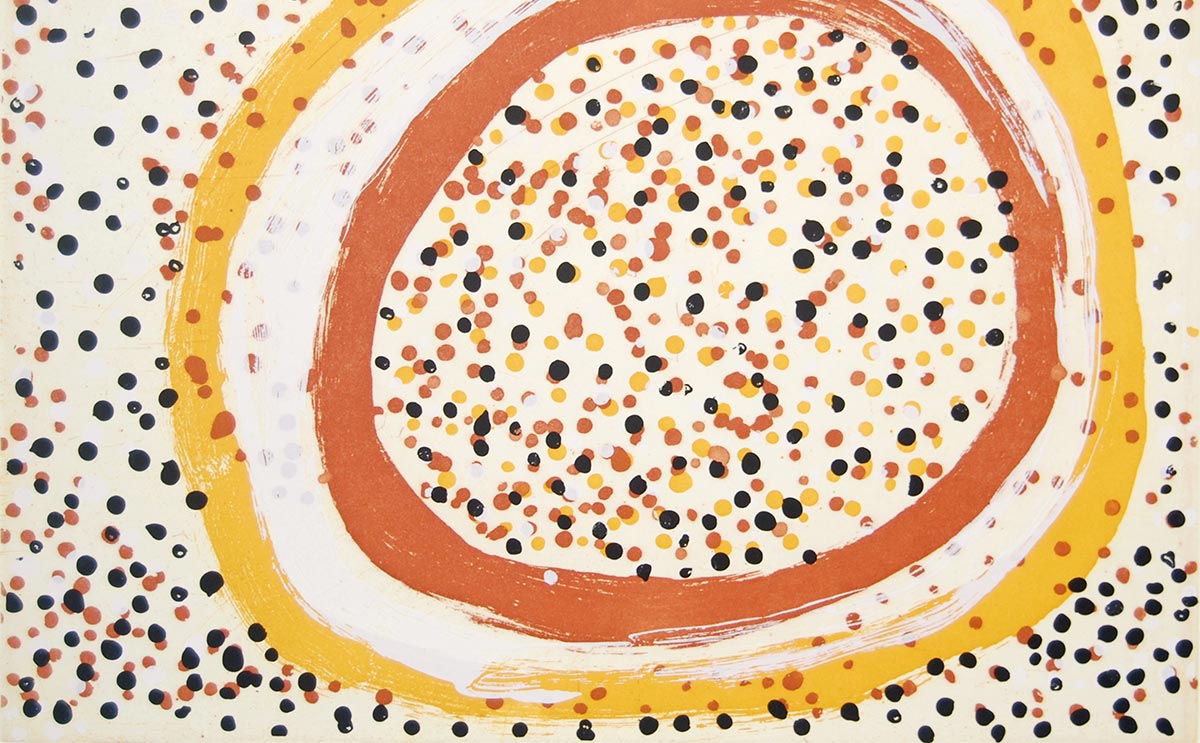 Ngini Parlingarri Amintiya Ningani
(past, present, future)
The exhibition Ngini Parlingarri Amintiya Ningani (meaning past, present and future in Tiwi) presented a selection of original limited edition prints, and mixed works on paper by several generations of artists currently practicing at Jilamara Arts and Crafts, in Melville Island, Northern Territory.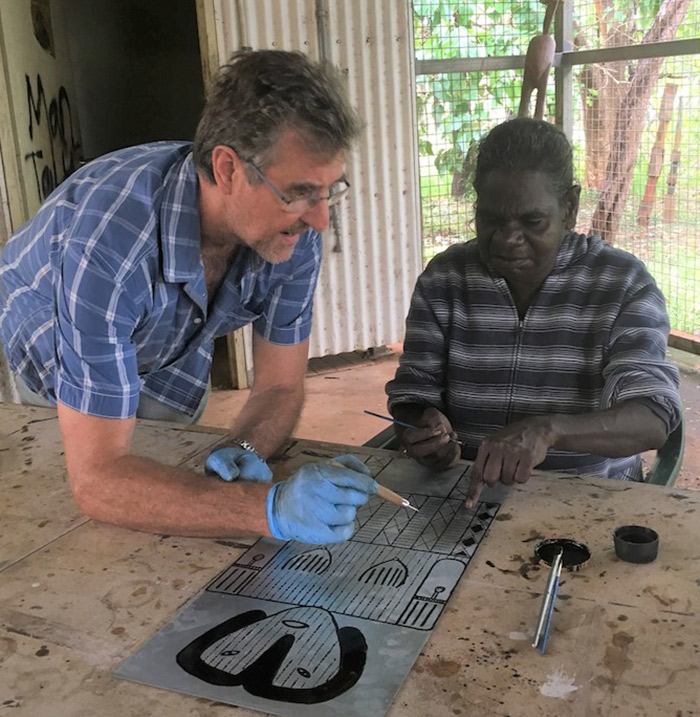 Through funding support from Arts NT, in early 2017 Jilamara took a group of younger and older generation artists from Melville Island to Darwin, to view a selection of the Tiwi art collection held in the Museum and Art Gallery of Darwin, and garner inspiration for a major print workshop. Working in collaboration with senior printer Basil Hall, Jilamara Artists have created a new series of limited edition original prints in the techniques of etching and silkscreen that respond to artworks by Tiwi artists passed.
In December 2017, the Print Council of Australia partnered with Jilamara Arts and Crafts and Collin Place Gallery to present this unique print project in the heart of Melbourne, supported by AMP Capital.
Jilamara Arts and Crafts Association (Jilamara) is an incorporated non-profit, Tiwi owned and governed organisation, established in 1989. Jilamara is located 100 kms north of Darwin, in the remote Aboriginal community of Milikapiti, overlooking the Arafura Sea, on the north coast of Melville Island, in the Tiwi Islands.
The organisation provides access to employment, education and training and is open to all Tiwi people living in Milikapiti and its associated outstations. Jilamara provides professional support to artists in establishing and developing their work in an environment where creativity, innovation and excellence are valued. Furthermore, through the sale of artworks Jilamara generates a supplemental income for its active members.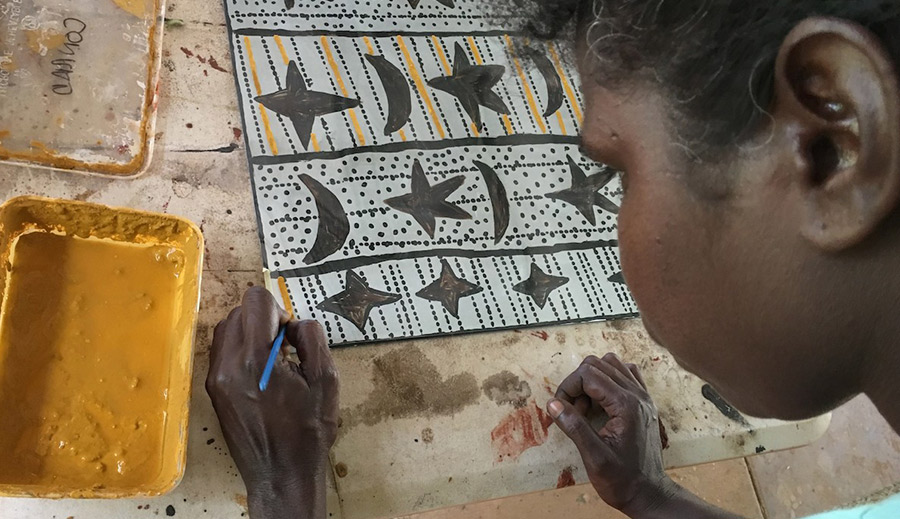 Jilamara artists are renowned for producing contemporary works based on ceremonial body painting designs, clan totems and Tiwi creation stories. Jilamarawhich roughly translates to design, is passed on by family and each artist develops their own particularjilamara.The Tiwi palette of four colours, red, yellow, white and black, is made up of natural ochres to produce paintings on linen, canvas, paper, printmaking, weaving, bark and carved ironwood.
This exhibition is presented by Jilamara Art & Craft Association in collaboration with the Print Council of Australia Inc., with the generous support of Collins Place Gallery and AMP Capital.
IMAGES
Master Printer Basil Hall and artist Janice Murray making the plate for Ningarka etching.
Pauletta Kerinaiua preparing etching plates at Jilamara.
Pedro Wonaeamirri, Timothy Cook and Pauletta Kerinauia exploring the Tiwi Collection at Museum and Art Gallery of Northern Territory
Pedro Wonaeamirri, Jilamara, 2017
Etching with screenprint, edition of 20, 48.5 x 37.7 cm
Pauletta Kerinaiua (JNR), Japarra and Japalinga (Moon and Stars), 2017
Etching with screenprint, edition of 20, 49.5 x 39.7 cm
Timothy Cook, Kulama, 2017
Etching with screenprint, edition of 20, 39.5 x 49.5 cm
Colleen Freddy, Tjurukukuni (Owl), 2017
Hard ground etching printed a la poupée, edition of 20, 29.8 x 23.4 cm
From left. Artists Pedro Wonaeamirri, Johnathon Bush, Timothy Cook, Dr Jacqueline Healy who opened the exhibition, and Michell Woody Minnapinni, artist and Jilamara President.