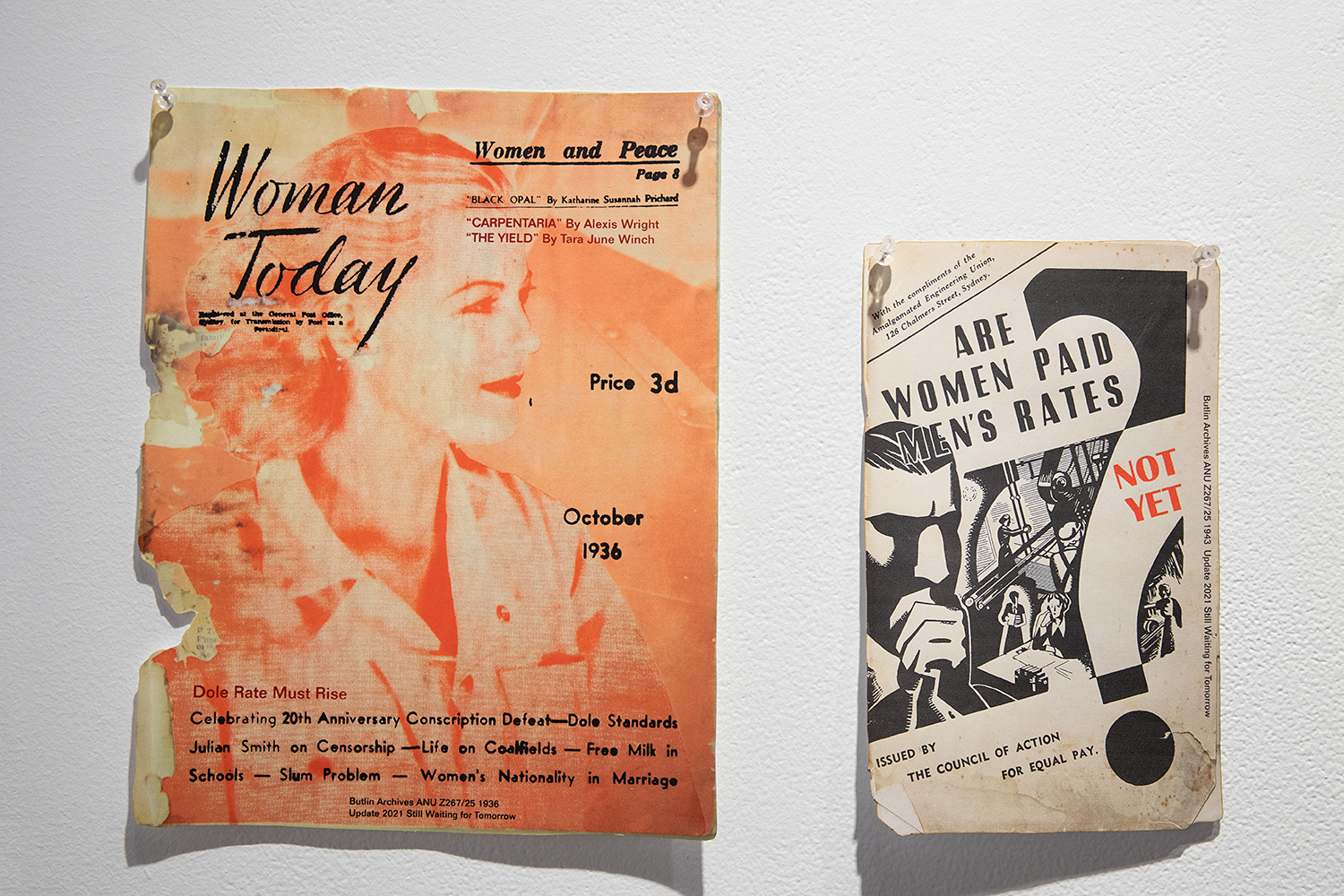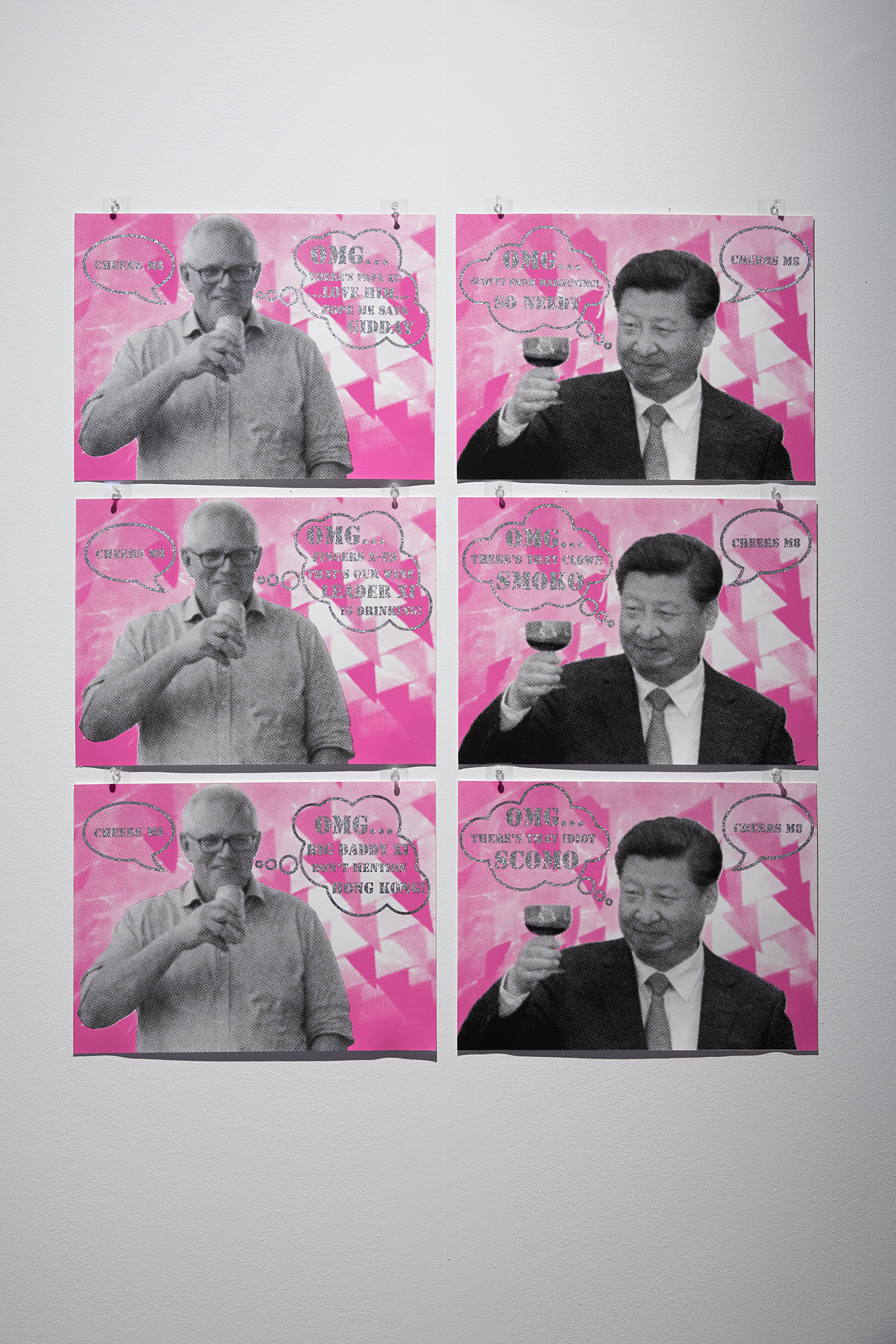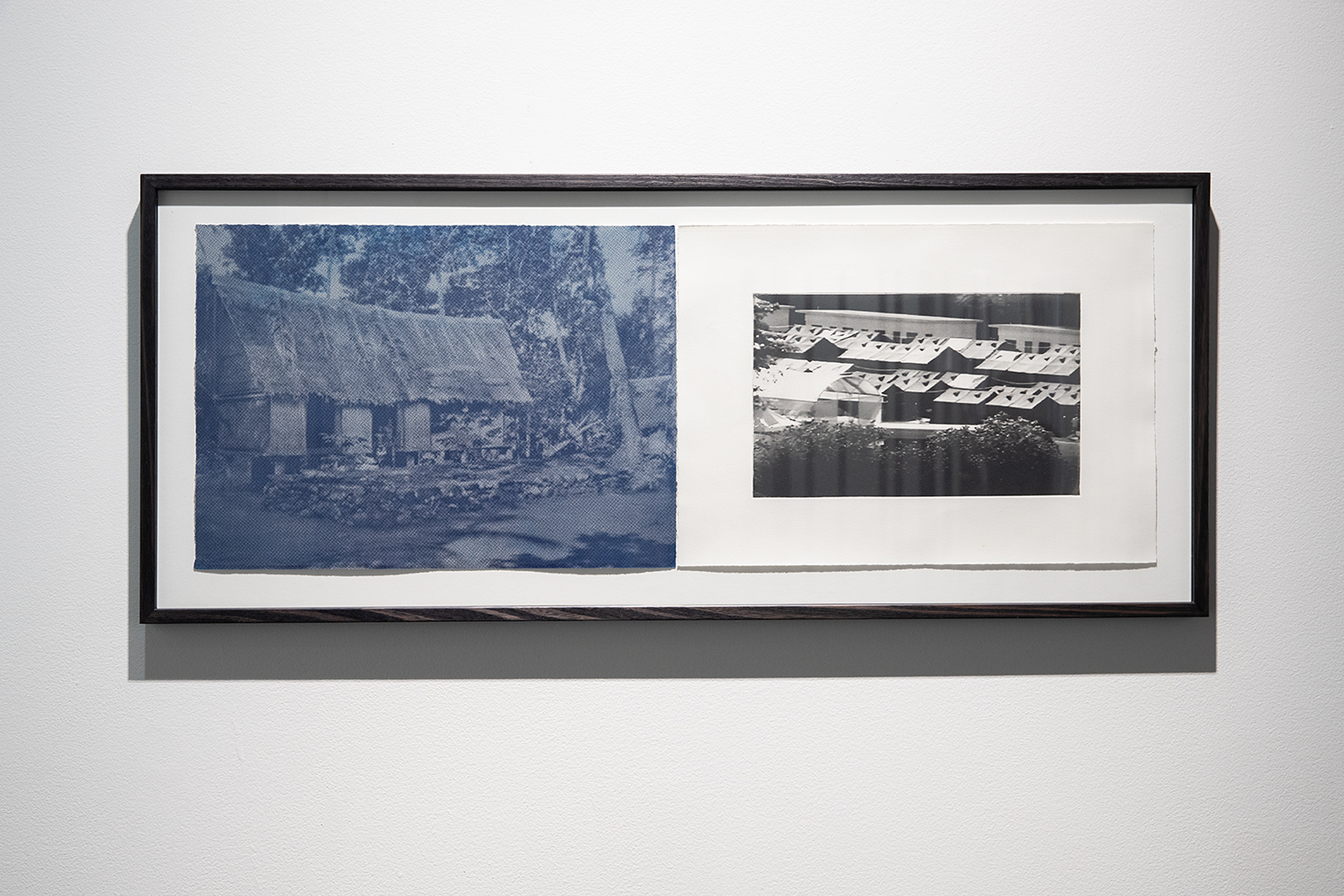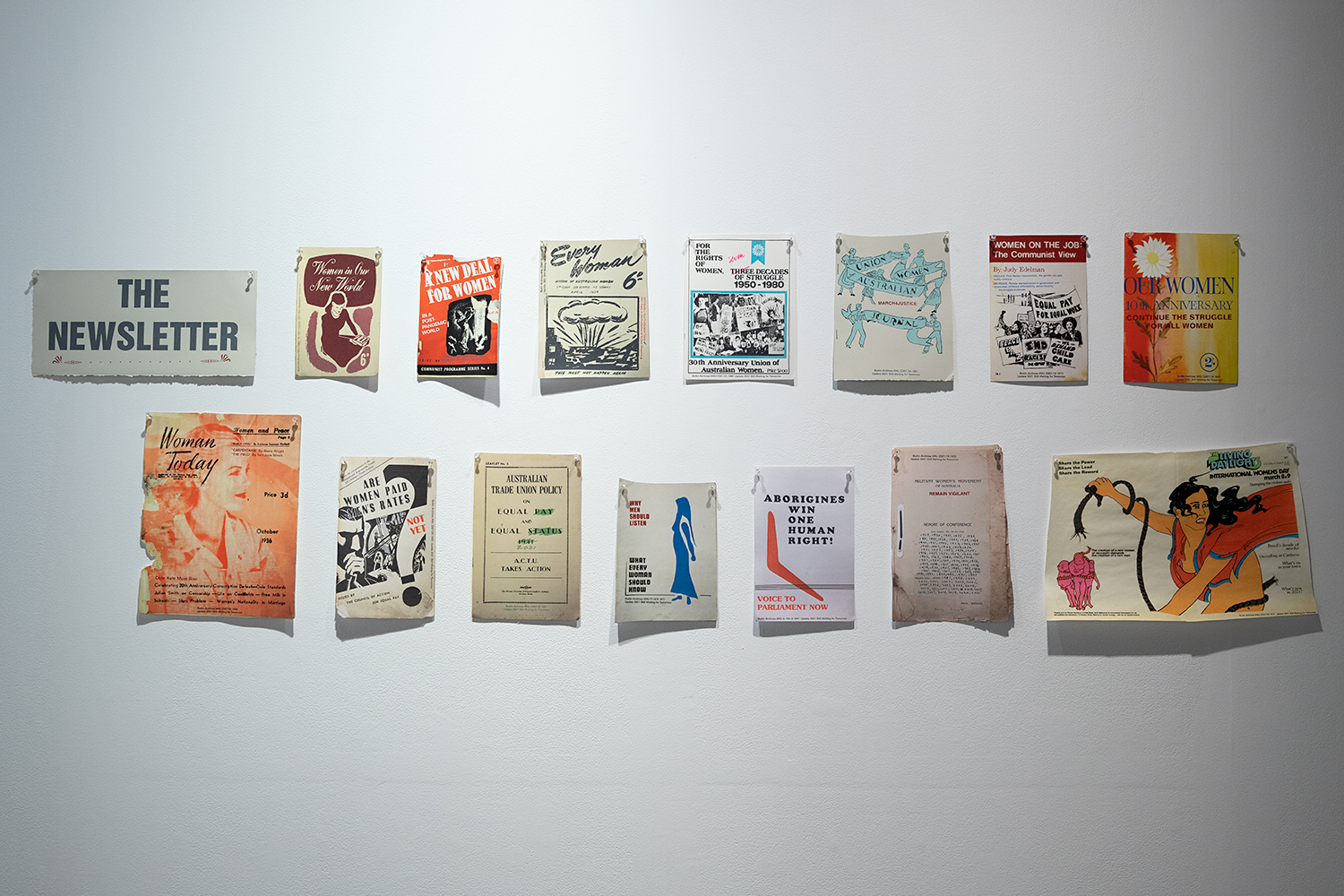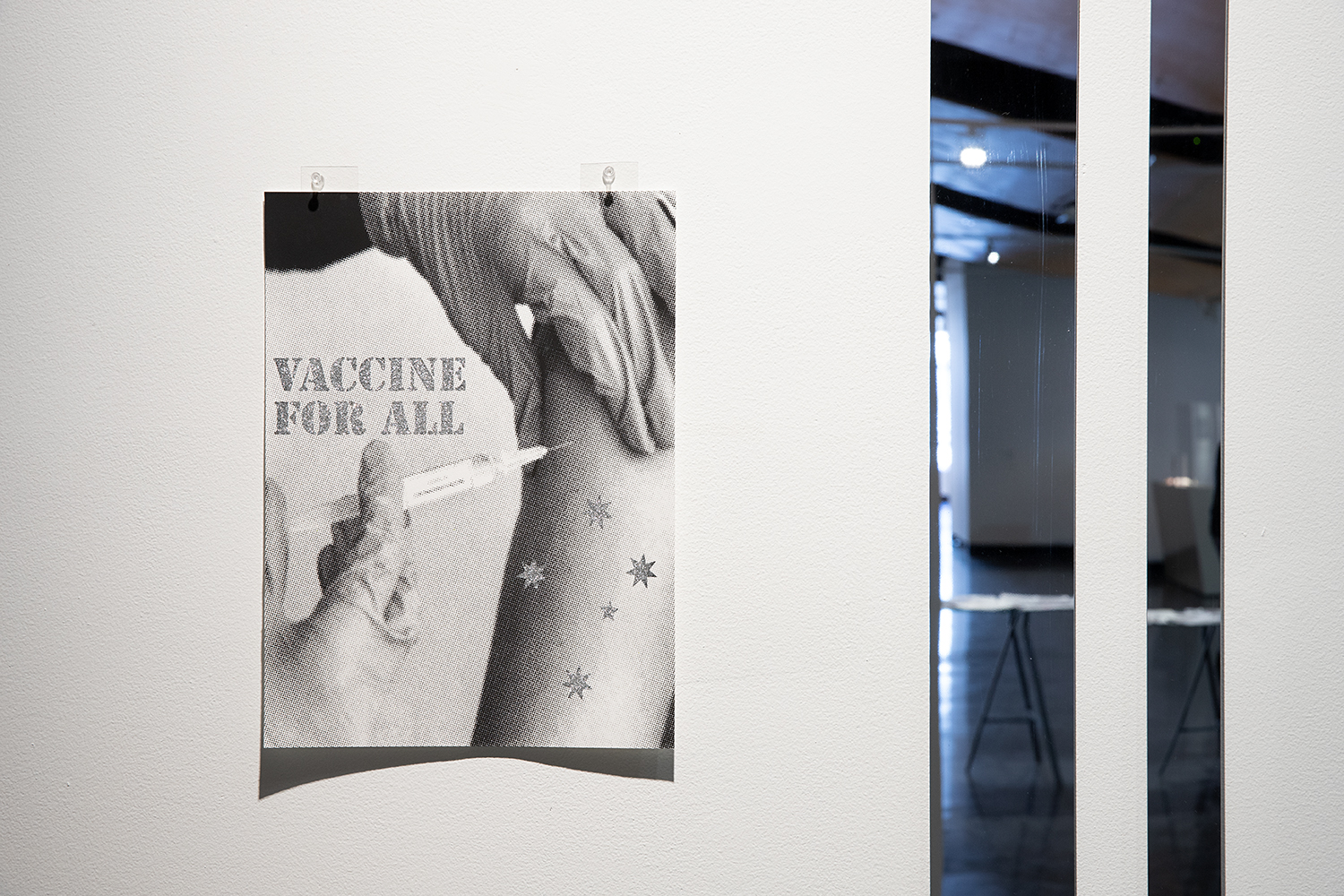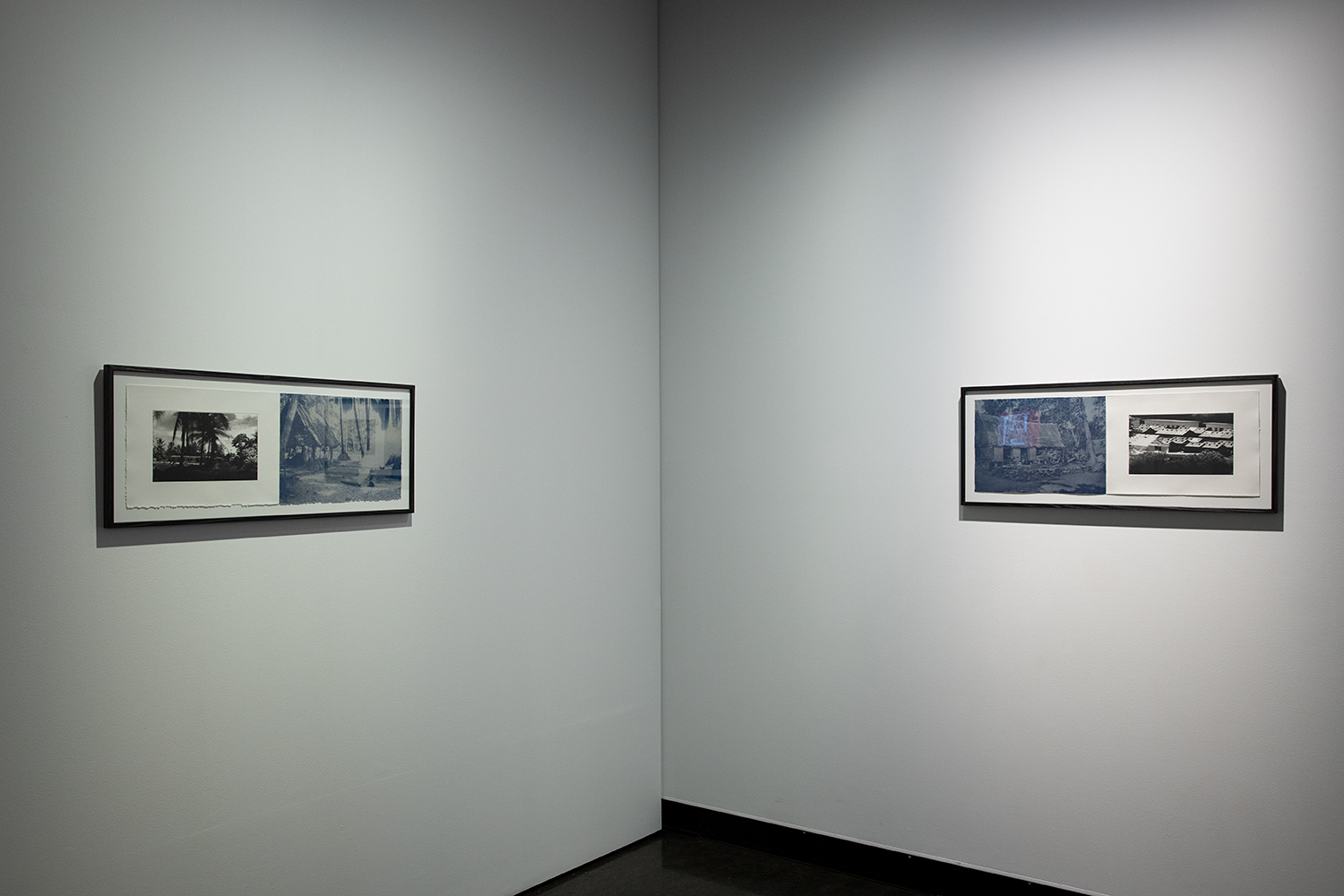 From top:
Alison Alder, Marian Crawford, Richard Harding, Clipped [detail], 2021, glass table, newspaper clippings, dimensions variable
Alison Alder, The Newsletter, 2021, digital/screenprint on paper, in multiple parts, dimensions variable
Richard Harding, Hot Peace, 2021, Screen printed gouache and acrylic ink with glitter, 29 x 39cm
Marian Crawford, Maneaba 1917 / Manus 2017 (1), 2017, photopolymer relief and intaglio prints, Each image 30 x 84cm
Alison Alder, The Newsletter, Digital/screen print on paper, in multiple parts, dimensions variable
Richard Harding, COVID Nationalism, 2017-2021 Acrylic mirror strips, screenprinted gouache, acrylic ink with glitter (DETAIL), barcode: 200 x 930cm with print 39 x 29cm
Marian Crawford, Smoke 1917 / Manus 2017 (2), 2017 and Maneaba 1917 / Manus 2017 (1), 2017, photopolymer relief and intaglio prints, each image 30 x 84cm
Photography: Clare Rae
Q: What were some of the foundation ideas for this exhibition project?
A: Newspapers present us with an abundance of information, the on-line news-cycle presents us with the same, but artworks still this cycle, and maybe slow the relentlessness to make a space for a different type of reading.
Using newspapers, online and free-to-air TV broadcasts as a methodology for making creative work we (Alison Alder, Marian Crawford and Richard Harding) create intersections between original news reports and what is re-presented in artworks to create an alternative visual experience. Our artworks intersect conceptually through the prisms of feminism, human rights, environmental and social justice issues, and technically through innovative use of printmaking processes.
Q: How did the artwork selection take place?
A: NEWSROOM as a whole has been collaboratively made, even though our works are individual, with long conversations about our intentions and interests. As a network we discussed how the movement of information from various means and voices has changed with advent of the Internet. We considered how the makeup of a 'newsroom' had changed and expanded in recent times.
Each of us reconfigured a past artwork that related to our exhibition premise with the creation of a new artwork. We then collectively constructed the artwork titled Clipped (2021) with selected newspaper items.
Added to this we have recently been writing a text together, to explore the impulse or desire for a utopian future, so that thinking has also drawn us and the works for the show together.
Q: How does the exhibition manifest – what do visitors experience?
A: NEWSROOM has been installed in Gallery 2 at the Counihan Gallery in Brunswick. This large space is divided into two sections. As viewers enter the space they encounter a long glass table with newspaper clippings spread over its surface. The clippings come from the three artists' collection of news items sourced over several years. To the right is a dual monitor video work, Newscrap (2018), by Alison Alder and a set of unique state screen prints created by Richard Harding titled Hot Peace (2021). To the left are framed print and letterpress artworks collectively called A Blizzard (2021) by Marian Crawford, which cover two walls. the third wall in this space presents Alder's The Newsletter a re-contextualised set of images taken from historical and alternative news sources. Moving into the second space, Crawford's Maneaba 1917/Manus 2017 and Smoke 1917/Manus 2017 (2) face Harding's COVID Nationalism (2021) made up of a screen printed vaccine didactic and mirrored barcode heralding border control.
Q: What are some of the key works and what subject matter do they deal with?
A: Alder's work The Newsletter (2021) analyses artwork printed onto twentieth century ephemera, and animates the history of women's activism to imagine an optimistic and resilient future through the development of new creative work.
Newscrap (2018) records Alison's obsession with collecting images of political figures from, in this work, major newspapers in both Australia and the USA. Her work can be read as an homage to the political figures represented in the work or, conversely, as a denouncement of their policies and personalities. It is up to the viewer to decide their position – as it is when readers/viewers select which news to read, decode and accept.
Crawford's A Blizzard (2021) 15 small pieces of text referencing a long sentence taken from Polish author Olga Tokarczuk's 2009 novel Drive Your Plough Over the Bones of the Dead are interwoven with 5 works that juxtapose abstract patterns and a text taken from a reference from Walter Benjamin. The works with images have all been folded before printing, in a pragmatic shrinking to fit a small press, but also to imitate the folds of a broadsheet newspaper, with its large pages that need to be managed to be read. This colourful salon hang creates a blizzard of signs, a substitute newspaper, for viewers to navigate and read.
Harding's COVID Nationalism (2021) reconfigures a past artwork, Border Control (2017) into an L shape mirrored corner within Counihan Gallery 2 accompanied by a screen printed visual didactic. Here he combines disparate materials and processes to comment on ongoing border closures with vaccine hording and trading at home and around the world.
Hot Peace (2021) repositions individual images of Scott Morrison and Xi Jinping on separate prints in a background of pink bunting; cross referencing Richard's Pinkwashing (2018). Seemingly toasting each other; the thought bubbles in glitter tell another story. This relationship spoof was inspired by watching news telecasts of the pair greeting each other at events on the world stage matched with the declining trade relationship between Australia and China over 2020 and 2021.
Q: What is it about the printmaking experience that you most appreciate?
A: AA: In NEWSROOM Harding, Crawford and Alder reflect, denounce, enlarge and celebrate the power of the printed image and its impact on how we see ourselves through the prism of the news.
MC: The process of making a print that I find most exciting is lifting the print from the matrix after running it though the press. this always reveals a surprise, and it is this surprise that for me is optimistic, and hence (maybe) utopian, one of our favourite topics, envisaging a happy future.
RH: From my initial introduction to printmaking I have been enamoured by the democracy of print processes. Employing its reproducibility and varied aesthetics to explore alternative narratives, personally, culturally and politically.
—
NEWSROOM is at Counihan Gallery in Brunswick until 18 July
https://www.moreland.vic.gov.au/events-recreation/arts-and-gallery/counihan-gallery-in-brunswick/counihan-gallery-exhibitions/newsroom/
https://www.facebook.com/counihangalleryinbrunswick/
—
 Join the PCA and become a member. You'll get the fine-art quarterly print magazine Imprint, free promotion of your exhibitions, discounts on art materials and a range of other exclusive benefits.