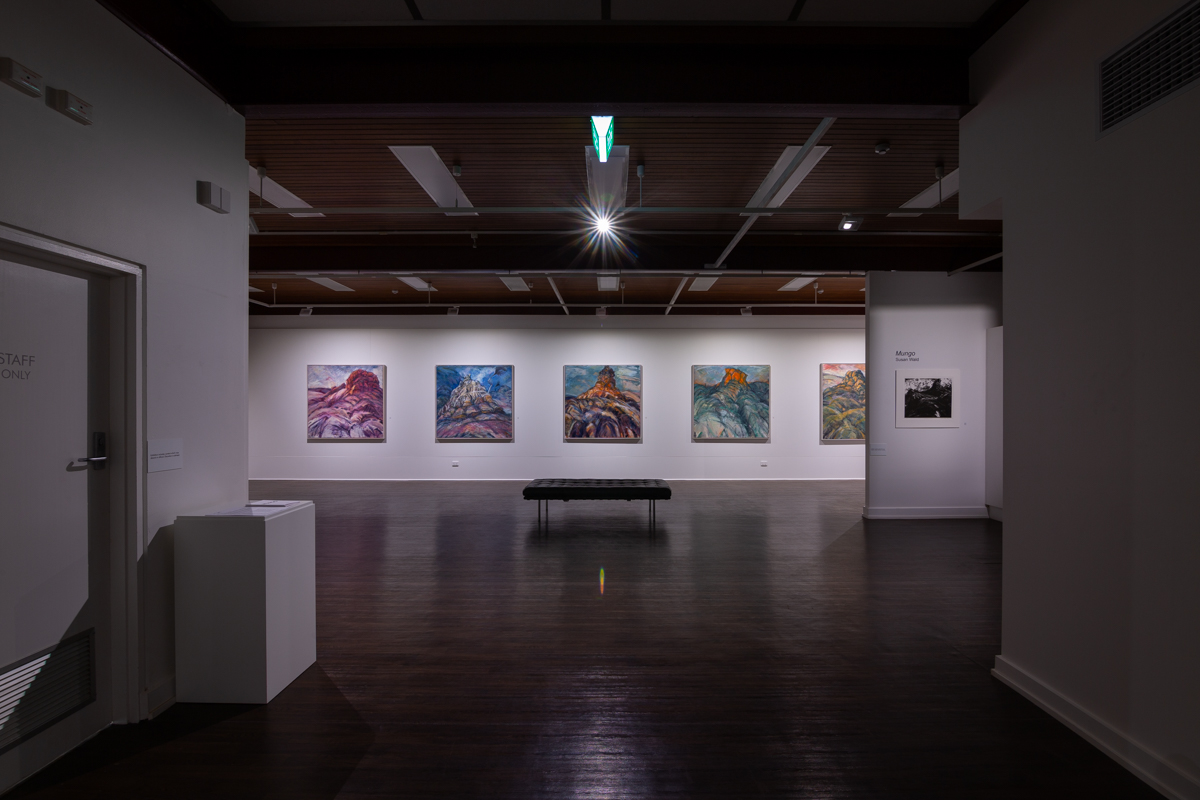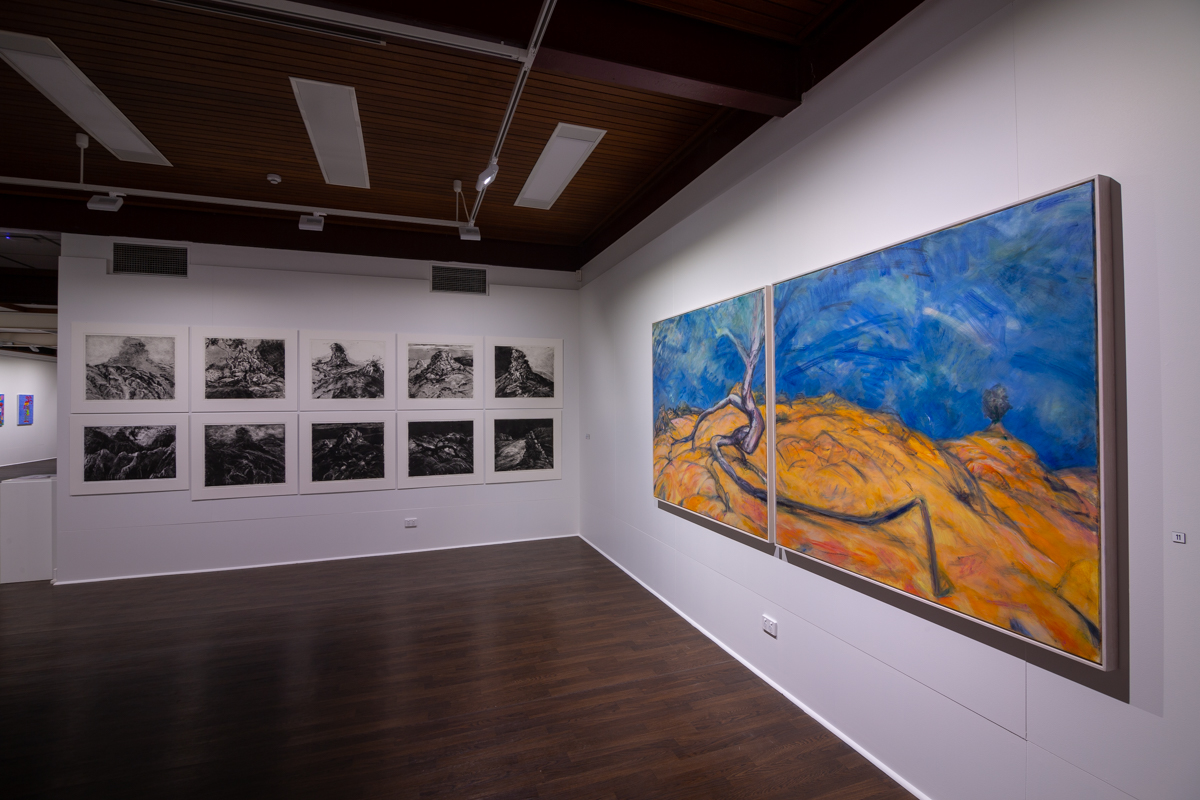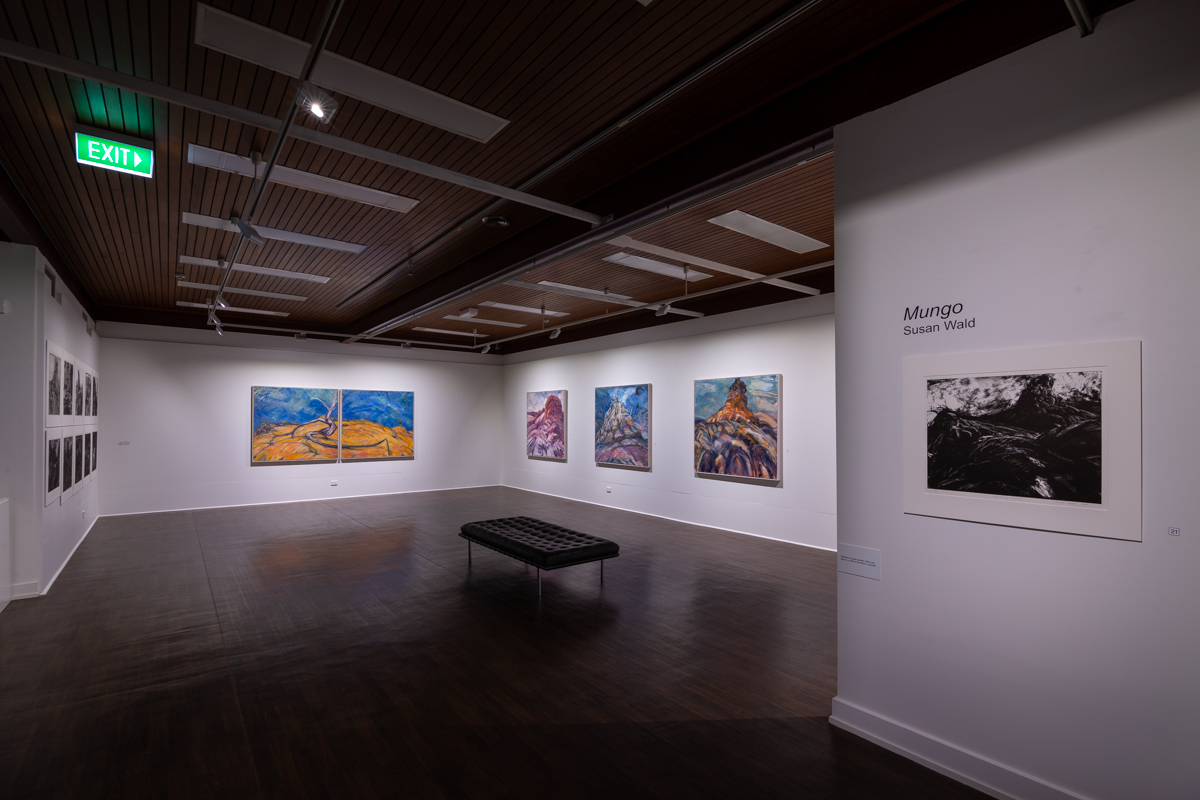 From top:
Susan Wald in her home working space; works from her Mungo series.
Q: What are you working on at the moment, or recently, and what are the ideas that lead to the work?
Spending time at Lake Mungo I felt an urgency to try and record my feelings and responses to this land; both the beauty and the pain. Despite its history of bloodshed and decimation, the land has continued to give. This was the seed that this body of work grew from.
The monotypes in my current show Mungo paintings and prints, now online at the Mildura Arts Centre, are taken from a series of over thirty made at my residency at The Art Vault in Mildura. The residency occurred immediately after my first trip to Lake Mungo where I did initial drawings and took photographs. I used this information and my memory to make these prints.
Made on a perspex plate, a roller was used to cover the plate in ink. I wiped the plate with an assortment of tools and rags, added and took away until I felt the image equalled as much as possible my response to the land. Then I printed a darker first image. I was left with a ghost image on the plate which I then proceeded to draw back into, mostly with brushes and ink.
I have always worked with black ink and for my show I included ten black and white monotypes and my Australian Print Council Print Commission lithograph. The prints informed the paintings, but I now had the added challenge of tackling colour and size. I began with paintings the same size as the prints, then progressed to the larger works. My aim being to have a body of work that was able to penetrate deeply into my experience and response to the land.
Whilst in Mildura this month for the opening of my exhibition I did my fourth residency at The Art Vault where I experimented with colour monotypes of Lake Mungo. Most of these colour prints didn't work. But finally in the last couple of days I began to see a glimmer of something that I hope to develop. I am also working on a large painting that was close to completion when I left Melbourne for Mildura.
Q: Please reflect on the nature of your working space – maybe some history, why you chose it and what it is that you like or don't like about it?
For the past ten years I've had my studio at home, which I love because I can work at any time of the day or night. For the first six or seven years I had a room up stairs; I had covered the windows with brown paper and used artificial lighting to light my subjects. A few years ago I made the decision to demolish two bedrooms in order to enlarge my studio. It's now a wonderful light filled space that occupies almost half the house. It changed my work which became larger and freer. I have storage, a section of the studio for drawing and printing and one for painting. I feel very lucky.
Q: How are you going with the social isolation?
The solitude to work is one of the only good things about this crazy and difficult time. I find myself doing things I would never dream of, like washing everything that comes into the house with soapy water! Though I miss spending time with my family and friends I'm trying to remain positive, working in the studio and listening to music. Taking my dogs for a walk in the park each afternoon and only leaving the house for essentials is now a way of life.
Q: What are your plans for a future project or two?
At the moment my plan is to keep painting and making prints from Mungo. My show was to continue until 3 May but now has a life online as a virtual tour at the Mildura Arts Centre website, a video on YouTube and social media. I'd like to bring my exhibition to Melbourne after all this is over, so it can have a physical life. I am grateful to at least have had an opening and the opportunity to document my work before the doors closed.