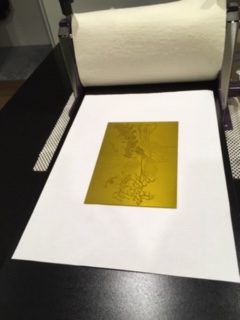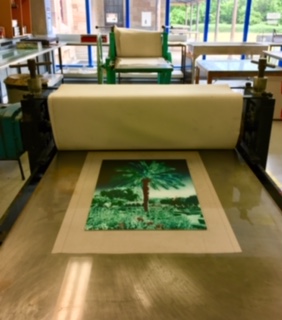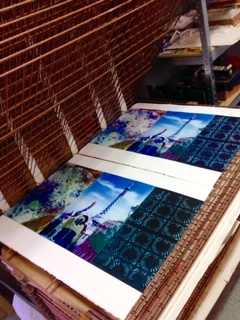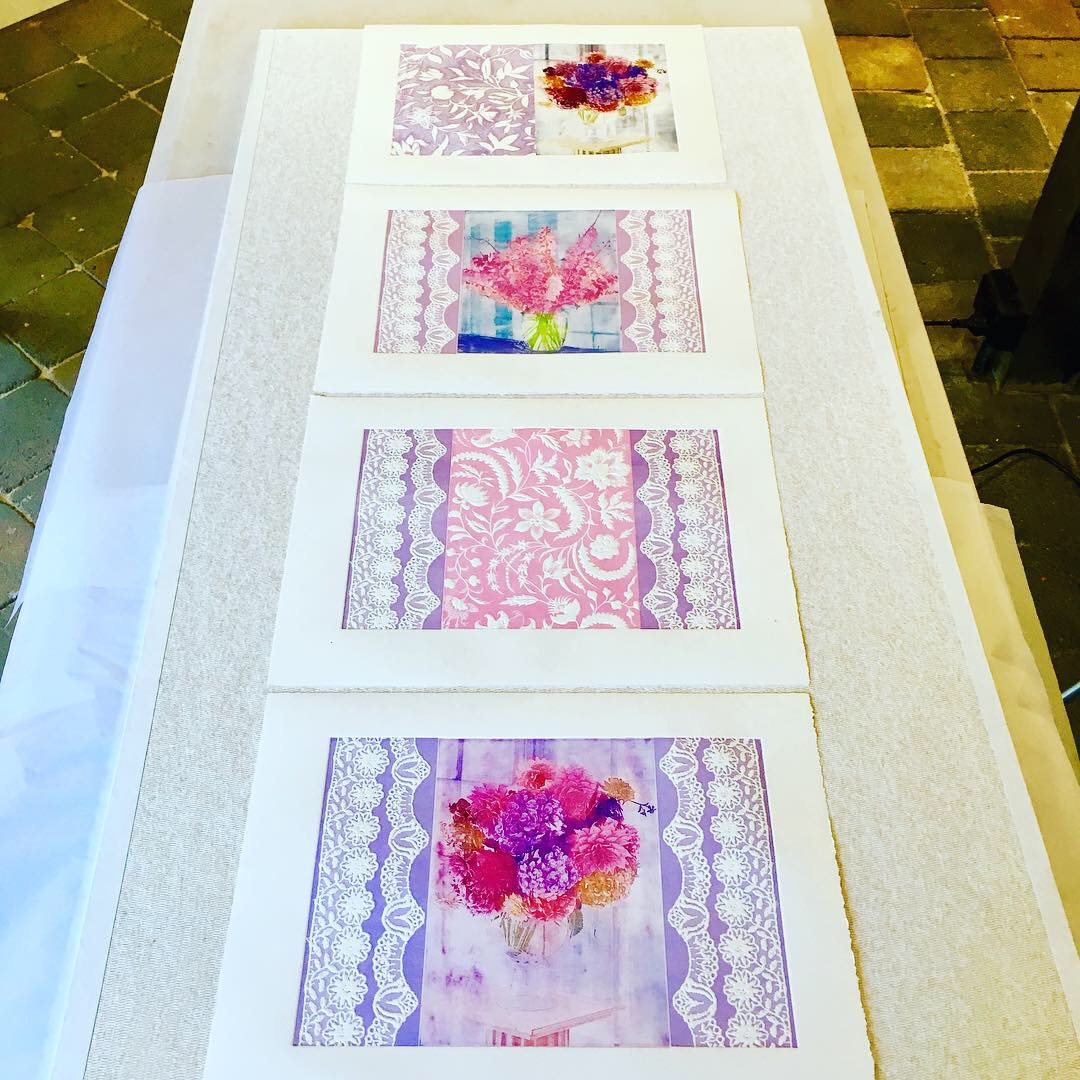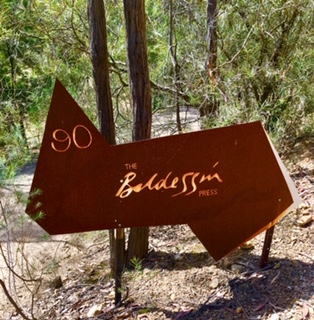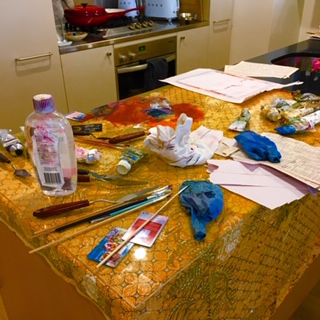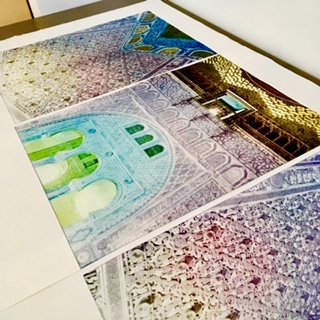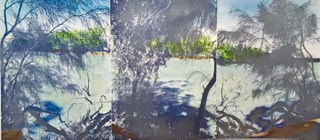 From top:
At Australian Print Workshop during a residency in 2013
Printing at Sydney College of the Arts (SCA) in 2017
Editioning at SCA where I was able to work in their Professional Artists access program 2017
Doing a residency at Baldessin Press 2018
The welcoming sign at Baldessin Press just outside of Melbourne where I have stayed and worked on many occasions.
Printing with my Enjay RP12 press in my apartment in Sydney
Inking up on my kitchen bench in my apartment
My print Alhambra Palace currently on exhibition at May Space gallery in Sydney was printed at the Art Vault in Mildura during my residency in October 2019
Troubled Waters-the Darling River is my latest print and was inspired by my recent residency at the Art Vault where the confluence of the Murray and Darling rivers are close by in town of Wentworth.
Q: What are you working on at the moment, or recently, and what are the ideas that lead to the work?
My most recent print is a large triptych called Troubled Waters-the Darling River that was inspired by a residency at the Art Vault in Mildura last year, with Mildura being close to the confluence of the Murray and Darling Rivers. This print was meant to be in Sydney Printmakers In the Shade exhibition at Gallery Lane Cove opening 1 April 2020, but due to the COVID-19 shutdowns the exhibition has been postponed. This exhibition is due to travel to Glasshouse Port Macquarie Regional Gallery in August, but we are not sure whether this will proceed as planned.
Q: Please reflect on the nature of your working space – maybe some history, why you chose it and what it is that you like or don't like about it? 
I am a Sydney-based artist and have lived in this busy, stimulating and very expensive city all of my life. I love living in Sydney, being close to galleries, theatres, cinemas and enjoy an active social life that a major city offers. I also have employment opportunities, that is teaching printmaking classes in many art centres and studios that are well attended. However, the downside to living in Sydney compared with smaller cities or regional centres is the high cost of living. Real estate and rents are very high so I simply can't afford a studio. So how do I create art, especially my prints? Well, I have been very lucky over the years to have access to many wonderful, well-equipped studios that offer not only large etching presses and good printmaking equipment, but also communities where creative like-minded friendships flourish.
I have been a member of Warringah Printmakers Studio, situated on the Northern Beaches area of Sydney, for around twenty years using the facilities on offer to members, and I have been teaching printmaking classes there for many years.
I was also fortunate enough to have access to Sydney College of the Arts (SCA) where I accessed as a professional artist using the amazing Printmedia studio, befriending many young upcoming printmakers over the years. (That studio is currently moving campus and access is not available.) Personally, I find these access studios and the printmaking communities very inspiring offering opportunities that would not exist in a studio where I work alone.
Another important way I manage to extend my printmaking practice is by doing artist residencies in various studios around Australia and overseas. Art Print Residence just outside Barcelona in Spain is one of the best privatel- run studios I have ever worked in, and I highly recommend this experience to Australian printmakers. It is already very popular with Australians having had residencies and workshops run by many locals, including Silvi Glattauer, Barbie Kjar and myself.
Baldessin Press's studio, built by legendary printmaker George Baldessin before his untimely death in 1978, is just outside of Melbourne and is another studio that I visit and work at regularly. I have spent many hours creating prints in a friendly supportive environment.
In 2013 I did a three-week residency at Australian Print Workshop in Fitzroy, Melbourne, which was a great honour and opportunity. I lived in the apartment upstairs and worked in the studio downstairs and found this to be one of the most productive residencies I have ever done. I was offered an exhibition a few months later with other resident artists who had participated in this program.
Lastly, the place I keep returning to and have done many residencies and had many exhibitions at is the Art Vault in Mildura. I have completed five residencies over the years and find this nurturing, supportive place a refuge, having spent much time there creating many of my prints. The Art Vault is like a big creative family where I have my place among some of Australia's finest printmakers. I have been very fortunate to have had these opportunities to work in these wonderful studios and I find I appreciate those times I can throw myself into my creative practice without having my own proper studio.
I do however have a small Enjay press, so I can actually print at home now in my apartment. Naturally, I must be very careful not to make a mess and am restricted to doing small prints (I can print on a 1/4 size piece of printmaking paper 28 x 38cm). However during this COVID-19 shutdown where it is impossible to access any studio I am happily working away at home. The very new Enjay RP 12 press is a small portable etching press that I can set up on my kitchen bench and print. When I'm finished printing I can put it away in a cupboard. Living in an apartment is very restrictive, so being able to actually use this small press in a domestic space is great. Who knows how long before studios are able to open again, so I am very grateful to be able to continue printing at home even though it is on a small scale and I'm finding it very satisfying. Whether I am working on a large scale in a well-equipped studio or creating smaller prints on my kitchen bench, I feel fortunate to be able to continue my printmaking practice.
—
Join the PCA and become a member. You'll get the fine-art quarterly print magazine Imprint, free promotion of your exhibitions, discounts on art materials and a range of other exclusive benefits.