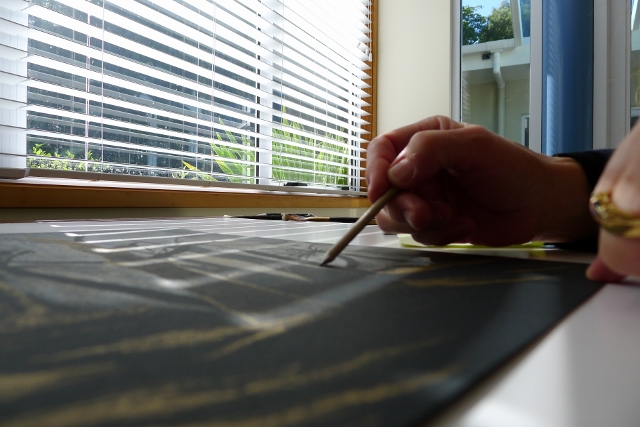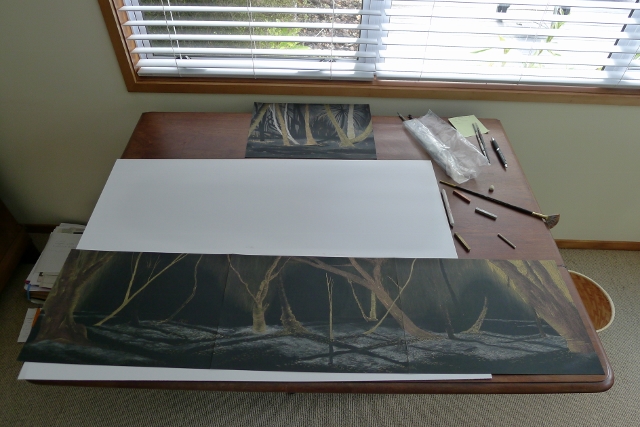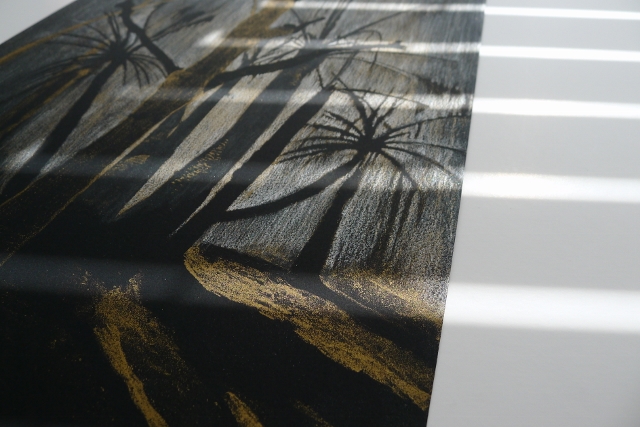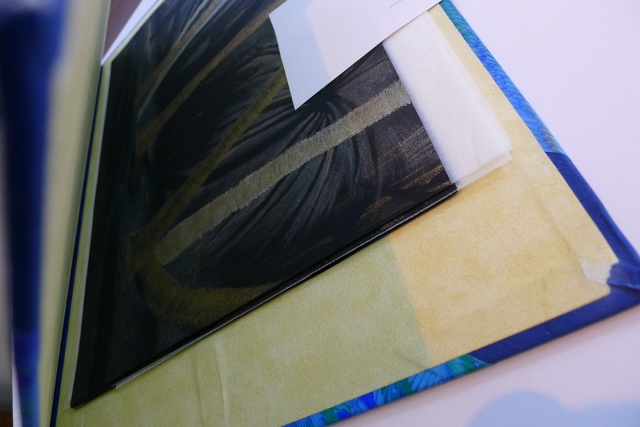 From top:
Sue Cooke at her work desk.
Applying chalk pastel.
Ash and Leaves (in progress).
Work in progress.
Completed works placed in protective folder.
Q: What are you working on at the moment, or recently, and what are the ideas that lead to the work?
I'm continuing to work on the series Silva Inferno. This series is a further exploration of my work around deforestation. The lithography and chalk pastel combination are my response to visiting the Millstream-Chichester National Park, in the Pilbara Region of Western Australia. I was there in June 2019 after a controlled burn while the ash was still hot and the logs still smoking.
Q: Please reflect on the nature of your working space – maybe some history, why you chose it and what it is that you like or don't like about it?
With New Zealand on Level Four alert for COVID-19 I am currently forced to work from home. It is illegal here to take any non-essential car or bike trips or for non-essential businesses to operate. We must stay local and in our bubble! My usual work space is a studio and gallery in a 1912 triple-brick building in the CBD area of Whanganui. The studio space has grown with my needs over the 35 years I've been a full-time practising printmaker and is now fully set up including an etching press, a lithography press, an inking up room and an acid shed.
I'm now in a makeshift studio in the entrance hall of our home using my daughter's old homework desk as a table. I feel lucky on two counts. One, I am not in the middle of a large-scale project that requires the space and the presses; and, two, I have had the lithography portion of the artworks printed for a few months now enabling me to use the technically simple drawing with chalk pastel to complete the images.
I don't like working from home as a rule as I find I get easily distracted with gardening, washing and cleaning but I am putting in place work hours, time for exercise, evenings and weekends to give my life structure. As time goes by it is getting harder and harder to stick to a routine but I am still trying.
Q: How are you going with the social isolation?
So far so good. Isolation is not an issue as I do spend large chunks of my working time alone, focusing on my work, as the gallery is only open in the afternoons. I usually have Radio New Zealand National (similar to your ABC) playing but with the incessant discussions around COVID-19 I'm finding that too depressing. Instead I am enjoying the peace and quiet and the birdsong of our indigenous Tui, fantails and the whoosh of the wings when a Kereru flies past. My husband is in isolation with me and is good company. He's doing a little bit of work remotely plus stacking firewood and gardening.
Q: What are your plans for a future project or two?
COVID-19 has turned the world on it's head. I am hoping the Silva Inferno exhibition at PG Printmaker Gallery in Melbourne will proceed as planned in June but like everybody we will just have to wait and see. I have another large project waiting in the wings but with a potentially shaky economy I am not sure if I should commit at this stage. If not I will proceed with a desert series; over the past three years I have amassed an extensive suite of desert drawings from New Zealand's only desert the Rangipo in the Central Plateau of the North Island and the Kimberly and Pilbara Regions of Western Australia. Conceptually this series will be part of my work around deforestation.