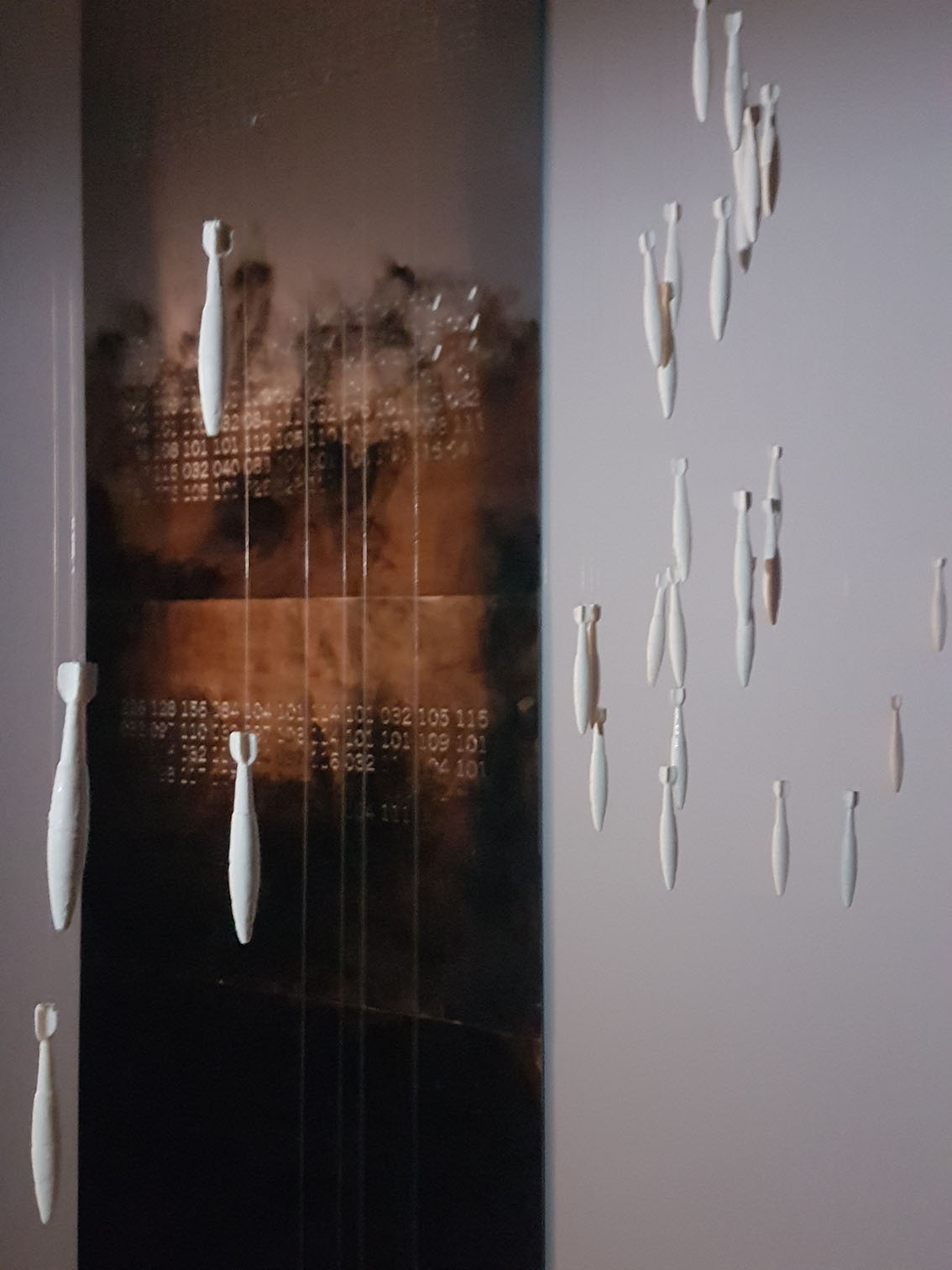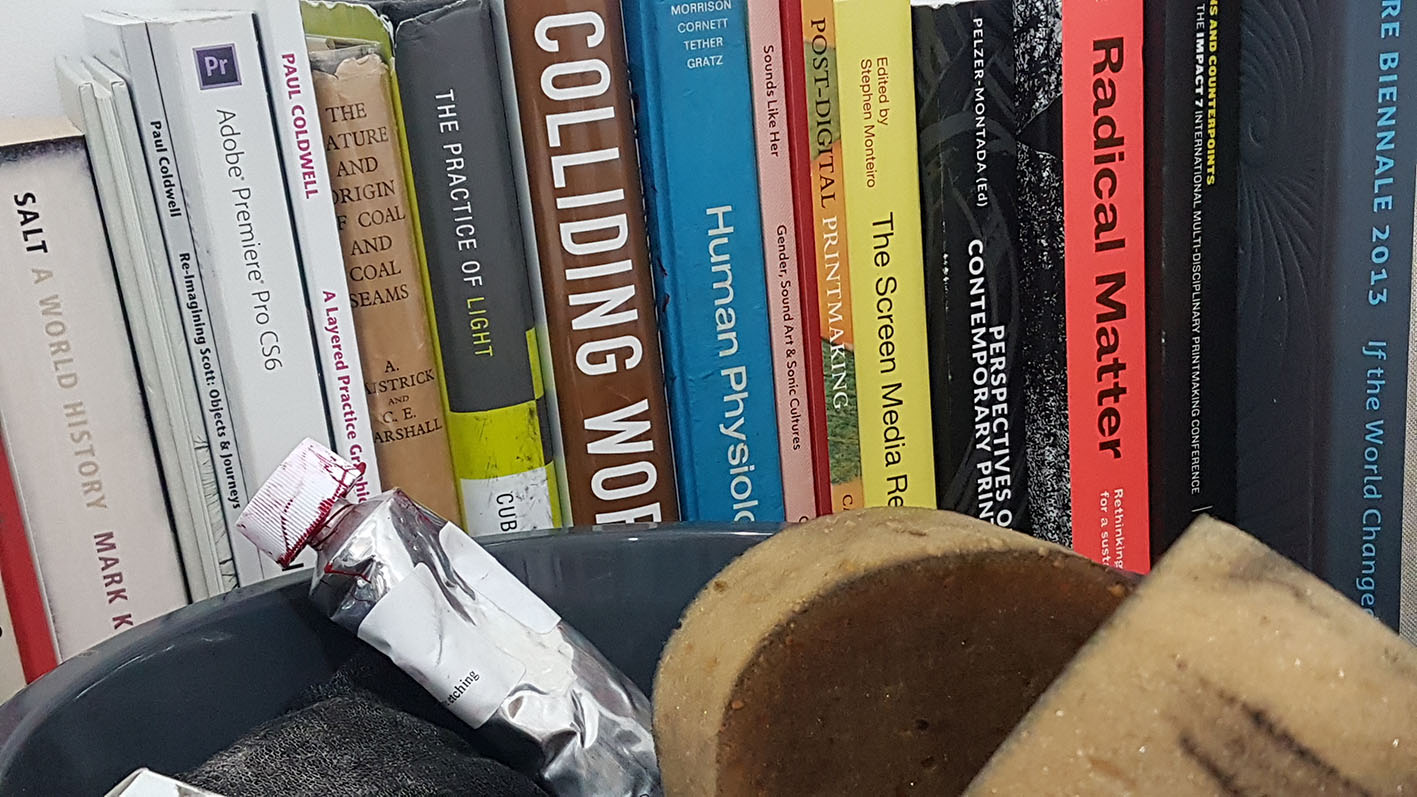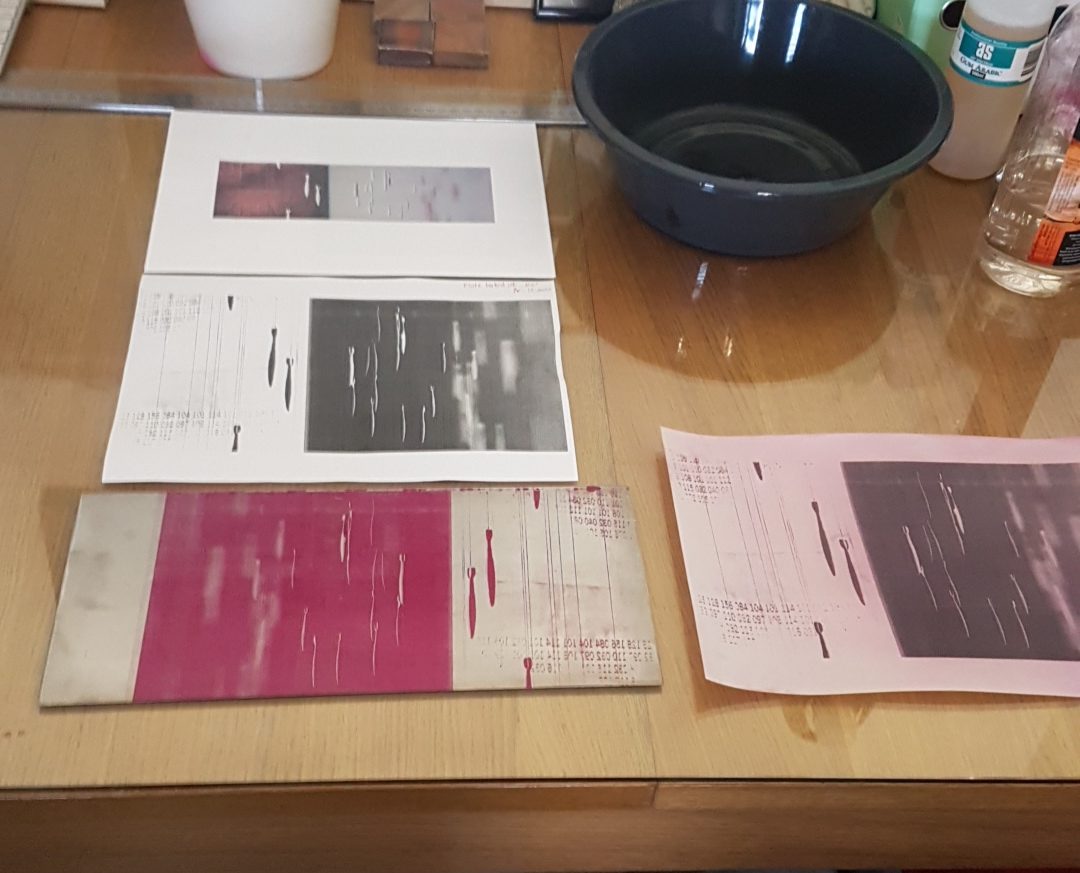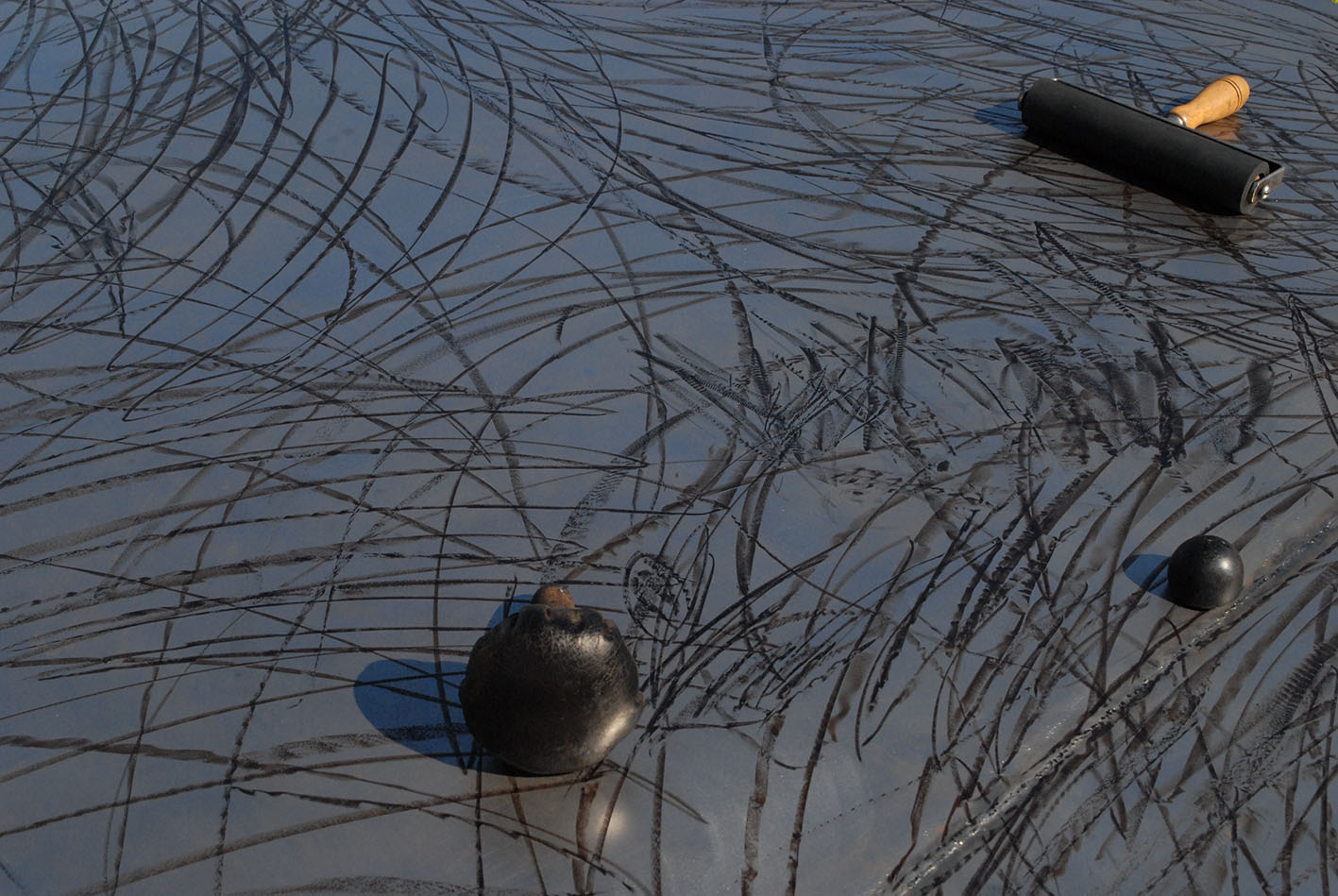 From top:
Chaff, 2019. Inkjet print on Hahnemühle, (shredded aluminium foil backed inkjet print covering printed code), 84.1 x 118.9 cm
Installation detail: Blending Reality, 2019, laser-etched aluminium plates, traditionally smoked with wax tapers, 76 x 25 6cm & Scatter, 2019, multiple acrylic casts from a model aluminium bomb, each 1 x 1 x 8.5 cm
Light reading
Non-toxic etching studio tests during the lockdown
Tools of the trade
Q: What are you working on at the moment, or recently, and what are the ideas that lead to the work?
I have recently exhibited Potentially Dangerous at The Lobby, an unconventional gallery space in Perth. It is in a domestic house and is intended to create a setting for experimental work. Given its minimalist architecture, I likened its design to a metaphor of an underground bunker in World War II.
The work Chaff, 2020 is part of the series Potentially Dangerous. It is intended to expose the political and controlling nature shrouding sensitive data. This previously unnoticed threat emerged when I searched the State Archives, which highlighted the political capacity to control. Evidence slowly revealed unseen unexploded ordnance both metaphorically and literally; hidden and now found, in shifting dark places, unknowingly built over by the suburbia around my home. I have used digital media processes to "message the message" in coded form. These codes have been laser engraved into aluminium plates and optical aberrations are created by smoking the etching plates in the work Blending Reality, 2020. This work alludes to a potentially dangerous shift, of unseen and unnoticed affordances that highlight the control and lies that have been found. This potentially dangerous shift responds with my anxious concerns about the careless collateral destruction we see around us.
I have been investigating the navigation of data and problematic flows of information, either physically, digitally, intentionally or un-intentionally, interrupted. This is leading toward a body of work for a joint exhibition, Talking Place: Emerging Connections at Gallery 25, Perth. To date, there will be no opening night and certainly restricted visitor access due to Covid-19 social distancing regulations. The exhibition will happen this coming August and I wonder in what ways technology will help or hinder the visitor experience and what this means for engaging in and access to artworks in the future?
In response to financial constraints which have hit so many people in the creative industries hard (myself included), I have been concerned with, which materials I might use to make my work; materials that I can find in my studio/home? I've found Charbonnel wax ground and wax tapers employed in traditionally preparing etching plates with carbon, as well there is paper brought from the local stationery shop and even cod-liver capsules stowed in a kitchen cupboard.
A new body of work is beginning to form during lockdown while reading a book chapter by media theorist Alexandra Schneider. She suggests that although we are now free to look and touch simultaneously when using an iPhone screen, we pay a price for access to knowledge through the screen–as the technology is following us! It seemed therefore pertinent to download maps made by our robotic hoover as it frequently shouts out instructions during the lockdown. I am interested in disrupting its mapping progress by standing in front of it. How might the path of the hoover relate to how I think to achieve the essence of what I seek in my prints? I am interested in treating the etching plate as a matrix without printing the plate. My work is moving away from a phenomenological relationship to place toward technological tangles and a metaphorical falling of dust through my creative practice. I am not there yet, it is still a struggle.
Q: Please reflect on the nature of your working space – maybe some history, why you chose it and what it is that you like or don't like about it?
My working space is at times, messy, chaotic, it is the first room you pass as you enter the house, and it has an etching press, which uses a lot of the space. This space has gone through many irritations over the last eight years in line with the physical needs of each of my projects. The carpet has gone, and with the help of four neighbours the press has been relocated from the centre of the room to a new position, parallel to the windows, making a larger working floor area. My press bed is constructed from brown aviation composite with just enough room between the windows and the press wheel, for me to fit.
However, when no one is around, this studio space frequently spills to the kitchen benchtop and dining table. The corner bath in the master bathroom is used to soak my paper, while a barbeque in our undercover area becomes a hotplate to traditionally prepare etching plates with a wax ground. I use non-toxic saline sulphate etching which is set up on a rickety wooden table outside that came over in our shipping container to Perth. Inevitably, as Myspace spreads throughout the house it instigates the frequent comment from the family "is not one room enough?".
Q: How are you going with the social isolation?
Sitting and working in my home studio (officially named as the 'NeoEvolution print space') during Covid-19, is not that different from 'normal' for me apart from not being able to go out and about at will. However, as I hear the robotic hoover inform me with its artificial Intelligence it '[I] have detected changes to the environment and updated the map' as it artificially delineates my space, I ask, who might be watching me? Sometimes, I don't always like the isolation working in this space. I am looking forward to developing opportunities for my NeoEvolution print space to become a space where discussions, knowledge sharing, and collaborative practice may occur with others in person, rather than online.
Many of my friends and close family are in the United Kingdom or live in Hong Kong. I can tell from my online conversations and mobile phone conversations with them that things are subtlety different for them, compared to my lockdown experience here. My only real anxiety is not being able to go back and help my elderly mother. She has just got to grips with online food shopping, although four iceberg lettuces arrived in one home-delivery the other day. This is an awful lot of lettuce for anyone to eat in one go. Hong Kong's backdrop of the political and ongoing unrest, then lockdown, is different again. A family member has just managed to travel back to Hong Kong from America. He is now being technologically tracked in his flat while my robotic hoover somewhat tracks me, around my house.
Q: What are your plans for a future project or two?
I am currently working on two larger projects. I am co-curating Transmedial: Expanding Technologies in Contemporary Printmaking, an exhibition which will showcase multidisciplinary approaches in contemporary printmaking by bringing work over to the PS project space, in Fremantle, by eight international artists, including Marta Pogorzelec (PL), Jo Stockham (UK) and Deborah Cornell (USA). Like so many projects for other artists and performers, Covid-19 has impacted on this exhibition, a series of community events, and a printmaking symposium, which have been postponed until May 2021. Plans for an ARS Bioarctic Residency hosted by the Bioart Society and the University of Helsinki are underway for next year. It offers exciting new directions for my creative practice and an opportunity to undertake fieldwork at the Kilpisjärvi Biological Station in subarctic Finland…hopefully if travel restrictions are lifted next year.
—
Join the PCA and become a member. You'll get the fine-art quarterly print magazine Imprint, free promotion of your exhibitions, discounts on art materials and a range of other exclusive benefits.