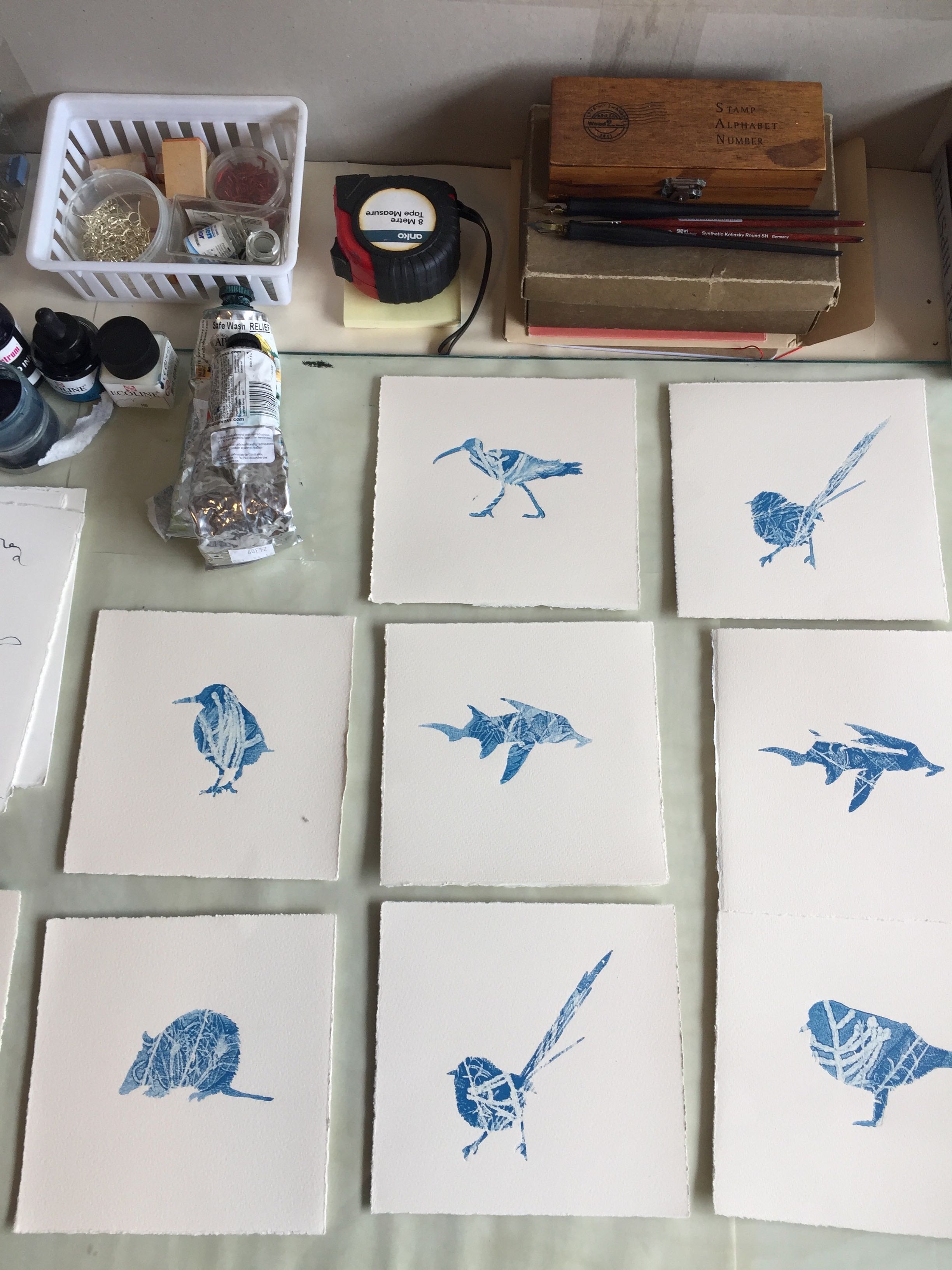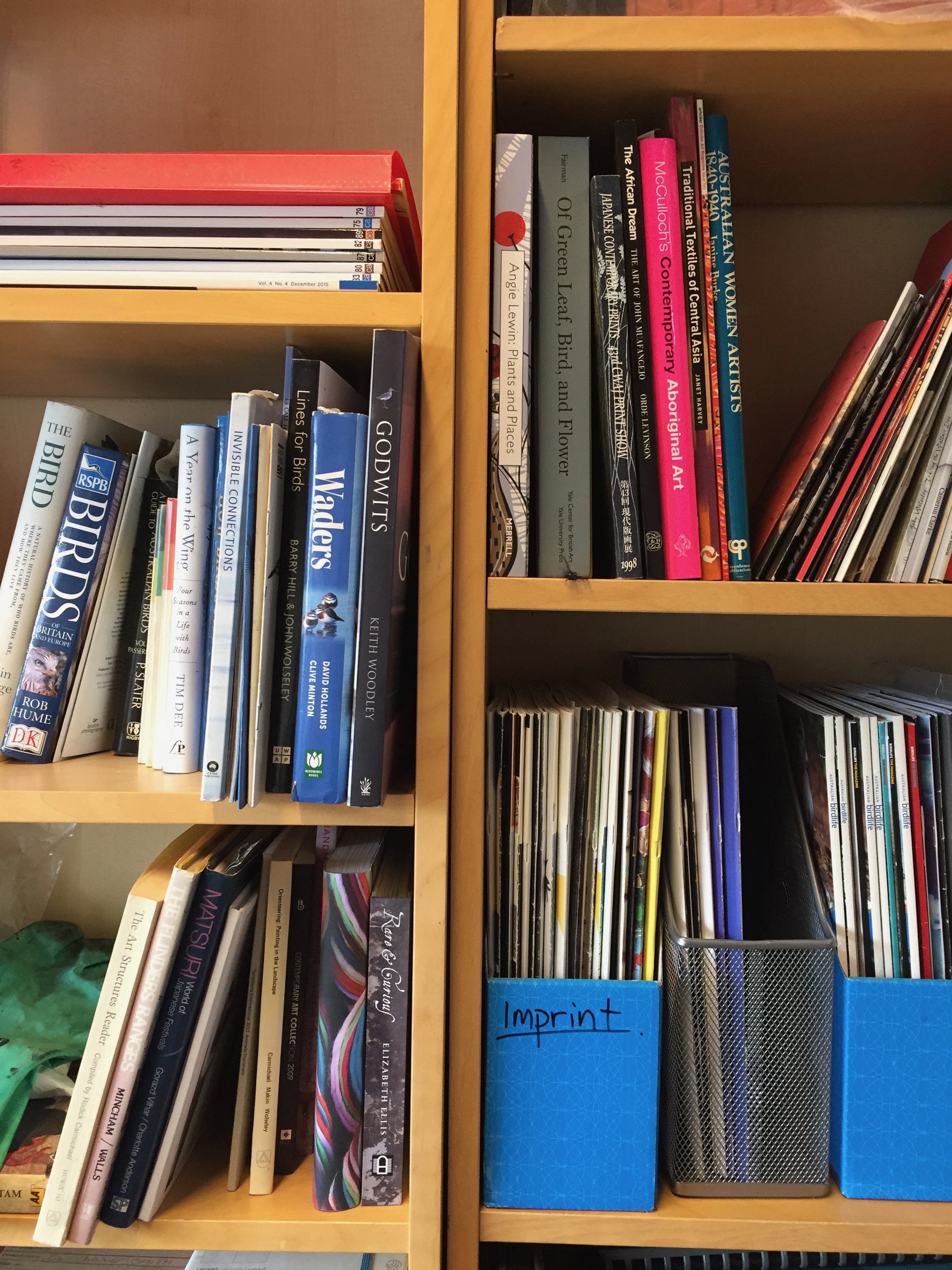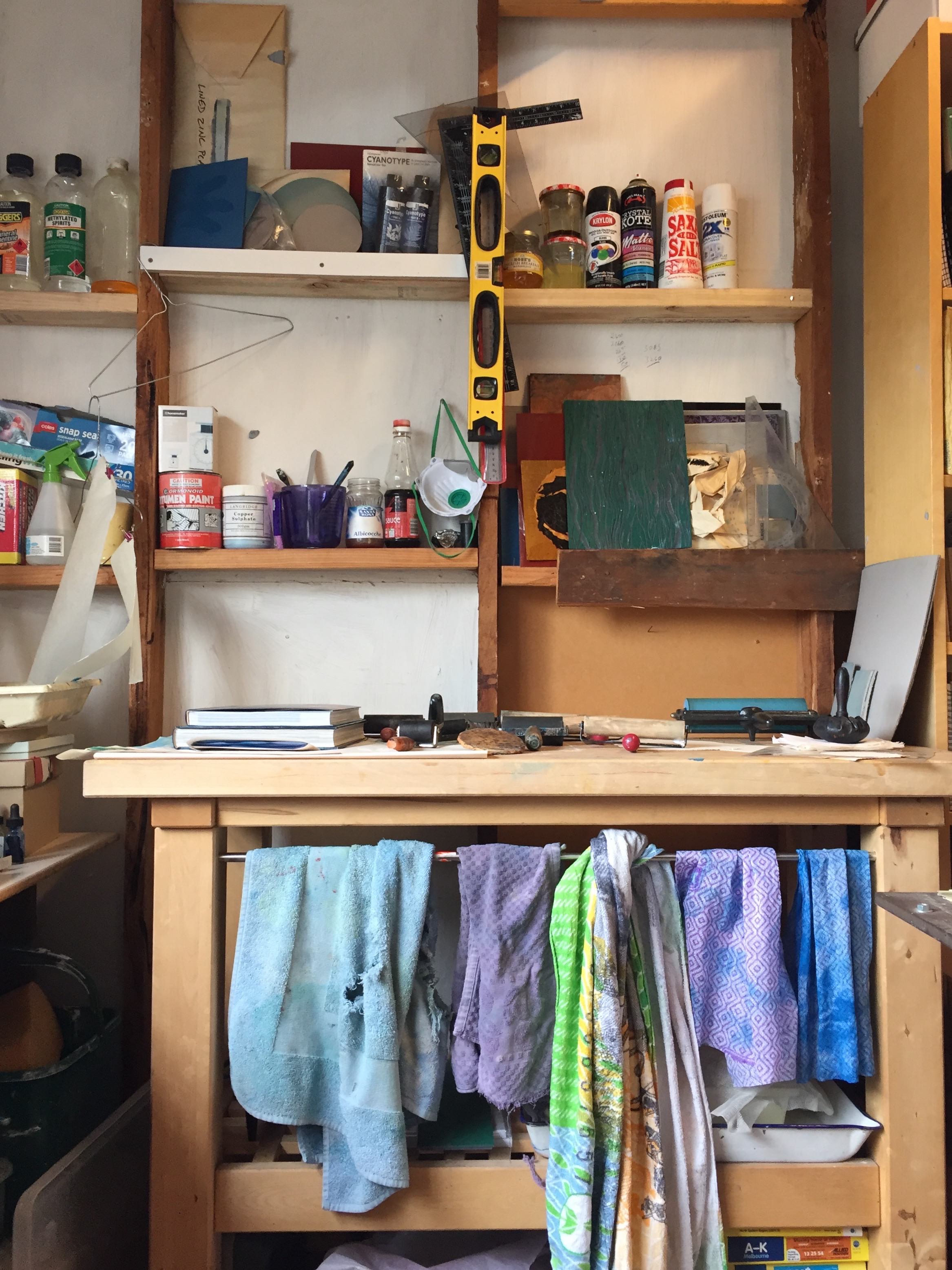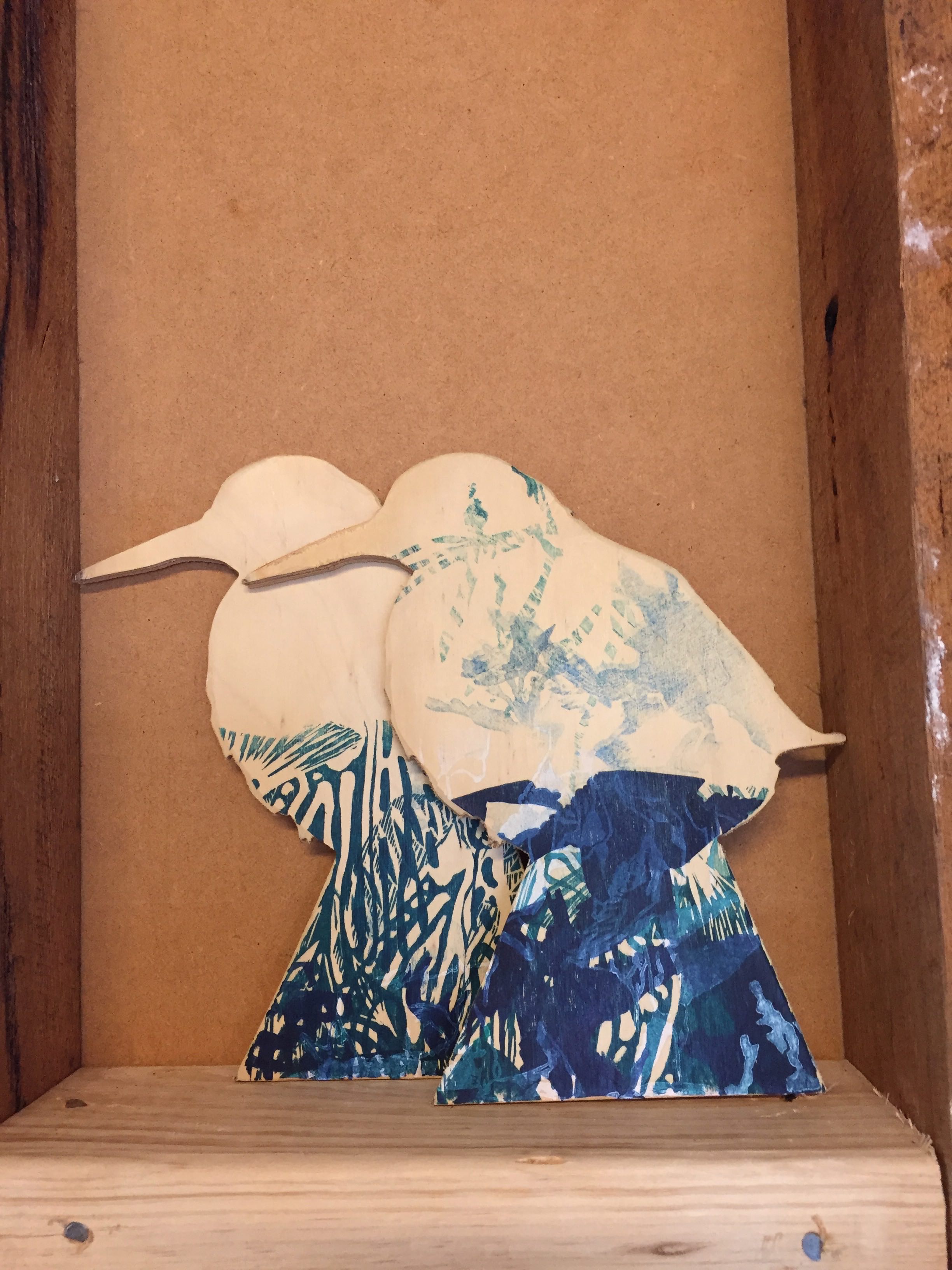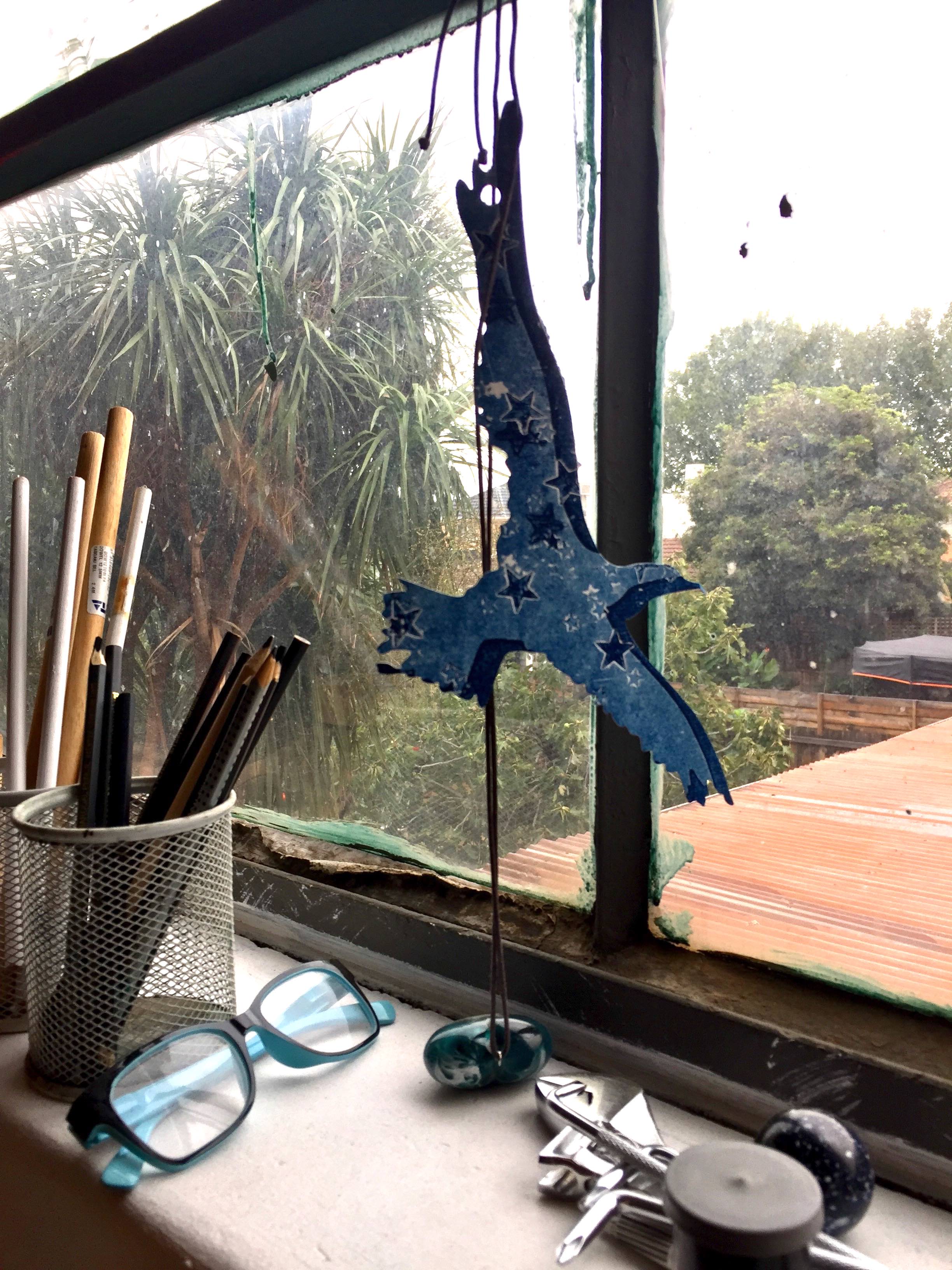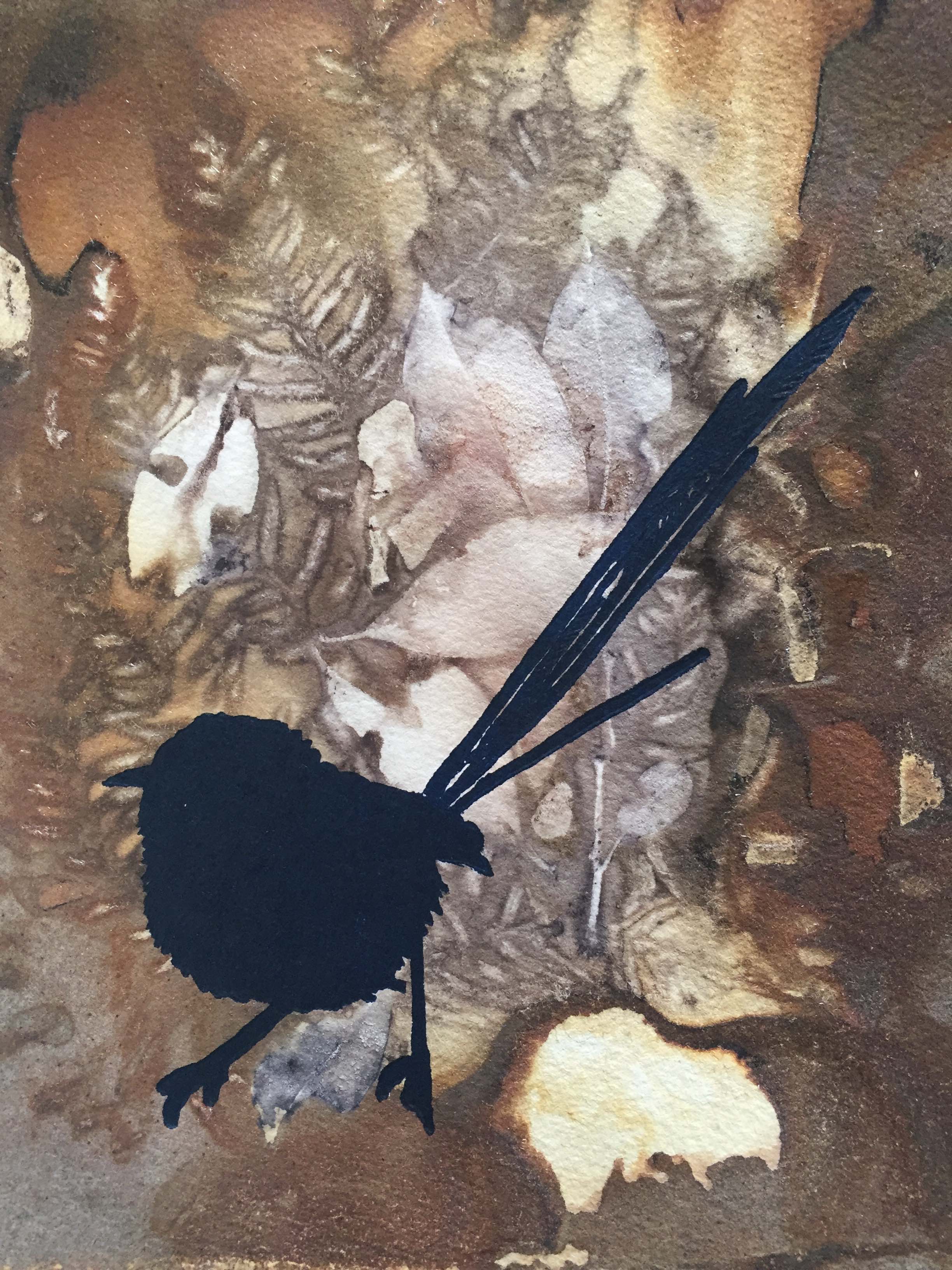 From top:
Views of Kate Gorringe-Smith's studio, and various examples of her work displayed in her space.
Q: What are you working on at the moment, or recently, and what are the ideas that lead to the work?
All the work I have been making over the past few years has been in response to my project, the Overwintering Project, which is about making connections between artists and place – with that place being the habitat of migratory shorebirds, our most endangered group of birds. Through the project, artists are invited to locate their closest migratory shorebird habitat, visit it (and hopefully see the birds if they are about and not on their annual migration!) and make a print in response to that site.
My site is Westernport Bay, as I have a long personal connection with Phillip Island, one of the two quite big islands that are situated in the Bay. So, since mid-2017, I have focused on imagery based on the species of animal and plant found in the Bay and have been experimenting with techniques that will make my work more "of place". The technique I have had the most fun with is eco-printing, where you use the local plant matter and water to create unique prints and embossings on paper. It is a very witchy process and immensely satisfying as the colours and images (and even the smell!) of the eco-printed paper is literally embedded with characteristics of the site. So far I've been printing linocuts over the top, but I feel that I will discover more ways to collaborate with the eco-printing process to make prints and other works on paper.
Through my work I am always trying to convey as richly and deeply as I can the connectedness and complexity of the habitat. Migratory shorebirds are the focus of the Overwintering Project and at the heart of my work, but the habitat they rely on is a complex system of plants, animals, and landforms. If you think about it, every piece of habitat on earth is a unique combination of these things, and that is what I'm musing on in my work and inviting others to do when they join the Project. And I am loving learning about the Westernport environment – it is so rich! And so different form Port Phillip Bay!
Q: Please reflect on the nature of your working space – maybe some history, why you chose it and what it is that you like or don't like about it?
I have only just moved to this studio in January this year. I was in my last studio for a decade and it was wonderful – quite big and with windows to the north and west – but the rent just got too ridiculous. My new space is within an old lingerie factory, which gives the building its own charm, that was converted to artists' studios about 20 years ago. They have had street art festivals here apparently, so the walls are pretty cool in the public areas!
This studio is about two thirds the size of my last one and has less storage – and I am naturally a very messy person – so keeping it tidy and with usable surfaces will definitely be a good challenge for my character! I also had some extra shelves put in before I moved which helps – a bit! I like it though – it is on the first floor and I have a window that opens onto suburban backyards and trees, which is quite a luxury. I haven't met many of my fellow studio-renters but that is fine with me. I like to hunker down, turn on Radio National, and make work! I know it is a huge privilege to have a studio at all, so I try to make the most of my time here. It's about a ten-minute drive or twenty-minute bike ride from home.
Q: How are you going with the social isolation?
My main concern with social isolation is my ninety-year old Mum who lives on her own in an apartment. I am dropping off food and shopping for her about once a week, and we talk daily. For me, I like having my kids home and having more time generally for walks, cooking, gardening and art. I can't bring myself to think too hard about the economic realities, or try to guess the future, so am just trying to look after my own health, my family's and, if I can in any way, my friends and colleagues.
Q: What are your plans for a future project or two?
Sorry – very boring – the Overwintering Project is it for me for the foreseeable future. The deeper I go, the richer it gets. I feel there is some kind of breakthrough waiting out there that will take me the next step in my work and if I just keep ploughing away I'll get there eventually, fingers crossed!