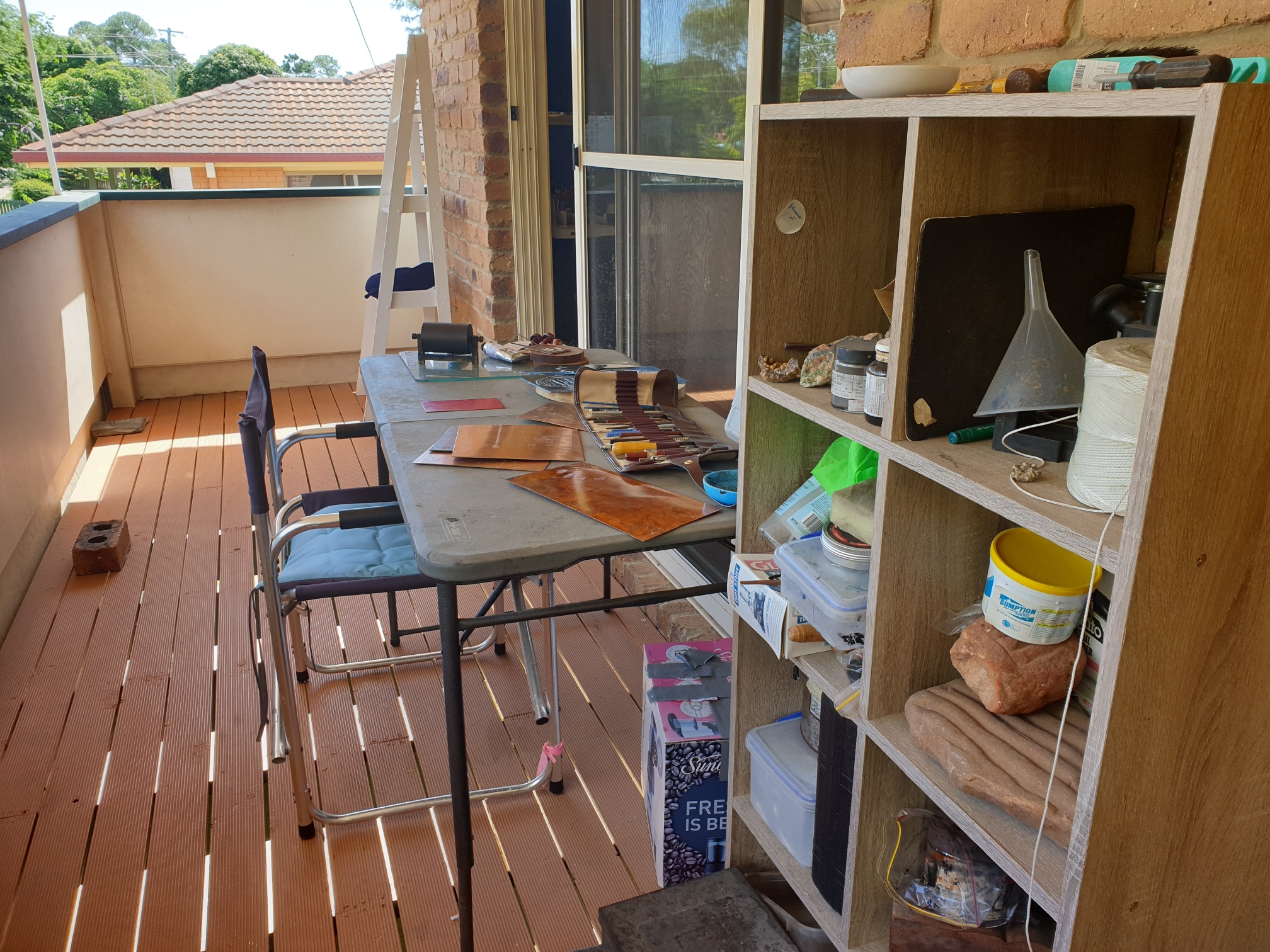 From top:
A recent work by Jill O'Sullivan titled Mindi; and the working space at home.
Q: What are you working on at the moment, or recently, and what are the ideas that led to the work?
For the last year I've worked across my memories and/or experiences of place or the occasional domestic scenes in intaglio, relief and lithography. However, rather than concept development, most of these works result from tests trialling fewer toxic processes across intaglio and lithography.  For example, I've been experimenting with various alternate solvents that replace the use of mineral turps etc in lithographic stone processes, some of which appear to be quite successful to date. I've also continued experiments in alternate aquatinting processes which lead to interesting results at times.
While in Wales recently, I caught up with Andrew Baldwin again (developer of the BIG etching grounds) which led to some great technical discussions.
Q: Please reflect on the nature of your working space – maybe some history, why you chose it and what it is that you like or don't like about it?
My working space over the last year has been mainly at Impress Printmaking Studio in Brisbane where I have great access to lithographic and etching presses. The lithography group meets on a weekly basis, which has enabled me to happily play around with my lithographic experiments. At home, as I haven't got a press, my activities included preparation of copper plates, relief printing, and the occasional monotype. I'm thinking of building a car jack press (I designed and built a simple one for Umbrella Studios in Townsville a few years ago, which is still in use).
Q: How are you going with the social isolation?
Apart from having no studio and press access at present, no problems at all. However, I've had to cancel a few plans for workshops for Umbrella Studios and Impress Studio for the foreseeable future. I keep in touch with fellow printmakers quite easily through phone and internet.
Q: What are your plans for a future project or two?
While on my recent trip to the UK, I documented much data involving doors, openings and steps, to add to a project that I've been considering for quite a while. The concept involves my interpretations of the ambiences of history, passage of time and events that these places imbue. Watch this space!