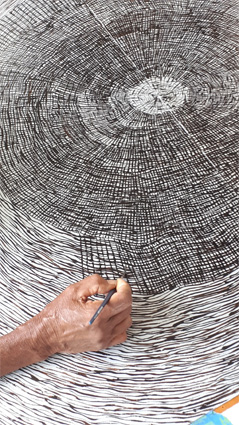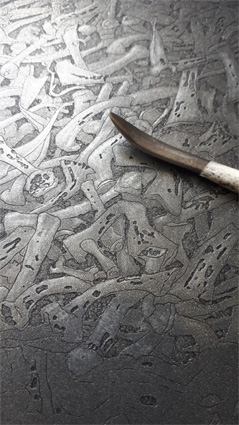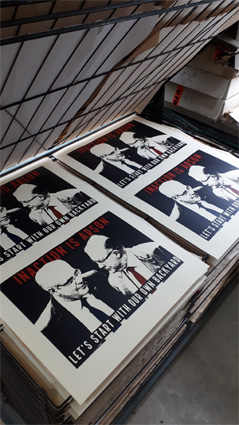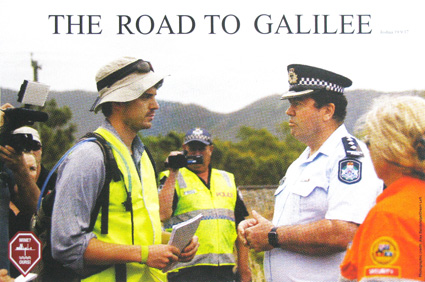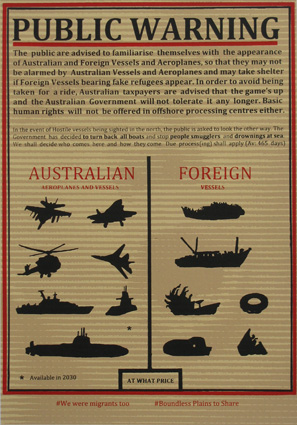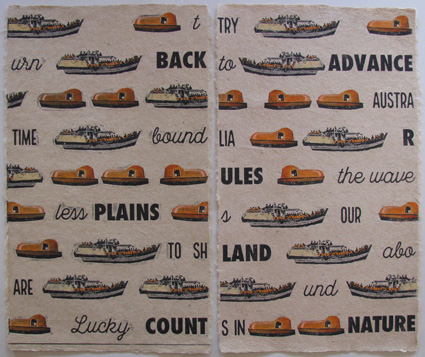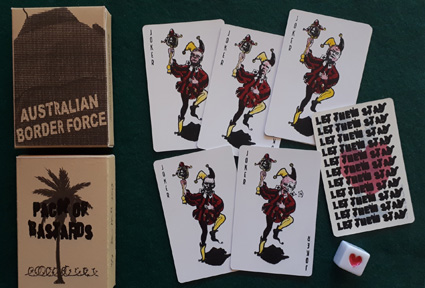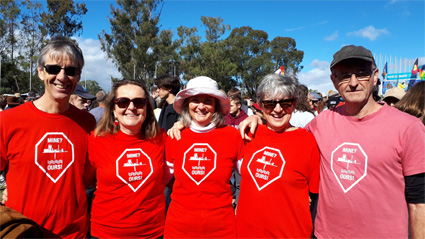 From top:
Silkscreen studio in Canberra, 2020
Regina Pilawuk Wilson working on a plate at the Canberra studio, 2020
Needle & etching, King Island, 2020
A rack of posters, Canberra studio 2020
Basil Hall, The Road to Galilee, 2020, silkscreen
Basil Hall, War Poster, 2017, silkscreen
Basil Hall, Passage to the Lucky Country, 2017, hand-coloured silkscreen on banana paper
Basil Hall, Pack of Bastards, 2019, boxed pack of hand-printed cards, instructions & dice
Stop Adani Rally, 2019 (Mine/Ours T-shirts by Basil Hall)
Q: What are you working on at the moment, or recently, and what are the ideas that led to the work?
I have worked primarily as a custom printer for the last 35 years. Since the late1980s, when I was Editioning Manager at Studio One in Canberra, I have had the opportunity to run workshops and collaborate with Indigenous artists all over Australia. In 1996, I was appointed Lecturer in Printmaking at Charles Darwin University in Darwin, and took over running Northern Editions. There, my team and I worked with dozens of communities in WA, NT and SA and literally hundreds of artists. We did lithographs, etchings, collagraphs, silkscreen prints, woodcuts…you name it…over 1000 editions while I was there and many more since. I left in 2002 to start my own editioning business, Basil Hall Editions, which has now been running for 18 years, in Darwin and now in Braidwood, NSW and Canberra.
I have never run out of printing jobs for Art Centres until now. Suddenly every community has closed its doors to the coronavirus and my workshops (with both indigenous and non-indigenous artists) and custom printing have more or less dried up!
Two jobs I have done this year were for Lena Nyadbi from Warmun in the Kimberley, and for Regina Pilawuk Wilson from Peppimenarti. Lena is a senior Gija artist and is now retired from painting, but I found a set of plates that had never been published, and contacted the staff at Warmun. We proofed up a few colour variations for Lena to look at, and the Gallery Manager at the Art Centre drove them to Halls Creek, where the artist is now in aged care. She remembered the image and selected one of the options, so I am happy to say that the edition has commenced and the first batch is heading up to Warmun by slow camel for signing. It will be her very last work, so we expect it to be eagerly snapped up.
Regina Wilson is an important leader in her community (in fact, she and her then-husband founded it), a weaver, painter and printmaker. She worked on two beautiful large plates at my Canberra studio in March 2020, when she was here for the opening of an exhibition she was in at the National Museum. We etched her bitumen-painted zinc plate deeply between layers, so we could capture the warp and weft, as it were, of her woven design, and it has since been proofed with an intaglio inking and relief roll. A further subtle colour variation has been added by screenprinting over part of the print later.
Over the past two years I have resumed my own printmaking practice. I have got back in the zone and I like it! Issues that concern me, such as our offshore detention of refugees, our apparent capitulation over the Adani mine, our imprisonment of a harmless Sri Lankan family on Christmas Island and our government's poor record on climate change have all inspired new work: woodcuts, etchings and screenprints (on paper and t-shirts). I trained at art school under some great political artists like Mandy Martin and Toni Robertson at a time when silkscreened posters were the go, and after a dormant 30 odd-years I have rediscovered my poster-making rage, largely using 30 year-old layout techniques (but sped up significantly by Photoshop, as opposed to spending hours posterising images and processing lith film in the darkroom).
A residency on King Island last month really got me focussed on ways of discussing migration even more broadly, as I have been invited to be part of a project and exhibition commemorating the wrecking of the Cataraqui, a terrible maritime tragedy 175 years ago, which resulted in 400 deaths on the west coast of King Island. All of the passengers were free settlers, and more than half were children. I've gone from dealing with contemporary boat arrivals to this unfortunate outcome of the UK Poor Laws, which saw English parishes shipping their poor out to Australia to avoid having to support them at home. Now we have another arrival on our shores: the coronavirus, and that illegal immigrant, too, has crept into a recent image.
In the middle of this series, I have popped out a number of political posters and a couple of T-shirts.
Q: Please reflect on the nature of your working space – maybe some history, why you chose it and what it is that you like or don't like about it?
My workspace is split between Braidwood, where I have a house and main etching studio, and Canberra, where my wife of seven years has a house in which we live together. She jokes that I was pacing out her backyard on our first date, and it is true that I have since built a screenprinting studio there, but I swear that wasn't my cunning plan!
What this all means is that I spend a bit of time between the two. When I have larger etching or relief editions and workshops, I tend to stay out at Braidwood for a few days and access the acid cupboard, aquatint box and my big Hilton press. When I'm screenprinting or doing smaller etching and relief prints, I can use the Canberra set up and be with my new family. I have a small geared Merlarue press there, and that suffices for anything up to 45cm wide. Both spaces are beautiful to work in, but ideally I'd like it all to be in the one place. I'm not sure how we fix that one. We both like our houses.
Although I am winding back the amount of printing work I do for other people (COVID-19 has helped this decision), like all printmakers (our partners don't really understand this) I still need lots of stuff. Exposure units (2) take up lots of room, ventilated aquatint boxes, drying racks, one-arm bandits (2), washout sinks, paper wetting sinks and acid fume cupboards are all vital to any operation, whether you are working for yourself or for others. And then there's the storage for literally thousands of plates; both editioned and semi-editioned, ink samples, print records, the archive of prints editioned since 1985….
Q: How are you going with the social isolation?
Sad to say, like a lot of my fellow artists, I am enjoying being "stuck" in the studio every day. Suddenly I have no work, and have been looking at whether my business qualifies for jobkeeper, but as long as we keep the curve flattening, as we now all say, and I stay healthy I am going to relish every moment I get to spend on my own work. I've waited a long time for this opportunity.
Q: What are your plans for a future project or two?
One future plan is to continue to work towards the five exhibitions I was part of in 2020, even though they have all been postponed.
My other plan has involved applying to Arts ACT for a COVID-19 Grant. Apart from a Churchill Fellowship in 1995, I have never received a grant in my own right during my career, and I thought I would go for this one. I have said that I would use it to cover my labour on some editioning jobs for remote Indigenous Art Centres that would like new or existing editions worked on (but can't afford the jobs during the shut down). In this way, I hope to keep my connections with current customers, give them a chance to generate new work for sale online, and boost my flagging income.
—
Join the PCA and become a member. You'll get the fine-art quarterly print magazine Imprint, free promotion of your exhibitions, discounts on art materials and a range of other exclusive benefits.