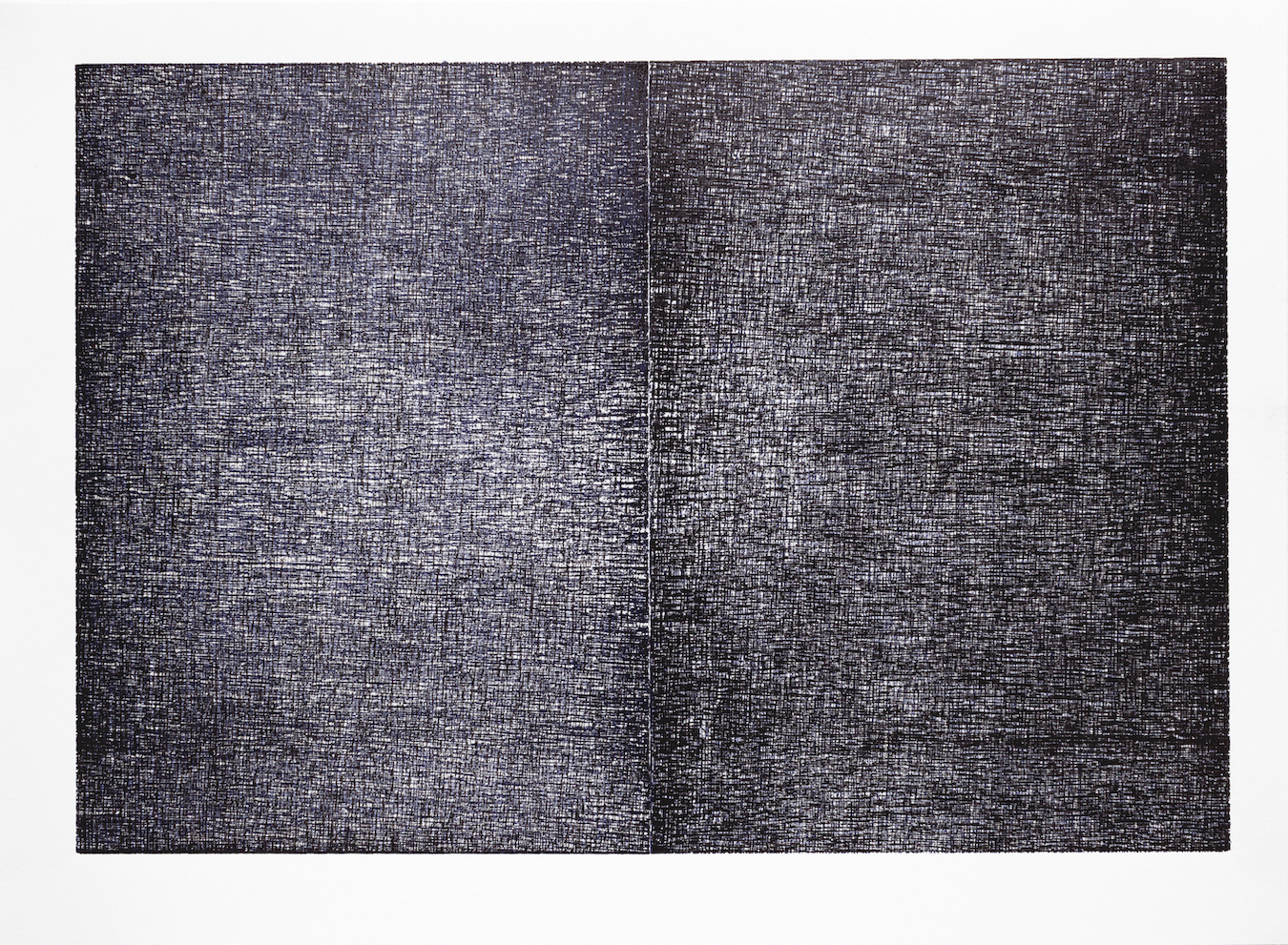 Top:
Michael Phillips, Untitled (Corner Study), 2022, two-colour woodblock, 47 x 68 cm (image), 56 x 76 cm (paper), edition size: 30
Q: Please reflect on the nature of your working space – maybe some history, why you chose it and what it is that you like or don't like about it?
I have recently completed a Masters of Visual Art at the Queensland College of Art, Griffith University in Brisbane, thereby all recent print work has been executed within QCA's printmaking studios, which is a pretty beautiful space to work in! Away from QCA I work from home, having a dedicated shed housing reference material, tools etc, space for working on smaller pieces and an outside area for larger works.
Q: What are you working on at the moment, or recently, and what are the ideas that lead to the work?
At present a series of small painted timber constructions that will be part of a group exhibition in February 2023. My practice draws on a mix of elements and materials that present as a loosely connected jumble. At some point, when I am referencing this jumble, a more formal framework is bought into play to make use and sense of the material. Central to forming these associations are the hand and the materials at hand—core components within the act of making—which may begin with either a colour, printed matter, a partially built or cut form, inherent characteristics of a particular material or the simple act of folding a piece of paper.
Over time, I have collected an assortment of two- and three-dimensional objects, that I dip into, edit, and reconfigure. This repeatable, ongoing process and the need to re-visit and utilise this material has highlighted to me the possibilities within printmaking. The Russian avant-garde of the early 1900s defined and referred to a creative principle called Faktura, which related to how materials are used, the fundamental principles of making and thinking behind the constructive processes. In this case 'making a print'.
Q: What are your plans for a future project or two?
Over the last few years I have been talking on and off with the poet Nathan Shepherdson regarding a collaboration between print and poetry. From our early conversations I imagined, almost immediately and for no concrete reason, that the project would be realised through lithography. Up to this point the majority of my printmaking has been executed through relief or screen printing.
The idea of taking on a printmaking technique that is a polar opposite magnifies the interest and unknown quantities of the engagement. That to me is one of the fundamental strengths and joys of printmaking. There is a very engaging low-key video of Richard Tuttle's time with Crown Point Press where he remarks, "Printing could be a metaphor for absolutely everything. It's the (this) issue of ink on paper."1 Recommended viewing!
[1] Crown Point Press, "Richard Tuttle at Crown Point Press," YouTube, 19:21, https://youtu.be/ZCKS_-5mh-U
—
To view and buy a 2022 Print Commission print visit:
www.printcouncil.org.au/print-commission/print-shop/
—
The Print Commission is on display at interstate venues over the next few weeks, and there is still time to order the prints and claim the discounted rate for PCA members. As always editions are selling fast so order early to avoid disappointment. You can view and securely purchase the prints on our website here.
—
Join the PCA and become a member. You'll get the fine-art quarterly print magazine Imprint, free promotion of your exhibitions, discounts on art materials and a range of other exclusive benefits.