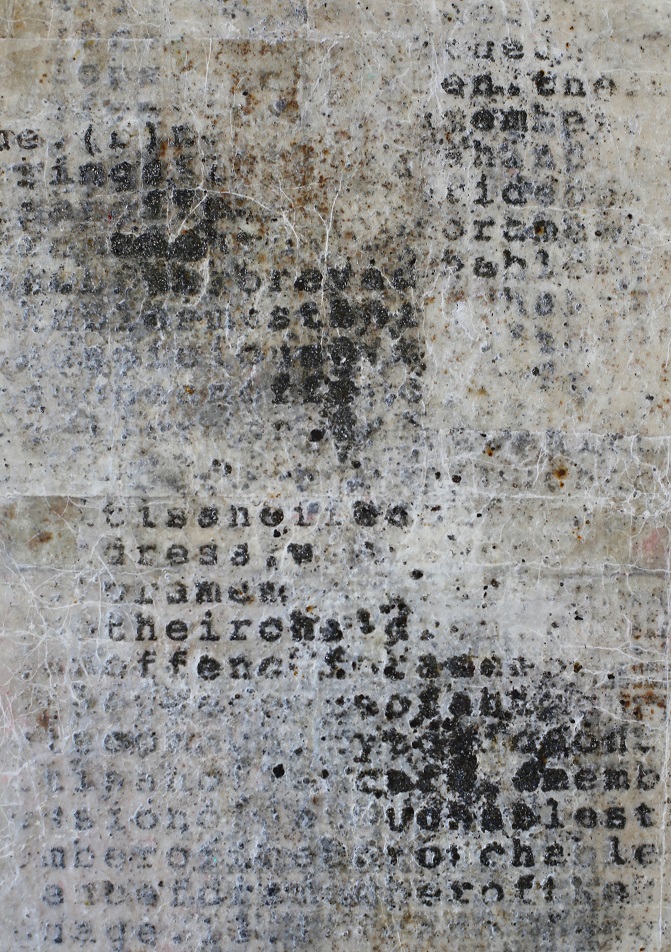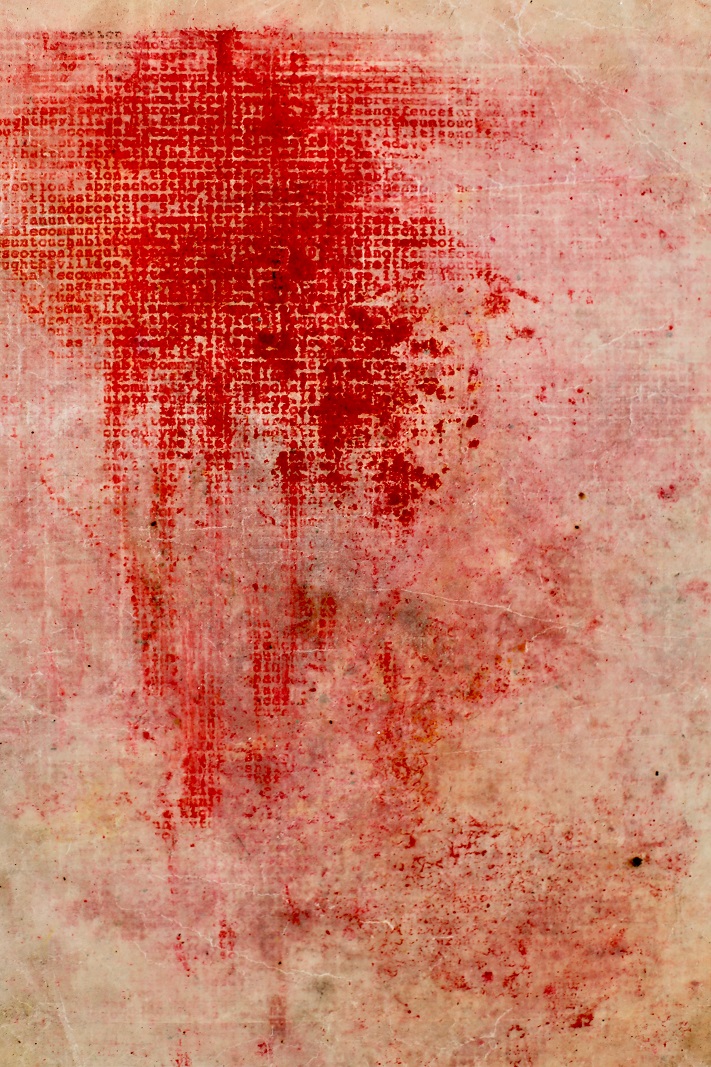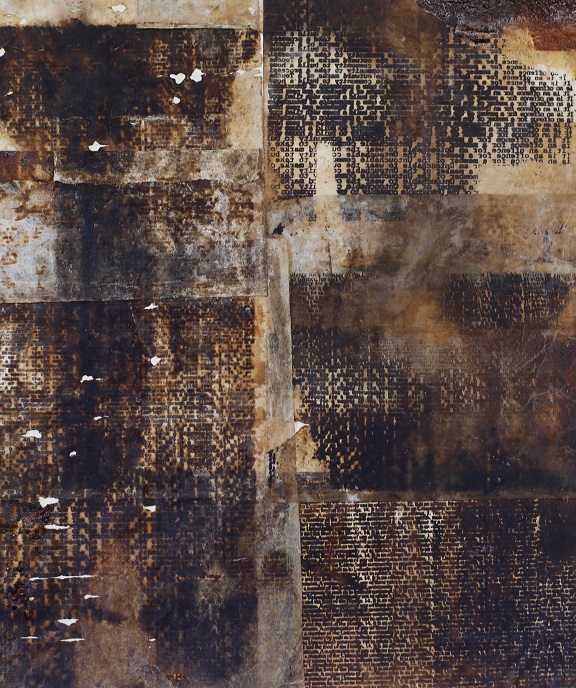 From top:
1. Studio portrait of Kirtika Kain. Image: Jeff Liu.
2. Kirtika Kain, epigraph (detail), 2019, silkscreened iron filings, tar and wax on Japanese rice paper, 60 x 45 cm. Image courtesy of the artist and Roslyn Oxley9 Gallery.
3. Kirtika Kain, rites (detail), 2019, silkscreened sindoor pigment and wax on Japanese rice paper, 30 x 25 cm. Image courtesy of the artist and Roslyn Oxley9 Gallery.
4. Kirtika Kain, pitch I, 2019, silkscreened bitumen, turpentine and shellac on Japanese rice paper, 79 x 53 cm. Courtesy of Roslyn Oxley9 Gallery.
Q: What were some of the foundation ideas you began with when embarking on this exhibition project?
uppercase is a return to text and to the words of leader Dr B.R. Ambedkar. Within his essay Untouchables or The Children of India's Ghetto (c. 1951), Dr Ambedkar was the first to describe in a succinct list the fifteen societal rules that India's Dalits have been living under for centuries—implicit codes that have kept us in darkness, as subhuman, segregated and destined to do the filthiest jobs in society.
As a Dalit woman raised outside of this ancient system, through my instinctual art practice, I discover the implications of this inheritance. This investigation is through the only way I know how—through my hands, my body and the spontaneity of making. This is when I feel simultaneously closest to the imprint of this historical wound, as well as freedom from its grasp.
This text has defined my early practice; I have erased, obliterated, emboldened, smeared, played with each letter and word through inimitable and alchemical print processes. I have silkscreened with religious pigments, thick tar, waxes, gold and silver pigments, abrasive iron fillings and silicon carbide granules. These materials form surfaces that convey the feeling and texture of this inheritance, while the process of creating allows me to understand how these rules have been absorbed within my own body.
Q: How did the artwork selection take place?
The prints have had two lives. Many are made from offcuts and experiments accumulated over the past few years. I came into the studio with two folios full of fragments and from these new artworks were created.
All works were created on site. I was awarded the Lloyd Rees Memorial Youth Award two years ago and Gallery Manager and Curator, Rachael Kiang, invited me to use the Elizabeth Rooney Print Studio to create work for this show. The print studio is located downstairs from the gallery space and each team member, from the fellow artists in residence to gallery staff, have been part of creating this show. I am so grateful to the gallery for this rare experience.
Q: How does the exhibition manifest – what do visitors experience?
I worked with Gallery Assistant Joanna Williams to create a museological setting, and the works appear as artefacts from an unrecognisable civilisation. Many of the works are new prints and collages created from smaller offcuts. I also found silkscreens in the studio that I printed onto and with Rachael and her gallery team, we installed these directly onto the wall. In printmaking language, the matrices are the substates. Along with the silkscreens we have installed etching plates and lino pieces.
I have enjoyed presenting this work as well as these historical and topical concerns in a seemingly disparate context of Sydney's North Shore. Although caste has such a specific history and genesis, human hierarchies and their dynamics take myriad forms. In this exhibition, the audience view words and letters, textures and materials, yet they can read into it as much or as little as they wish.
Q: What are some of the key works and what subject matter do they deal with?
My favourite piece is epigraph. For me it captures the entire experience of creating uppercase. It was formed from several test prints of silkscreened iron filings and tar on waxed Japanese rice paper, compressed and collaged together into one work. It was a surprise; the surface appears as stone with hints of Dr Ambedkar's writing emerging and disappearing.
Within this and all exhibitions, I enjoy the idea of creating a unique Dalit expression, imagining what our ancient material culture would look like if it had survived, if it were valued and displayed.
—
uppercase is at Gallery Lane Cove until 18 January. 
In conversation with Judith Blackall Saturday 18 January 11am to 12pm
Introduction to Printmaking workshop with Kirtika Kain Thursday 16 January 6-9pm.