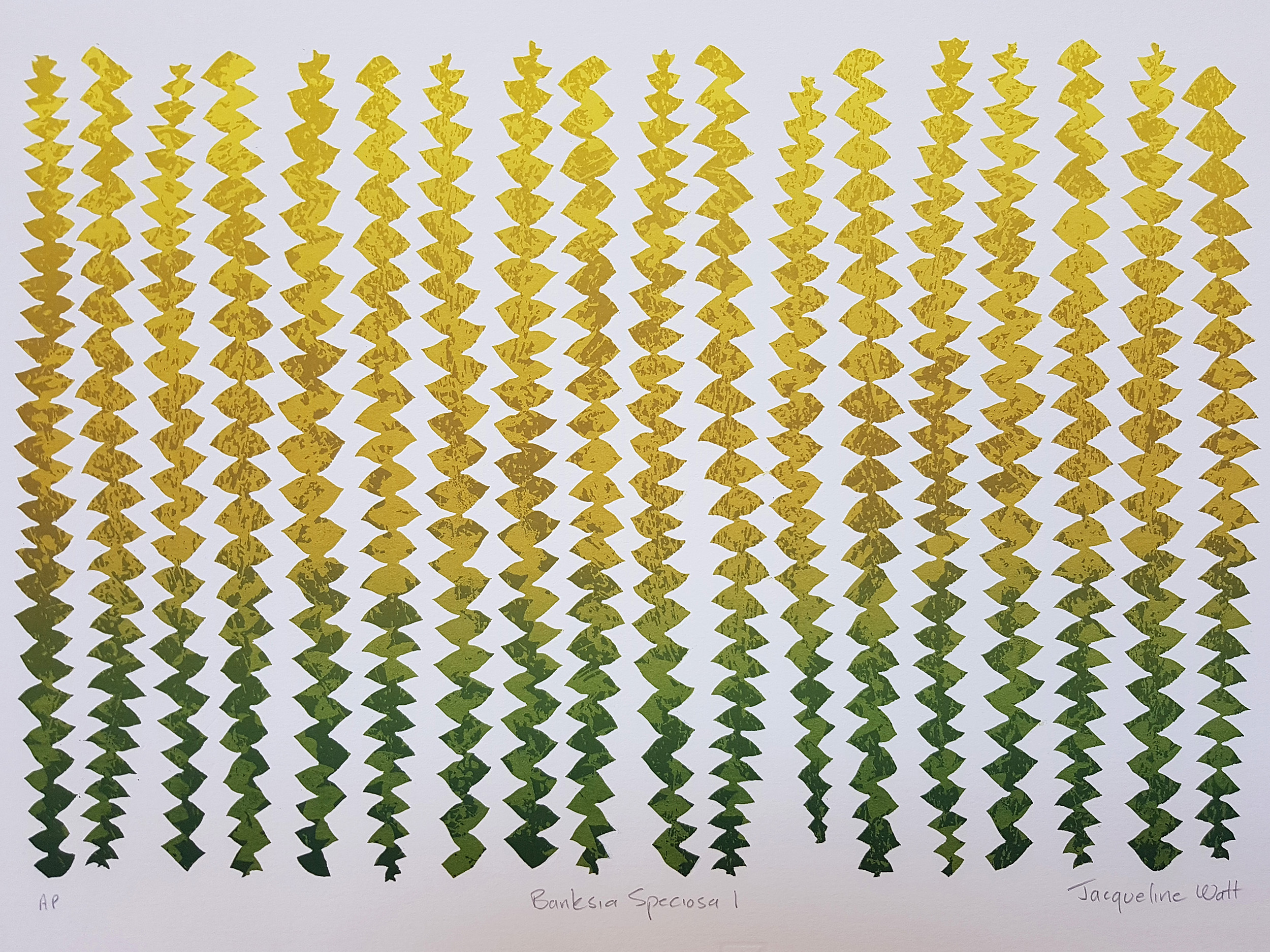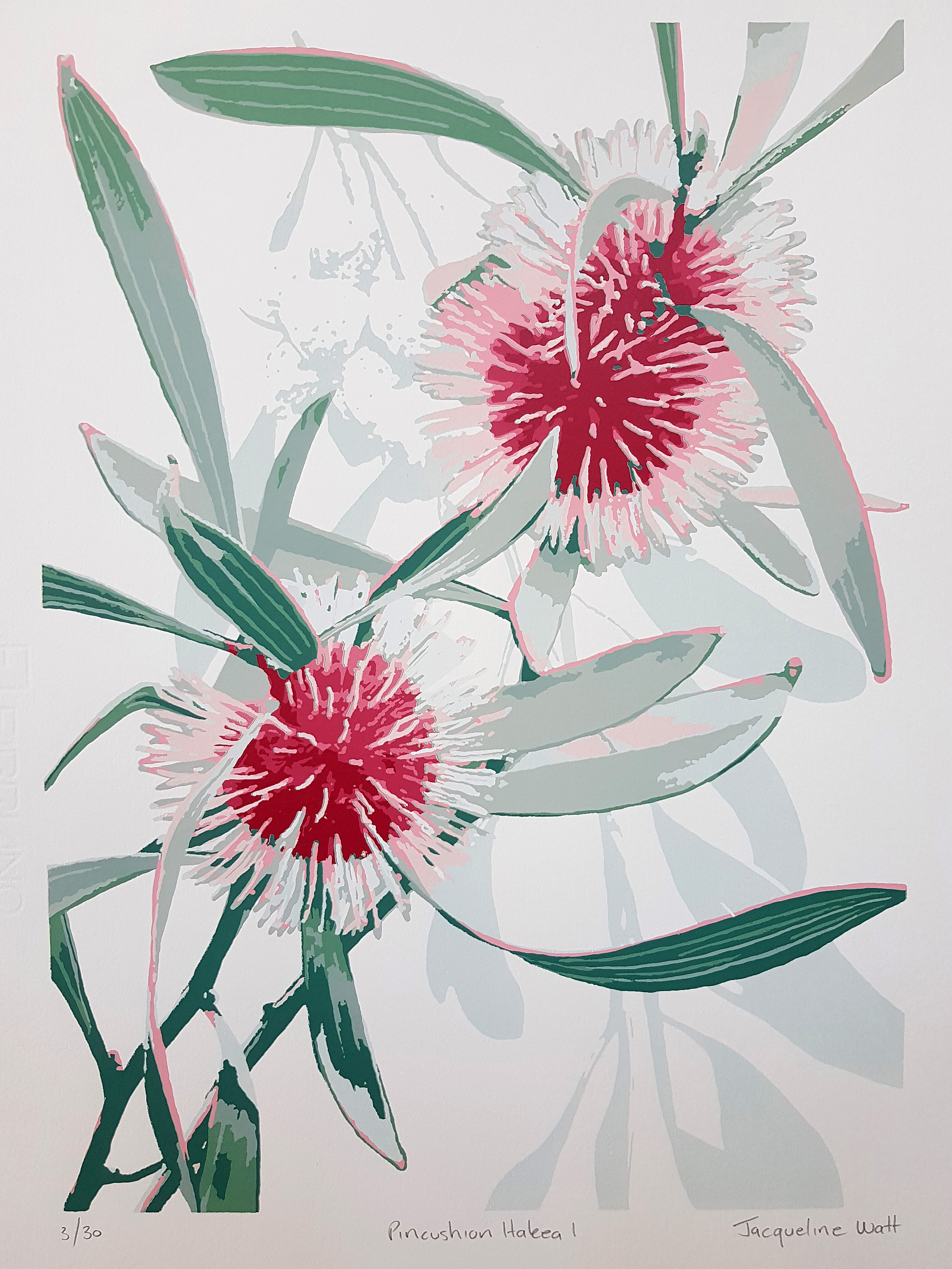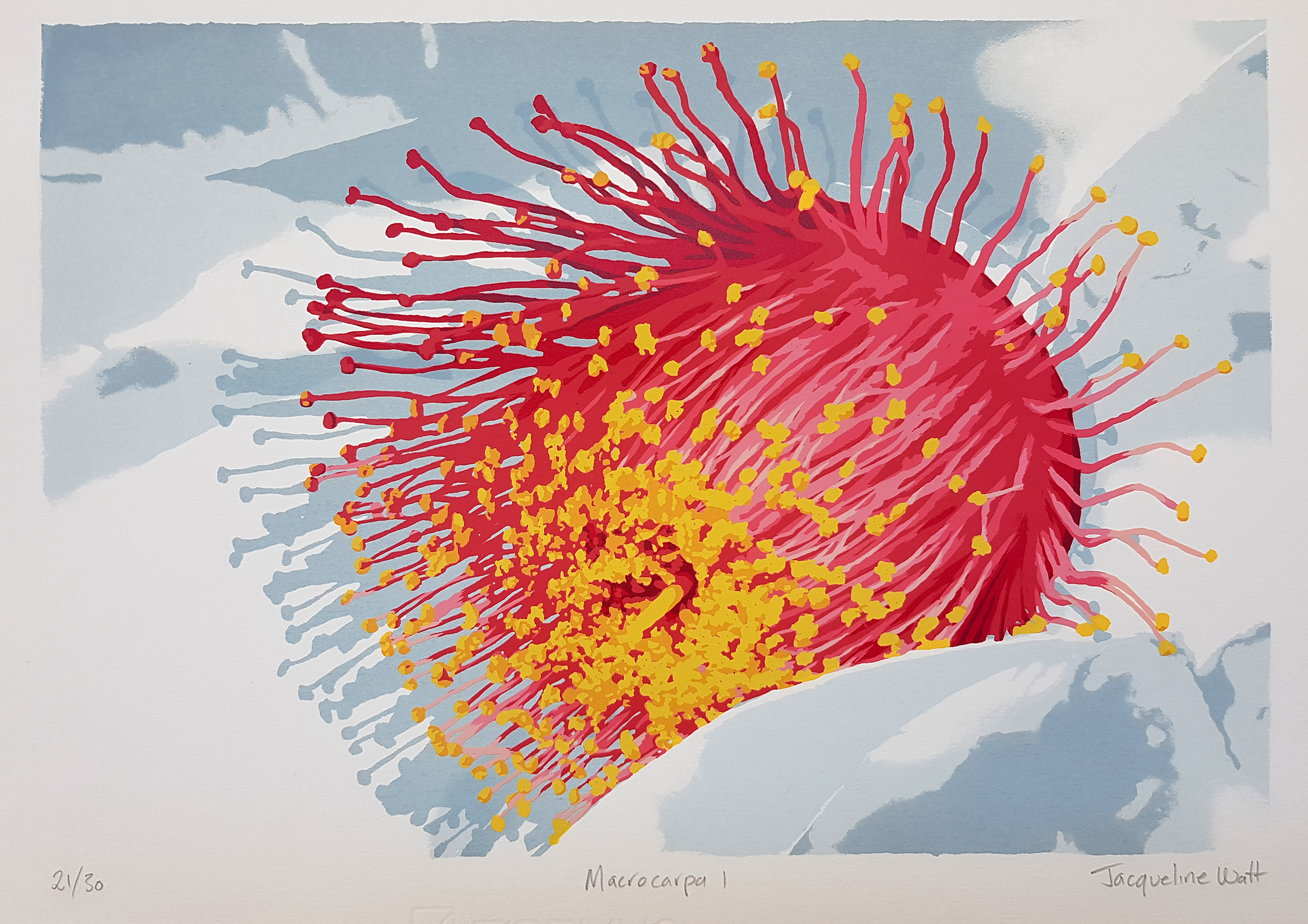 From top:
Jacqueline Watt:
Illyarrie 1, 2020, reduction screenprint acrylic on Fabriano Rosapina 285gsm, edition of 30, 40 x 27.5 cm
Banksia Speciosa 1, 2020, reduction screenprint acrylic on Fabriano Rosapina 285gsm, AP – not editioned, 39 x 26 cm
Pincushion Hakea 1, 2020, reduction screenprint acrylic on Fabriano Rosapina 285gsm, edition of 30, 28 x 39.5 cm
Macrocarpa 1, 2020, reduction screenprint acrylic on Fabriano Rosapina 285gsm, edition of 30, 40 x 27 cm
Q: What were some of the foundation ideas you began with when embarking on this exhibition project?
The main theme of my reduction screenprints focuses on the native flora of Western Australia, depicting the glorious flowers that bloom throughout the year. I delight in the colours, shapes, textures and designs and strive to capture that magical blossoming moment to be enjoyed all year round. I often visit Kings Park Botanic Gardens in Perth to take reference photos from the abundance of native specimen plants growing there and our state wide wildflower season in September/October is a gold mine of inspiration.
Q: How did the artwork selection take place?
 I am very aware that there are many factors such as climate change, bushfires, urbanisation and dieback that threaten the survival of our unique flora. While my prints are a more contemporary rendition as opposed to being botanically explicit, I aspire to provide a snapshot of the floral bounty we have in this time and place. This subject is very relatable and being in a limited edition form makes for affordable original art.
Q: How does the exhibition manifest – what do visitors experience?
 The historic town of Pinjarra is situated just over an hour south of Perth in Western Australia. Pinjarra Connect is an active community group and one of their initiatives is the rotating month long Maker in Residence program located in the former Court House in the centre of town. The purpose of this program is to promote awareness of local makers and artists and their creative practice. It is my desire to impart an understanding of the process and of the amount of work that goes into producing an original print as well as to clarify the distinction between this and a digital print/reproduction print of original paintings.
The exhibition is situated in one of the front rooms of the old Court House and is easily accessible from the main street. The exhibition will comprise of a selection of framed wildflower prints. It is held over the month of June and is open Wednesday to Sunday from 10am to 2pm. I will be in attendance periodically and will be working on preparing my screen between printing layers as well as explaining the method of reduction screen printing to those interested.
Q: What are some of the key works and what subject matter do they deal with?
Banksia Speciosa 1: The Banksia Woodlands, unique to Perth and the south west of WA, are an important habitat for more than 20 nationally threatened species but have unfortunately been reduced by about 60% through clearing, dieback and other factors. While Banksia Speciosa is not endangered, its saw-toothed leaves are instantly recognisable as representing the genus Banksia. Individual Speciosa leaves were pressed before becoming a template for this reduction screenprint.
Pincushion Hakea 1, Illyarrie 1, Macrocarpa 1: These flowers are commonly seen in the southwestern regions of WA. My intention with these prints is for people to get a closer look at their beauty and be encouraged to choose such plants for their gardens as they are water wise and ultimately the most suitable plants to grow in the WA soil type and climate.
I have titled the prints with the common name of the plants instead of the botanical name to have a more general appeal. They are all flowers that I intend to explore further and do different prints of at some point, hence the addition of the number after the title.
—
Jacqueline Watt's 'Maker in Residence' is at Pinjarra Court House, 28 George St, Pinjarra, WA, 2-27 June. 
—
 Join the PCA and become a member. You'll get the fine-art quarterly print magazine Imprint, free promotion of your exhibitions, discounts on art materials and a range of other exclusive benefits.