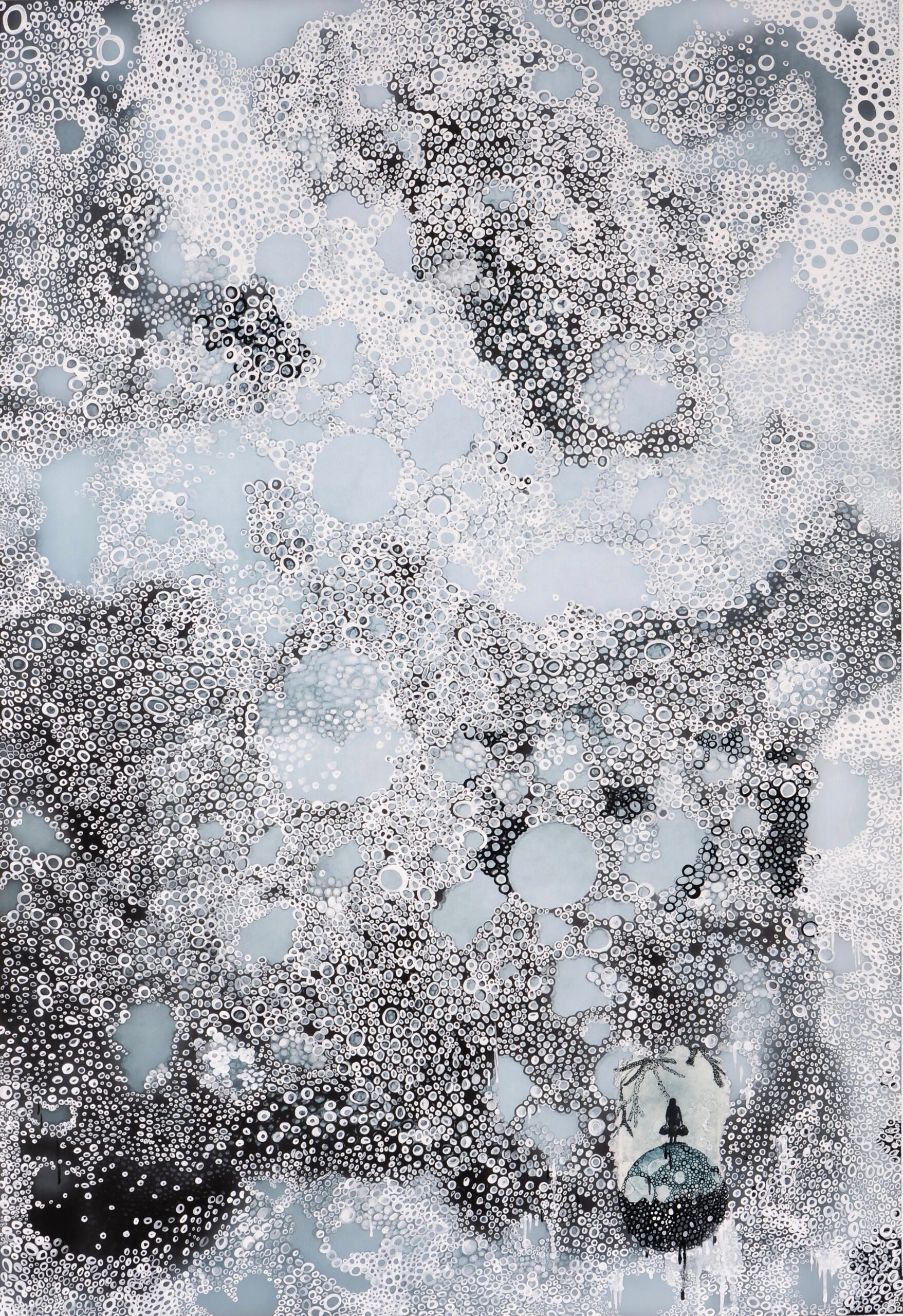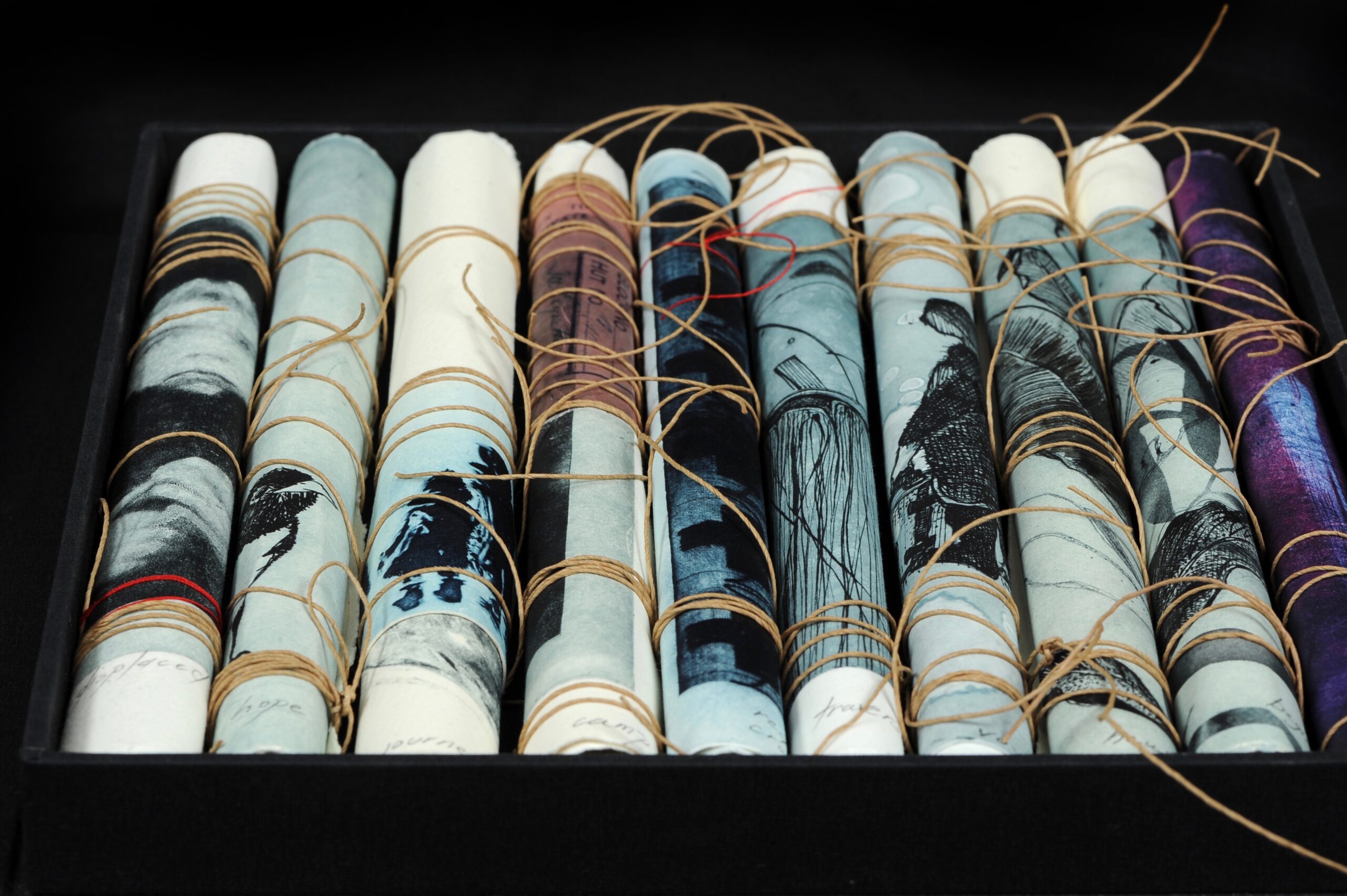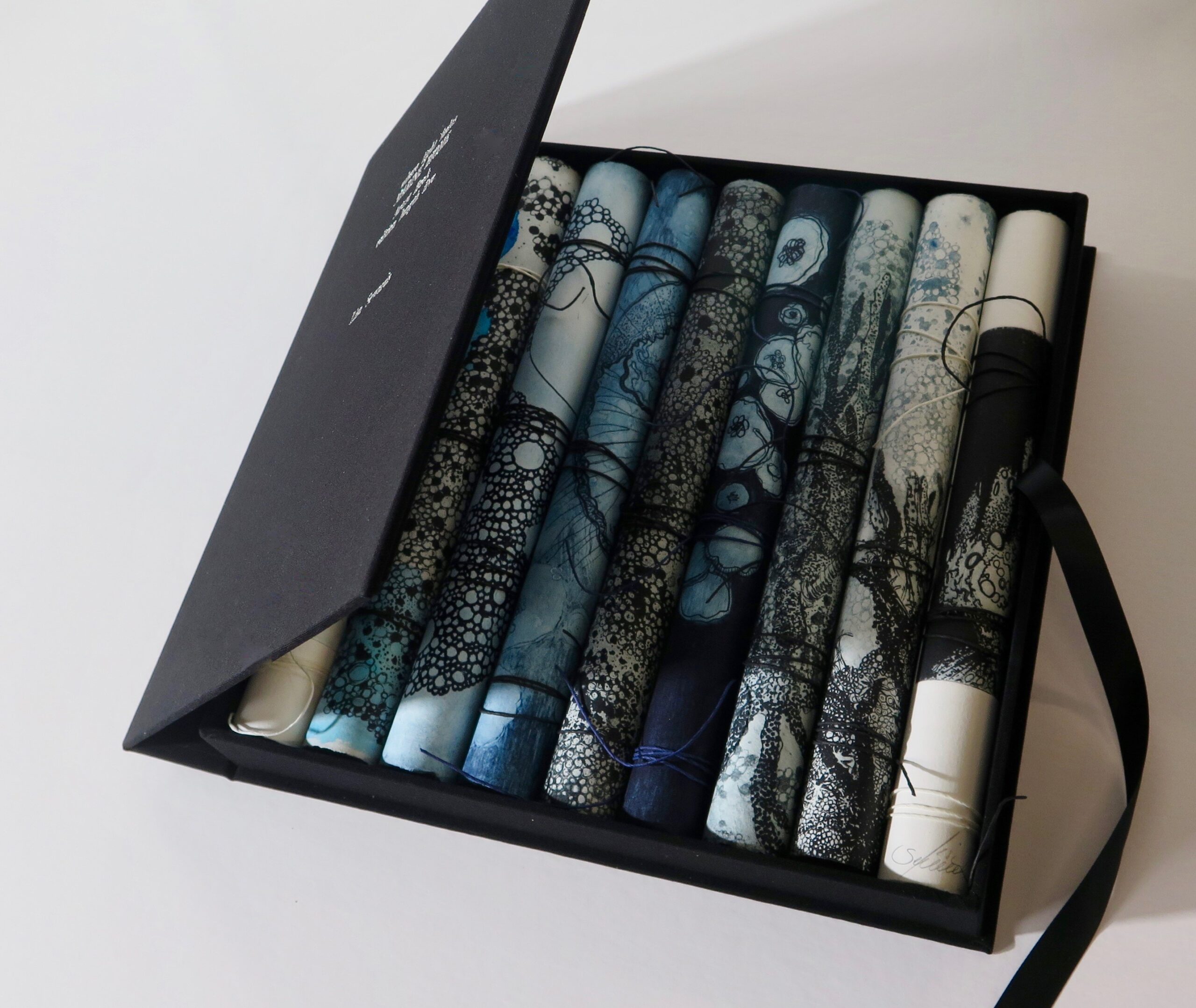 From top:
Lisa Sewards:
Alpha Crucis, 2023, etching, 15 x 10.5 cm, BFK cotton rag, 1/4.
She leaves the hills, 2023, multi-plate etching, BFK cotton rag 300gsm, unique state, 28 x 140 cm, five panels. [Response to Mountain Songs, poem by Eileen Chong.]
Anthropocene, she lives within this epoch, 2022, etching (collaged), gouache, pigment print, BFK cotton rag 300gsm, 149 x 100 cm, unique state.
DISPLACED, 2023, multi-plate Etchings (scrolled, one incl collage), paper twine, graphite text. Ten scrolls 300gsm cotton rag papers, each 28cm length, 2cm diameter. Archival custom made solander box with silver foil embossing, 30 x 27 x 3.8 cm (closed). Unique state.
where light fades MARINE BIOME, 2023, artist book, edition of five. Nine etchings, ink, editions of five*, 28x20cm BFK 380gsm paper (scrolled); nine scrolls 3cm d. 28cm l., paper twine, archival solander box with silver foil embossing, 30 x 30 x 5 cm (closed), 30 x 64 cm (open). [Inspired by The biome, poem by Kristen Lang (Earth Dwellers publication).]
Q: What were some of the foundation ideas for this exhibition project?
A: This exhibition explores and expands on my previous bodies of work that echo displacement.  I found the most beautiful piece of driftwood fifteen months ago on Shoreham beach and it found its new home within my studio. I thought about its vulnerability, drifting and travelling ocean currents no longer connected to its roots being akin to a displaced person's journey.  Both have drifted, changed shape and form and found a new home. This little find influenced the begining of my  DRIFTW O  O   D  artworks and it provided the perfect title for my exhibition.
Inspiration for imagery was drawn from murmurs of family memories, the natural world, and beautiful pertinent words in poetry.
Q: How did the artwork selection take place?
A: My works share a personal but universal story and the body of work evolved over a twelve month period, both successful and unresolved works.  These were all presented to Gallerysmith's Director Marita Smith during a studio visit and the choices made were a collaboration between the two of us.  Both finished and unfinished works were laid out in my studio, they were reviewed, discussed, selected, untouched, put aside, reworked, all a perfect balance for me to take a final selection to the framers.
Q: How does the exhibition manifest – what do visitors experience?
A:  On the north-west side of Melbourne's CBD, behind a red brick industrial façade you enter the gallery through its steel and glass doors into a beautiful expansive space, which was considered when selecting the final pieces to exhibit.  With each work in DRIFTW O  O   D  presenting a visual narrative for personal contemplation I hope that the works encourage gallery visitors to reflect and connect to their own family stories and also think about our environment.  Each of my works on paper are Etchings created using zinc or metal backed solar plates.  Several of the larger unique state works also incorporate gouache paint, and these applications and techniques will be discussed during an Artist Talk that I will be presenting on September 16th.   Visual storytelling is my intention. Human figures traverse and drift throughout several works and included in the show is a group of line etchings, figures of people journeying, each named after navigation stars.  Visitors will also experience Artist Books in the form of scrolls and each with their own stories.
Q: What are some of the key works and what subject matter do they deal with?
A: One is a five panel etching titled She leaves the hills.  It is a response to the pertinent words in a poem by Sydney based Eileen Chong named Mountain Songs.  The poem has five stanzas and reflects on the Poet's own Hakka ancestors who once lived in the mountains and fields of Guangdong and Fugian in China.
Another work titled Anthropocene, she lives in this epoch is the largest work in the show and depicts a woman, displaced and on a journey across a vast ocean amongst corals and reefs – it reflects that displacement occurs on both land and in our warming oceans.
A book of poems, Earth Dwellers by Tasmanian writer Kristen Lang influenced several works including an Artist Book that I have titled where light fades MARINE BIOME.  Her poem The biome is about displacement within our warming oceans and her words inspired the creation of intaglio prints, editions of five, that are hand rolled into scrolls and lay parallel alongside one another within an archival solander box, like modern day counterparts of ancient scroll manuscripts. Each is bound with paper twine.  Each records our precious reef through hand printed etchings.  One other artist book titled DISPLACED is one that I am particularly proud of as it follows my family's journey to Australia.
Q: What is it about the printmaking experience that you most appreciate?
A: There are many things to love about printmaking.  I appreciate the processes, beginning with drawing to plate creation and onto preparing the beautiful cotton rag papers.  I enjoy the considerate application of etching inks and the slow wiping of the plates, followed by that beautiful feeling when you hand pull the wheel of the etching press and feel the paper and plate merge – all of which is slow and meditative.  Then the moment when the image is revealed is always a juncture of surprise and great appreciation.  Also, when I travel I especially seek out Printmaking studios – now that is always a highlight and a special experience!
—
DRIFTW O  O   D  is at Gallerysmith from 25 Aug – 20  Sept www.gallerysmith.com.au
—
Join the PCA and become a member. You'll get the fine-art quarterly print magazine Imprint, free promotion of your exhibitions, discounts on art materials and a range of other exclusive benefits.