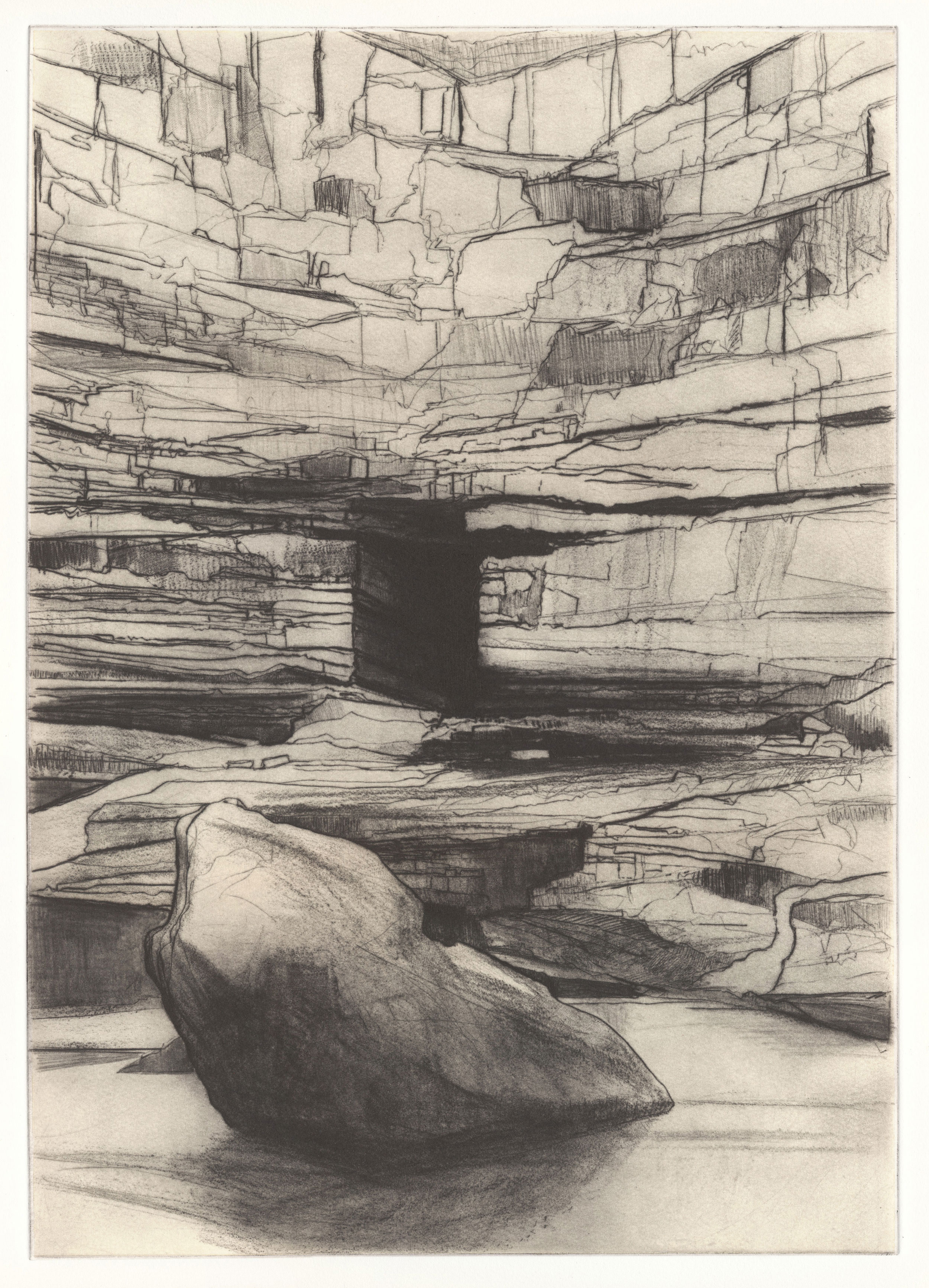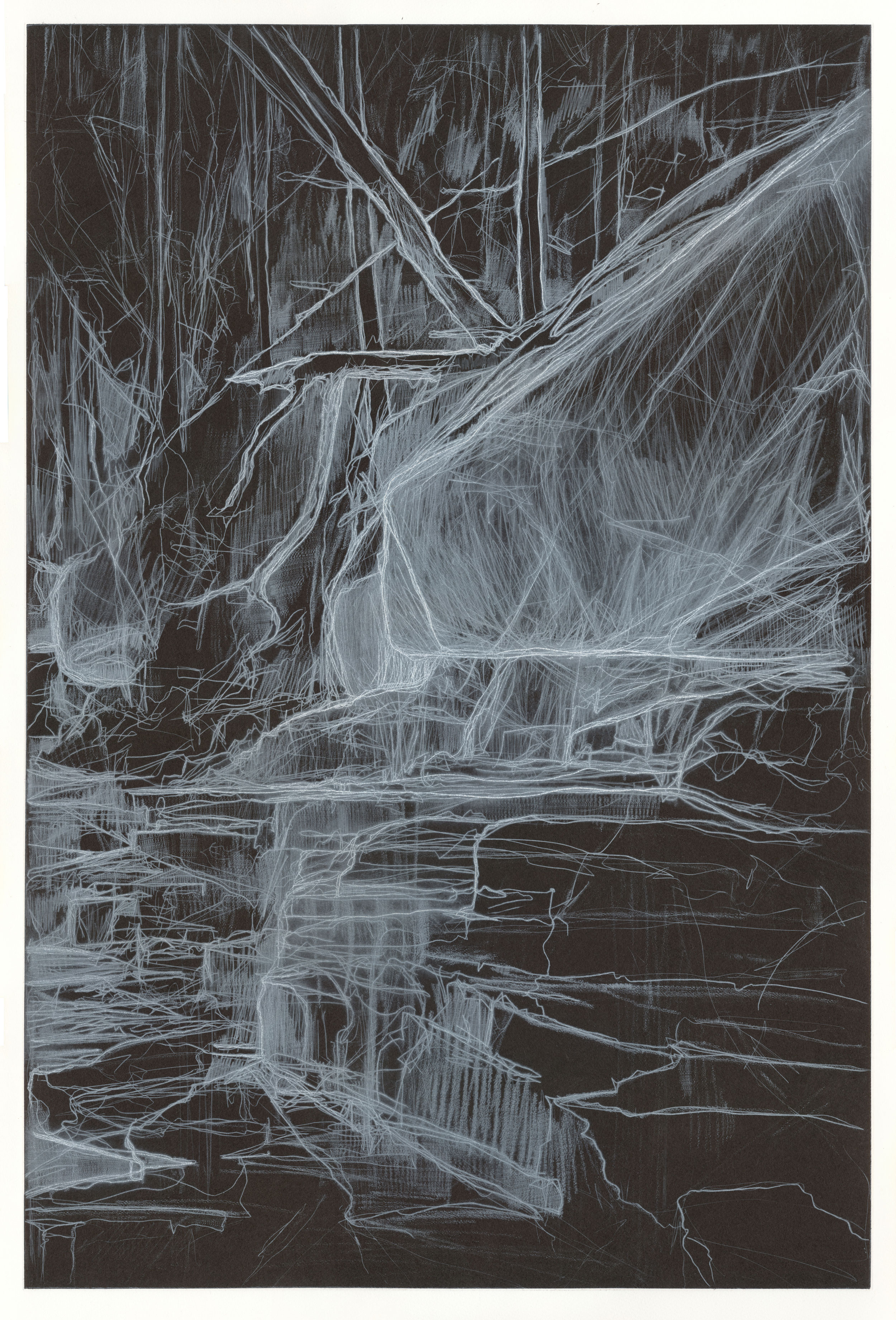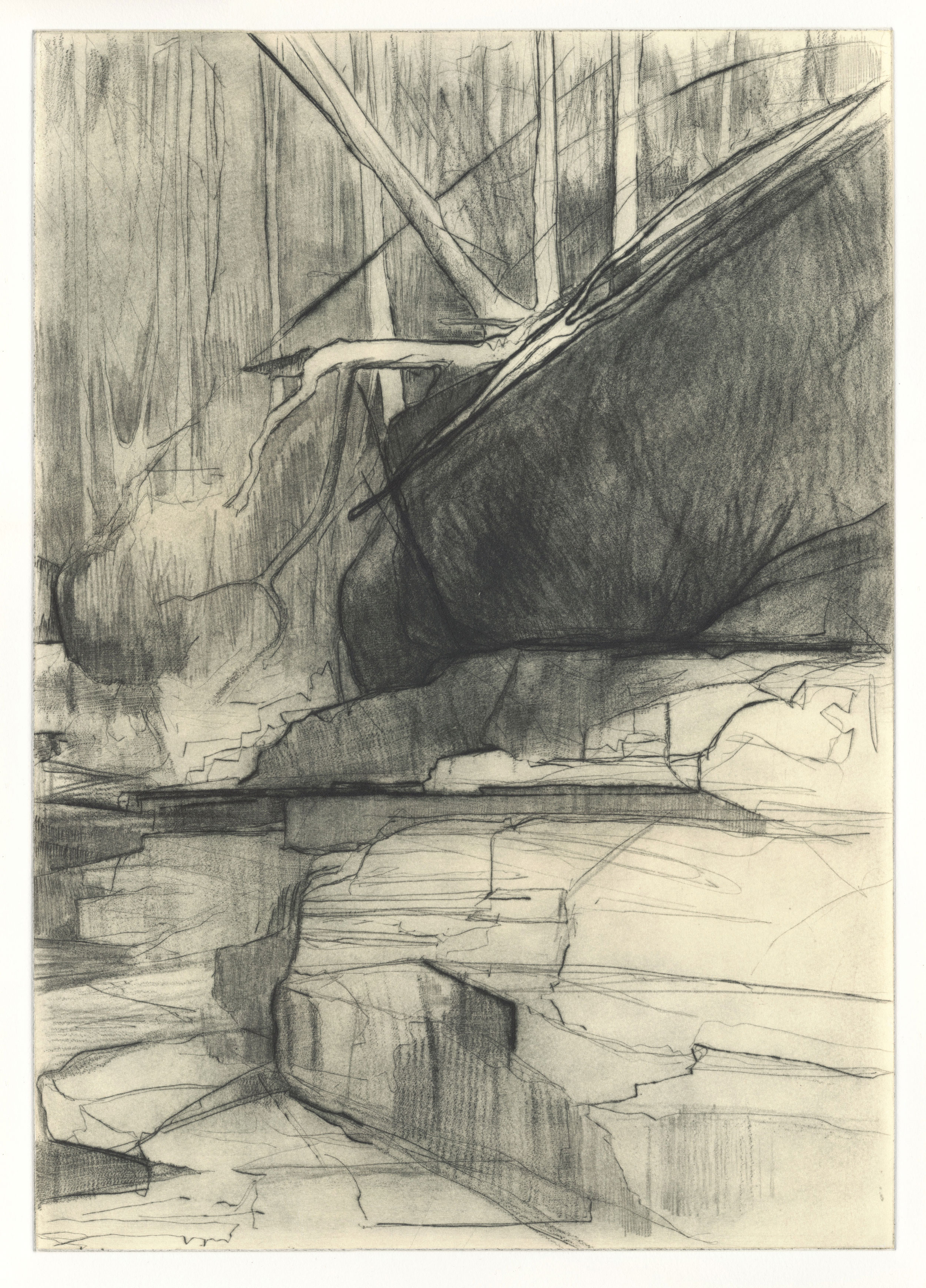 From top:
Tony Ameneiro, Nattai River Landscape, 2020, drypoint in white ink on chine colle, sheet size 112 x 76 cm, AP
Tony Ameneiro, Old Coal Hole Nattai River, 2021, drypoint and roulette, image 50 x 35 cm, sheet size 76 x 56 cm, edition of 10
Tony Ameneiro, Sloping Ground2, 2020, drypoint in white ink on chine colle, sheet size 112 x 76 cm, AP
Tony Ameneiro, Sloping Ground, 2021, drypoint and roulette, image 50 x 35 cm, sheet size 76 x 56 cm, edition of 10
Q: What were some of the foundation ideas for this exhibition project?
A: Landscape with Rock is an exhibition of new work inspired by the Australian landscape painter Fred Williams' visit to the Nattai River near Mittagong in 1957. Drawing on the title from one of Williams' own paintings, from that seminal visit, I've responded to the same environs working both plein air, and in the studio. As with previous projects I started by drawing directly from the subject and creating a series of prints and also for the first time some ceramics in collaboration with a local potter. I was also mindful of the fact that when Williams came to this area in 1957 he came with paper pencils gouache paints and some etchings plates. I tried to maintain a simplicity of approach not dissimilar to Williams.
Q: How did the artwork selection take place?
A: This particular solo exhibition is self-initiated and self-curated. Being a practicing artist-printmaker with no attachment to a commercial gallery I've never felt the drive to make work for an audience and certainly never with a commercial imperative. The work was ultimately chosen around its relevance to the show's theme and whether I deemed it successful or not.
Q: How does the exhibition manifest – what do visitors experience?
A: The Sturt Gallery is a single room space with about 26 metres of hanging space. The show is a mix or large drypoint prints, medium format drypoint prints and smaller monotypes all created from polycarbonate plates. The A3 and A2 sized colour pencil drawings created plein air show various aspects of the Nattai River valley. The unglazed ceramics platters, displayed as wall pieces, are created in a reductive manner similar to the making of an etching or monotype plate or a lithographic stone
Q: What are some of the key works and what subject matter do they deal with?
A: There's an emphasis on titles such as Sloping Ground and Old Coal Hole. These titles are deliberately 'loaded'. These works raise questions regarding contemporary views of land ownership, and environmental responsibility. I was also mindful in many of the works, that I was seeing, and drawing the same Nattai River landscape that Williams encountered in the late 1950s but from a totally different period, and perspective; one vastly different to that of the earlier artist.
Q: What is it about the printmaking experience that you most appreciate?
A: I try not to see printmaking in isolation or separate from the other media I work in whether it's drawing or as here with this new venture into ceramics. It's similar to Fred Williams' approach to his painting and printmaking, he worked freely and comfortably moving from one medium to the other. Allowing one to influence the other, never placing boundaries between them. Ultimately the work should always be able to stand and exist alone never being upstaged by its medium.
—
Landscape with Rock is at Sturt Gallery, Mittagong, until 19 September.
www.sturt.nsw.edu.au
—
 Join the PCA and become a member. You'll get the fine-art quarterly print magazine Imprint, free promotion of your exhibitions, discounts on art materials and a range of other exclusive benefits.