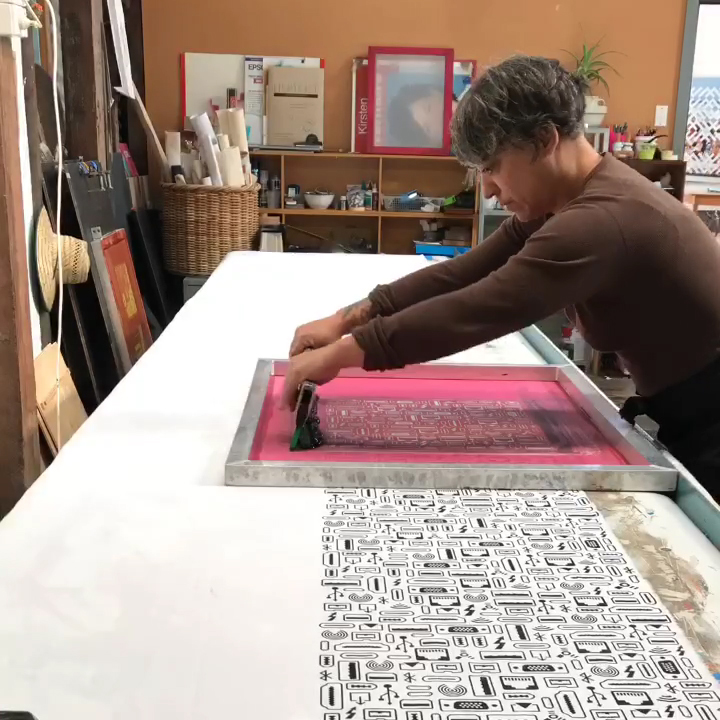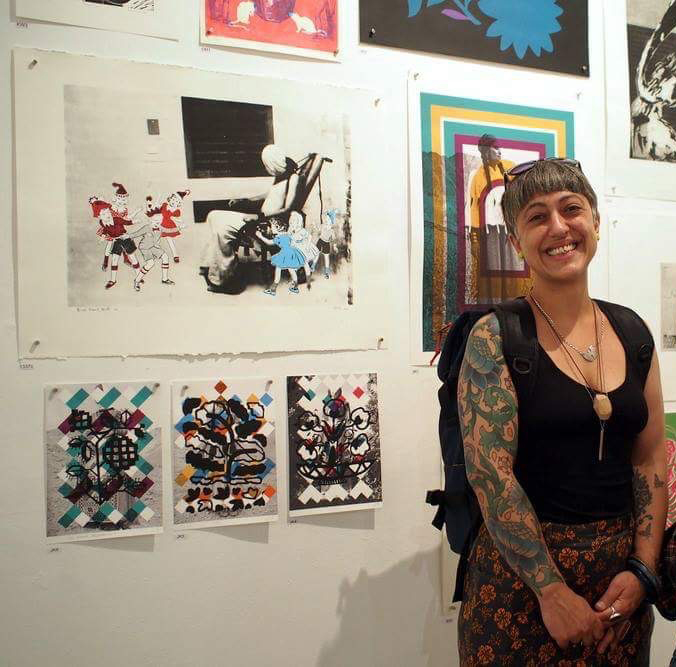 Joanna Kambourian
Born 1976, NSW. Now Lives NSW.
The Rug Merchants' Daughters
Archival digital print, with screen-printed elements in black and gloss varnish
Edition of 30, Image size: 47.6 x 33 cm, Paper size: 48.6 x 33 cm
VIEW THE PRINTS
Umbrella Studio Contemporary Arts
2 October – 15 November, 2020
408 Flinders Street,
TOWNSVILLE QLD 4810
Open Tues-Fri 9am-5pm | Sat-Sun 9am-1pm
umbrella.org.au
Sydney Contemporary Presents 2020
1 – 31 October, 2020
sydneycontemporarypresents.com.au
A free, experiential online platform where visitors can peruse artworks from over 80 Australian and New Zealand galleries.
*Sydney Contemporary art fair, and PAPER CONTEMPORARY the popular section of the fair devoted to works on paper hopes to return in 2021.


The PCA's Print Commission 2020 includes six works by artists from around Australia. The judges, Jazmina Cininas and Rona Green, say there was lively discussion during the difficult task of choosing the final works from an impressive selection: 'In the end, it was the synthesis of concept, ambition, technique and finesse that set the selected work apart for this year's 
commission.'
Q: What were some of the foundation ideas for the work you submitted for the 2020 Print Commission?
JK: The Rug Merchants' Daughters draws from family archives, found vintage elements and personal symbology that refers to my Armenian cultural heritage. Depicting my grandmother and her sister in their father's home and rug store in Allentown, Pennsylvania, the work is a reflection on the shared experience of displacement, migration and transcultural identity.
The images are domestic, simple reflections of nostalgic memories of people and places that exist in another life in another culture, another world and another time, yet are viewed from a very present, current and emotional space. My imagery becomes a comment and reflection on the crossing of borders and the movement of my family for many generations. They speak of what has been lost to time and a yearning to know more of the stories and experiences which shaped my ancestors as if somehow through the re-representation of them something might be revealed to me. The combination of traditional print methods and new technologies is a symbolic allegory for the bridging of generational experiences.
Q: What were some of the technical challenges or inspirations involved?
JK: I find that the work I make comes directly out of a desire to experiment with process and transgress the boundaries of traditional printmaking. This often creates interesting technical challenges in how I combine various processes successfully. I spend a lot of time in the studio playing 'what if…', like, what will happen if I do this and this?! This doesn't always turn out successfully! The combination of traditional print methods and new technologies presents a constant challenge in my work, but also a source of inspiration through this experimentation and I also am directly utilising this experimental approach and the symbiosis of these new and old processes as a part of the conceptual framing of the work I make. The combination of process and experimentation speaks of my own cultural experience and how I see the world.
Q: How does this work relate to your work more generally?
JK: My practice explores the complexity of cultural identity and inherent in my work is a desire to make a connection to my cultural heritage through artisanal processes after generations of displacement and migration. Inherited generational trauma is a central theme, and my process of making is a personal creation of contemporary artifacts that speak of the experiences of a fragmented cultural psyche.
The context of the ideas I explore in my work comes from my own experience as a first-generation Australian to parents with very different cultural backgrounds. My father was born in New York to Armenian parents. His father had escaped the genocide and migrated to the US in the early 1900s. His mother was a first-generation American. The reconciliation of their experiences was difficult, despite both being Armenian. My father, as a result, rejected most of his cultural heritage and we grew up without having any direct connection to his culture or even our direct family. It wasn't until my thirties that I began to travel to New York to spend time with my Armenian family and became aware of how my father's subsequent migration to Australia further distanced him from our cultural heritage. It has become the focus in my work over the past 15 years to trace my history back through photographs, stories and inherited heirlooms to reclaim my sense of self through culture. Patterns and symbology feature strongly in my work, referencing the designs and craftsmanship of the carpets Armenia is famous for – the patterns of which have not changed much in hundreds of years despite the displacement and suffering Armenians have experienced.
Q: What future projects or directions are you considering?
JK: Through the support a micro-grant initiated by local arts body, Arts Northern Rivers in response to the COVID-19 pandemic, I will be instigating a home studio residency project, in place of my now postponed, planned residency with the Institute of Contemporary Art, Yerevan.
My planned residency for May 2020 has been on hold due to COVID travel restrictions. The opportunity to begin this project will allow me the time to experiment and plan a new body of work with a broad scope of outcomes, despite not being able to participate in this international residency opportunity at present.
During this home residency, I intend to take current ideas within my practice to a larger scale and produce new large scale prints and life-sized woven paper carpets, made from the prints, and featuring designs that echo traditional Armenian carpet patterns.
For this work, I will again utilise my collection of inherited old family photographs as source material. The construction is a very meditative, repetitive and labour intensive process, involving cutting the paper, folding, joining and sewing the strands together using linen thread and utilises skills in bookbinding and weaving.
The project will include performative elements, the cutting of the large prints into pieces and the performance of the process of weaving with the destroyed images.
—
Join the PCA and become a member. You'll get the fine-art quarterly print magazine Imprint, free promotion of your exhibitions, discounts on art materials and a range of other exclusive benefits.