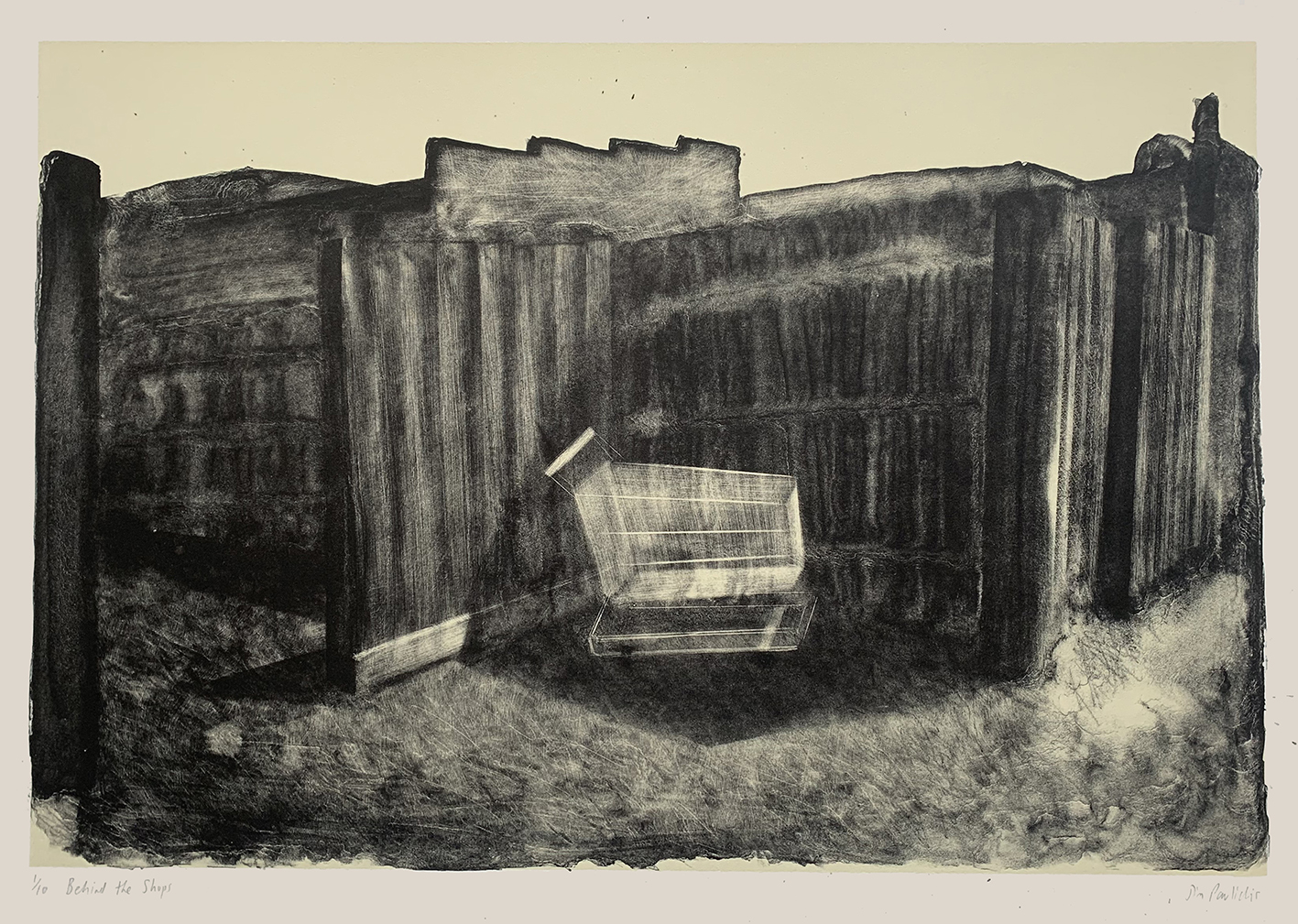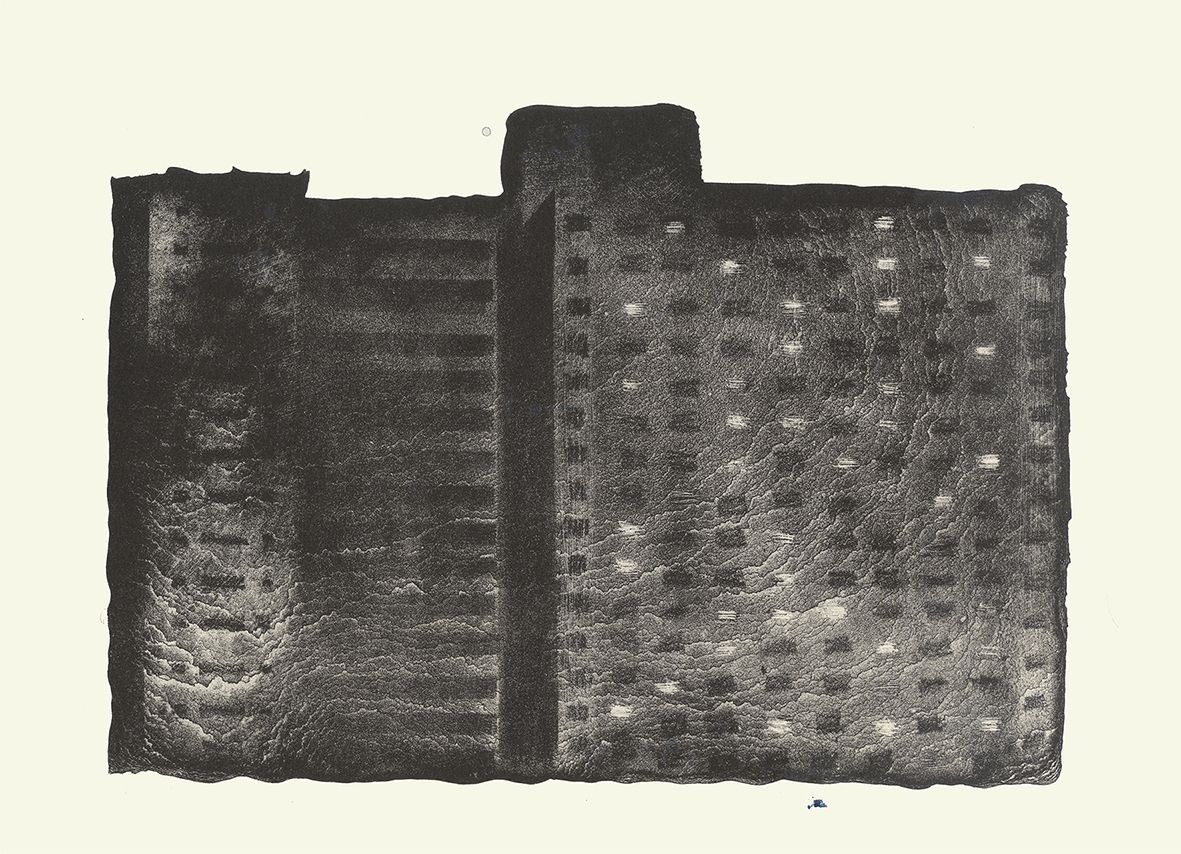 From top:
Opera, 2022, lithograph, 43 x 64 cm (image), 56 x 76 cm (sheet)
Behind The Shops, 2022, lithograph, 43 x 64 cm (image), 56 x 76 cm (sheet)
Trolley, 2021, lithograph, 47 x 30 cm (image), 56 x 38 cm (sheet)
Flats 1, 2021, lithograph, 28 x 38 cm (sheet)
Q: What were some of the foundation ideas for this exhibition project?
A: I've long been interested in shopping trolleys, both aesthetically and for what they represent. The careless manner in which they are discarded speaks of an indifference towards privilege, as well as disregard for the people whose job will be to collect them. The rubbish bins are a more recent development. Every week our bins go out, a snapshot of life during the past seven days. Red lids for rubbish, yellow lids for recycling. Once they're emptied, the week begins afresh. I spent a couple of years helping my ageing parents and was always amused and puzzled by how clean their bins were! It was around this time that media reports revealed much our recycling was ending up as landfill.
Q: How did the artwork selection take place?
A: I worked steadily over 18 months, amassing more than enough work to fill an exhibition. Making the final selection was simple, a process helped greatly by the long time span. Often pieces that might appear finished don't look that way months later, while other more difficult pieces may feel better over time.
Q: How does the exhibition manifest – what do visitors experience?
A: The exhibition is traditional – 32 pieces framed simply. Apart from one 60 x 100cm painting, the works are of a smaller scale. They are direct observations which, when viewed as a whole, form a visual essay.
Q: What are some of the key works and what subject matter do they deal with?
A: There are three clear motifs – bins, shopping trolleys and the Richmond housing commission flats. The pictures of flats are studies in light, captured at different times of the day and night. The bins and trolleys are essentially about consumption.
Depending on where you live the exhibition may already appear dated, as I've only depicted bins with red lids and yellow lids – several councils in Melbourne have added purple and green lid bins!
A key work from the exhibition would be the recent lithograph Opera. With master printer Peter Lancaster now based in Fiji, my usual tusche-based stone lithograph approach was not an option. I created the image as four separtions drawn with litho crayon on drafting film, and sent them to Peter. I was thrilled with the result and intend to make more lithos this way.
Q: What is it about the printmaking experience that you most appreciate?
A: The most rewarding aspect of the printmaking experience is collaborating with the printer. Peter Lancaster and I have worked together for almost 30 years. Apart his technical expertise – the loosely-applied water based tusche we use is particularly difficult to print – he is a wonderful colleague to discuss ideas with.
—
Bin Night is at PG Gallery, Brunswick Street Fitzroy until 15 September www.pggallery.com.au
—
Join the PCA and become a member. You'll get the fine-art quarterly print magazine Imprint, free promotion of your exhibitions, discounts on art materials and a range of other exclusive benefits.