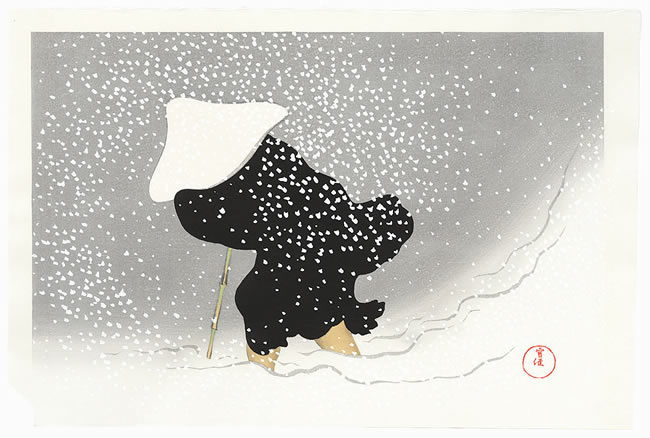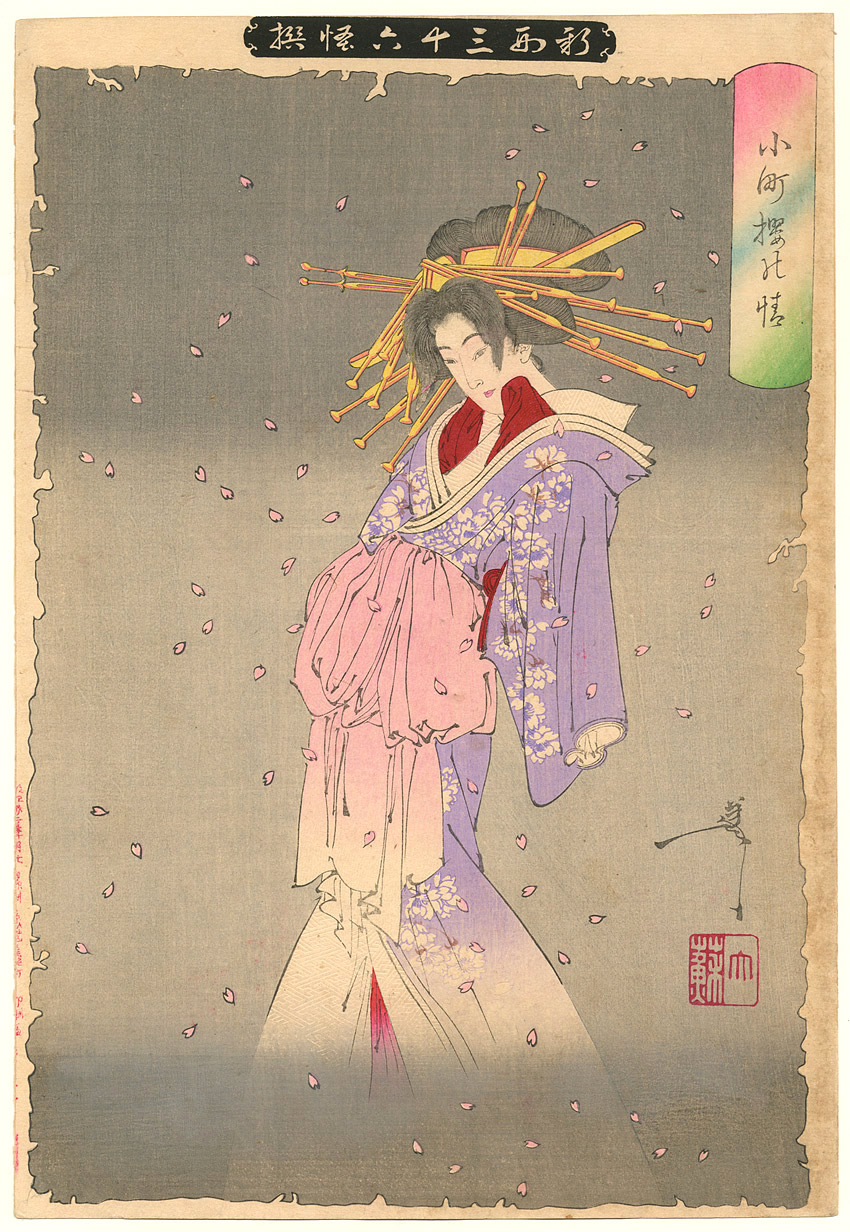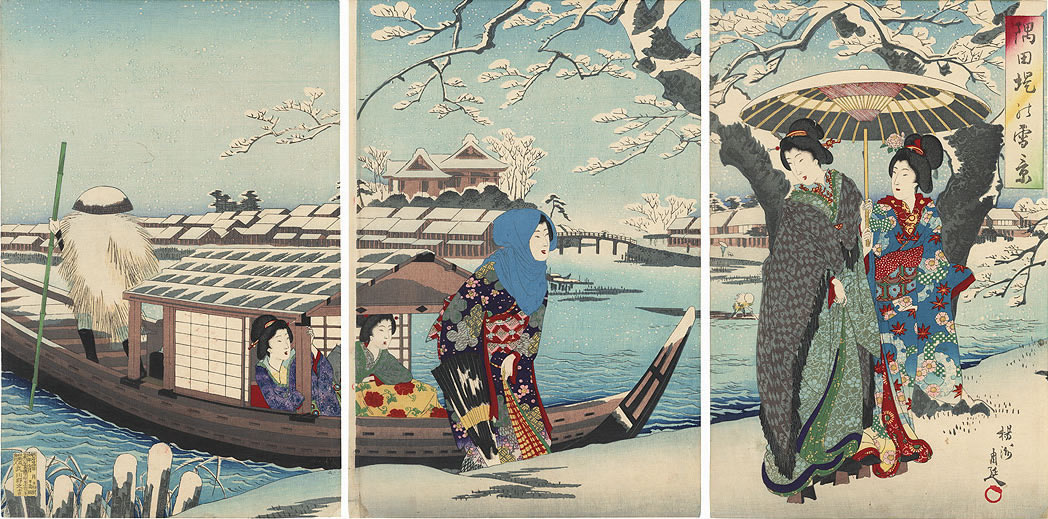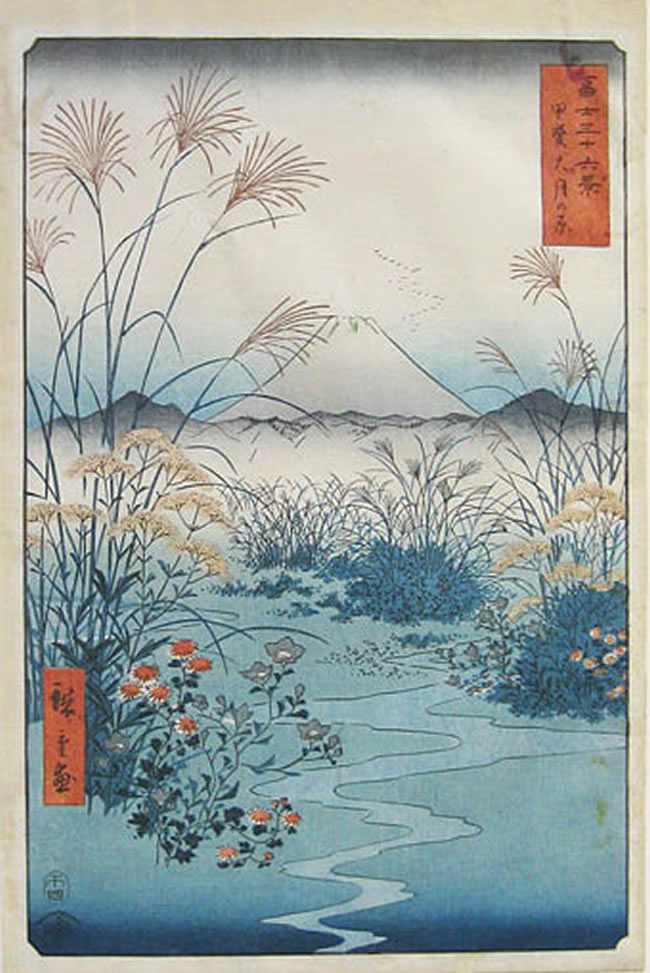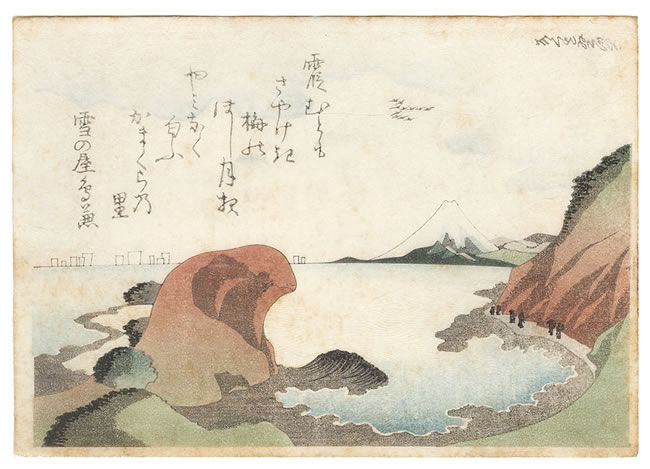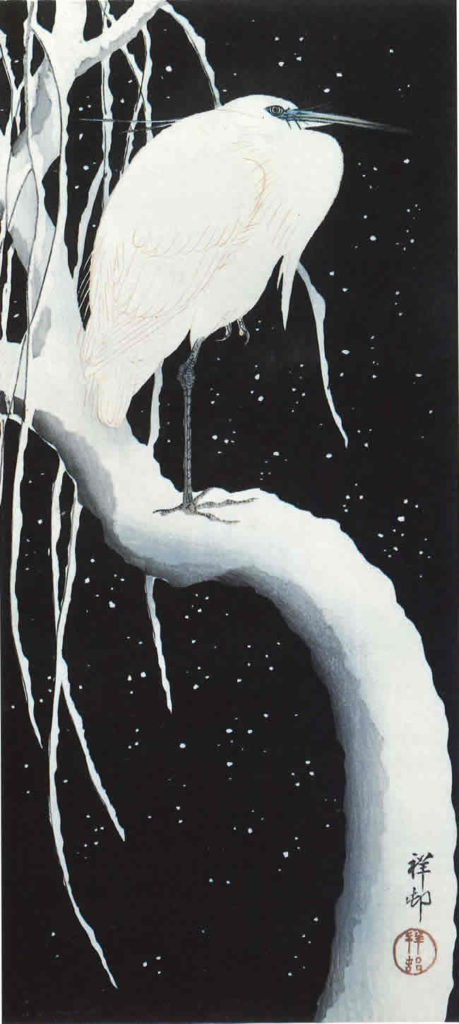 From top:
Kawase Hasui, Kankai Temple, Beppu (Beppu Kankai), 1927
Kamisaka Sekka, Nichiren in Exile from the series World of Things (Momoyo-gusa), 1909
Tsukioka Toshitoshi, The Spirit of the Cherry Tree (Komachi-zakura no sei) from the series, New Forms of Thirty-Six Ghosts,1889
Toyohara Chikanobu, A Snow Scene on the Banks of the Sumida River published 1891
Utagawa Hiroshige, Otsuki Plain in Kai (Otsu No Hara, Kai) number 48 from the series, 36 Views of Fuji, 1858
Katsushika Hokusai, Enoshima and Fuji, c.1800
Ohara Koson, A Little Egret on a snow covered branch of a willow tree, snowflakes falling against a night sky, 1910-12
Covering more than 250 years of printmaking the exhibition, Japanese Prints: Ancient and Modern vividly illustrates the long and rich heritage of printmaking in Japan. Sourced from around the world, the 59 works on show demonstrate how printmaking is well suited to the Japanese temperament, which prizes excellence, precise craftsmanship, respect for materials, artistic sensitivity and an eye for composition, balance and colour.
Japanese woodblock prints of the 18th and 19th centuries record an exotic, vibrant, colourful and highly sophisticated society in a form which constitutes a significant element in the history of world graphic art. The imagery takes the viewer into a world of Kabuki plays and actors, courtesans and beautiful women, heroes of legend, historical battles, the Japanese landscape, and erotica. Featured artists include the dominant masters of the 19th century, Kunisada (portraits of actors), Kuniyoshi (beautiful women), Hiroshige (landscapes), Yoshitoshi (two prints from his series of Ghosts), Chikanobu (genre scenes with women and children).
The exhibition also includes three small works by Katsushika Hokusai (1760 1849) one of the great draftsmen of world art and one of the most highly regarded Japanese artists in the West. Hokusai's long life was devoted to a constant and daring exploration of design and painting. He is responsible for many of the great masterpieces of ukiyo-e, including The Great Wave, the 15 Volume Manga  and his illustrated 3 volume book, 100 Views of Fuji, of which two individual sheets are included in the exhibition. But of particular interest is the extremely rare Enoshima and Fuji, of 1800 from an untitled series of Western-style landscapes of which five are extant, signed at top right in a curious imitation of Western calligraphy. These extremely rare prints are delicately printed in a surimono style (illustrated poems) and dispense with the customary key block outlines of ukiyo-e.
This long and rich heritage of printmaking experienced a renaissance both between the World Wars and into the modern era. Employing screenprinting, lithography, stencil printing and mezzotint, as well as the traditional skills of woodblock printing, twentieth century artists such as Hasui, Seka, Keinen, Hamanishi excelled in  their depiction of the natural world and landscapes. The exhibition includes  bird and flower prints by Ohara Koson, the supreme exponent of this genre,  whose masterpiece, Egret on a Snowy Branch, is being offered for sale for the first time in Australia.
The design and highly skilled colour woodblock printing technique had an extraordinary and lasting influence on Western art and graphic design. Indeed, Japanese prints of all periods have been collected ever since Japan opened to the West in the mid-19th Century and continue to resonate with collectors, artists and the viewing public today.
Japanese Prints: Ancient and Modern is at Australian Galleries, Paddington, NSW, until 14 March. 
—
Join the PCA and become a member. You'll get the fine-art quarterly print magazine Imprint, free promotion of your exhibitions, discounts on art materials and a range of other exclusive benefits.