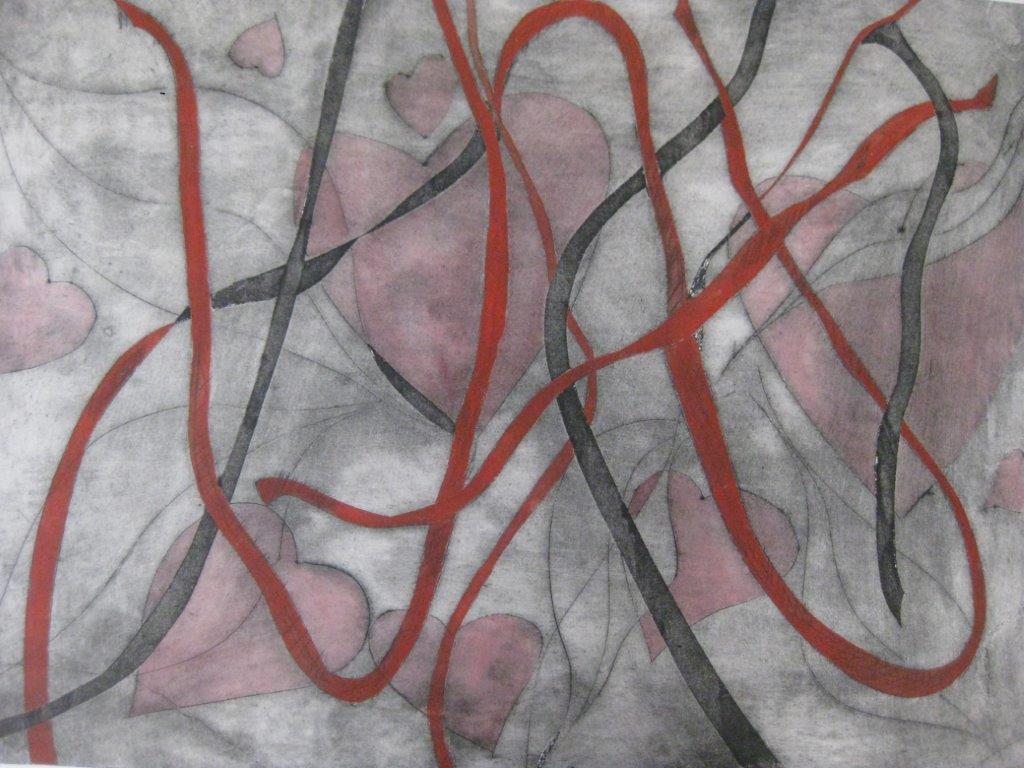 From top:
Janette Hanrahan, Bark Impression River Red Gum Finke River N.T. 2004, a hand-coloured linocut (48 X 26 cm)
Janette Hanrahan, Ribbons Of Love, 1995, paper, drypoint, handcoloured, 38 x 54 cm
Janette Hanrahan, Transcendental Object, 2018, deconstructed linocut over metal frame,19 x 25 cm
I have been a practising artist for the past 45 years living in the Southern Highlands of NSW. During this time, I have held six solo exhibitions and have exhibited both nationally and internationally and have been a finalist in many significant selective exhibitions. I had always hoped to have a solo exhibition at the Bowral Art Gallery during the past years, but the caring of my late husband and then my own health issues prevented this. During the enforced COVID 19 restrictions I decided to publish a monograph 1975-2020 , dedicated to my grandchildren and at the same time have a survey exhibition of selected works from those years. Since I had been a student of Joyce Allen at The Berrima District Art Society (now known as The Bowral District Art Society), it was only fitting to have my survey exhibition there.
My main aim for the exhibition was for it to be cohesive, uncluttered and in chronological subject order. The gallery has two smaller rooms and one large room. The selection process was relatively easy as my earlier works, including drawings, a bronze sculpture and mainly prints, are in the first small room. Most of these prints have been exhibited in significant national exhibitions and are from 1975-2000.
In the second smaller room are three self-portraits,  watercolour, print and acrylic (two having been finalists in Portia Geach Memorial Art Award). The remaining wall space is devoted to emotive issues, for example Ribbons of Love, exhibited in the National Gallery of Zimbabwe for
Aids in Art and for Blake Prize entries, including The Faceless Women of Afghanistan, which toured nationally. Both these works are prints. The large gallery space is devoted to still life, but mainly to the natural environment, both locally and from the Northern Territory, and includes watercolours, prints and artist books. I think that my exhibition will explore how imagination is the beginning of creativity. Visitors will experience a diversity of works in various media and perhaps enjoy or question my emotive response to certain subjects.
For the past 20 years the main focus of my work has been printmaking and I have produced a large body of work titled Bark Impressions. After several outback painting trips to the Northern Territory, I became fascinated with the colours, patterns and textures of the bark and trunk of the Eucalyptus  camaldulensis, the River Red Gum.
Back in my studio, the many sketches and 'en plein air ' paintings together with my memories and imagination have resulted in a many prints, watercolours and artist books.
Key works  are Ruby Gap River Red Gum N.T. 2001, a hand-coloured diptych linocut on Japanese handmade paper (30.5 x 92 cm), Bark Impression River Red Gum Finke River N.T. 2004, a hand-coloured linocut (48 X 26 cm), and Bark Impression River Red Gum Ruby N.T 2003, watercolour and sumi ink (75 X 99 cm). These works have been exhibited both in various NSW galleries. In later years I have also concentrated on handmade artist books using various media and these, plus two sculptures of deconstructed linocuts, will be exhibited.
Janette Hanrahan, Survey Exhibition 1975-2020 is at Bowral Art Gallery 7-11 May www.bdasgallery.com
—
Join the PCA and become a member. You'll get the fine-art quarterly print magazine Imprint, free promotion of your exhibitions, discounts on art materials and a range of other exclusive benefits.