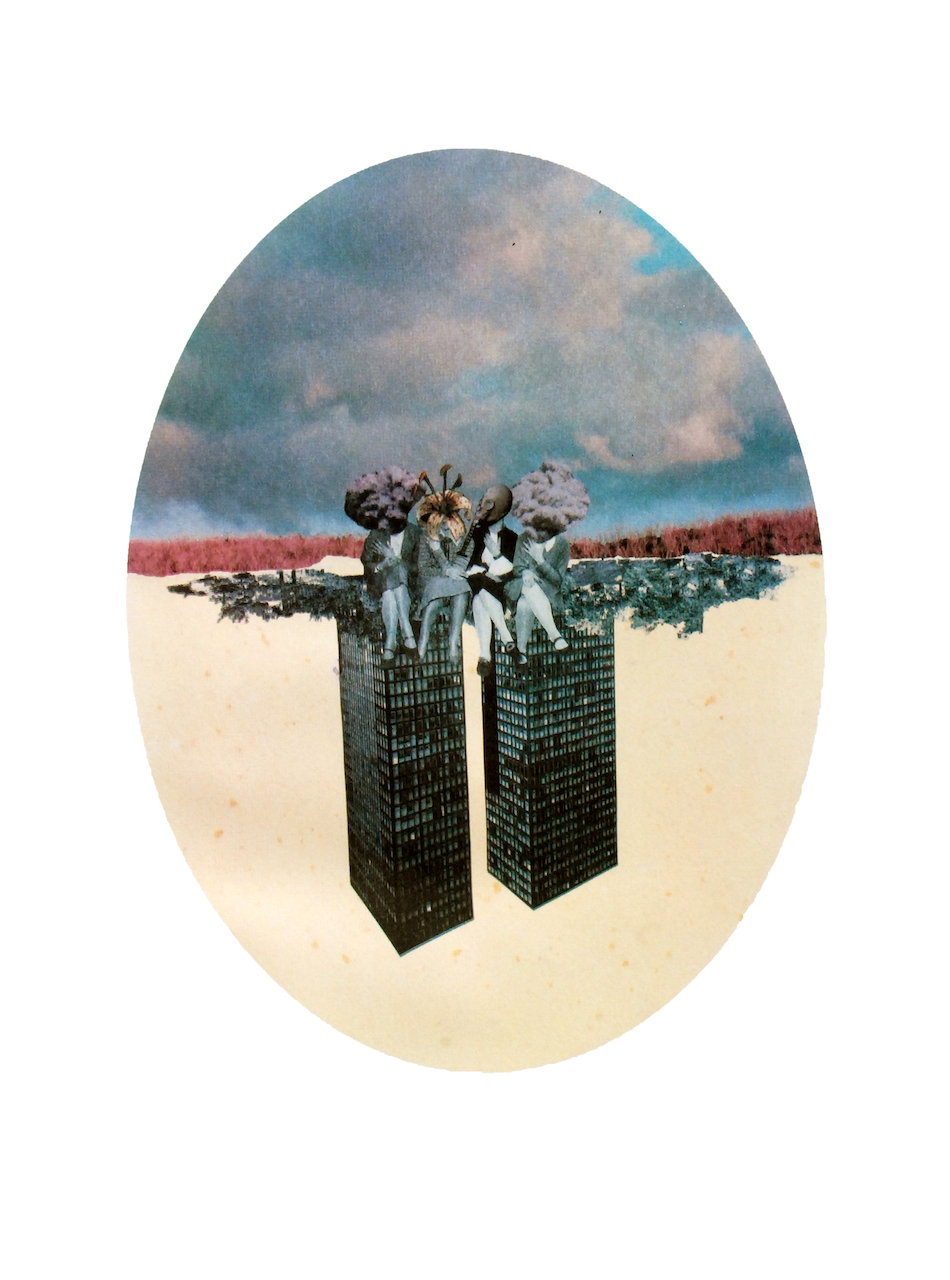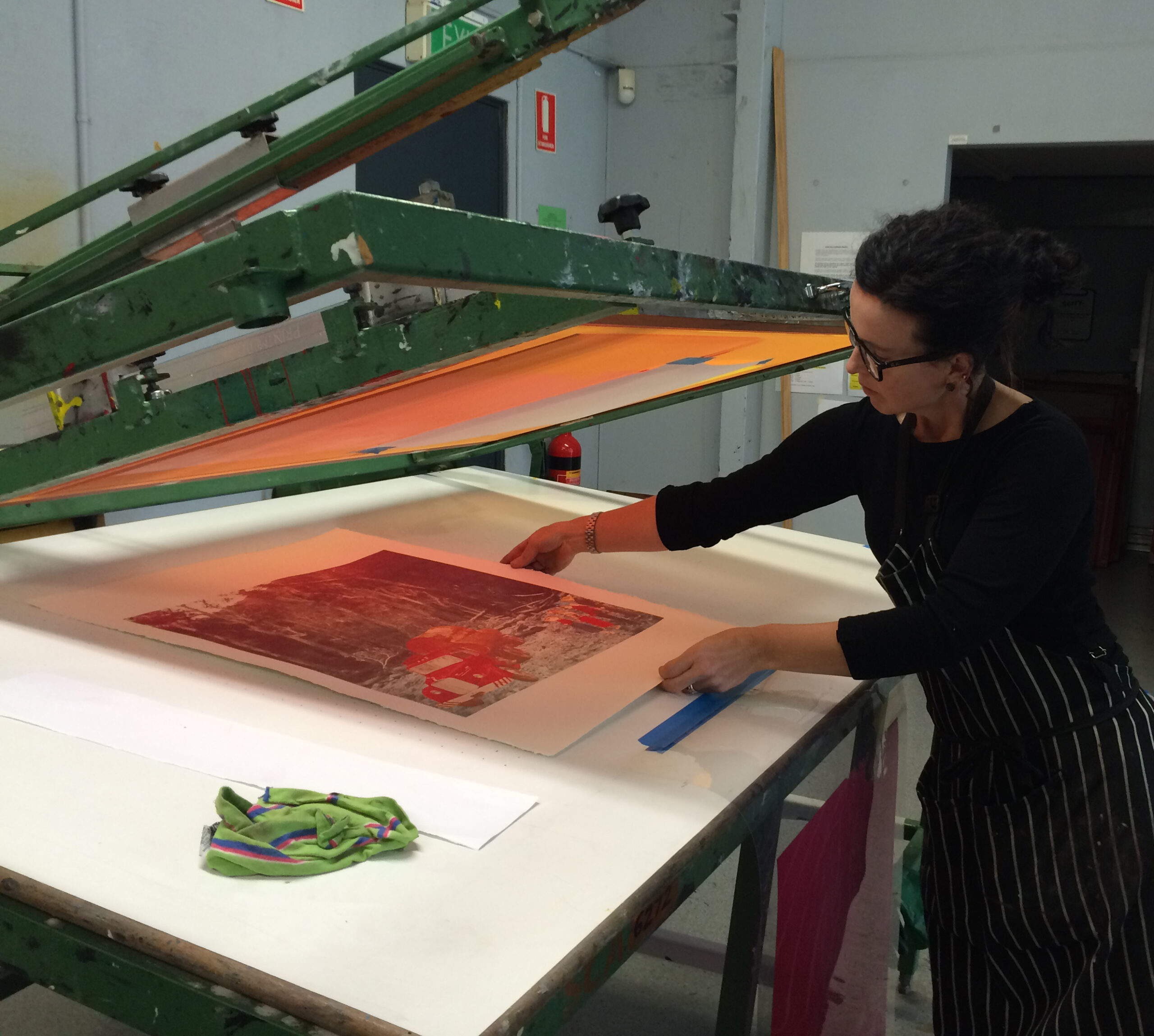 Top:
Janet Parker-Smith, Tend the Garden, 2022, screenprint, 52.5 x 39.5 cm (image), 76 x 56 cm (paper), edition size: 30
My current studio space covers two areas. One is a garage that houses my etching press and one arm-bandit for screenprinting, and the other is a studio space where I work on collages and sewing/applique works. I am also lucky enough to have access to the Printmaking facilities of the National Art School and Sydney College of the Arts. These spaces allow for positive engagement with students and staff while providing communication about ideas and processes.
I am currently working on a commission for Willoughby council that is a large 3D copper etching (2 x 1.5 metres) that discusses the changing landscape of the council area. It aims at engaging the community with their surrounds. Once the work is complete it will be housed in the Willoughby Public Library.
I also currently have work on show at Art Space on the Concourse, Chatswood in a curated exhibition titled 'Cities Foretold', which coincides with the councils Emerge festival.
I am currently working towards a printmaking exhibition for 2023 that is being curated by printmaker Jo Lankester. The exhibition consists of seven Australian and seven Canadian
Artists who have been asked to visualise their response to the notion of the surrounding landscape and how we are tied to our vast geographies.
I am also working towards a future exhibition with the Sydney Printmakers at Glasshouse Gallery, Port Macquarie, titled 'Origins'. For this exhibition I am making a series of fabric works that will be screenprinted with applique. These works discuss future possibilities with our changing environment.
—
To view and buy a 2022 Print Commission print visit:
www.printcouncil.org.au/print-commission/print-shop/
—
The Print Commission is on display at interstate venues over the next few weeks, and there is still time to order the prints and claim the discounted rate for PCA members. As always editions are selling fast so order early to avoid disappointment. You can view and securely purchase the prints on our website here.
View the Print Commission 2022
New South Wales
Level 1 NUspace (University of Newcastle)
5 September – 31 October
Hunter & Auckland Streets, Newcastle NSW 2300
(02) 4921 5255
Queensland
Umbrella Studio Contemporary Arts
7 October – 13 November
408 Flinders St Townsville, QLD 4810
Open Tues – Fri 9am – 5pm, Sat – Sun 9am – 1pm
umbrella.org.au
Australian Capital Territory
Megalo Print Studio
14 September – 15 October
21 Wentworth Avenue, Kingston, ACT 2604
Open Tuesday – Saturday 9.30am – 5.00pm
Victoria
Print Council of Australia
2 September – 28 October
Studio 2 Guild
152 Sturt Street, Southbank, VIC 3006
Open to visitors every Wednesday and Thursday, 10am – 4pm
—
Join the PCA and become a member. You'll get the fine-art quarterly print magazine Imprint, free promotion of your exhibitions, discounts on art materials and a range of other exclusive benefits.