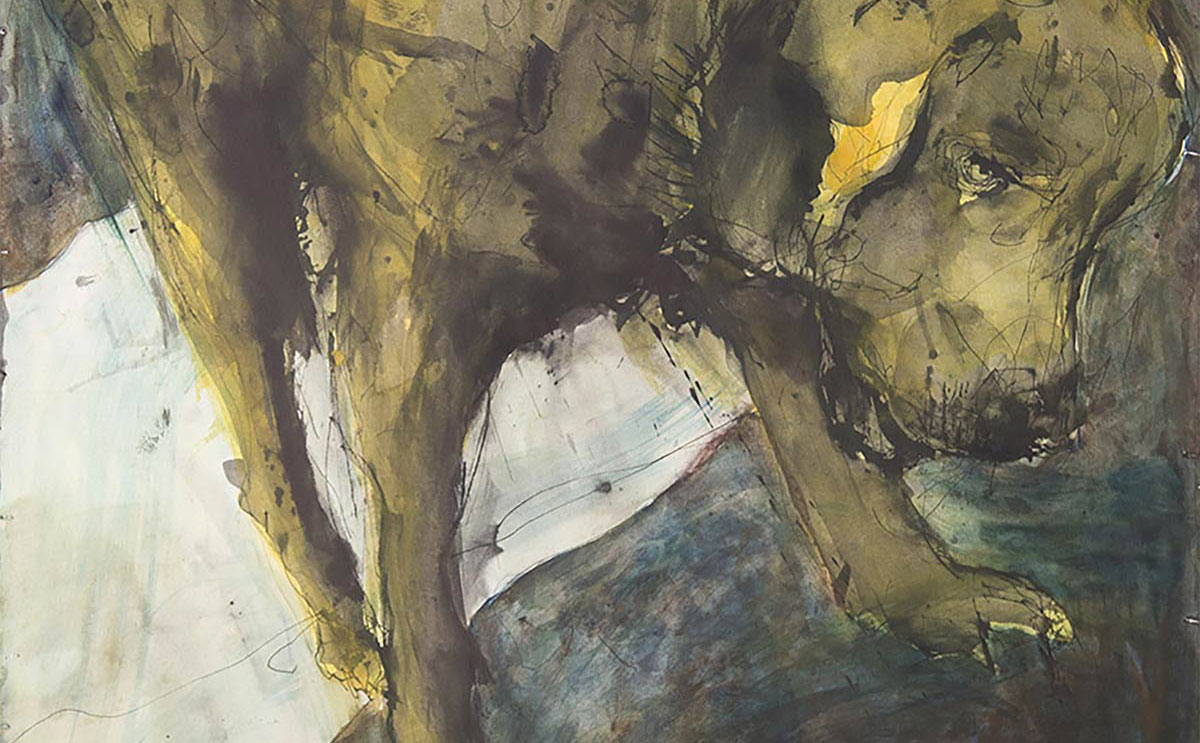 Jane Giblin:
The Earth Muzzle
Jane Giblin explores White Australia and land in her coming show The Earth Muzzle.
April 27, 2018
In Interviews,
Printmaking, Q&A
Imprint: What is the premise for this exhibition and how have you been working towards it?
Jane Giblin: I have been exploring the midlands of Tasmania since the mid-1990s. This originates in the journeys around Tasmania and New South Wales with my father as he undertook his work as a civil engineer, meeting farmers and helping them with their water resources. I enjoy resting my cheek on the earth. While mutton birding in my eighteenth year, I found the same pleasure in the earth of the islands of Franklin Sound in the Furneaux Islands, and in the immediacy of obtaining such a wonderful food with my extended family.
I am a descendent of settlers, including those abandoned by their family members 150 years ago.
I enjoy drawing the landscape, drawing people working in the landscape and do not enjoy the fact that it is stolen land. My feelings for place and land are chewie and complex and confusing frankly.
My Master in Fine Art and Design in Printmaking (lithography) resulted in a large multi-panelled work which was the result of several years chasing around shearers, hunters, slaughterers, dog handlers and a solo female farmer… all in the midlands of Tasmania. It was a testimony to their energy and work, which remains mostly hidden from those thousands travelling the highways of Tasmania and Australia… but exists just beyond the horizon or just up a dirt road, beyond an immediate barrow or conglomerate of hills.
This show responds to my relationship to the landscape and being a woman in that landscape, while struggling with what I know occurred there during its settlement and invasion. I use a model, who understands my pleasure in the landscape and animals, particularly dogs. Her responses while I draw and photograph her have this year enabled a closure of sorts to these decades of the work.
Imprint: What are some of the foundation ideas for the work in the exhibition, and what are visitors likely to experience?
Jane Giblin: Foundation ideas… texture in pigment, colour and search in line… confusion over our relationship with earth and animal, and security and vulnerability. Lustful pleasure in the hunt, the chew, the scratch, the lick and the difficulty of being our true selves.
The works are large works on paper, laminated to stretchers; they retain the sense of marks on paper, and the search with ink, the attack with liquidity of taking a risk and swimming in it. The works also include a series of analogue silver gelatin prints, which are the first time I have placed photographs with my drawings. I have made medium format photographs for twenty-five years as support for my drawings and prints.
Imprint: How was the work developed technically and what were some of the challenges involved?
Jane Giblin: I adore the way pigments lay on paper and soak in varying degrees into the magnani aquarello. I love the way ink splats and rots and smells while I work it all out. The earth is in the pigment and the ink… even though the colours might not be earthy…the earth is there in the grain of it all. I love its density and flexibility. I love that now I know instinctively, how long certain tones need to remain, to soak in to the paper, before I need to wipe areas back, if at all…I love how I can select areas of black to rescrub and permit to re-emerge from under the heavier zones of pigment.
Mostly my challenge involves drawing these works on the flat, and as large works dealing with proportion …and allowing distortion to take hold… the only challenge is working on one work at any time because there is no where to hang work in progress in my small drawing studio. I had two carpel tunnel operations which held the work off for some time…and I had to place rolls of foam around my drawing canes just to be able to hold them…sometimes drawing with both hands or my left hand.
The challenge at the base of all of this is to trust myself. To let fly, to take the risk and enjoy what my mind and heart permit. All of this is why lithography took my heart too.
The Earth Muzzle is at Colville Gallery, 91A Salamanca Place, Hobart, opening April 27.